iPod nano News, Reviews, Tips, and Accessories; iPod Backlash, Heartbreak, and Obsession; and More
Compiled by Charles Moore and edited by Dan Knight - 2005.09.15
This Week's iPod News
PowerBook, iBook, iPod, and other portable computing is covered in The 'Book Review. General Apple and Mac desktop news is covered in The Mac News Review. News about Apple's transition to Intel CPUs and other Intel developments is covered in The Macintel Report.
All prices are in US dollars unless otherwise noted.
iPod nano News
iPod: The Downside
News and Comment
Advice
iPod nano Accessories
Products and Services
Software
iPod nano News
iPod nano Small, Slender, Surprisingly Powerful
The Wall Street Journal's Walter S. Mossberg says:
"Grab a standard American business card. Now, get a pair of scissors and trim the long side of the card by 20 percent. That's all the space you need to hold over 1,000 songs, plus audio books, podcasts and photos if you buy Apple Computer's newest iPod model, the gorgeous and sleek iPod nano.
"...I have been testing a nano for the past few days, and I am smitten. It's not only beautiful and incredibly thin, but I found it exceeds Apple's performance claims.
"In fact, the nano has the best combination of beauty and functionality of any music player I've tested - including the iconic original white iPod. And it sounds great. I plan to buy one for myself this weekend, when it is due to reach stores in the U.S., Europe and Asia."
iPod nano Torture Test
ars technica's Jacqui Cheng reports:
"As we all know, Apple's iPod has dominated the digital music player scene since its launch in 2001, much like an aardvark busting through a termite mound. As hard-drive-based players have gotten smaller and the price of flash-based players has dropped, Apple seized on the opportunity to dive into the flash-based market with the iPod shuffle. It was a wildly successful move for Apple, which has grabbed close to 46 percent of the flash-based player market since its inception. However, there were still many reasons for users not to get the shuffle - namely, the lack of a screen and sophisticated controls. The task for Apple was to create a music player that was somehow a marriage between the minute size of the iPod shuffle and the versatility of a regular iPod.
"Last Tuesday, Apple's solution came in the form of the iPod nano, a mini-mini-version of their current iPod color line. That's right, it's more miniature than the iPod mini, and the display is color! It's clear that these two superior elements are the reasons why Apple decided to do away with the original iPod mini line; however many consumers are upset that the iPod nano's storage capacity is smaller than what the iPod mini used to be. At 2 GB and 4 GB, though, the capacities are higher than the current iPod shuffle line and the pricing falls right in line in between shuffles and regular color iPods.
"A brief word about sound quality: the iPod nano essentially uses the same sound codec as the regular iPod. It sounds just like any other iPod."
iPod nano Might Be Apple's Boldest Move Yet
iPod Garage's Bill Palmer says:
"When the iPod mini first launched in January 2004, analysts and geeks everywhere complained that it was overpriced and under-featured, and were convinced that it wouldn't sell very well and that it wouldn't be around for very long. But nineteen months later it turns out that not only has the iPod mini been very much a success, it has in fact become the world's most popular MP3 player, surpassing even the standard iPod in popularity. So today Apple decided to capitalize on the popularity of the iPod mini by discontinuing it. Huh?"
Will Current Accessories Work with the iPod nano?
PlayList's Dan Frakes reports:
"Amidst the brouhaha of Wednesday's announcement of the iPod nano, most people - especially those of us lucky enough to see the new player in person - were enthralled by just how incredibly small, yet full-featured, the nano is. But as the initial excitement passes, the question many people are likely to be asking is this: 'Will the iPod accessories I already own, or the ones currently on the market, work with the nano?' Playlist has spent the past couple days with a new nano (check out Chris Breen's First Look), and here's what we can tell you."
iPod nano Doesn't Work When Plugged into Keyboard
A new Apple Knowledge Base article says:
"To charge and sync iPod nano, make sure that you connect its USB cable to one of the built-in, high-powered USB ports on your Mac (USB 2.0 recommended) or to a powered USB hub that's connected to your Mac (for example, many Apple displays contain powered USB hubs). iPod nano will not work when it's plugged into a USB port on your Mac keyboard."
iPod nano Hacking
makezine.com says:
"The new iPod nano is out and while it's not as hackable (yet) as it's older cousins, you can do a few things like change the text strings, mod the font -and- even change the graphics (sorta). Here's HOW TO mod a pod, a work in progress for the iPod nano....
"Like everything else in the household here, the new iPod nano was quickly hacked and modded to see what was possible. The value of a gadget for us here is more than just features, style and function - it needs to be malleable to bends, tweaks and personalization. While the iPod nano isn't as hackable as older iPods (run Linux, record high quality, etc...) there are some things you can do, here are just a few to get started."
Adding Lyrics to Songs for iPod nano
A new Apple Knowledge Base article says:
"If you like to sing along with your tunes, iPod nano can display song lyrics right on its screen. Here's how to add lyrics to and view them on iPod nano."
More iPod nano Knowledge Base Articles
iPod: The Downside
iPod Backlash Puts Down Roots
The Pittsburgh Post-Gazette's Corilyn Shropshire says:
"Spending $350 to buy stock in Apple Computer Inc. makes more sense to Lindsay Patross than paying a similar amount to own the company's popular iPod digital music player.
"'Do I really need to carry 20,000 songs around with me?' Patross said. 'I don't have one and I don't need another gadget.'
"Patross would seem to be one of a small number of music lovers who are shunning iPods as if they were the coming of the plague. But there are signs that a backlash against one of the hottest gadgets to hit the market in years may be building.
"Throngs of 'anti-iPoders' are popping up on the Web to pooh-pooh the sight of those increasingly ubiquitous white headphones and pocket-size, rectangular digital music boxes. The iPod, which retails from about $100 to $400, is just another super-trendy, overpriced status symbol, say the critics, who insist you can be a music fan and still do without instant access to the thousands of songs the iPod can store."
Libraries Shut the Books on iPod Owners
Spymac's Judy Westcott reports:
"More and more libraries are offering patrons the convenience of downloading book titles to which they can listen on their computers or portable music players at their leisure. But there is a major roadblock to this new service for iPod owners.
"If you're an iPod owner, don't count on your local library supporting your choice in portable music players.
"The leading vendors such as OverDrive Inc. and NetLibrary that provide the libraries with digital books have chosen to use Microsoft's Windows Media Audio format that can't be played on any of Apple's iPod products. OverDrive files can be burned to CDs and converted to iPod friendly formats, but NetLibrary's cannot."
Buggy iPod Almost Infestation New Zealand
The Register's Charles Arthur reports:
"The iPod's global popularity has been revealed as an agent of environmental destruction in which the entire country of New Zealand was only saved by a quick-thinking owner and his freezer cabinet.
"A report on the Pestnet discussion forum, where people in the Pacific region gather to discuss, well, pests, reveals that an innocent Kiwi returning from Fiji to New Zealand bought an iPod in a duty-free zone at the homebound airport. What he didn't know until he got home was that the packaging was infested with Monomorium destructor, a.k.a. Singapore ants."
iPods a Popular Workplace Accessory
The Quad-City Times' Mike Musgrove reports:
"The popularity of the iPod is visible on city sidewalks and in gyms; now the popular digital music player's distinctive white earphones are becoming a more familiar sight at the office.
"Phyllis Davis, a business etiquette expert, condemns listening to music on the job as 'tantamount to stealing' because, she said, workers who are listening to digital players aren't as focused.
"But some bosses say they don't mind. Timothy Shey, cofounder of Washington-based Proteus, said 'half the office at any given time is listening to music' at his company, which builds software for mobile phones. The popularity of iPods means that workers use e-mail and instant messages to communicate, even if they are sitting practically next to each other."
News and Comment
iPod Retail Store Opens on Long Island
[PR] Long Island based Think Different Store has announced the opening of its first 1-800-ipod.com retail location. The grand opening celebration is scheduled for Saturday, September 24, 2005, from 10 a.m. to 6 p.m. at the 1-800-ipod.com store at 280 Middle Country Road in Selden. For maps and directions to the store, visit http://www.1-800-ipod.com and follow the "Find Us" link at the top of the page.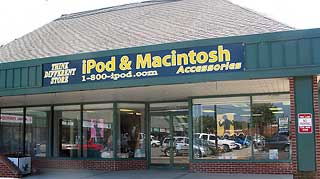 Over $1,000 in iPod and Macintosh related merchandise will be given away during the celebration, including an Apple iPod nano. Local radio station WBLI will be appearing live from the grand opening from 3 p.m. to 5 p.m.
Covering 3000 square feet of prime retail space along a major thoroughfare in Suffolk County, the store features a wide range of accessories and enhancements for Apple's wildly popular iPod music player and Macintosh personal computers. Staffed with a friendly, knowledgeable group of Long Island techno-wizards, the 1-800-ipod.com store is destined to become an easily accessible local resource for iPod and Macintosh users.
"There's no doubt that the iPod is one of the hottest techno-toys of the last several years," stated 1-800-ipod.com owner Joe Ryan. "We've had great success in building an online outlet for iPod and Mac accessories, so it was a natural next step to establish a brick- and-mortar presence in our own backyard. Initial response to the store has been excellent. We're confident that we'll soon become the center of the iPod and Mac universe on Long Island."
Carrying a dizzying and ever-expanding array of iPod and Apple Macintosh accessories and enhancements, 1-800-ipod.com gives iPod and Macintosh enthusiasts a direct path to the products they need and want at excellent prices. Online product reviews, deep discount specials, and superior customer service round out the 1-800-ipod.com customer experience.
iPod, iPod nano and Macintosh are trademarks of Apple Computer.
Accessories Abound for Apple's Digital Icon
The Washington Post's Anjali Athavaley reports:
"iPod owners spend an average of more than $150 on accessories, according to the Envisioneering Group, a market research firm based in Seaford, N.Y.
"'This is the first music product that people consider to be an emotional statement,' said Richard Doherty, the firm's research director.
"Consumers are dressing up their iPods with the same pride and affection that car fanatics apply to their Cadillac Escalades. The iPod's success has spawned a more than $2 billion business for iPod accessories, with companies ranging from electronics maker Belkin Corp. to fashion designer Kate Spade jumping into the market for the key lifestyle symbol of the digital music era."
Over 1,000 Accessories Available for iPod
Apple has announced that there are more than 1,000 accessories made specifically for iPod. The iPod economy has flourished with over 21 million iPods sold and a wide range of companies creating products ranging from high-end fashion cases to speaker systems to automobile integration kits for iPod. Apple also announced that there are more than 700 products bearing the Made for iPod logo on the market or in development, assuring customers that an electronic accessory has been designed specifically to connect to iPod and has been certified by the developer to meet Apple performance standards.
"The iPod economy is thriving with over 1,000 accessories now available," said Greg Joswiak, Apple's vice president of Worldwide iPod Product Marketing. "There are more ways than ever to get the perfect accessory to complement your iPod for use at home, on the go and in the car."
Clothing Makers Latch on To iPod Craze
Reuters' Alexandria Sage and Michael Kahn report:
"With no end in sight to the iPod craze, everyday clothing makers are offering a growing selection of apparel designed so consumers can easily carry their digital music players without getting their wires tangled.
"For years, sports apparel manufacturers and haute couture brands have sold Apple Computer Inc.'s iPod-friendly products, but now mainstream clothing manufacturers are hoping to cash in on the trend."
iPod Updater 2005-09-06
About iPod Updater 2005-09-06 includes new iPod Software 1.0 for iPod nano. iPod Updater 2005-09-06 contains the same software versions as iPod Updater 2005-06-26 for all other iPod models.
To learn how to use your iPod with step-by-step instructions and easy-to-follow movies, see the iPod tutorial at http://www.apple.com/support/ipod. Click Show Details in the tutorial to see more great tips and instructions.
Note: If you are not sure which iPod you have, and you want to find out if your iPod needs updating, simply follow the directions below to use iPod Updater 2005-09-06. If the software on your iPod can be updated, the Update button in the updater application will be available.
What's new in iPod 2005-09-06
With iPod nano Software 1.0 you can:
Listen to music and view album art
Browse your photo collection or view photo slideshows with music
Listen to audiobooks purchased from the iTunes Music Store or audible.com
Listen to podcasts, downloadable radio-style shows delivered over the Internet
Store or back up files and other data, using iPod as an external disk
Store and synchronize contact, calendar, and to-do list information from your computer
Play games
Store notes
Add clocks for multiple time zones
Use stopwatch as you work out to track your overall time and your lap time
Lock your iPod Screen to prevent your iPod from being used by someone without your permission
System Requirements
Mac OS X 10.2.8 or later
or Win2K, Win XP
Link: iPod Updater 2005-09-06
Hitachi Touts Microdrives' 'Bling' Factor
The Register's Tony Smith reports:
"Hitachi Global Storage's addlepated attempt to define 'hard drives as the new "bling"' - 'it's me 'ard drive, innit' - shouldn't detract from the fact that the company has begun to ship its promised 8 GB 1in HDD.
"The Microdrive 3K8 - which Hitachi is calling 'Mikey' in a lame attempt to gain urban cool - is also available with a 6 GB capacity. It consumes 40 per cent less power than its predecessor, the 3K6, and is almost 20 per cent lighter, the company said.
"Hitachi was Apple's original iPod mini hard drive supplier, so today's announcement may presage higher capacity Minis in due course. The 3K8 is shipping in limited quantities now, but should enter mass production next month, just in time for Apple's Christmas push."
Apple discontinued the iPod mini a few days after the Reg published this article.
iPod Came and Broke Your Heart
New Republic senior editor Michael Crowley says:
"Rock snobs' days are numbered when their collections can be downloaded in minutes
"'Since the dawn of rock, there have been individuals, usually young men, of argumentative tendencies who have lorded their encyclopedic musical knowledge over others.' So states the introduction of the Rock Snob's Dictionary, compiled by David Kamp and Steven Daly. I like to believe I'm not the insufferable dweeb suggested by this definition. But I do place an unusual, perhaps irrational, value on rock music. I take considerable pride in my huge collection and carefully refined taste. And I consider bad rock taste - or, worse, no rock taste at all - clear evidence of a fallow soul. I am, in other words, a certified rock snob. But I fear that rock snobs are in grave danger. We are being ruined by the iPod."
iPod: The Obsession
Buffalo News's Robert Kirkham says:
"It all started just a few years ago, with the original model back in 2001. Then came the popular, colorful mini version, which was soon followed by the high-tech photo edition. And most recently introduced was the slim, compact, and inexpensive shuffle. Thus began the iPod revolution.
"Since it first came out, the Apple iPod has launched a new generation of how Americans, along with millions of others around the world, listen to music. Who knew that such a small MP3-playing device could turn into something so huge and help put Macintosh, a company that was constantly being overshadowed by Microsoft products, back on the map as a leading competitor in the business?
"References to this tiny gadget are turning up everywhere in the entertainment industry, from characters in movies who are casually seen listening to them all the way to high fashion models in designer Dooney and Bourke's 2005 spring catalog toting around the hot item in their ads. New car models from brands like BMW, Mercedes-Benz, Volvo, and Nissan even offer special audio integration systems so the iPod can be easily hooked up to the vehicle's stereo and sound outlets."
How to Make Everyone Like the iPod
iPod Garage's Eric Nguyen says:
"As I'm writing this column, I'm six miles in the air, somewhere over Japan or the Bering Sea. I'm returning from a vacation in Vietnam, where there is little sign of the iPod's usual dominance. There have been a few iPods in store windows, but they're nothing compared to cell phones and digital cameras, which comprise about one in three storefronts. So how does Apple make more people buy the iPod in poorer countries such as this?
"First, they need to learn that more choice is better. Take a look at Creative's lineup - ten different colors! So, the easiest thing for Apple to do will be to make the iPod available in more colors, such as Blue Dalmatian, Flower Power, Chocolate Chip Cookie Dough, and &endash; of course &endash; Mango Surprise. In fact, Apple could buy up Baskin-Robbins, and then they could have thirty-one colors of iPod! Take that, Creative! Not so creative now, are you?"
Real Wood iPod Wins Great MacMod Challenge
Jacob Thomason says:
"Hey guys, we just announced the winners of the 'The Great MacMod Challenge 2005 Sponsored By dealmac.com.' The competition was incredibly fierce this year with over 30 mods. These mods ranged from a Mac Mini installed into a Millennium Falcon to a hand painted hieroglyphics-inspired PowerMac to the world's fastest overclocked Bondi iMac. The winners were as follows:
Mod of the Year: The Real Wood iPod
2nd Place: The Millennium Falcon Mini:
3rd Place: Wallstreet Road Warrior:
Link: 2005 Great MacMod Challenge Results
Advice
Wake Up To Music
How would you like iPod to soothe (or rock) you awake in the morning with your favorite playlist? With its built-in clock and alarm, iPod makes it simple.
Charging Your iPod Battery
An Apple Knowledge Base article says:
"All iPod models have an internal, non-removable, lithium-based rechargeable battery. A fully charged battery can provide anywhere from up to 8 hours to up to 15 hours of battery life, depending on the iPod model and its use. After about 14 to 28 days of nonuse, you will need to charge the battery.
"You can charge your iPod battery by connecting it to an Apple iPod Power Adapter or by connecting it to a high-power USB port (or FireWire port, if applicable) on your computer....
"FireWire ports on all Macs and some PCs provide electricity. If your PC's FireWire port only has four pins, it doesn't provide electricity. If you're using FireWire, connect your iPod to a FireWire port on your computer using the FireWire cable that came with your iPod (or an Apple-branded cable).
"Once connected, your iPod battery will be 80 percent charged in about an hour, and fully charged in about 4 hours (time may vary with models - iPod nano is 80 percent charged in 1.5 hours and fully charged in about 3 hours). You can disconnect and use your iPod before the battery is fully charged, and you don't have to wait until it's completely empty before charging it again. This is because lithium-ion batteries, such as those used in iPod, have none of the memory effects seen in nickel-based rechargeable batteries."
iPod nano Accessories
IceWear nano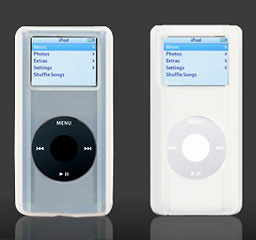 [PR] First there was IceWear for the iPod mini, one of the most popular silicone iPod cases ever made. Then we created IceWear 3G, IceWear 4G and IceWear photo which were also popular . Recently we hit another home run with IceWear shuffle which received rave reviews. Now Apple has released iPod nano and subsequently we are proud to announce IceWear nano. Just like the rest of the IceWear series, IceWear nano utilizes high density silicone as found in diving masks and our patent pending Rib-Technology to protect your iPod nano. We think that the new iPod nano is the most beautiful iPod yet, and you need the serious protection that only TuneWear's IceWear can offer to keep it that way.
IceWear nano will be available online and in stores in October 2005.
ezSkin nano
[PR] ezGear has announced the ezSkin cases for the new iPod nano. The ezSkin Nano cases are made of high quality silicon and have openings on the top for access to the hold switch. The opening on the bottom provides access to the iPod dock connector and headphone jack. Each ezSkin comes with a neck strap, an integrated removable belt clip, and a clear ezShade screen protector.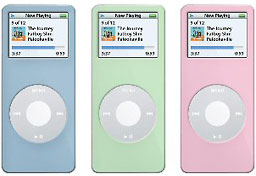 ezSkins Nanos come in five stylish colors &endash; Sky Blue, Princess Pink, Lime Green, Onyx Black, and Frost White. The Onyx Case is opaque and the other 4 cases are semitransparent.
ezSkins come with an integrated sturdy belt clip. The belt clip is made of high quality high impact plastic so that it lasts long. The belt clip is removable so you can use your case without it.
Each ezSkin comes with a clear ezShade screen protector. ezShades are a clear plastic screen with rubber bumpers on each corner that fits over the screen of your iPod.
ezShades for iPod and ezShades for iPod mini are available in 5 pack color screens &endash; pink, blue, clear, orange, and green.
The ezSkin Nano suggested list price is $24.98. ezSkin Nano cases will be available in two weeks through iPod resellers and distributors, electronics superstores, and online.
PopTune nano
[PR] PopTune for nano is a clean removing, wearable wrapper for Apple's iPod nano series digital music players. PopTune for nano comes in a pack of 12 stylish patterns including: tropical "Aloha", fierce "Dragon", pretty "Sakura" and more.

PopTune for nano will be available in October.
SkinIt.com Launches Skins for iPod nano
[PR] SkinIt.com is first to launch removable, adhesive backed vinyl skins for the innovative Apple iPod nano. SkinIt's iPod nano skins are manufactured with the highest quality materials and are precision cut to insure a perfect device fit. Consumers can choose one of over a thousand different designs or upload their own photo or artwork to be transformed into an Apple iPod nano skin.
"Once again Apple redefines the meaning of cool with the launch of the iPod nano," said Mike Stemple, Cofounder of SkinIt, Inc. "With a SkinIt skin on the nano it becomes even cooler."
Apple iPod nano skins can be purchased online at http://www.SkinIt.com or through numerous retailers and international channel partners and includes free shipping worldwide.
PULL-i Cover for iPod nano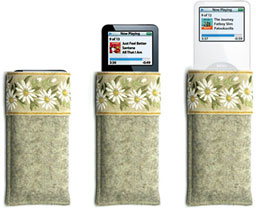 [PR] Cutting edge as usual, PULL-i is now available in all variations for the brand new Apple iPod nano. Thus an indispensable accessory not only for Munich people is this year's new edition of the "Oktoberfest Special". PULL-i is a cool protective cover for your small electronic devices: iPod, mobile phone, laptop, digital camera.
Made of high-quality wool felt in seven bright colors, PULL-i fits snugly around your device and protects it against scratches and impact. Every PULL-i is made entirely of finest new wool. The material is 2 mm thick, and is kept together by three threads of an overlock seam. The PULL-i is open at the top. Thus, your device can be slipped in and out of the protective cover easily and can remain connected for charging / working. Dock connector / power supply or audio outputs are always freely accessible.
TuneWallet nano
[PR] TuneWallet nano is a business card sized genuine leather case for iPod nano. TuneWallet nano is made from smooth ultra high quality genuine leather. With the flip-cover closed the TuneWallet nano provides protection for your iPod nano against dirt and scratches. There is also a card slot inside the flip-cover to fit credit cards, business cards and more.
Products and Services
Tired of White Earbuds? Here's Some Color for You
[PR] Mix and match with your case, shoes, hat, outfit, whatever...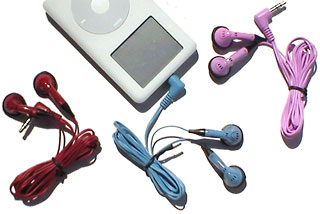 Available in 3 unique colors, these high quality, fashionable earbuds by Jasper Unltd. are sure to set you apart.
Finally, now's your chance to get some earbuds that match your style.
No longer are you bound by black, grey and the played-out white earbuds.
Features:
Powerful drivers for great sound
Non-slip design keeps Earbuds in the ear, where they belong
Cool metal case protects and ensures long-life (for the Earbuds)
Showcase your individuality- three unique colors to choose from
No giveaway to crooks that you have an expensive MP3 player- unlike some earbuds
Exclusively available online- get yours now!
Compatible with:
iPod
Dell DJ
Creative Zen
CD players
Anything with a headphone jack
That cute coed that sits in front of you
Suggested uses:
MP3 earphones - drowning out annoying roommate
Laptop headphones - pretending to listen to music while really snooping on other people's conversations.
Link: Jasper Unlimited
TuneBox Speaker System for iPod shuffle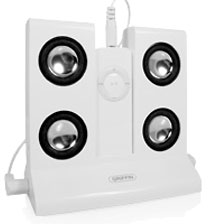 [PR] Plug your shuffle into the docking connector between TuneBox's twin speakers for instant gratification. TuneBox charges your shuffle's battery while it's playing.
TuneBox's micro drivers and efficient amplified speakers generate a powerful, dynamic sound, with unexpected clarity and great highs and lows.
TuneBox keeps the shuffle's clickwheel controls up front within easy reach. Though it's designed to visually complement the iPod shuffle, TuneBox delivers great sound from any MP3 player or other audio device that uses the standard 3.5mm stereo jack.
With a space investment of less than 4 square inches, TuneBox delivers impressive sound and functionality.
TuneBox Features:
Total power output of 2+2 Watts for amazing power and volume
3.5mm jack input (compatible with other MP3 players and devices)
Stylish design that complements Apple's award-winning industrial design
Functional design keeps shuffle controls handy
Dimensions: 4.32 inches x 2.44 inches x 4.4 inches
DC power cable for use in office or home
Slim design AC adapter fits easily on crowded power strips or wall outlets
Input: 100-240 VAC 50-60 Hz 0.5A
Output: 12VDC 1.0A 12.0W
Price: $39
OtterBox Sportcases for Full Sized iPods, mini, and shuffle
[PR] Need rugged iPod protection? Otter Products, LLC. completes the OtterBox for iPod line - waterproof, interactive cases designed for Apple iPod 20 GB, 30/40/60 GB, mini and recently the iPod shuffle.
Whether biking, hiking, boating, working out or just relaxing at the beach, the OtterBox for iPod family provides vital protection for active lifestyles. Retail prices range from $29.95-$49.95.
"Available in a variety of sizes, the OtterBox for iPod safeguards expensive music collections no matter where your adventures take you. With cases available for the iPod, iPod photo, mini and now the shuffle, OtterBox offers the most complete line of iPod protection on the market," said Curt Richardson, CEO of Otter Products, LLC.
With durable yet compact designs, the OtterBox for iPod enables users to take their music virtually anywhere. Innovative rubber lining inside the case cradles the iPod and an easy-open, yet secure-close, latch adds additional protection. Each case contains a waterproof headphone jack that facilitates use with any style headphone. When combined with waterproof headphones, the OtterBox for iPod can even go swimming.
The OtterBox for iPod mini, 20 GB, and 30/40/60 GB, enable user interaction with the iPod Click Wheel through a clear membrane on the front of the case. A hard screen cover shields the display and offers drop-protection and screen visibility. An included belt clip on the back allows handsfree carrying and integrated headphone cable management. For more flexibility, an armband is available for $14.95.
Slightly different from the other cases, the OtterBox for iPod shuffle enables iPod control access through a flexible, rubber button on the front. On the back, a clear window offers visibility of the on/off switch and a rubber button provides battery check access. The case also includes a removable neck lanyard for added convenience. An optional armband retails for $14.95.
First released in 2004, the original Otter Products iPod case was well received by iPod owners. Customer feedback offered valuable information about design and functionality, and the waterproof case line entered the market.
DLO mini fm Adds Radio to Mac mini
[PR] Snap on the self-powered DLO mini fm to add a FM radio to any iPod mini. Check the weather, sports scores or the latest news, and then switch back to your iPod mini's music with the push of a button. The DLO mini fm gives your iPod mini the best of both worlds: thousands of your favorite songs AND access to current news & information - in one convenient device. The DLO mini fm even gives your iPod mini's music a boost by amplifying its volume by over 25%. Get the DLO mini fm to keep your iPod mini in tune &endash; with the rest of the world.
In addition to adding FM radio capability to the iPod mini, the mini fm also amplifies your iPod mini by boosting the volume capacity by over 25%. This improves the sound experience for certain muted tracks, or while using a headphone splitter (for two people) or when in crowded, noisy environments. The mini fm matches the shape and style of all iPod minis and its beautiful silver finish is a perfect complement when attached to your iPod mini. It's ideal for gyms and health clubs that broadcast their televisions' audio over FM radio. The mini fm will also work with workout cases with armbands like the DLO Action Jacket or DLO Jam Jacket Pro.
The mini fm can be tuned either manually or automatically by using its built-in search mode. To switch to FM radio mode or back to iPod mode, you simply press the Mode button on the top of the mini fm. The mini fm will automatically pause whatever track or playlist is playing on the iPod mini when you switch over to FM radio mode. The mini fm's Mode button will also conveniently power your iPod mini on or off by simply holding it for a few seconds. Using the mini fm, you can control your iPod mini's volume using the mini fm's volume buttons as well.
Quick Facts
Adds an FM radio to any iPod mini
Requires no batteries, powered via the iPod mini
Switch between FM radio and iPod's music with one simple button
Internal amplifier boosts iPod mini's volume by over 25%
Manually tune or automatically search up or down for available FM stations.
Beautiful silver finish complements any color iPod mini
mini fm - $39.99
Limited Edition Green Day Flip Case Available at Circuit City
[PR] Pacific Design announces a limited edition, 4th Generation iPod Flip Case designed specifically for fans of Green Day.
Retailing for $39.99, the special edition case is available at Circuit City stores nationwide and online in the iPod accessory category. The package is valued at $59.00 and includes fan club stickers, a two free song downloads card, and an in-store coupon for Green Day music. The 5,000 promotional packages have been designed exclusively for Circuit City.
Pacific Design was founded in 1995 to raise the standard of products, and individualized client services, in the carrying case market. The company excels at designing and manufacturing intelligent, high quality cases for all types of mobile technology products and is headquartered in Austin, Texas.
Pacific Design Green Day 4G iPod Flip Case
Flip case: Show off your sense of style and keep your 4th generation iPod safe at the same time with this carrying case. An ultra-slim design fits your player like a glove, making this flip style case a great choice for work or play.
Color: The olive green, black and red Green Day graphic that mimics their album looks great and proclaims your taste in music.
Compatibility: Works with 4th generation iPods.
Software
PodQuest Stores Driving Directions on Your iPod
[PR] PodQuest is an application for Mac OS X that allows you to download driving directions to your iPod.
Once you have downloaded your driving directions to your iPod, you can conveniently access the driving direction any time of the day, thanks to the backlighted display on your iPod.
Map Sites
The current version of PodQuest supports the following map sites:
Google Maps (North America/UK)
Yahoo Maps (North America)
MapQuest (North America/Europe)
MapBlast (North America)
Mappy (Europe)
RandMcNally (USA)
ViaMichelin
WhereiS (Australia)
Krak (Denmark)
Wises (New Zealand)
MapsOnUS (USA)
Maporama (Worldwide)
Multimap (Worldwide)
New in this version:
Fixed incompatibility with MapQuest.
Added support for the Canadian version of Google Maps.
System requirements:
Mac OS X 10.2.8 or later
Safari 1.0.3 or later
iPod with disk usage enabled
PodQuest supports all model of iPods, except, for obvious reasons, the iPod Shuffle.
PodQuest is $9.95 shareware.
Pod2go Adds Local Gas Prices
[PR] Pod2Go 1.5 is now available! Now you can view the cheapest local gas prices on your iPod, import music from your iPod back to your computer, and much more.
Think your iPod was designed just for music? Think again.
If you're not taking full use of your iPod's extended capabilities, then you're missing out! You may ask, "What other capabilities?" The iPod has a few extra features on it that allow you to view your address book contacts, calendars, to-dos, and even notes.
This is where Pod2Go comes in to play. Pod2Go takes any iPod (except the shuffle), whether it's the first iPod ever created, a brand new iPod color, or an iPod mini, and expands the functionality of it by putting a variety of textual content onto it for your reading enjoyment.
For example, on your ride to work, you could be staying up-to-date with the latest news, checking tomorrow's weather forecast, browsing the local theater's movie showtimes, or getting directions to that new restaurant across town. Or if you're a college student, you could be studying those Word formatted notes your buddy emailed you before your exam, without books or papers. If you're an email addict, you can keep those important messages with you wherever you go.
Pod2Go includes a unique set of features, based upon a plugin structure so additional features can be added quickly and easily in the future. The current features in Pod2Go are:
News: Using Pod2Go's huge collection of news sources, you will never be without something to read. Choose from over a 1,000 built-in feeds, or add your own. Any RSS or Atom feed can be added also.
Weather: Stay on top of the day with Pod2Go's weather feature, which lets you view forecasts and current conditions for cities around the world. Simply provide it with your city, and it will do the rest.
Movies: Pod2Go makes finding movie showtimes for the US and Canada a breeze. View movie titles, ratings, and showtimes all from your thumb.
Stocks: Need to stay current with your stock quotes? Pod2Go can show you info such as last price, open, change and more.
Lyrics: Pod2Go makes it simple and easy to read lyrics on your iPod. Download lyrics from selected songs in your iTunes library, search for a specific song, or import a song's lyrics from an existing file.
Text: Take your text documents with you on your iPod! Formats supported are plain text, RTF, HTML (both off and online), Word (requires 10.3 or greater), and PDFs (requires 10.4 or greater). Pod2Go also allows the creation of text notes directly within the app for quickly jotting down your thoughts.
Horoscopes: Read your horoscope each and every day! Choose to select only one, or all of them for your entertainment.
Directions: Using Pod2Go's easy to use Directions feature, finding your way across town will be a piece of cake. Download directions for the US and Canada, or many European countries.
Gas Prices: Gas prices in the US are soaring - find out which gas stations near you have the lowest prices. Information displayed is gas station name, price, and location.
Apps: Turn your iPod into a PDA! Sync your Address Book contacts, iCal calendars, Mail messages, Stickies notes or Safari bookmarks to your iPod!
Backup: Everyone knows that regular scheduled backups are very important, but not everyone does it. With Pod2Go, backing up your data to your iPod is extremely simple. Pod2Go will backup your files to your iPod every time you sync.
Launcher: Open any application, AppleScript, or Automator workflow when Pod2Go syncs. With AppleScripts that can execute command line utilities, there are an infinite ways of improving Pod2Go's automation.
Utilities: Included with Pod2Go are two simple, but useful utilities:
Music: Music allows you to import music from your iPod back to your computer, in case songs are deleted from your hard drive, for example. It features smart searching, sorting, easy iTunes importing and powerful customized file importing, drag and drop, and more.
Notes: A simple notes reader for viewing the notes on your iPod. Multiple iPods are supported, with automatic saving.
Prosoft Engineering Releases TuneTech for iPod
[PR] Prosoft Engineering has announced the availability of TuneTech for iPod for Mac OS X.
TuneTech for iPod is a comprehensive software utility geared specifically toward iPod users.
"iPods have quickly become the hottest, must have gadget. With all the songs and files, our iPods can quickly become overloaded with files. Mechanical parts wear and fatigue, your iPod begins to operate more slowly, and eventually fails. Your only defense is to carefully monitor and manage your iPod so you can be sure it is in good health and working at peak efficiency at all times &endash; You've invested a lot into your iPod and music, you want to make sure your iPod will faithfully perform and your investment is well-protected," states Greg Brewer, CEO of Prosoft Engineering. "We are dedicated to providing a feature rich, easy to use software utility that will let you take control of your iPod, and your digital life."
TuneTech for iPod &endash; Maintain, Manage, and Optimize Your iPod.
TuneTech for iPod is the only comprehensive software utility geared specifically toward iPod users. Recover lost or damaged music, repair corrupted data structures, backup your iPod to an exact copy, permanently delete unwanted files, or optimize the file layout of your music. You've invested a lot into your iPod and music, with TuneTech for iPod, you can be sure your iPod will faithfully perform and your investment will be protected.
TuneTech for iPod's eight must-have utilities in one package.
Backup: Make an exact clone of your iPod for safe keeping. Use your backup as protection against data loss.
Optimize: Increase battery life and minimize wear-and-tear. Your songs get optimized in the order that you want to hear them, minimizing hard drive access and reducing the work your iPod has to do.
Undelete: Accidentally deleted music? Undelete quickly recovers them in perfect condition.
Shred: Permanently delete your songs and files from your iPod. Do your part to protect against music piracy... if you sell or donate your iPod, shred your music to prevent unauthorized use.
Duplicate: Make an exact copy of your iPod on another iPod &endash; perfect when you are migrating your music to a newer iPod model.
Scan: Analyze your iPod's hard drive for media defects that can endanger your music files.
Info: Display detailed information about your iPod's hard drive to enable sophisticated troubleshooting.
Link: TuneTech
MusicExporter Copies Music from Directory, iPod, iTunes to a Target Directory
[PR] MusicExporter copies music files from iPods, iTunes music libraries and directories into a target directory. The target directory may be structured according to album, artist or composer.
Copies music from iPods, iTunes and directories.
Reads ID3-tags and iTunes music libraries.
Simple and intuitive file selection.
Grouping according to album, artist and composer.
Generates index page with album covers.
System requirements:
MusicExporter is freeware for private use.
xPort 3.3 Tool to Copy, Backup Music from Your iPod
[PR] xPort is the ultimate backup tool for your iPod, it enables you to directly transfer songs from your iPod to your PC without loosing ratings, it recognizes playlists. You can export all your iPod's content in only a few clicks. In addition, the program can create an internal list that contains the songs that you want to export; it includes a lyrics search, allows to make a text listing of your database and lets you create m3u playlists. It runs on all iPods and supports all file formats (MP3/AAC).
The ultimate tool to copy music from your iPod
Mac OS and Window support,
iTunes 5.0 support,
New : View and copy the pictures from the MP3-tags,
for iPod Shuffle, iPod photo, iPod U2, iPod mini, iPod nano and iPod Generation 1,2,3,
Don't lose your songs ratings.
xPort 3.3 , the ultimate backup tool for your iPod.
New design for xPort,
New : view and export the pictures from your MP3 Tags,
iPod Shuffle, iPod photo, iPod Gen 4, iPod Gen 3, iPod mini, iPod U2 support,
Don't loose your iPod songs ratings,
Copy more than 25 Go in one hour from your iPod,
Copy all your songs before sending the iPod for repair,
Export the iPod playlists or all the apple iPod music,
Allow creating a playlist with the button add to xPort with iPod music,
Transfer music form iPod to PC or from iPod to Mac,
xPort interface Available in French, English, German,
Search for lyrics on Internet and save in your file Notes on your iPod,
Possibility of creating m3u playlists compatible with iTunes, Window Media Player and WinAmp,
Play the iPod songs on double-click,
Possibility of exporting your iPod music in files according to several choices :

genre\artist\album\song,
artist\album\song,
album\song,
song,
System requirements: Java virtual machine
xPort is $11.50 shareware.
iPod Deals
For current iPod prices from a variety of sources, see our Best iPod Deals.
Join us on Facebook, follow us on Twitter or Google+, or subscribe to our RSS news feed
Today's Links
Mac of the Day: Macintosh 512K Fat Mac, introduced 1984.09.10. The first Mac with enough memory for serious work.
Recent Content
Custom Search
Follow Low End Mac on Twitter
Join Low End Mac on Facebook
Favorite Sites
MacSurfer
Cult of Mac
Shrine of Apple
MacInTouch
MyAppleMenu
InfoMac
The Mac Observer
Accelerate Your Mac
RetroMacCast
The Vintage Mac Museum
Deal Brothers
DealMac
Mac2Sell
Mac Driver Museum
JAG's House
System 6 Heaven
System 7 Today
the pickle's Low-End Mac FAQ
Affiliates
Amazon.com
The iTunes Store
PC Connection Express
Macgo Blu-ray Player
Parallels Desktop for Mac
eBay

Advertise