iPod nano Screen Woes, Aussie iPod Use Illegal, Canadian iPod Levy Refund, iPod Maps in Trouble, and More
Compiled by Charles Moore and edited by Dan Knight - 2005.09.29
This Week's iPod News
The top story this week is scratched and cracked iPod nano screens. To avoid scratches, look into one of the many protective covers or screen skins available. For a cracked screen, contact Apple or your Apple dealer - it may be covered under warranty.
PowerBook, iBook, iPod, and other portable computing is covered in The 'Book Review. General Apple and Mac desktop news is covered in The Mac News Review. News about Apple's transition to Intel CPUs and other Intel developments is covered in The Macintel Report.
All prices are in US dollars unless otherwise noted.
iPod nano Screen Problems
News and Comment
Tips
Products and Services
Software
iPod nano Screen Problems
iPod nano Screen Woes Deepen
The Register's Charles Arthur reports:
"OK, let's see if we can find some good news about the iPod Nano. Hey, here's some: Jim Allchin, head of Microsoft's Windows division, bought one the day it came out. Talk about sleeping with the enemy!
"Umm...oh. He says it stopped working after a day. 'They have moisture issues,' he said. (You're really not supposed to take it into the shower, Mr Allchin.)
"OK, er... the high street chain Dixons says it was selling an average of five per minute over the weekend. That's more like it! Except... the story that first appeared here last week, about how amazingly easily the screen scratches, has spread far and wide, and so far down the food chain that even local and national newspapers have written about it. Oh dear.
"More importantly, the post on Apple's discussion boards discussing the issue has grown from 188 posts to 583 (at last count), and now includes people who have cancelled their orders. Ooooh dear."
Pocket-size Player Poses Big-Time Problem
stanford.edu/daily's Mia Lee reports:
"When was the last time you were excited to hear something described as 'impossibly small'?
"Apple, Inc. hopes it was Sept. 7, when the Cupertino-based company announced the release of its wafer-thin iPod nano, the latest and greatest addition to an omnipresent MP3-player lineup.
"The sleek device, which comes in white or black, weighs just 1.5 ounces and is a mere 0.27 inches thick. Touted as being thinner than a standard No. 2 pencil, the nano squeezes past comparable players that are more than twice its size.
"At the San Francisco press conference, Apple Chief Executive Officer Steve Jobs promised that good things, indeed, come in small packages....
"But before you give Steve Jobs your undying praise and your local retailer $249 plus tax, consider the tragic testimony of Matthew Peterson.
"Peterson, 26, and creator of the Web site, http://flawedmusicplayer.com, was dismayed to find his nano's liquid crystal display (LCD) screen cracked after just four days of use.
"Peterson laments that the durability of regular iPod screens does not appear to carry over to the nano line."
iPod nano Turns into Pocket-sized Problem
mobilemag.com's Ritwik Sinha reports:
"Apple's iPod nano may have endeared itself instantly to the music lovers all across the globe, but now many users are openly venting their grudge against the company's assurance that it could be safely placed in your pocket.
"iPod nano owners are claiming that the color screen of the device has been damaged after they carried it in their pockets. The number of upset customers is growing, one user has even gone to the extent of setting up a website flawedmusicplayer.com to register grievances. And cribbing opinions are flowing in to the website in quite a sizable number."
iPod nano Owners in Screen Scratch Trauma
The Register's Charles Arthur reports:
"People slavering to get Apple's 'impossibly small' iPod nano into their sticky hands may want to pause a moment: those ahead of them in the queue have discovered that it's also unbelievably easy to scratch the screen, nixing its photo-displaying abilities.
"Apple's discussion forums are already host to a 188-post thread on the topic, where people have spotted that the plastic used for the screen and front of the product is as sensitive as a Kate Moss sponsor.
"Trouble is that a few scratches will quickly make the colour screen all but useless for viewing album art and photos stored on the machine....
"When the point was put to the head of Apple's iPod division, Jon Rubenstein - who in the past oversaw the development of the Titanium PowerBook - the one that killed off WiFi reception, because metal cages do that - he replied: 'Nah, you don't really think that? It's made of the hardest polycarbonate... You keep it in a pocket with your keys?'
"Actually, not so for owners we've heard from."
Is the nano Screen Issue Really Two Separate Problems?
MacDevCenter's Todd Ogasawara says:
"I noticed what seemed like a minor screen marking the day after I bought my iPod nano. But, now I wonder if it is a screen issue or something else entirely (at least for my particular unit). You can see the bottom right corner of my screen and part of the shell in the photo attached here....
"So, I took a long and hard look at my nano and noted that the scratches have not affected the LCD display itself. Then, I noticed that the surface blemishes actually extend to a good portion of the nano shell. For my specific nano, I think the problem is not so much the screen but whatever coating covers the screen and shell. I saw similar problems with a clear protective cover that HP used on its Jornada 420 several years ago."
News and Comment
All Aussie iPod Users Breaking the Law
The Herald Sun's Liam Houlihan reports:
"Australia's million iPod users are all breaking the law.
"A Herald Sun investigation has found - despite the popularity of the pastime - no legal method exists for Australian iPod owners to fill their player with music.
"And they could face court with anti-piracy groups refusing to rule out suing users of the popular player.
"None of the tunes available from legal download Internet sites are compatible with the Apple iPod music players. The common method of "ripping" tunes on to an iPod from the user's own CD collection is illegal - as a breach of copyright laws.
"And unlike Britain and the US, Australia does not yet have an Apple iTunes store for iPod-compatible legal downloads. An estimated million people nationwide have already bought and put music on their iPods - the most popular model of MP3 player."
Apple Canada Announces Claims Process for Refund of iPod Levy
Canadian Press reports:
"Apple Canada has announced a claims process for customers who bought iPods from Dec. 13, 2003 to Dec. 21, 2004 and were charged a levy that has since been struck down by the courts.
"'As we announced last month, Apple is refunding money collected through Canada's blank media levy,' the company said in a statement. 'Customers wishing to claim a refund can get more information at apple.com/ca.'
"In July, the Supreme Court of Canada backed a Federal Court of Canada decision quashing the levy on iPods and other digital music players.
"The nonprofit Canadian Private Copying Collective (CPCC) had collected the tax built into the price of the devices since December 2003. The agency collects such tariffs on behalf of musicians and record companies."
Macworld UK's Jonny Evans reports:
"Apple Canada has announced the details of its 'iPod Levy Refund Program'.
"The company is refunding money it collected on behalf of Canada's royalty collection body, the Canadian Private Copying Collective (CPCC), which had been collecting a tax on behalf of musicians.
"This tax was declared unlawful by the Supreme Court of Canada, which rejected the levy on iPods and other digital music devices. The tax was designed to compensate artists for illegal file sharing."
BBC TV Watchdog Reveals iPod's Achilles' Heel
Macworld UK's Jonny Evans reports:
"Apple's decision to announce the UK price of its iPod Battery Replacement scheme following two months of obfustication became clear last night when battery problems in its iPod music players became the focus of a BBC TV investigation.
"UK consumer advocate show, 'Watchdog', took Apple to task over battery life."
iPod Maps Draw Legal Threats
Wired's Matt Reed reports:
"Transit officials in New York and San Francisco have launched a copyright crackdown on a website offering free downloadable subway maps designed to be viewed on the iPod.
"iPodSubwayMaps.com is the home of iPod-sized maps of nearly two dozen different transit systems around the world, from the Paris Metro to the London Underground."
Apple's iPod nano Could Be 'Key Product' into 2006
Forbes' Maya Roney reports:
"UBS Investment Research raised its price target on Apple Computer to $64 from $59 and maintained a 'buy' rating on the stock based on its analysis of the 4-gigabyte iPod nano.
"UBS said the 4G nano could be Apple's 'key product' into 2006, with many stores struggling to keep the devices in stock."
Apple's Cost to Build the nano
Businessweek's Arik Hesseldahl reports:
"Researcher iSuppli took a look inside the latest iPod to find out how much Apple is making off it and who supplies its parts
"Rumors swirled for weeks that Apple Computer CEO Steve Jobs had a product up his sleeve that would upstage the long-awaited ROKR music-playing phone. The speculation was confirmed on Sept. 7, when Apple unveiled with fanfare the iPod nano. The ultra-thin digital music player has been met with mostly rave reviews, and it stole the limelight from the ROKR, developed with Motorola.
"Now that the Nano is on the market, attention has turned to more practical questions. Among them: How fat are Apple's margins on it?
"Market research firm iSuppli set out to satisfy the curiosity by buying the $199 2-gigabyte version of the Nano and tearing it apart. The verdict? It costs Apple $90.18 in materials to build the unit and $8 to assemble it, leaving a profit margin before marketing and distribution costs of about 50%. That's consistent with the margins on earlier iPod versions and serves as a reminder of what a profit machine the iPod family of products has become for Apple since it was introduced in 2001."
iSuppli Surprised by nano Component Choices
EE Times reports:
"Apple Computer Inc. has made some surprising semiconductor choices according to iSuppli Corp., who recently conducted a 'teardown' analysis of Apple's new iPod nano music player.
"Apple's choices include the use of PortalPlayer Inc.'s 5021C system-on-chip (SoC) for audio processing and Cypress Semiconductor Corp.'s CY8C21434 for the circuitry behind the iPod nano's trademark Click Wheel interface, according to iSuppli (El Segundo, Calif.). These and other ICs account for 77 percent of the $90.18 total bill-of-materials (BOM) cost for the 2-gigabyte version of the iPod nano, the firm said."
iPod Updater 2005-09-23
iPod Updater 2005-09-23 includes new iPod Software 1.1.2 for iPod shuffle. iPod Updater 2005-09-23 contains the same software versions as iPod Updater 2005-09-06 for all other iPod models.
iPod Updater 2005-09-23 delivers the following software:
Features of iPod Software 1.1.2 for iPod shuffle:
Bug fixes for iPod shuffle
Link: iPod Updater 2005-09-23
Apple Offers Custom Engraving of iPod shuffle
ilounge.com's Larry Angell reports:
"The online Apple Store has begun offering free personalized engraving on the iPod shuffle. Unlike the full-size iPod and iPod nano, the laser-engraved text is printed on the side of the shuffle and has a one line, 40 character limit."
The iPod mini from 1954
arstechnica.com's Ken "Caesar" Fisher says:
"An astute observation by John Ousby has left plenty of people scratching their heads. Ousby has spotted the uncanny resemblance between the now defunct iPod mini, and a transistor radio that made its debut over 50 years ago. The Regency TR-1 transistor radio hit the market in 1954, and was the first commercially sold transistor product aimed at the consumer market, according to Steve Reyer. Not only was it small and convenient, but it was also stylish, featuring colorful case options, and a bold circular dial. It came in blue, green, lavender, black, white, and a light red. Regency marketed it with the slogan, 'See it! Hear it! Get it!'"
Nokia's iPod-Killer Phone Slips to 2006
The Register's Andrew Orlowski reports:
"Nokia only began to partner with Microsoft earlier this year - but already it's showing signs of catching Longhorn Syndrome.
"The Finnish phone giant has confirmed that its would-be iPod killer, the N91 music phone, will miss the Christmas shopping season, and won't now ship until Q1 2006."
Motorola Leader Zander in 'Screw nano' Furor
Macworld's Tom Krazit reports:
"Some analysts and Apple fans believe that CEO Steve Jobs will eventually develop an Apple-designed smart phone, based on Apple's traditional insistence on keeping tight control over the hardware that runs its software products. Zander declined to comment specifically on the idea of an Apple smart phone, but said 'all computer companies are thinking about voice.'
"He did have some harsh words for Apple's new iPod nano, which many analysts believe stole the spotlight from Motorola's ROKR phone during a recent launch event.
"'Screw the nano. What the hell does the nano do? Who listens to 1,000 songs?' Zander said."
Apple, Motorola: A Love-Hate Relationship
beta.news.com says:
"The latest chapter of the apparent love-hate relationship between Apple and Motorola is unfolding in the blogosphere after some choice comments by the latter company's chief executive. Trade publication InfoWorld reported that Motorola's Ed Zander dissed the iPod nano at a Silicon Valley gathering Friday, saying: "Screw the Nano. What the hell does the Nano do? Who listens to 1,000 songs?"
"Zander seemed to be joking when he made his remarks, but it wouldn't be surprising if they reflected some underlying tension between the companies. Conflicts between the two partners go back as far as 1999 (when Zander was still at Sun Microsystems), with Apple blaming some of its financial problems on Motorola's inability to manufacture its PowerPC chips fast enough to keep up with Macintosh production."
iTunes, iPod Among Design Award Winners
PR: Friday night, His Royal Highness the Crown Prince presented the INDEX: awards of a total of £500,000 to the winners of the large design event. The international INDEX: jury selected the five designs that they view to have improved life within the last five years in the following five categories: body, home, work, play, and community. The winners also received prizes from Royal Copenhagen and Georg Jensen.
The winners include Apple iTunes, iPod (Play) - design by Apple Design Team, USA
iPod together with Apple's iTunes software is truly changing the way people experience their music. iPod allows a music fan to have their entire music collection with them anytime, anywhere. The iTunes software provides unparalleled ease of use for organization and sharing of music as well as recorded literature and images. Playlists can be shared with other computers across a network via Apple's Bonjour technology. iTunes secures that music users pay for their music.
Tips
iPod nano: Why Isn't the Charging Icon Always Flashing?
A new Apple Knowledge Base Article says:
"When you plug your iPod nano into a power source, the charging icon appears - it's a lightning bolt over a battery. Depending on the state of the battery, it may or may not animate (flash between gray and green). In either case, the icon indicates the battery is charging successfully. When the battery is fully depleted, the iPod nano may not appear in iTunes until it has been charged for about 10 minutes.
"The non-animated version of the icon.... appears when your battery has been fully or nearly depleted of charge. This appears for up to 10 minutes. Note: If your iPod nano is connected to the computer, the computer won't see it until after that 10 minutes has elapsed. After that, you'll see the 'Do not disconnect' screen."
Charging Your iPod Battery
An updated Apple Knowledge Base article says:
"All iPod models have an internal, nonremovable, lithium-based rechargeable battery. A fully charged battery can provide anywhere from up to 8 hours to up to 15 hours of battery life, depending on the iPod model and its use. After about 14 to 28 days of non-use, you will need to charge the battery.
"Your iPod displays a battery icon in the upper-right corner of the screen to show approximately how much charge is left.
"Rechargeable batteries have a limited number of charge cycles and may eventually need to be replaced. Battery life and number of charge cycles vary by use and settings."
iTunes and iPod: Photo Sync FAQ
An updated Apple Knowledge Base article says:
"iTunes 4.7 and later has the ability to sync photos from your computer to any iPod with a color display (including iPod nano and iPod photo). Find out the answers to common questions about photo syncing."
Products and Services
InvisibleShield Protects iPod nano Against Scratched Screen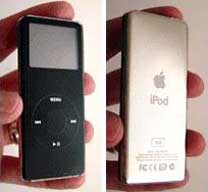 PR: For the purists among us who think the iPod nano looks best just like it is, we bring you the InvisibleShield - an invisible, full-body wrap for the hot, new iPod nano.
Beware! The black nano gets scratched much worse than any previous iPod. You will not regret getting InvisibleShield protection. ]
Free shipping for a limited time. And don't forget the Lifetime Warranty! When you own an InvisibleShield, your nano is protected for life!
iPod nano - Full Body Protector - $19.95
Plexus Plastic Cleaner, Protectant, and Polish
PR: Plexus was developed for use in the aviation industry - specifically, for cleaning and protecting aircraft windshields and painted surfaces. As Plexus became more and more popular, people quickly discovered it could be used on a limitless variety of plastic surfaces. Since then, Plexus has continued to grow in popularity, and today it is recognized as the most effective plastic cleaner, protectant and polisher on the market.
Until now, plastic-cleaning products have proven less than satisfactory. Existing cleaners are often messy to use (especially creams and pastes) and require several steps to apply. They have to be rubbed on and buffed. They often leave a sticky, tacky or oily residue. And, in many cases, they're abrasive, leaving small lines in the plastic.
Dissatisfied with these cleaners, many people resort to products that are alcohol, ammonia, or petroleum-based. Unfortunately, these products can dry out plastic, leading to cracking and discoloration over time.
The bottom line: over the years, people have had no truly reliable, effective products to turn to for cleaning and protecting plastic.
Fortunately, now there's a solution: Plexus. The most effective product available for cleaning, protecting, and polishing all kinds of plastic.
To use Plexus, simply spray and wipe - no buffing, no mess, and no waste.
Plexus protects plastic more effectively than ordinary cleaners. Because Plexus seals the pores in plastic surfaces with a micro-thin layer of shiny, protective wax, plastic becomes resistant to debris, oil, scratches, and eventual yellowing. And its antistatic properties repel dust and lint.
Since new plastic is most vulnerable to contaminants and damage, using Plexus early on can help in the long-term protection and maintenance of plastic. Plexus gives you a cleaner, more lustrous finish than ordinary cleaners. Plexus leaves no smears and no smudges. Instead, the finish it leaves is shiny, brilliant, and clear like no other. Plexus makes colored plastics vibrant, makes clear plastic virtually transparent, and leaves plastic paints gleaming like new.
Use Plexus on your computer screen to keep it clean and fingerprint-free. Or use it on your eyeglasses to keep them clean.
Plexus comes in a variety of sizes for a number of uses. So when you're looking for the most effective cleaner, protectant, and polish for any kind of plastic. The 13 oz. aerosol can typically sells for $9.95.
HomeDock: A Home for Your iPod at Home
PR: Introducing the incredible HomeDock for iPod. Easily connect and enjoy your iPod's music through your Home Stereo & TV .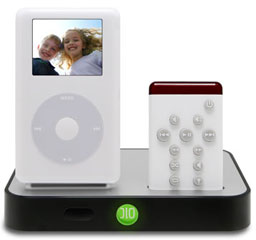 You have a case and headphones for taking your iPod on the go, your car is outfitted with the latest TransPod to enjoy your tunes in the car, but what do you do with your iPod at home? The DLO HomeDock is where your iPod lives &endash; at home. Walk in the door, dock your iPod onto the HomeDock, and enjoy your iPod's music throughout the house.
The DLO HomeDock includes everything necessary to attach your iPod to your Home Stereo and TV to enjoy its music and pictures at home. It includes a 14-function remote control to play your tunes from across the room. It also includes a standard AC plug to power and charge your iPod while docked. It even allows you to connect your iPod without removing it from your favorite iPod case. The DLO HomeDock is truly a home entertainment center for your iPod.
Do You Know How Good Your iPod Really Sounds?
The iPod sounds great through its included earbud headphones. It even sounds great through a set of travel speakers or the iBoom. But when you hook up and play your iPod through your professional, high-fidelity home stereo sound system, we bet you'll be blown away by just how good your iPod really sounds.
The DLO HomeDock connects your iPod to your Home Stereo via the included standard RCA type plugs and cables. No complicated Y-cables or headphone plugs are necessary. Simply dock your iPod onto your HomeDock and your iPod's music is sent to your Amplifier through the superior audio line-out from the bottom of the iPod. No adapters, no loose cables, just great sounding iPod music coming through your 'real' stereo at home.
Just When You Thought Tacky Home Slideshows Were Over.
The DLO HomeDock also connects to your TV via Composite or S-video so you can easily show all those pictures trapped inside your photo capable iPod. Just dock your iPod, select a photo slideshow and begin reliving the memories all over again. Any size TV screen will show off your beautiful photos better than the tiny iPod screen. Connect the HomeDock to one of the new digital flat screen TVs via S-video and the fun is even bigger. Control the show from the comfort of the couch with the included remote control. Of course your chosen musical soundtrack still plays through your Home Stereo speakers for the proper accompaniment to the big picture show.
It Does Windows &endash; And Macs
After you get used to the convenience and performance of the HomeDock next to your home stereo and TV, you'll wish you had its handy connections and remote control right next to your PC or Mac. Well you can. The HomeDock also includes standard USB that connects to your computer and lets your sync and charge your iPod right from the HomeDock. USB powers your HomeDock so you don't even need to plug it in when attached to your computer. Play your iPods music through a pair of powered speakers or passed back through the input of your PC. What you have now is a convenient, great sounding iPod office stereo system &endash; with a remote control of course.
Quick Facts
Shipping in October
Play your iPod, iPod mini or iPod nano's music through your home stereo
Watch slideshows with music on your big screen TV
Remote Control of over 14 separate iPod functions including photo slideshows
Charge, sync and dock your iPod with your Mac or PC via USB
Dock your iPod without removing most iPod cases
Add a pair of powered speakers for a complete compact sound system
HomeDock: $99.99
iFM Radio, Remote, and Recorder for iPod
PR: iFM integrates FM radio tuning, recording and remote control functionality to the iPod, all in a tiny aluminum enclosure. With the flip of a switch users can now switch seamlessly between controlling their music library and listening to their favorite FM radio programming. Use the iFM as an inline remote to control the iPod's transport controls, great for workouts, biking or hiking. iFM is also a recording device, with a built in microphone to record voice, or change modes to capture live FM radio directly to the iPod!
The integrated white backlit LCD shows the operating mode of the iFM at a glance.
Features:
Radio*
Digital auto station scan with wraparound
Band-Switch function to switch between US, European and Japanese FM bands
6 station presets per band
Remote*
Controls play, pause, fast forward, rewind, next song, previous song, volume
Recorder**
Records FM radio
High quality omnidirectional built in microphone for recording voice memos
Automatically saves to the iPod
One-touch start and stop recording***
Recording time only limited by amount of available space on the iPod
* 3G/4G/Photo/mini models
** 3G/4G/Photo models
*** 4G/Photo models
Many Existing Belkin Accessories Compatible with iPod nano
PR: Belkin's existing line of iPod accessories include devices that are both compatible with the iPod nano and are available in both black and white colors, such as the TuneCast(TM) II (F8V3080 and F8V3080-APL) and Auto Kit for iPod(R) (F8V7058-APL and F8V7058-APL-BLK). These products are widely available in North America. Other new and to-be-announced accessories for nano will be available starting October 2005.
The TuneCast II, an FM transmitter that plays music from your MP3 player through FM radio waves, plugs into the nano's headphone jack. It keeps the dock connector, which is situated next to the headphone jack on the nano, accessible. The TuneCast II is available in both black and white colors, as is the Auto Kit, which charges the nano in your car.
"The iPod nano typifies Apple's unique ability to push the limits of innovation," said Mark Reynoso, Sr. VP of Sales and Marketing. "Building in a color screen and photo capabilities is ingenious, and moving to a flash-based architecture not only increases the product's durability but also extends the battery life."
"Many of our existing products are already a good fit for the nano, and we will soon be adding several new nano-specific accessories as well as ensuring overlapping compatibility, as necessary, with future iPod accessories," continued Mr. Reynoso.
Belkin accessories for nano:
Power and listen to your nano in your car
Auto Kit for iPod w/Dock Connector, White (F8V7058-APL) and Black (F8V7058-APL-BLK) - $39.99
TuneCast II Mobile FM Transmitter, Gray/Black (includes a Belkin Auto Power Cord that connects to your car's cigarette lighter) (F8V3080) - $39.99
TuneCast II Mobile FM Transmitter, White (F8V3080-APL) - $39.99
Cassette Adapter, Gray (F8V366) and White (F8V366-APL) - $19.99
TuneCast Mobile FM Transmitter, Gray (F8V367) and White (F8V367-APL) - $29.99
Auto Power Cord for iPod w/Dock Connector (F8V7067-APL) - $19.99
Listen to your nano through your home stereo
Mini-Stereo Audio Cable - 3.5MM to 3.5MM M/M - 6ft (F8V203-06-APL) - $3.99
Mini-Stereo Audio Cable - 3.5MM to 3.5MM M/M - 6ft (F8V203-06GLD-AP) - $19.99
Mini-Stereo Extension Cable - 3.5MM to 3.5MM M/F - 6ft (F8V204-06GLD-AP) - $19.99
Y Audio Cable, 6 ft. (F8V235-06-APL) - $5.99
Stereo Link Cable, 7 ft. (F8V235-07GLD-AP) - $19.99
Share the music from your nano over two sets of headphones
Headphone Splitter (F8V234-WHT-APL) - $4.99
Speaker and Headphone Splitter (F8V234-GLD-APL) - $9.99
Link: Belkin
Belkin's Complete Lineup of Leather Cases for iPod nano
PR: Belkin announces a variety of new cases for the iPod nano. Addressing the various needs of the iPod user, three formfitting, leather-case designs are available. Designed to reinforce the nano's minimalist industrial design approach, Belkin's cases fully manage various aspects of user functionality while still maintaining a sleek-yet-simple aesthetic design. These cases will be available in North America in October.
Carabineer Case for iPod nano (F8Z057) - $24.99
The Caribineer Case's formfitting design and fine-grain leather construction keeps your nano form slim while still giving you complete and easy accessibility to all ports. Featuring a carabineer clip for convenient positioning and hands-free carrying, this Case also offers a locking clip to easily secure your iPod.
Flip Case for iPod nano (F8Z059) - $24.99
The Flip Case offers quick, easy, and convenient storage with its built-in cable-management mechanism. Designed with a multi-mount clip and hook for a variety of ways to secure your iPod nano, this Case also provides easy accessibility to all ports. The Flip Case features a formfitting design, packaged within a fine-grain leather construction.
Folio Case for iPod nano (F8Z058) - $24.99
The Folio Case secures comfortably around your wrist with convenient lanyard strap. Designed for easy accessibility to all ports, the Folio Case comes packaged within a fine-grain leather construction and features a formfitting design.
"We're very excited about the new iPod nano and its exceptional engineering," comments Ernesto Quinteros, Belkin Director of Industrial Design. "Given the new form factor, it was our goal to create designs that would reflect this minimalist intent. We believe that our new slim leather cases will add smart protection to this high-touch experience."
Link: Belkin
Software
PodTunesColor iTunes Controller Looks Like a Color iPod
PR: PodTunesColor has been given a major overhaul and now features a color screen that displays the album art of the currently playing song - just like a real iPod. As before it also displays the name and artist of the current song but now also shows the track number and shows if the song is playing or paused.
You can also now switch shuffle on or off using the middle (select) button and the current shuffle status is displayed in the top left of the iPod's screen.
A Complete list of new features
A color screen with album art,
Switch Shuffle on and off directly from PodTunesColor
Shuffle icon indicates if shuffle is on or off
Icon in the top left of screen now indicates whether iTunes is playing or paused
Track numbers (e.g. 7 of 645) in upper left of screen
Switch the backlight on and off (Menu button)
Tooltips
More readable font
Improved graphics
System requirements: Mac OS X 10.3 or higher
PodTunesColor is free.
iPod It Transfers PIM Data to Your iPod
PR: Who needs a PDA when you have an iPod?
Transfer your PIM data to your iPod so it's available whenever you need it; iPod It supports transferring information from Entourage, Stickies, Mail, Address Book and iCal. You can even download RSS feeds, weather forecasts and news headlines directly to your iPod.
Features
Transfer all or a subset of your Entourage events, contacts, messages, notes and tasks to your iPod.
Select Entourage information by category (or folder for messages).
Transfer all or a subset of your Stickies, Mail messages, Address Book contacts, and iCal calendars.
Includes all of your Calendar and Contact information. Fields not supported by the iPod (e.g. meeting locations and IM addresses) are included within the event/contact notes.
Advanced filtering to control the information that gets transferred. Examples include date ranges for events, flagged contacts, unread (and/or flagged) messages and tasks based on whether or not they have been completed.
Download RSS feeds. iPod It ensures that only unread articles are transferred to your iPod.
Download weather forecasts and news.
Subscribe to Internet published iCals for direct download and transfer to your iPod.
Supports all versions of iPod and iPod mini software:
For version 2.0 iPods messages, notes/stickies, tasks, news and weather forecasts can be transferred into your iPod's Notes. The information is organized by type and category to allow for easy navigation to all of your information. Notes longer than 4 KB are split into multiple notes. Notes are organized and linked to allow for easy navigation while reading.
Events, tasks, weather forecasts and iCals can be transferred into your iPod's Calendar. Your calendar information will be organized into separate calendars based on category. Tasks can also be transferred to the To Do list found on 2.0 iPods.
For version 1.x iPods, iCal To Do items can be transferred as entries in a "To Do" calendar.
For version 1.x iPods, Contacts, messages, notes, tasks, news and weather forecasts appear as Contact entries. Long entries are logically split into multiple contacts.
Sync all (or a subset) of your information to your iPod with a single click. Uses your filter settings to determine what information gets synced.
Automate the syncing of your information by selecting automatic syncing on launch and automatic exit following a sync. Use iPod Launcher and connecting your iPod is all you'll ever have to do!
Provides for manual transferring of information if you need more control over what gets transferred to your iPod.
Locates your iPod and transfers information to the correct location within your iPod without asking you where it should go.
Clean your iPod of all information within given iPod It categories.
New in this version:
Fixed Event support with Entourage X and attendee handling with Entourage 2004 SP2.
Fixed iCal support to ensure that event notes are always include on your iPod.
Removing iCal calendars from your iPod no longer removes Entourage calendars.
System requirements:
Requires Mac OS X 10.3 or greater (Tiger compatible)
iPod Software 1.1 or higher
Microsoft Entourage X for Entourage transfer
iPod It is $14.95 shareware.
iPod.iTunes iPod Track & Playlist Sync/Transfer
PR: Unlike other iPod software to copy songs off the iPod, iPod.iTunes checks which tracks and playlists on the iPod are not in the iTunes music library and only adds those seamlessly to the iTunes library, avoiding duplicates, saving your time. Beside playlists, iPod.iTunes can also transfer song dependent data like "My Rating", "Last Played", "Play Count", album artwork, etc...
Simple one click synchronization or...
Option to choose tracks manually if you don't want to synchronize them all. You can listen to tracks before you choose to transfer them.
Tracks and playlist entries can be synchronized together or separately. If the tracks on the iPod are already in the iTunes library and you only want the iPod playlists, you can use the playlist synchronization alone.
With every track synchronization iPod.iTunes creates a date&time stamped playlist in iTunes containing the tracks which were transferred. This gives the option to easily add those tracks to existing playlists or to create new playlists from the transferred tracks.
Support for the iPod's "On The Go" playlist.
Copies by default seamlessly to the iTunes music folder and creates a folder structure based on artist/album, as in iTunes (with options).
File naming based on track number and track name, as in iTunes.
File formats: MP3, AAC/MP4, Protected AAC (iTunes Music Store), Audible audio books, Podcasts, Apple Lossless.
Support for Windows-formatted iPods.
iPod.iTunes can run directly from the iPod, so it's always there when you need it.
Registration is independent of the computer. You can just connect your iPod to any Mac without registering every machine.
iPod.iTunes can be used to
Keep music and playlists on different Macs up to date
Do a full restore of tracks and playlists - i.e. after a hard disk failure or if you buy a new Mac
Revert accident deletion of tracks and/or playlists in iTunes, if these are still on your iPod
Clone an iPod
Transfer an entire music library from one Mac to another via the iPod
New in this version:
Compatibility for changes in iTunes 5.0.1.
Compatibility for iPod nano firmware 5.0
System requirements:
Mac OS 10.2 up to 10.4.2
iTunes 3.0.1 up to 5.0.1
Mac/PC-formatted iPod with firmware 1.0 up to 5.0. Does currently not work with the iPod shuffle.
iPod.iTunes sells for $49.
iPod Deals
For current iPod prices from a variety of sources, see our Best iPod Deals.
Join us on Facebook, follow us on Twitter or Google+, or subscribe to our RSS news feed
Today's Links
Recent Content
Custom Search
Follow Low End Mac on Twitter
Join Low End Mac on Facebook
Favorite Sites
MacSurfer
Cult of Mac
Shrine of Apple
MacInTouch
MyAppleMenu
InfoMac
The Mac Observer
Accelerate Your Mac
RetroMacCast
The Vintage Mac Museum
Deal Brothers
DealMac
Mac2Sell
Mac Driver Museum
JAG's House
System 6 Heaven
System 7 Today
the pickle's Low-End Mac FAQ
Affiliates
Amazon.com
The iTunes Store
PC Connection Express
Macgo Blu-ray Player
Parallels Desktop for Mac
eBay

Advertise