iPod nano Lawsuit, iPod Haters at NYU, Podner Converts Video for New iPod, iPodwear, and More
Compiled by Charles Moore and edited by Dan Knight - 2005.10.27
This Week's iPod News
PowerBook, iBook, iPod, and other portable computing is covered in The 'Book Review. General Apple and Mac desktop news is covered in The Mac News Review. News about Apple's transition to Intel CPUs and other Intel developments is covered in The Macintel Report.
All prices are in US dollars unless otherwise noted.
iPod nano Lawsuit
News and Comment
Tips
Products and Services
Software
iPod nano Lawsuit
Suit Filed Over nano Scratches
CNET News.com's Ina Fried reports:
"Claiming that the iPod nano has a widespread propensity for scratching easily, lawyers this week filed a class action suit against Apple Computer on behalf of those who have purchased the diminutive music player.
"The lawsuit, filed Wednesday on behalf of all those who have bought a Nano, alleges that Apple violated state consumer protection statutes, as well as express and implied warranties. The complaint charges that Apple knew that there were design problems with the Nano."
Class Action Suit Alleges iPod nano Defective in Design
"On Wednesday, October 19, consumers filed a nationwide class-action lawsuit against Apple Computer, Inc., claiming the world's largest manufacture of portable music players knowingly manufactured, marketed, and distributed defective iPod Nanos.
"The suit alleges the company's new iPod nano is defectively designed, allowing the screen to quickly become scratched with normal use. According to the complaint, Apple advertised and marketed the Nano as being impossibly small and durable; however, in an effort to make the device as small as possible Apple compromised the quality of the Nano.
"Named plaintiff, Jason Tomczak, purchased a Nano and used it in a manner that was consistent with Apple's advertising. Within a few days the Nano became so scratched he was unable to view the screen. After receiving a new Nano due to a battery problem with the first, Tomczak went to great lengths to protect the screen but in the end decided to return the device after lightly rubbing a corner with a paper towel and found significant scratches. Apple did allow the return, but not without charging a $25 return fee.
"According to Steve Berman, lead attorney for the proposed class, Apple chose to disregard the design problem with the Nano before its release and has not taken any steps to correct it since then. 'We intend to prove that in an effort to rush the iPod nano to the market, Apple ignored obvious defects in the design and later tried to cover up negative responses received from consumers,' said Berman. 'We seek to recover money lost in purchasing this product as well as the $25 fee Apple has chosen to impose on those who have returned their product after it became unusable.'
"Previous versions of the iPod separated the screen and controls from the case and was covered with a thick film of resin. In designing the Nano, Apple reconstructed the housing into a seamless front where the screen and controls reside directly under a much less durable film of resin allowing irreparable damage to occur.
"The suit claims Apple knew the Nano was defective, but chose to go forward with the release and pass the cost of replacing the defective device on to class members. The suit also claims that instead of admitting to the flaw after widespread complaint, Apple concealed the defect and advised class members to purchase additional equipment to prevent the screen from scratching excessively."
News and Comment
Watching iPod Video a Delight
The New York Times' David Pogue says:
"With each successive version, the iPod, Apple's 30-million-selling music player, gets thinner and thinner, but its feature list grows longer and longer. By next year, no doubt, the iPod will act as a radio, remote control and coffee stirrer but will be thin enough to roll up in a tube.
"The latest model, unveiled last week, is deliciously thin at 4.2 by 2.4 by 0.5 inches, or 10.6 by 6.0 by 1.3 centimeters. In addition to its usual repertoire of music, digital photos, calendar, address book and song lyrics, it can now play video.
"But there is no such thing as a Video iPod. The new model is simply called the iPod; its thicker, videoless predecessors have gone off to the great eBay in the sky."
iPod Convergence Brings Obsolescence
Cox News Service's Don Fernandez says:
"'It's brutal,' said John Jackson, senior analyst at the Boston-based Yankee Group, a technology research and consulting agency. 'You resign yourself to purchasing this thing knowing the next best thing will launch in a month or two. What do you do?'
"The wicked pace of technological progress is resulting in brand-new products' appearing instantly obsolete. From cell phones to MP3 players - and even televisions - today's cutting edge is often dulled by the promise of what's next.
"Faster generations with richer storage and more function are mere months away. Why settle for something that's already second best?
"A better question: When is the time right to actually buy something?
"It's a question that makes even manufacturers fret."
NYU Students Denounce iPod Because It Is Successful
nyunews.com's K. Shea O'Rourke says:
"If CAS junior Emily Nassberg were ever to receive a free iPod, she knows exactly what she would do with it.
"'I would probably bash it in,' she said.
"Despite the iPod's ubiquitous presence on campus, many students are dead-set against ever owning one. These students cited the high price of the iPod, and also believed that the iPod's popularity is due to advertising, rather than to some special quality.
"'People are just paying for iPods - they're not paying for an MP3 player,' said Nassberg, who began a Facebook.com group called 'No, I Don't Have an iPod' which currently has 50 members at NYU.
"Several students in the group denounce Apple products in general, but many simply refuse to buy the little white moneymaker, and cite the excessive advertising as the reason for its success."
Video iPod Giveaway
PR: On Thanksgiving 2005 Think Different Store will give away Apple's latest addition to the iPod family. One lucky contestant will win the white, 30GB iPod that holds music, photos and video that is viewable on a 2.5-inch color display.
To win the new iPod participants may visit Think Different Store's website or retail store located in New York
The winner will be selected by random drawing on November 24, 2005 and will be announced on the website.
iPod Updater 2005-10-12
Includes new iPod Software 1.0 for iPod. iPod Updater 2005-10-12 contains the same software versions as iPod Updater 2005-09-23 for all other iPod models.
System Requirements for Macinstosh
To install and use iPod Software 1.0 for iPod, you need:
An iPod
A Macintosh computer with built-in USB (USB 2.0 recommended)
Mac OS X v10.3.9 or later
iTunes 6 or later (included on the CD)
iPhoto 4.0.3 or later recommended
Note: iTunes versions earlier than 6 are supported for music, photo and podcast syncing only and will not sync videos properly with iPod.
System Requirements for Windows
To install and use iPod Software 1.0 for iPod, you need:
An iPod
A PC with a USB port or card (USB 2.0 recommended)
Windows 2000 with Service Pack 4 or later, or Windows XP Home or Professional with Service Pack 2 or later
iTunes 6 or later
Adobe Photoshop Album 2.0 or Elements 3.0
System Requirements
Mac OS X 10.3.9 or later
Windows 2K with Service Pack 4
Windows XP Home
Windows XP Professional
To learn how to use your iPod with step-by-step instructions and easy-to-follow movies, see the iPod tutorial at http://www.apple.com/support/ipod
Tips
Tips and Tricks to Get the Most Out of Your iPod's Battery
An updated Apple Knowledge Base article says:
"To get the most out of one charge of iPod's battery, install the latest iPod software, use the Hold switch, and keep iPod at room temperature."
Products and Services
Ultra Slim Hard Case for shuffle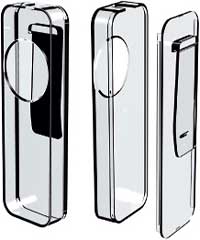 PR: Swedish Clips 4 introduces a new stylish way for you to carry your iPod Shuffle. Produced in slim, high strength PC plastic, the C4 Shuffle Clip lets you securely and fashionably carry your iPod. The ultra-light case is a unique combination of color, cover, and clip.
"The C4 Shuffle clip is more than a cover, more than a clip, and more than just color. In the C4 Shuffle clip we've combined function and esthetics, giving you the perfect accessory to your iPod Shuffle. It keep your Shuffle safe from scratches, give you a stylish way to carry it, and the option of glowing neon colors or sleak deep, piano plack. An absolut must for the shuffler" Magnus Norberg, Managing Director - Clips 4
Available in glowing translucent neon pink, lime, non-colored translucent, and deep Piano black.
Kenpo's Jacket for iPod - Wearable Music
PR: Kenpo Jacket for iPod enables wearers to control their iPod from the 5-button control system on the lower portion of the sleeve, redefining the way that iPod users take their music with them.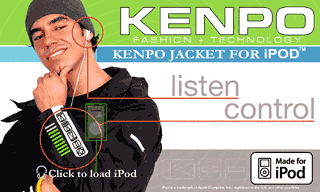 In a harmonious convergence of fabric technology and fashion forward style, Kenpo Inc., a leading manufacturer of apparel, has redefined the iPod listening experience and ushered in a new lifestyle reality with the unveiling of the Kenpo Jacket for iPod. Empowering everyday music enthusiasts to seize control of their listening experience, Kenpo's innovative union of fashion and technology enables wearers to keep their iPod device in the jacket's inner pocket, and still manage the pause, skip tracks and volume using the easily accessible interface located on the lower portion of the jacket's sleeve without fumbling with zippers, gloves or pockets.
Allowing iPod-users to wear their music on their sleeve, Kenpo's technology enabled line of jackets employs ElekTex patented "smart fabric" touch pad technology to transform the sleeve into a 5-button electronic control panel for use with the iPod and iPod mini models. The discreetly placed 100% fabric interface utilizes touch-sensitive buttons that are identical to those found on the iPod Device, meaning wearers can Play, Pause, Track Forward, Track Back, and change the Volume Levels without ever removing their iPod from the specially designed, padded interior pocket. Absent of any wires or a metal contact, the jacket is machine washable, completely self-powered and requires no batteries.
"The Kenpo Jacket for iPod is the pinnacle of form, function and personal style, in that technology and fashion, the two factors that have the greatest influence on the daily lives of the consumer, are now fully integrated to create an entirely new lifestyle genre," said Joel Bernstein, vice president of Kenpo, Inc. "Both fashion and music have always defined and inspired attitudes and personal style, and now people have the opportunity to better control their own environment, while enhancing their everyday life by setting it to music."
Designed to keep current with the hottest trends and styles, and appeal to the general consumer, the Kenpo's Jacket for iPod is available in four men's styles, has a suggested retail price of $275 and is available at leading department stores as well as online.
Pricing and availability varies by market.
muzikwear iPod Wire Management System
PR: muzikwear.com announces a patent pending wire management system. The muzikwear wire management system is the only system that fully integrates a digital audio player into apparel.
muzikwear.com has announced the availability of it's wire management system on its' first product, a short sleeve moisture wicking crew T shirt.
The shirts will be available in black, navy, and, white. Sizes: S-XXL
The shirts are $29.99 each and are available for purchase online.
Difusi Introduces High Quality Leather Cases for 5G iPod
PR: Difusi Corporation, best known for its development of Apple accessories, today announced the first in a series of new products aimed at the new Apple 5G iPod video/music players.
Difusi Corporation, introducing series of new high quality, ultra stylish, iPod 5G protective cases called the videoFlip and videoValet.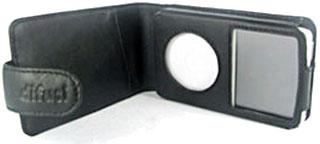 "Difusi Corporation, has held a long tradition of introducing high-quality, functional devices and accessories for the Mac platform,
Continuing in this tradition, difusi introducing a series of fashionable and affordable carrying cases for the 5G iPod, without sacrifice to its sophistication, useability or quality."
"Owning an iPod is as much about lifestyle as it is about music," said Difusi President and CEO, Michael Wright. "People want to protect their investment and we feel this is an elegant, affordable solution for every iPod nano owner to protect their nano from the daily bumps and scratches that occur from use."
Made from soft black Sheepskin leather, the videoFlip & videoValet series also feature reinforced exterior stitching and provides the user with a snug yet easily removable protective carrying case offering quick, easy access to all ports and buttons.
In designing the videoFlip & videoValet series, Difusi also spent time considering the amount of handling the new 5G iPods are going to get from people handling the unit more frequently that the previous generation of iPods, due to the video functionality. The Valet is like having a small insurance policy to protect your new video capable iPod that is both affordable and stylish.
The videoFlip & videoValet series comes with several methods of carrying your iPod in the case, keeping your hands free. Carrying methods include a belt loop; key clip; removable swivel belt clip with metal spring; and a hand-held Lanyard strap.
Pricing, Warranty and Availability
The videoFlip & videoValet comes with a lifetime replacement warranty so you can protect your iPod and feel at ease with your investment. Available for the 30 GB and 60 GB 5th generation iPod, the videoFlip & videoValet will be available the second week of november. Preorders are being taken directly from the Difusi Web site.
The items will be available for purchase online and should be shipping mid-November through select retailers worlwide.
Difusi has been developing solutions for the Apple Mac platform since the 1990's. Today, Difusi is reigniting the mac accessory market through its introduction of innovative solutions and original designs to the platform.
PRIE Ambassador for 5G iPod
PR: PRIE Ambassador for iPod is a versatile genuine leather case for the iPod 5G. PRIE Ambassador is made from smooth ultra high quality genuine nappa leather and provides protection for your iPod against dirt and scratches.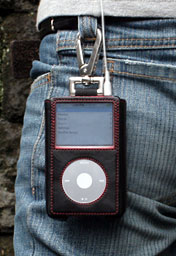 The very stylish PRIE Ambassador for 5G is also extremely versatile. First of all, you can use the removable hook to attach your iPod to a belt loop or bag strap. There is also a removable belt clip so you can clip PRIE Ambassador for 5G to a pocket or belt. Finally you can remove both the hook and the clip and simply use the case on it's own and slip it into a pocket or in a bag, knowing that you iPod is safe from scratches from keys or coins. You also have the option of clipping on your own strap (not included) to hang PRIE Ambassador for 5G around your neck or shoulder.
TuneFilm
PRIE Ambassador for iPod 5G will be available in 3 colors: black leather with red stitching [B/R], black Leather with white stitching [B/W] and white Leather with white stitching [W/W].
IceWear 5G for iPod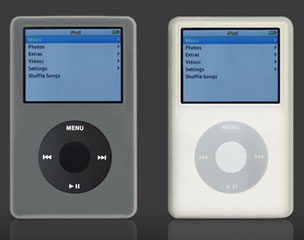 First there was IceWear for the iPod mini, one of the most popular silicone iPod cases ever made. Then we created IceWear 3G, IceWear 4G and IceWear shuffle which were also popular . Recently we hit another home run with IceWear nano which received rave reviews. Now Apple has released iPod 5G and subsequently we are proud to announce IceWear 5G. Just like the rest of the IceWear series, IceWear 5G utilizes high density silicone as found in diving masks and our patent pending Rib-Technology to protect your iPod 5G. We think that the new iPod 5G is the coolest iPod yet, and you need the serious protection that only TuneWear's IceWear can offer to keep it looking good.
IceWear 5G comes in two sizes, one for the 30 GB and another for the 60 GB model. No matter which iPod you own, TuneWear has you covered.
IceWear nano will be available online and in stores in November 2005.
iDiddy Opticover for 5G
Pacific Rim Marketing introduces Opticover for the new Black and White iPod G-5. The Opticover is thinnest case available for your Apple iPod 5G.
Made from aerospace polyurethane, iDiddy Opticover will protect your 5G from scratches with a tough barrier so durable that its offered in the aftermarket for use on the front of Ferraris and Porches and other high end cars to protect the paint from rocks and road rash. iDiddy Opticover is so thin you will hardly know itís there. It is so clear; you will think it came from the factory this way.
The iDiddy Opticover for the iPod 5G is simple to install. Simply peel back the die cut material, and carefully align it with the click wheel and screen. Apply it on slowly using the included squeegee to help eliminate any air bubbles that may get trapped between the surface of the iPod and the Opticover material. Slowly work the air bubbles out and in just a few minutes you have remarkable protection for your 5G.
Opticover for the iPod G5 is both permanent and removable. Once you put it on, you will want to leave it on. If you ever want to remove it, the special adhesive will not stay on your 5G. The adhesive will come off with the Opticover material leaving your 5G fresh and new.
Opticover for the iPod 5G is inexpensive protection at only $14.99 including shipping. You will find no finer protection for daily wear and tear than your Opticover for the iPod 5G. It is available immediately.
PRIE shuffle Leather Lanyard Case for iPod shuffle
PR: PRIE shuffle is a high quality genuine leather lanyard case for iPod shuffle. PRIE shuffle cases provide excellent protection for your iPod shuffle against dirt and scratches, yet still allow complete access to the iPod shuffle's controls pad, slider and earphone jack. There is also removable USB cap cover. Opening the USB cap cover will allow you to connect the USB connecter for charging and syncing with your computer.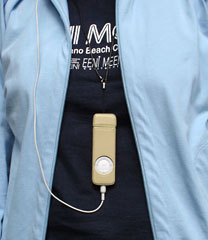 The attached lanyard strap can be used to hang PRIE shuffle around your neck and carry your iPod shuffle anytime and anywhere. You can also use your own strap (not included).
We spent hours at the drawing table to make sure that we got the design of PRIE shuffle right!
The lanyard is of course removable so you can use your favorite strap if you like.
The TuneWear logo has been subtly embossed so that it compliments the design.
Best of all, the USB cap cover has a clever snap stopper to prevent it getting lost and allows you to connect your iPod for syncing without the need to remove it from this stylish case.
WaterWear shuffle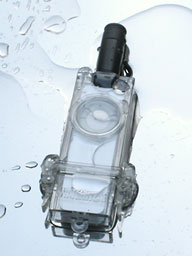 PR: WaterWear shuffle is made of solid toughened plastic with a waterproof seal to stop any liquid from entering the case. Useful for situations like sunbathing on a sandy beach or poolside, skiing in winter and fishing or rafting. You get to take your iPod music to places you never even imagined possible. The controls are accessible through our patent pending silicone wheel window and with virtually no moving parts, this case also adds a headphone isolator plug so that you get to use your own headphones.
How to use WaterWear shuffle
Admire the beauty of WaterWear.
Open and seperate the top and bottom.
Insert the iPod shuffle.
Close the clasps and rock out.
Software
Podner Helps Make the Most of the Video iPod
PR: Wondering how to make the most of the new iPod &endash; the one that plays movies and music videos? Looking for an easy way to get your movies into an iTunes-compatible format? Not sure how to get the best results from QuickTime Pro?
Say howdy to your new Podner.
Reformatting your movie collection into iPod-ready files is a cinch with Podner. Just drag your movie files to the Podner window, tweak the settings (if you want) then let Podner get to work.
Afterwards, your movies show up in a special playlist in iTunes. Then, just let iTunes synchronize with your iPod and you're good to go. It's all in a day's work for you and Podner.
Still waiting for your new iPod, or just want to use iTunes to manage your movies? Podner can retune your movie files (even AVI and DivX, when installed) while preserving their original quality.
Features:
MPEG-4 and H.264 Export to iPod
H.264 Singlepass and Multipass Support
Variable Quality Export
Poster Frame Support During Encoding Process
iTunes Integration - Processed Files Are Sent to iTunes
And More!
System requirements:
Mac OS X 10.4
iTunes 6
Quicktime 7.0.3
Temporary hard drive space equivalent to 3x the size of each processed movie file
$9.95 shareware
birdPod, an iPod Loaded with Bird Songs
PR: BirdPod is an Apple iPod Device loaded with bird songs - and lots more. Unlike a typical bird song CD set, birdPod's bird songs are organized to enable quick identification of bird songs in the field. We think birdPod is the best tool yet for learning bird songs. And, it's fun!
BirdPod makes use of the Apple iPod, considered by most critics to be the best digital music player on the market. Its major strengths - an intuitive and easy-to-navigate interface, small size and light weight, make it the perfect tool to adapt for bird study - particularly for bird study in the field.
At it's core, birdPod is an extremely well organized series of bird song playlists. Generated from a large collection of excellent recordings (the Stokes Field Guide to Bird Songs, Eastern Region), these playlists group birds by habitat or family group - which makes the playlists very useful for both learning bird songs and the identification of birds.
And, because birdPod uses the iPod, it's easy to pick a playlist to match any need even on the spur of the moment. For field work, we carry our birdPod on our belt, along with ear buds. We have what we truly believe is the most portable, easy-to-use, quality tool available for learning and identifying birds through their songs.
How well does it work? Here at birdPod we can typically identify an unknown bird song in a couple of minutes - sometimes almost immediately (the list of unknowns is getting shorter and shorter, thanks to birdPod!). Pick the habitat or group, eliminate the birds you know ... and, there it is!
For some reason, after we go through this process, the bird songs we correctly identify seem to stick in our minds. We find that the next time we hear that same song we are likely to identify the bird more easily. That's our goal: to facilitate the learning of bird songs.
System requirements: Mac OS X
birdPod sells for $118 with the Stokes Field Guide CDs. Prices for iPods with the software installed range from $297.98 for a 2 GB iPod nano version up to $497.98 for a 60 GB video iPod version.
Prevent PodPorn in Your Kids' Pocket
PR: Solid Oak Software, Inc., publishers of the popular CyberSitter Internet filter has already begun research on the mechanics of filtering the coming onslaught of adult oriented video content for the iPod.
Brian Milburn, president of Solid Oak Software, and the original developer of CyberSitter loves the iPod. He has four of his own, gives them as gifts to friends and family and is eagerly awaiting delivery of his new, shiny black, video capable iPod. Milburn also knows how pornography purveyors do business.
"Gone are the days when little Johnny would steal his dads' Playboy and share it with the other kids behind the dumpster during recess. Now they will be showing full color, stereo, high definition porn clips," says Milburn.
According to Milburn, the immense success of the Internet has largely been driven by pornography as were the BetaMax and VHS home video players years before. Making adult content easily available has been the genesis of many technologies. In fact, the early uses of GIF and JPG file formats were primarily by publishers of adult content that posted their efforts on early bulletin board systems and services such as CompuServe, Genie and Delphi. That in turn drove sales of VGA color monitors, hard drives, scanners, and modems.
Marketing executives for hardware manufacturers all know that pornography has been, and still is responsible for a substantial portion of their revenues. "I wouldn't expect that Apple is any different," says Milburn. "I would be surprised if they are not counting on adult content to contribute to the demand for their product to some degree."
Illegal music downloading is what created the demand for products like the iPod. Consumers wanted a way to take their music with them, and companies like Apple responded in a big way. While it will never make the headlines like illegal music downloading has, PodPorn will be a new hot market. "You have to ask yourself whether little Johnny would rather download the latest episode of 'Desperate Housewives,' or a steamy adult video," says Milburn.
After 15 years in computer security and Internet content management, he is pretty sure he knows the answer and vows CyberSitter will be ahead of the curve. He expects that peer to peer file sharing services, popular with teenagers, will soon adapt to meet the demand for PodPorn.
"The handwriting is on the wall," says Milburn, "Come Christmas morning when hundreds of thousands of 'Little Johnnys' find a new video iPod under the tree, they will already know where to get the porn to put on it."
Link: CyberSitter
iPod Deals
For current iPod prices from a variety of sources, see our Best iPod Deals.
Join us on Facebook, follow us on Twitter or Google+, or subscribe to our RSS news feed
Today's Links
Mac of the Day: Lisa, introduced 1983.01.19. The ancestor of the Macintosh had a mouse, a graphical interface, and a $10,000 price tag.
Recent Content
Custom Search
Follow Low End Mac on Twitter
Join Low End Mac on Facebook
Favorite Sites
MacSurfer
Cult of Mac
Shrine of Apple
MacInTouch
MyAppleMenu
InfoMac
The Mac Observer
Accelerate Your Mac
RetroMacCast
The Vintage Mac Museum
Deal Brothers
DealMac
Mac2Sell
Mac Driver Museum
JAG's House
System 6 Heaven
System 7 Today
the pickle's Low-End Mac FAQ
Affiliates
Amazon.com
The iTunes Store
PC Connection Express
Macgo Blu-ray Player
Parallels Desktop for Mac
eBay

Advertise