Apple Includes nano Case, iPod Finger Diagnosed, Duct Tape iPod Cover, Human Brain on iPod, and More
Compiled by Charles Moore and edited by Dan Knight - 2005.11.17
This Week's iPod News
PowerBook, iBook, iPod, and other portable computing is covered in The 'Book Review. General Apple and Mac desktop news is covered in The Mac News Review. News about Apple's transition to Intel CPUs and other Intel developments is covered in The Macintel Report.
All prices are in US dollars unless otherwise noted.
News and Comment
Tips
Products and Services
Software
News and Comment
Apple Quietly Bundles Anti-scratch Case with iPod nano
The Register's Tony Smith reports:
"Apple has apparently begun bundling a soft fabric slip-case with its iPod nano, recent buyers of the diminutive digital-music player have claimed.
"According to a forum post on iPod fan website iLounge, the new cases are white and stamped with the iPod logo. Essentially it's the same type of case that ships with the new video iPod, but slimmed down so the Nano fits more snugly."
Link: Apple Quietly Bundles Anti-scratch Case with iPod nano
SunnComm Denies Plans to Shatter iPod Users' Eardrums
The Register's Ashlee Vance reports:
"DRM maker SunnComm has denied that it is behind a new form of technology that would paralyze iPod users downloading illegal songs with high-pitched screams pumped through their headphones.
"SunnComm on Tuesday issued a statement that 'published reports circulating online that state SunnComm is creating a new kind of DRM under a joint venture with a competitor named Macrovision' are 'absolutely not true.' The 'reports' or rather report in question claimed that SunnComm and Macrovision had teamed with Apple and Microsoft to create a DRM system that would scorch the earbuds of naughty P2P users with 250 decibels of screams. Of course, 250 decibels would be quite the accomplishment since a rocket firing from a launching pad comes in at 180 decibels and a shotgun reaches just 170 decibels. You can see where this is going."
Link: DRM Maker Denies Plans to Shatter iPod Users' Eardrums
Posers May Abandon iPod
Webuser's Quentin Reade reports:
"People who buy an iPod to 'look cool' are more likely to switch to another brand of MP3 player next time around.
"According to a study, almost one-third of consumers who cited improved social status as the primary reason for purchasing an iPod are likely to switch brands.
"Those who purchased an iPod because of brand familiarity or the recommendation of trusted friend are significantly less likely to switch brands (8 per cent and 14 per cent respectively)."
Link: Posers May Abandon iPod
iPod Finger Newest RSI Diagnosis
PR: The British Chiropractic Association has posted a warning of risks from using MP3 players
First there was text messaging injury, then came Blackberry Thumb, now the latest RSI injury to come to fruition is iPod Finger. With sufferers coming forward in America, the British Chiropractic Association (BCA) today warns that the condition could soon be commonplace in the UK.
'iPod finger' is an injury that affects the finger of music-mad consumers who are constantly using the scroll-wheel or buttons on their MP3 players to organise their song library, update playlists and adjust volume of their favourite artists.
Portable music jukeboxes are the most fashionable item on the highstreet today, with people listening to their favourite songs on their way to work, in the gym and even at home. Arguably the market leader is Apple's stylish iPod, a slim line MP3 player not much larger than a credit card, which can store in the region of 1500 songs. This has launched the phenomenon of listening to your favourite tunes wherever and whenever you want - to such an extent that users in U.S. have developed a debilitating medical condition from it.
Although complaints of MP3 player-related injuries have not reached high levels as yet, the British Chiropractic Association's Dr Carl Irwin feels that it is only a matter of time: "Hand-held music machines are extremely popular and users are constantly using small, difficult buttons with the same finger in a repetitive motion. The nature of modern technology means that these devices are only going to be getting smaller and I would not be surprised if hand and finger related injuries become one of the most common RSIs that chiropractors treat."
"Young children are particularly susceptible - their bones and muscles are not fully developed, meaning they are at more risk than adults. The best way to avoid injury is to flex your hand muscles as this will keep the blood flowing and will break up the repetition. Varying the finger that you use to operate your MP3 player will also prevent injury"
Link: British Chiropractic Association
iPod Marketing Exposed
SmartHouse's David Richards reports:
"The chances are that during the next 12 months you or your children or someone in your family will want to purchase an Apple iPod, an iPod accessory or a Mac Computer.
"So what is it that makes the iPod so unique and why is it driving sales across a multitude of devices from receivers to in-wall mounts to music systems?
"The answer is one company - Apple. In the space of five years they have done more to simplify technology than most other technology companies. They have delivered dynamic innovative design and friendly 'less intimidating' technology that consumers are buying in droves. Even Mac hardware sales are up 48 per cent and rising off the back of the boom in iPod sales.
"In an exclusive interview with SmartHouse Reseller, Greg Joswiak, the worldwide vice president of iPod marketing, said: 'Somewhere along the way innovation in technology disappeared as companies scrambled to deliver one product after another. Saving money was put ahead of innovative design. At Apple we recognised that great design and easy functionality were critical in delivering technology products to market.'"
Link: iPod Marketing Exposed
Apple Looks to Source Flash Memory from Hynix
DigiTimes' Esther Lam reports:
"In order to fulfill strong iPod related demand, Apple has started asking Hynix Semiconductor to offer quotations for low-density NAND flash, amid a significant upcoming capacity ramp at the South Korea-based memory maker, says research firm InSpectrum. In line with the increased output, contract prices for November for low-density flash have started to decline, InSpectrum noted.
"Samsung and Toshiba are Apple's main NAND flash chip suppliers, but sources indicated that with Toshiba needing to fulfill strong demand from SanDisk, Apple is planning to shift to Hynix for low-density (1Gbit and 512Mbit) parts for the iPod Shuffle."
Link: Apple Looks to Source Low-density NAND Flash from Hynix
Tips
Duct Tape iPod Cover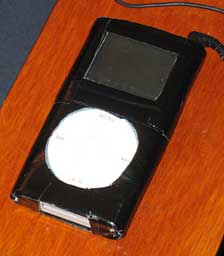 TheUselessWiki has a tutorial on how to make an iPod case out of Duct Tape.
"Let's say you just blew all your money on that iPod mini (or whatever, you can adapt this for a nano, photo, whatever but it might be a little difficult to do with a video iPod, since there is less space between the edge and the screen) and now you don't have any money left for a case. What do you do? You could bum some money off a friend to buy one, but who needs a generic case when you can make your own! (notice: these will start to get lint on them if you keep it in your pocket and if made wrong, may end up damaging your iPod's case. My iPod has never suffered damage from this case, but nonetheless, I am not responsible for any damage done to your iPod.) here's how I made mine with a materials cost somewhere in the 10 to 20 cent range."
Learn about iPod Universal Dock
An updated Apple Knowledge Base Article says:
"The Universal Dock is the ultimate iPod docking solution. Any model of iPod with a dock connector can fit perfectly into a single Universal Dock through the use of interchangeable inserts called Dock Adapters. The iPod Universal Dock includes five dock adapters:
"You simply insert the Dock Adapter that fits your particular iPod model, then plug in your iPod. When you want to connect a different-size iPod, simply pop out the Dock Adapter and insert a new one."
Link: Learn about iPod Universal Dock
Pairing the Apple Remote with the iPod Universal Dock
A new Apple Knowledge Base Article says:
"The Apple Remote works with other compatible Apple products that have a built-in infrared (IR) receiver. To prevent your Apple Remote from interfering with other docks, computers, or IR devices nearby, you can pair it to work only with your iPod Universal Dock."
Link: Pairing the Apple Remote with the iPod Universal Dock
Products and Services
i-Fusion's Truly Portable Speaker Case System for iPods
PR: With a goal of creating a new level of portability for iPod users, Sonic Impact has introduced i-Fusion, the first rechargeable and truly portable speaker case system with docking station made exclusively for the iPod and iPod mini.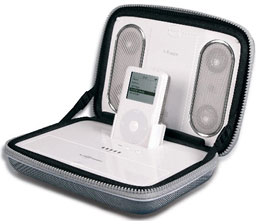 Granted the official "Made for iPod" designation by Apple, i-Fusion is like a mini boom box built within a rugged storage case for all variations of the iPod, including the iPod nano. In addition to the speaker system and docking station, the case features a pop open door for storing any size iPod and a second compartment with a lithium ion battery and room for storing earbuds. i-Fusion is available at http://www.si-5.com , Apple Stores, Target Stores, Circuit City, Radio Shack, Apple.com, and many other retail locations (at a suggested retail price of $149.99).
"For the first time within the industry, users while traveling now can fully protect their sound system and iPod as well as downsize their travel items from three to one," said Rich Bracke, an executive at Sonic Impact.
At just 2.75 inches in thickness, the design makes i-Fusion an ideal accessory for all types of iPod users in all types of travel and leisure situations - from families on camping vacations, college kids at the beach, professionals on business trips, to couples sitting on their back porches.
The system also features a built-in iPod Docking Station Connector for playing, downloading and recharging. i-Fusion can play music up to 15 hours and it features an AC adaptor.
i-Fusion features a premium sound system using neodymium drivers for clarity, ported speaker housings and advanced Maxxbass technology for enhanced bass response while minimizing distortion. The hard case also serves as an audio enhancer. Sonic Impact engineers chose the optimal materials, size and density of the hard case to optimize the audio output.
An iPod shuffle-compatible version of the i-Fusion - called i-Pax - will be available in the coming weeks at Target, Apple, and other select locations.
Sonic Impact is a product development company specializing in consumer audio products made for Apple iPod products and other portable audio, such as CD, MP3, portable DVD, notebook and laptop products; T-amp technology and specialty products.
Summary of i-Fusion Highlights:
Features a built-in iPod Docking Station Connector for playing, downloading and recharging.
Recharges iPod while docked.
Port for downloading iPod while docked.
Powered by a rechargeable, lithium ion battery. AC adaptor included.
Storage compartment for iPod and for earbuds when not in use.
Advanced digital amplifier and neodymium speaker drivers.
Patented Maxxbass psychoacoustic technology and ported speakers to enhance the bass response.
Auto standby mode to save battery and battery charge display.
Durable hard cover case to store and protect your built in speakers and iPod.
3.5 mm input jack allows playing of older, non-docking iPods, as well as other portable devices such as laptops, DVD players, etc.
Matching carrying strap for easy portability.

Link: i-Fusion
Kensington SX 2000 Speakers for iPod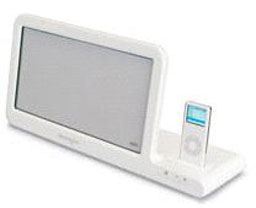 PR: At home or in the office, the Kensington SX 2000 Speakers for iPod do something that other similar speakers can't. Thanks to NXT's advanced SurfaceSoun flat panel speaker technology, they deliver clearly superior bass and sound balance from both sides of the unit. And unlike other similar speakers, they have the power to crank up the volume without losing sound quality! About Universal Dock: The Universal Dock provides a single, elegant way to connect any iPod with dock connector to your iPod accessory. iPod fits into the Universal Dock through the use of interchangeable inserts called Dock Adapters. Available mid-November. SX 2000 Speakers for iPod.
Features
NXT SurfaceSound bi-directional loudspeaker technology delivers remarkable sound from both the front and back of the speaker unit.
Produces superior frequency response (better highs and lows) at higher volumes than similar speaker systems.
Fits almost anywhere - Just 16.2" wide, 7.2" tall and only 3.9" deep.
Plays audio from other MP3 players, computers, etc.
Recharges your iPod or iPod mini while playing
Easy-access buttons control your iPod's power on/off and volume up / down.
"Made for iPod" design looks great with your iPod and in your space.
System Requirements
Made for iPod and iPod mini. Also plays audio from iPod shuffle, as well as any other audio source such as MP3 players or computers through a standard 3.5mm headphone jack [cable not included].
SX 2000 Speakers for iPod are backed by the Kensington 1-Year warranty.
Price: $159.99
Link: Kensington SX 2000 Speakers for iPod
High-end Headphone Amplifier for iPod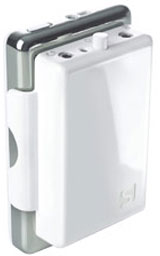 PR: Simpl Acoustics' Simpl A1 is a high-end audio component designed to enhance the iPod experience. Simpl A1 provides the power necessary to support the performance needs of high-end headphones. Using Simpl A1 allows iPod to function at a lower volume setting which ultimately increases iPod battery life. Simpl A1's high power amplifier prevents the iPod's internal amplifier from clipping or distorting.
Audiophile-grade amplifier improves sound.
Supports performance needs of high-end headphones.
Extends life of iPod Battery.
podGrip technology is compatible with all full-sized iPods (not for use with iPod mini).
Simpl A1 can be used to amplify any audio device with a stereo mini jack connection.
The Simpl A1 has been reduced from $149 to $99.
Link: Simpl A1 High-end Audio Add-on for iPod
Tetran Cable Winder for Earbud Headphones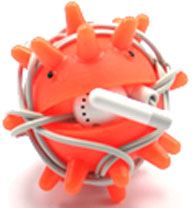 PR: Tetran is the fun cable winder for your favorite iPod or MP3 player's earbud headphones. Just wind your cable around Tetran's body and use Tetran's cute mouth as a holder for your earbuds. The spikes keep Tetran from running away. There is a removable ball-bearing style chain included for attaching Tetran to your belt loop, cell phone strap, or key ring.
In addition to Tetran's functionality as a earbud cable winder, Tetran can be used for a relaxation break. Squeeze Tetran in your hand to relieve stress, or roll Tetran around on the floor for a foot massage. Tetran's incredibly cute design is available in four fun color variations: Pink, Green, Yellow, and Orange.
Link: TuneWear Tetran Cable Winder for Your iPod's Earbud Headphones
Belkin TuneCast Auto for iPod Compatible with nano and 5G iPod
PR: Belkin Corporation announces the compatibility of its TuneCast Auto with iPod nano and 5G iPod, as well as with iPod 3G, 4G, and photo. The device allows you to listen to the music from your iPod through your car's FM radio. Unlike other FM transmitters, the TuneCast Auto powers and charges through your car's cigarette lighter - eliminating the need to drain power from the iPod itself. Its new design and ample features make for an easy, convenient solution to listen to your iPod on the road. The TuneCast Auto will be shipping in North America in late November 2005.
TuneCast Auto for iPod (F8V7101) - $59.99
The TuneCast Auto features two programmable memory slots, which allow you to toggle between two channels. A blue, backlit LCD provides for easy viewing day or night, and a VELCRO tie reduces cable clutter in your car. And its included dock connector attaches securely to your iPod. By simply plugging the TuneCast Auto into the dock connector on your iPod and your car's cigarette-lighter outlet, you can enjoy your iPod tunes on the go.
Benefits
FM Transmitter: Transmits on FM channels 88.1 MHz - 107.9 MHz
Channel Up/Down and Power: Scans in 1/10 MHz intervals seamlessly
Surface-Mount Clip: Holds your TuneCast Auto in place while you drive
LCD Display with Backlight: Shows FM frequency and battery status

Link: Belkin
podguard: Invisible Protection for Your iPod
PR: podguard has introduced a world-first, high-tech invisible film to protect the iPod against scratches, marks and fingerprints.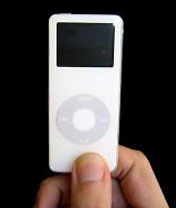 "The iPod nano and iPod video look like becoming the most successful iPods yet" said Matthew Bickham, podguard's CEO, "With the addition of podguard, iPod owners can relax knowing that their iPod is practically indestructible to damage."
podguard is a clear, thin film that is easily applied to the iPod nano or iPod video to protect against scratches, marks and fingerprints. Practically invisible when applied, podguard protects an iPods surface, screen, and mirrored back while still providing complete Click Wheel control and visibility of the color screen.
"With the go-anywhere size of the iPod nano, many owners have found scratches and marks an unfortunate side-effect; with podguard they can use their iPod without resorting to bulky cases for protection."
The most seamless protective product available on the market, podguard is practically invisible when applied to the iPod nano and can be removed leaving no trace or damage to the products surface.
Key features include:
Invisible when applied
Includes film for both front and back protection - Provides full Click Wheel control
Screen coverage and protection
Protects from marks, scratches and fingerprints - Removable without leaving a trace
Easy application
Available for iPod video and iPod nano
podguard is available worldwide immediately for a retail price of $17.95 (US), through the product website (www.podguard.com). All purchases of podguard include free worldwide shipping and come with a 60 day money-back guarantee.
Link: podguard
Belkin's New Cases Keep 5G iPod Protected and Stylish
PR: Belkin has announced four new cases for the 5G iPod that meet the various needs of the 5G iPod user. Designed to reinforce Apple's latest iPod that displays video, Belkin's cases specifically address various aspects of user functionality while still maintaining a sleek-yet-simple aesthetic design. These cases will be available in North America in early December.
Kickstand Case for 5G iPod (F8Z068) - $29.99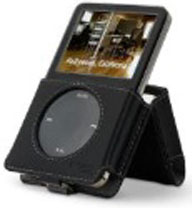 The Kickstand Case integrates a convenient stand display so you can comfortably and easily watch video from your 5G iPod. Its versatile, detachable carabiner clip lets you safely carry your iPod anywhere. You have full access to your screen and click-wheel through a durable, protective, plastic screen cover. The Kickstand Case is constructed of fine-grain leather and is available in black and in white.
Classic Case for 5G iPod (F8Z071) - $19.99
The Classic Case in black safeguards your iPod with a durable, protective, plastic screen cover and a sturdy, double-stitched case design in fine-grain leather construction. The screen cover also lets you enjoy full access to your iPod and click-wheel. And, its convenient, built-in belt clip helps manage your excess earbud cables.
Holster Case for 5G iPod (F8Z074) - $19.99
The Holster Case, which comes in black and is constructed in high-grade PVC, completely protects your iPod with a durable, full-enclosed design. You can conveniently attach your iPod in various positions with its built-in, rotating belt clip. The Case features a detachable lanyard that makes carrying your iPod easy and versatile.
Flip Case for 5G iPod (F8Z069) - $29.99
The Flip Case, available in black and in white, completely protects your iPod with a sturdy design that fully envelops your iPod. A durable, protective, plastic screen cover allows you to enjoy full access to your iPod screen and click-wheel. Its convenient, built-in belt clip helps manage your excess earbud cables. The belt clip can also be used with an adhesive knob to secure the iPod on the dashboard.
Link: Belkin
The DLO PodFolio Soft Leather Case for the iPod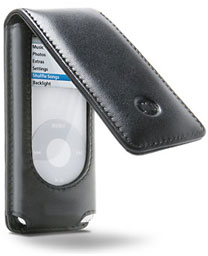 PR: The Podfolio for iPod nano features full-frontal clear screen protection, soft supple cushioned leather and flip-up cover The DLO PodFolio is an elegant, soft leather case for the iPod nano and provides padded protection for the scratch-prone nano glass finish. The padded flip cover lets you keep the face of the nano covered while it is stored or in use. The Podfolio for iPod nano has a see-through front window that covers and protects the nano's delicate surface. You don't have to remove your iPod nano from the Podfolio in order to select your music or photos. The Podfolio for iPod nano also features a discreet opening along its bottom to connect headphones or earbuds.
It compliments the nano's polished complexion, but most of all, the new Podfolio for nano protects the iPod nano's surface with padded leather and a clear protector that covers the entire front of the player.
Quick Facts
Supple, soft, leather case protects your iPod nano from scratches, nicks and dings
Padded cover flips up to reveal complete see-through access to all front controls and screen
Clear front window preserves iPod nano's screen, click wheel and front glass finish
Connect headphones via discreet opening along the bottom of the case
Luxury enclosure compliments either the traditional white or cool black iPod nano
PodFolio for iPod nano - $29.99
Link: The DLO PodFolio Elegant, Soft Leather Case for the iPod
Speck ToughSkin for iPod Video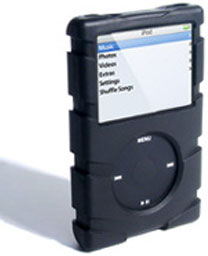 PR: The ToughSkin ruggedized iPod cover provides rugged protection and fashion for your 30/60 GB iPod video. Its one-of-a-kind design customizes the popular rubberized skin for extreme lifestyles. Includes ToughSkin, belt clip and screen protector.
Black ToughSkins are shipping. Clear ToughSkins will begin shipping November 21.
Features:
Fits both 30/60 GB iPod video
Ruggedized bumpers provide ultimate protection
Durable screen protector
Removable belt clip
Strong, tear resistant material
Available in clear and black
Usage:
Insert belt clip nub if desired and rubber spacer for 30 gig iPod if needed. Slip iPod video thru screen cutout. Stretch corners around top of iPod. Insert screen protector rubbery edges down, underneath the edges of the screen cutout. Clip on belt clip, plug in headphones and turn on your tunes!
Price: $34.95
Link: Speck ToughSkin for iPod Video
Belkin Adds Two New Stylish Cases for iPod nano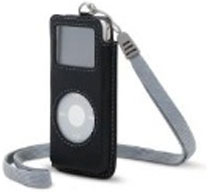 Belkin announces two new additions to its case lineup for iPod nano. The Classic Case and Holster Case both keep with the nano's minimalist industrial design approach while still offering various aspects of user functionality. These cases will be available in North America in early December.
Classic Case for iPod nano (F8Z070) - $24.99
The Classic Case in black safeguards your nano with a durable, protective, plastic screen cover and a sturdy, double-stitched case design in fine-grain leather construction. The screen cover also lets you enjoy full access to your iPod and click-wheel. And, its convenient, built-in belt clip helps manage your excess earbud cables.
Holster Case for iPod nano (F8Z073) - $24.99
The Holster Case, which comes in black and is constructed in high-grade PVC, completely protects your nano with a durable, full-enclosed design. You can conveniently attach your iPod in various positions with its built-in, rotating belt clip. The Case features a detachable lanyard that makes carrying your iPod easy and versatile
Link: Belkin
Software
The Human Brain on the iPod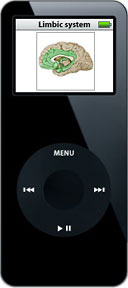 PR: SylviusVG, iPod edition - a visual glossary of the human brain and spinal cord, combines audio (mp3 files), visual (album art) and text (notes) content into a pedagogically-sound learning tool for the iPod, containing over 400 structures and terms.
This isn't just a publisher sticking a bunch of photos on a photo iPod or text notes under extras and calling it a book - it's a hybrid approach that uses the iPod's pedigree as a music player to become a truly useful visual study guide.
It is currently in use at Duke University.
Link: The Human Brain on the iPod
iRocker Guitar Companion for iPod
PR: iRocker is the perfect guitar companion for beginner guitar players and pros alike. Designed specifically for iPod, iRocker comes packed with essential guitar skill-building tools: Guitar Tuner, Virtual Chordbook, Metronome, and Riffs! Have an amazing musician's tool at your fingertips anywhere you bring your iPod.
Tune Perfectly
Guitar tuner offers crystal clear recordings of a perfectly tuned guitar. Hear a perfect E and tune the E string of your guitar, and so on, all without carrying around a pitch pipe or tuner. For the pros, iRocker offers a variety of different tuning methods: Standard, Drop D, Half-Step Down, and many more.
Chords! Chords! Chords!
The Virtual Chordbook displays chord diagrams on the iPod screen, showing the correct fingering for each chord. You can also pop in your earbuds and listen to chords as you work on your instrument. Virtual Chordbook offers over 30 essential chords, major and minor, to start writing your own songs and learning your favorites.
You've Got Rhythm
iRocker's Metronome ticks off at 10 different speeds, keeping you in perfect timing with every song you strum.
Jam Session
Riffs lets you play along with 5 different chord progressions. Rock an incredible solo over the blues and rock riffs. Jam anytime, even without a band. All you need is your iPod to rock on!
System requirements:
Mac OS X 10.2 or later OR Windows 2000 or XP
iPod with dock connector on the bottom (including the iPod nano, iPod mini and the Click Wheel iPod).
NOT compatible with the iPod shuffle, or any iPod that was purchased before May 2003. This includes any iPod that has a wheel that physically moves or a direct FireWire connection on the top.
50 MB free space on the iPod
iTunes (version 4.7 or later required)
Price: $19.95
Link: iRocker Guitar Companion for iPod
iPodder Squeezed, Becomes Juice
PR: Want to listen to Internet audio programs but can't when they are scheduled? This program lets you create your own custom online audio anytime, anywhere. Really.
Juice (formerly known as iPodder) is a media aggregator which automatically downloads podcasts to your computer or portable device based on a RSS feed, leaving you 'one-click-away' from latest media feeds. The whole process is done on it's own, so you don't have to select files, search for them or click links to download the media. All you do is specify some feeds and wait to get yourself the podcasts. All you have to do is decide what your going to listen.
Why should I squeeze Juice?
Juice is free
Juice supports more than 15 languages
Juice supports multiple media players
Juice is free software licensed under the GPL (open source)
Juice's primary purpose is to manage podcasts
Juice has a built-in directory with thousands of listed podcast feeds
Juice auto cleanup, authentication, centralized feed management and much more
Juice is accessible for blind and visually impaired users
Juice is fresh!
Features:
Juice for the Mac and Windows platform (and soon, Linux)
Graphical user interface and tray icon
Scheduler inside to setup recursive and timed downloads
Progress bar inside
BitTorrent support
iTunes/Mediaplayer integration
Downloads are automatically divided by folders
Playlists ordered by Feed
Application memorizes the history to prevent double downloads
Half downloads will be restarted in new session
Automatic placing of content on your iPod (Mac only)
Standalone application (no extra applications needed)
Easy to use
System requirements: Mac OS X 10.2 or later.
Juice Receiver is free software licensed under the GPL.
Link: Juice
iPodDisk: A Free Utility to Copy Music from Your iPod
PR: iPodDisk is designed to make it easy and intuitive to copy music off iPod; it enables you to do so within the Finder, or whatever application that can read files.
System requirements: Mac OS X 10.4 or later.
iPodDisk is freeware.
Link: iPodDisk
Video2Pod Converts Movies to iPod Video Format
PR: The new iPod of the fifth generation allows you to store and, of course, play back up to 150 hours of video material with a screen resolution of 320 pixels wide by 240 pixels high. Video2Pod was especially devised for the optimal conversion of a movie to this size.
At startup, Video2Pod shows you a list of all movies stored inside the Movie folder within the Users folder. The program recognizes all movies compatible with QuickTime. Just double click onto any movie, and it is played in a new window. Once you have decided to convert a movie to your iPod, simply select the particular movie you wish to convert, and start the conversion process. You have the option of directly loading the movie into the iTunes movie library or simply save it onto your hard drive.
The iPod Video can play two video formats: MPEG-4 and MPEG-4 H.264. While the latter does achieve a better quality, the conversion process with H.264 takes a little longer.
The settings also allow you to influence size and quality of the movie you are converting.
New in version 1.0.3:
While loading the thumbnails placeholders are displayed
The video preview windows shows the resolution and length of the video
Problems with minimizing solved
Minor problems solved
System requirements:
Apple Macintosh
Mac OS X 10.3.9 or later
QuickTime 7.0.3
iTunes 6.0.1
iPod 5g (Video iPod, 30 GB or 60 GB)iPod Video
$10 Demoware
Link:Video2Pod
DVD Copy 4 Makes File Conversion for Portable Video Players Fast, Easy
PR: InterVideo Inc. responded to the current lack of content for portable video players today by announcing that its award-winning DVD Copy 4 software can be used to convert unencrypted(1) videos for high-quality playback on portable devices such as the iPod, Memory Sticks and mobile phones. Widely recognized as one of the industry's easiest and most comprehensive copy and DVD burning applications, DVD Copy 4 combines all of the tools users need for video duplication, conversion and reproduction in a single, affordably priced solution.
With simplified copy, conversion and burning capabilities, DVD Copy 4 is ideal for consumers who want a fast, easy way to protect and share their personal CDs, DVDs, video, music, photo and data files as well as road warriors, mass-transit commuters, and others who want to enjoy their multimedia files while on-the-go.
"Personal video players are the next step in the evolution of portable entertainment," said Steve Ro, CEO and President of InterVideo. "But people are discovering that they can't play most of the downloaded video clips and home videos they've accumulated over the years without converting them. With the latest version of DVD Copy, we've made the conversion process so simple, even a novice can do it. And by combining conversion and copying capabilities in a single solution, we're giving consumers a growth path to the future. They can use the software now to make identical duplicates of their personal videos in just three steps. Then, when they purchase one of the new portable video players, they can use the same software to convert their videos to the format required by their device."
Equipped with a fresh, new intuitive wizard-like user interface, consumers can quickly convert files on their hard drive into a DVD formatted disc, the DivX format, the new iPod's native format, or the 3GPP/3GP2 format for mobile phones. DVD Copy 4 also supports the Sony PSP Video Format, enabling movie enthusiasts to copy their favorite video clips to Sony memory sticks and play them back in the popular Sony PSP video console.
For the three-step copying process, users simply select the source, the drive destination and the video output format. Files can be copied as a DVD, DVD Image, Video CD, Super Video CD, WMV, DivX Avi, 3GPP or 3GPP2, MP3, MP4 (PSP) or WMA file. The software's powerful Autofit feature automatically determines how much compression is needed to produce the best-looking results for the output selected.
DVD Copy 4 is also equipped with advanced customization capabilities that enable more experienced users to personalize their DVD/VCD content to suit their individual viewing habits and available space. With these capabilities, they can remove unwanted subtitles, languages, titles and chapters, or even merge titles from several different DVDs/VCDs onto a single disc.
InterVideo DVD Copy 4 is available now at InterVideo's website and Japan retail outlets. It will be available through leading US retail outlets including Best Buy, CompUSA, Fry's Electronics, and Microcenter within the next few weeks. Compatible with Windows 2000 and XP
Link: DVD Copy 4 Makes File Conversion for Portable Video Players Fast, Easy
YamiPod iPod Manager
PR: YamiPod is a freeware application to efficiently manage your iPod under Mac OS X, Windows, and Linux. It can be run directly from your iPod and needs no installation.
It also has extra features such as lyrics support (with web search), RSS news and podcast support, remove duplicates, easy notes editor (with multipage support), songs synchronization, playlists export and much more.
Here's a brief description of the features in YamiPod:
stand alone program, no installation required
iPod is automatically recognized
mp3 and AAC files can be copied to/from iPod
read/write access to mp3 ID3 and AAC infos
lyrics support (with Internet auto search and Unicode support)
playlist support (On-The-Go included)
playlists import (PLS,M3U)
playlists export (PLS,M3U)
full Unicode support
auto-download new versions
advanced song import/export settings
2 restore features
built in music player
iPod informations
2 search features
remove duplicated tracks
find lost music files
easy ratings edit
PC to iPod synchronization
create and edit notes (with Unicode support)
automatically update song playcounts
News RSS and podcasts to iPod upload
Growl support (Apple only)
export song lists to HTML or plain text files
multiple iPods support
Audioscrobbler support
System requirements: Mac OS X 10.2 or later.
YamiPod is free.
Link: YamiPod
iPod Deals
For current iPod prices from a variety of sources, see our Best iPod Deals.
Join us on Facebook, follow us on Twitter or Google+, or subscribe to our RSS news feed
Today's Links
Mac of the Day: Lisa, introduced 1983.01.19. The ancestor of the Macintosh had a mouse, a graphical interface, and a $10,000 price tag.
Recent Content
Custom Search
Follow Low End Mac on Twitter
Join Low End Mac on Facebook
Favorite Sites
MacSurfer
Cult of Mac
Shrine of Apple
MacInTouch
MyAppleMenu
InfoMac
The Mac Observer
Accelerate Your Mac
RetroMacCast
The Vintage Mac Museum
Deal Brothers
DealMac
Mac2Sell
Mac Driver Museum
JAG's House
System 6 Heaven
System 7 Today
the pickle's Low-End Mac FAQ
Affiliates
Amazon.com
The iTunes Store
PC Connection Express
Macgo Blu-ray Player
Parallels Desktop for Mac
eBay

Advertise