Podcast 'Word of the Year', nano Among Best of 2005, 8 GB in an iPod mini, A Christmas Carol for Free, and More
Compiled by Charles Moore and edited by Dan Knight - 2005.12.15
This Week's iPod News
PowerBook, iBook, iPod, and other portable computing is covered in The 'Book Review. General Apple and Mac desktop news is covered in The Mac News Review. News about Apple's transition to Intel CPUs and other Intel developments is covered in The Macintel Report.
All prices are in US dollars unless otherwise noted.
Year of the Podcast
News and Comment
Tips
Products
Content
Software
Year of the Podcast
Podcast Named 'Word of the Year'
The Register's Lester Haines reports:
"The rather unpleasant 'podcast' has been named as Word of the Year by the New Oxford American Dictionary, according to the Beeb.
"The wordsmiths define podcast as 'a digital recording of a radio broadcast or similar program, made available on the Internet for downloading to a personal audio player' and will add it to their online dictionary early next year."
Link: Podcast Named 'Word of the Year'
Wordsmiths Hail Podcast Success
The BBC reports:
"The term 'podcast' has been declared Word of the Year by the New Oxford American Dictionary.
"The term is defined as 'a digital recording of a radio broadcast or similar program, made available on the Internet for downloading to a personal audio player'.
"The word is derived from a combination of 'broadcasting' and 'iPod'.
'It will be added to the online version of the dictionary during the next update early next year.'"
Link: Wordsmiths Hail Podcast Success
News and Comment
iPod nano Included in BusinessWeek's Best of 2005
BusinessWeek's Best Of 2005 says:
"Apple iPod nano: Welcome to Apple's take on the flash memory MP3 player: There's no question it's an iPod, but it's impossibly thin - and expensive. The 4-gigabyte model, the world's first 4 GB flash player, holds about 1,000 songs and costs $249; the 2 GB version is only $50 cheaper. It has a big color screen for your photographs. And, man, is it thin (800 692-7753, apple.com)."
Link: iPod nano Included in BusinessWeek's Best of 2005
The Origin of an Icon
The JoongAng Daily's Yi Jung-jae says:
"Four years ago, when the iPod was first introduced to the world, it was just one of many MP3 players.
"'It was two years later, on Jan. 6, 2003, that the iPod's fate changed. On that day, the Macworld Expo was held in San Francisco. At the exhibition, Steve Jobs played the advertisement that introduced Macintosh to the world when it was established in 1984. There was only one difference from the original version - what the little girl was holding as she escaped from Big Brother had changed from a Macintosh to an iPod. That day, Apple Computer Inc. introduced a new iPod with a built-in 4 gigabyte hard disk. Mr. Jobs boasted, 'Just as the Sony Walkman changed the method of listening to music some ten years ago, iPod will do the same.'
"Just as Mr. Jobs said, the new iPod changed the trend of music file storage mechanics from CD to portable hard disk. New words such as as 'poddism,' meaning enthusiasm for iPods, and 'poddy,' a word describing iPod users, were created. Cases and accessories for iPods were also a big hit. Dylan Jones, the British author of 'iPod, Therefore I Am,' even compared iPods to the discovery of fire or development of the wheel. In 2005, iPods became cultural icons."
Editor's note: The woman in Apple's "Big Brother" ad was carrying a sledge hammer, not a Macintosh, and the original iPod had 5 GB capacity, not 4 GB as stated in this article. dk
Link: The Origin of an Icon
Zen Vision:M a Video iPod Killer?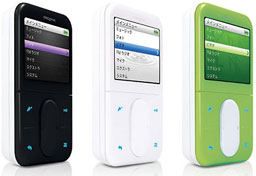 The Register's Tony Smith reports:
"Creative is about to launch its alternative to Apple's video-enabled fifth-generation iPod. Creative is expected to announce the player tomorrow, but the company's Japanese division appears to have jumped the gun and detailed the machine today.
"Dubbed the Zen Vision:M, the skinny player combines music and video playback with photo viewing, all on its 2.5in, 262, 144-colour, 320 x 240 LCD.
"The unit measures 10.4 x 6.2 x 1.9cm into which Creative has squeezed a 30 GB hard drive and a rechargeable battery capable of running for four hours in video-playback mode and 14 hours when pumping out music, Creative claimed."
Link: Creative Unveils Vision:M Video iPod Killer
SendStation System Giving Away 1000 PocketDocks
PR: The PocketDock FireWire is an indispensable add-on for the iPod & iPod mini, Apple's sensational and wildly successful MP3 player. The tiny PocketDock FireWire lets you connect the new iPod's docking port to a standard 6-pin FireWire cable, thus delivering on the iPod's promise of freedom and independence.
When you're on the road with your iPod, listening to your favorite hits, you may unexpectedly want to connect to another Mac or PC - to exchange files, or maybe just to charge the iPod's battery. When you need it most, you'll probably find that you didn't bring the special iPod docking cable - it's at home connected to your computer.
The PocketDock is the elegant, simple solution to this common problem. Its beautiful design is a perfect match for the new iPod, and it fits in your wallet.
If you already bought accessories for the previous-model iPod, such as a car charger, the PocketDock will let you use them with the latest model.
All PocketDock models are compatible with any iPod with Dock connector (see list in right column). Our Christmas gift to you: We are giving away 1,000 free PocketDocks FireWire. Offer available exclusively from our online store while supplies last or until Dec. 24, 2005.
This PocketDock is compatible with the following iPods:
3G iPod (touch-wheel)
4G iPod (clickwheel)
5G iPod (video)
iPod photo
iPod mini
iPod nano
1. supports FireWire only for charging, not for synching.
Link: SendStation System Give Away
New Club Opens for iPod Users
PR: Spymac Network, Inc., creators of the world's largest online Macintosh community, has opened the doors to Club, its new premium service created specifically for iPod and Apple Macintosh users.
Club members can do everything from showcasing what songs they listen to in iTunes, to starting an online Group which includes a private discussion and chat room, online schedule, gallery for sharing pictures, movies and songs, 12 GB of storage, desktop integration and more.
The $25 per year subscription service also lets members share their files and bookmarks with specific groups of friends, making it the ideal tool for students, businesses and educators requiring a private, secure method to collaborate online.
"If you're an iPod or Mac user on the Internet, you will benefit from Club membership," said Kevin April, Spymac CTO. "From email to blogging to socializing or building a web site, Club makes it fun and easy. It's a central hub for all of your online collaborative needs."
Spymac Club is the first Web community to be completely integrated with iTunes, allowing its members to share and connect with others. iTunes information can be displayed within blogs, throughout the discussion areas and even when sending personal notes.
"More exclusive features and abilities are being added all the time to further enhance Club and meet the growing needs and demands of its members," said Holger Ehlis, CEO. "From celebrity chats to virtual beach-parties, Club members can look forward to living and working on the Internet in ways never before thought possible."
Spymac Network, Inc., established in 2001, is a New York City corporation with offices in Dusseldorf, Germany and Lethbridge, Alberta, Canada. With a registered membership quickly approaching one million, Spymac is one of the fastest growing sites on the Internet.
Link: Spymac Club
Tips
Video Tutorial: Getting Video into the iPod
Mac Video Pro's Kevin Schmitt has posted a Tutorial on getting video into the iPod Video
"'Tis the season where an inordinate amount of giving and receiving is going on, so it's a safe bet that many of you out there will be either gifting or getting a shiny new iPod video this year. And while the audio side of the equation is well established and largely dead simple by now, getting video you may already have lying about to play on the iPod isn't quite as mainstream just yet. Fortunately, it's not terribly difficult, so may we present a brief overview of what you need to know.
"...Theoretically, there's no magic to transcoding video for the iPod , since Apple is quite forthcoming about the video specs of the new iPods. In a nutshell, you can encode to MPEG -4 video or to Apple's flavor du jour, the snappily named H.264."
Link: Getting Video into the iPod Video Tutorial
Upgrading an iPod mini to 8 GB
iPod enthusiast Jason Parry says:
"Some people were disappointed when Apple discontinued the most successful iPod model of all time and introduced the slim, flash-based iPod nano. Of course it was color and sleek and all that, but it didn't offer an improvement in storage capacity (in fact, quite the contrary). So for those of us hoping for an upgrade to the battery life and capacity of the mini were out of luck - and it will be awhile before flash drops in price to make an affordable 8 GB nano. An iPod mini 4 GB was sufficient for a time, but what if you want more space, but still like the size, colors, and durability of the mini?
"There is now a solution for iPod mini-users. Seagate Technology has just released a large compact-flash type II+ hard drive called the CompactFlash Photo Hard Drive. Just as many once purchased a mini in order to remove the hard drive for digital photo applications, now you can buy a photo drive and use it to expand your mini's storage. This works because the drive is formatted to the same 'Fat 32' standard that digital cameras and iPod minis use. Of course, you will have to tear open your iPod mini, much the way you would to replace the battery, but once you are in there, its simply a matter of unwrapping some tape and delicately removing a connector to the Hitachi 4 GB drive, and replacing it with the Seagate 8 GB Photo Hard Drive."
Link: iPod mini 8 GB Upgrade
Products
Contour Design's Clear Hard Case for Video iPod
PR: Contour Design has announced the iSee-video 30 and the iSee-video 60, the first crystal clear iPod cases for the new iPods with video support (30 and 60 GB versions). In addition to being the ultimate in protection, the new iSee-video features unobstructed viewing in a slim-line snap-on design case.
Simply Snap-on and Go!
With its crystal clear, low profile, secure snap-on design, the iSee-video cases bring the beauty and simplicity of Contour's iSee line to the iPod with video. "When designing this case we asked our cutting edge design team to make sure that nothing obscured watching video on the new iPods," said Mike Jackle, spokesman for Contour Design. "What they developed was the best designed and best engineered crystal clear iPod case available in its class today." The impact resistant polycarbonate hard case keeps the LCD display scratch free, ensuring that both menus and videos are seen clearly. The iSee-video cases also protects the rest of the iPod from anything that can mar its sleek, clean finish while keeping the click wheel easily accessible.
Total iPod protection
The iSee-video range comes in two models - one for the 30 GB and one for the 60 GB iPod with video. The two halves of the crystal clear iSee-video snap together around the iPod while still maintaining the beauty and low profile look and feel of the iPod. Openings for the clickwheel and hold switch keep all of the control surfaces easily accessible without compromising protection. And clearance for headphones and dock connectors ensure that many add-on accessories will be compatible with the Contour iSee-video cases.
Key "iSee-able" Features
Crystal clear polycarbonate case offers all around protection for Apple's iPod with video Slim and secure snap-on design complements iPod style without obscuring screen Easy access to all controls
Easy access to connectors and headphone jack Strong detachable horizontal belt clip provides a secure comfortable fit on a belt or pocket
The Contour iSee-video 30 and iSee-video 60 will be available the second week of December 2005, through Contour Design's extensive distributor and reseller partners. Retail price is $25.95 US and £25.99 including VAT.
Link: Contour Design
iJacket: A Customizable, Flexible Case for Any iPod
PR: Brainchild Products, LLC has announced the iJacket: A customizable, flexible PVC case for all versions of Apple's iPod. Commonly referred to as an iPod Case, iPod cover or iPod protector, this product is similar to the iSkin as a protective accessory but allows the end user the option of producing their own custom design. Add a company logo, family photo, or a stylish custom design to a soft shell iPod cover. The iJacket or custom iJacket comes equipped with a removable rotary belt clip or lanyard to keep the device safely protected from the elements. Whether at work or at play the iJacket is the perfect iPod accessory for today's iPod owner. The iJacket is made of a soft, flexible yet rigid silicone material that is durable enough to withstand scrapes, scratches and provide protection while still allowing the user to access the iPod's unique touch-sensitive click wheel surface to control volume or browse music.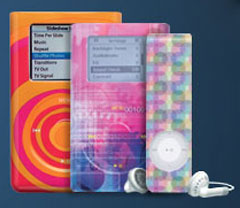 Your iPod, your design and the sky is the limit: Customizing an iJacket at CustomiJackets.com allows the iPod owner to customize an iJacket using a logo, high resolution photograph, or just standard text. "The iJacket has been a great marketing medium for record labels and bands who want their fans to have the bands logo and image on an iPod case" Says Brainchild Products' Jonathan Anderson. Use your imagination to create your own custom design or leave it to the accredited staff of in-house designers with experience in all areas of graphic design. A downloadable template, in many different formats is also readily available for customers who are looking to design their own artwork.
With a minimum quantity of only 50, the custom iJacket is the perfect solution for a company promotion, product development medium, band merchandise item, party favor, or a company wide gift. Those not looking to order 50 or more custom iJackets can choose from our large selection of in stock designs. "Finally, an accessory for my iPod that allows me to promote my agenda, protect my investment, yet still accentuate the iPod's sleek design and natural function-ability." Says Dustin Rybka, of Verso Group Enterprises, LLC. At less than half the cost of similar products on the market, the iJacket makes for an exceptional protective iPod accessory and will make the perfect gift for any iPod owner.
Link: iJacket
iSnug Nano Armband
PR: HandStands has announced the new iSnug Nano Armband, the latest armband specifically designed for Apple's new iPod Nano.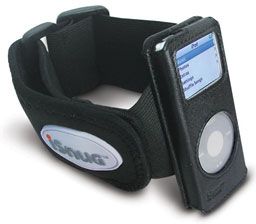 "Featuring a beautiful leather glove that wraps around a lightweight Velcro™ closure, the iSnug Nano Armband is the perfect compliment to the [iPod] nano," says Jade Hansen, of HandStands' product development team.
The new armband was created for iPod nano owners seeking the ultimate in protection while exercising. Available in black for $19.99, the iSnug Nano Armband can be purchased from the company's web site or from select retailers.
Since its introduction last year, the original iSnug travel case has received rave reviews from top iPod accessory reviewers. iPodLounge rated the iSnug an A- and highly recommends the product, "we think the iPak's [iSnug] a highly recommendable travel case and an excellent value for the dollar."
HandStands has continued to innovate and offer unique iPod accessories to the market. In addition to the iSnug Set, HandStands now offers an iSnug Armband for an active lifestyle. Another product, known as the iSticky Pad, allows the iPod to be held securely to any car dash without slipping and sliding.
Link: HandStands
iSkin Vibes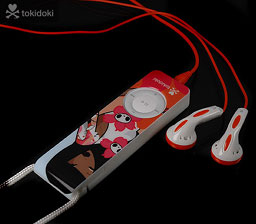 PR: iSkin Vibes is an expression of individuality in every sense of the word, it is collaborative effort involving the integration of design, function and artistic expression all rolled into elegant yet striking works of art. The first iSkin Vibes series features beautiful Japanese inspired works by renowned artist Simone Legno of Toki Doki. We at iSkin believe that Vibes should be seen and heard.
Connect your USB or FireWire cable via the open port on iSkin Vibe for iPod mini. Easy access opening makes docking your iPod with standard Apple cable a breeze.
iSkin Vibe for iPod mini contains two distinct features on the reverse side, included with each iSkin Vibe for iPod mini is the newly designed RevoClip2, iSkin's new removable rotary belt clip that keeps you and your iPod connected. Also, the mini Vibes contain micro bumps for both functionality and style. Micro-bumps help to ensure a solid grip when holding your iPod.
Link: iSkin Vibes
Etymotic Research 6i Isolator Earphones Now in Black
PR: Etymotic Research, Inc. announced today that its 6i Isolator earphones are now available in black, in addition to the original white. The 6i earphones are designed specifically for use with the Apple iPod and other small portable players, providing greater sound output and enhanced bass. The 6i earphones recently received the award for Best Headphones of 2005 by iLounge.
Industry analysts expect that by the end of 2005, more than 37 million iPods will have shipped, with black being an increasingly popular color choice. With the explosive popularity of digital music players, there is also a growing interest in matching accessories as well as earbuds that can deliver the ultimate sound experience. Etymotic has long been the leader in high fidelity earphones.
"The mildly enhanced bass and greater output of these earphones retains the high frequency response accuracy that Etymotic is known for," said Mead Killion, Ph.D., founder and president of Etymotic Research, Inc. "The 25-band accuracy score of these earphones still exceeds 80%, which is higher than any earphones not made by Etymotic."
When awarding the 6i with the iLounge award for Best Headphones of 2005, Jeremy Horowitz, editor-in-chief of iLounge, commented, "These headphones have all four of the key factors we look at when testing headphones: detail, balance, comfort, and value. Though many excellent headphones have been released this year, and we were tempted to make this award to a more expensive product, the fact is that 6i's $149 price makes it affordable for everyone, and its performance benefits over standard earbuds are very considerable."
Features of the 6i Isolator Earphones include:
Highly accurate music reproduction with greater sound output and enhanced bass • Exceptional noise isolation
In-the-ear secure fit for optimal performance.
Link: Etymotic Research 6i Isolator Earphones
Content
Listen to A Christmas Carol on Your iPod
PR: Storynory, the fast-growing children's story website, has just released the first podcast of "A Christmas Carol".
Storynory's first play will be podcast in three-parts, recreating the way Dickens published most of his books as serials. Previously Storynory has produced readings of classic fairy tales.
"At Storynory, we are creating a growing library of classic and modern iPod-ready stories for children," said Storynory spokeswoman Angharad Lynn. "Christmas Carol was a natural choice for us to feature on the site in December. Parents can download it to their iPod, or burn it to a CD. It's a great way to introduce children to classic literature, and completely free."
Storynory is a new concept in entertainment and education for children. We offer hours of classic children's literature, read by actresses, to educate and entertain children - there is no better way to introduce them to books and learning.
Parents can go to storynory.com to hear classic and modern children's stories. You can download them to your iPod, either direct from the site, or via the iTunes website.
Or else you can download the stories to any other MP3 player. You can listen to them on your computer or burn them onto a CD.
There is no charge for any of the stories. No longer need you pay £10 or £15 for a story on a CD or a tape. All our stories are absolutely free. And they all draw upon classic children's literature.
Link: Storynory
35 Free Guitar Lessons for the Video iPod
PR: iPlayMusic, an emerging provider of interactive music products, today announced that it will make a series of 35 beginner guitar video lessons available free of charge to iTunes users. All 35 lessons can be downloaded and played in iTunes and on video-enabled iPods. Using the iPlayMusic video method of instruction, the series of lessons provides a fun way to master guitar basics and learn to play songs without reading music. The company also announced that its entire line of video-based guitar learning products are now available for download to the Mac, PC and iPod.
"iPod owners are music lovers who want to get the most from their music experience - they listen to it, learn about it and enjoy sharing it others," said Quincy Carroll, chief music officer. "For many, learning to play along and sing along with their favorite artists is a natural extension to that experience. With our free lessons, guitarists can simply watch and learn at their own pace, whenever and wherever they choose."
iPlayMusic's free video guitar lessons for the iPod offer a step-by-step approach to instruction, teaching beginning guitarists how to hold, tune and strum the guitar, and how to construct and play chords. The complete download also includes several lessons featuring songs made famous by artists like Eric Clapton, Leadbelly and Woody Guthrie. iPlayMusic lessons feature scrolling lyrics and chords, and background music that allows guitarists to get the feeling and sound of playing along with a full band.
Thirty-five free video lessons for iPod with video owners are now available for download on Apple's iTunes Music Store or from iPlayMusic.
On iTunes, simply search for "iPlayMusic" and subscribe to the iPlayMusic video podcast.
The complete download, which will reside in the owner's iTunes library, includes lessons from iPlayMusic's Beginner Guitar Lessons Level 1, which provides an introduction to guitar basics and musical styles. It also includes a bonus song lesson from Beginner Guitar Lessons Level 2, which is designed for beginner to intermediate guitarists who want extra skills, riffs and tricks to take their play to the next level. Both guitar learning products are available on DVD or download for $24.95 each.
A special Holiday Value Package, which includes Level 1 and Level 2, is available for $29.95.
Additional downloadable song lessons for the iPod are available, featuring tunes made famous by artists like the Beach Boys, Johnny Cash, The Grateful Dead, Bob Marley and Willie Nelson for $4.95 per song.
In addition to video lessons and songs, iPlayMusic provides quality guitars and accessories.
Link: iPlayMusic
Software
iStar Composer Synchs Lyrics with Music on iPod
PR: Script Software has announced the release of iStar Composer. iStar Composer is an original and major new application that allows anyone to synchronize lyrics with downloadable music and then to export these synchronized lyrics for viewing in iTunes and on the iPod. Know someone who loves their music? Give them the best and most unique iPod gift this holiday season, iStar Composer.
Downloadable music is very convenient but it is missing one very important thing and that is LYRICS! In the 60's and 70's on the back of the record albums were the lyrics to the songs. In the 80's and 90's CD's had lyrics in the inserts. Amazingly, downloadable music does not have lyrics. This loss is remedied by iStar Composer an original application that doesn't just add lyrics but makes synchronized lyrics available on the Mac, in iTunes and on the iPod.
iStar Composer is a program designed to take any digital song (MP3 or AAC, created or bought in the iTunes store) find its lyrics then synchronize the music with the lyrics. Julian Miller, CEO of Script Software said, "We had to invent for iStar Composer some very original tools and techniques to line up the lyrics with the music. These tools make it easy to quickly add synchronized lyrics for any kind of song you own." iStar Composer can be used for editing and displaying lyrics, opera, karaoke, jokeoke (where people imitate a robin williams or another comedy routine), poetryoke (poems done to music), children's stories or children music, translation of text or lyrics, display of text for any audio track. And it is fun almost like playing a video game.
The best part is that you can go up to the file menu and choose 'Send to iTunes.' then your synched song and lyrics are exported as a new file to iTunes. In iTunes you will find and can choose the new iStar Composer playlist to see and play all your exported songs. Choose a song and in iTunes watch the synched lyrics in the bottom left corner where the cover art usually is and listen to the song. Now move the file to your iPod by clicking, update iPod in iTunes, and you can then watch it on your iPod. It works on the video iPod beautifully and also on the other color iPods.
iStar Composer is available immediately for $30 but the price will go up in the near future.
Link: iStar Composer
Ollie's iPod Converter Turns QuickTime Files into iPod-ready M4V Files
PR: Ollie's iPod Converter provides a simple and free way to convert your QuickTime compatible files to the .m4v iPod compatible format. Simply choose your file and convert. It's that simple!
System requirements:
Mac OS X 10.4 or later
iTunes 6 or later
QuickTime 7.0.3 or later
Ollie's iPod Converter is free.
Link: Ollie's iPod Converter
memoPod iPod Note Manager
PR: Have you been looking for a single solution that will enable you to conquer the Notes Capability that your iPod offers? memoPod is an all in one solution which will allow you to create and manage notes of any kind on your iPod.
Create Exercise Plans, To Do Lists, Driving Directions, Flight Plans, Recipes, News Items from within memoPod and then sync them to your iPod. You can also cut and paste any text from the application of your choice and sync that text to your iPod. When you take your iPod on the road - all that information will be available with the scroll and click of the wheel. Quickly and easily copy and paste this information into memoPod, sync it to your iPod and take it on the road with you.
The main screen allows you to create, delete and view your notes in addition to synching the notes to the selected iPod. In addition you can eject the selected iPod.
Simply click the Add button to create a new note and type in a title for this note: e.g. Directions to Zoo. Then click in the text window below the Add button and start typing in the directions to get to the zoo. Alternatively you can cut and paste the directions from a web page or another application. Click the Sync button and the driving directions are now in the Notes folder of your iPod under a note titled Directions to Zoo. Click the Eject button, and with your driving directions (assuming they are accurate) on your iPod you will make it to the zoo.
Features
Create and Manage notes on your iPod: Exercise Plans, To Do Lists, Driving Directions, Flight Plans, Recipes, News Items, etc.
Create a database of Notes and easily sync them to your iPod.
Create, Delete and Copy Notes on iPod using memoPod's Browser window.
One Central Application - Finder and iSync Not Required.
New in version 1.1:
Changed the behavior of the Delete button in the Browser window to Destroy the specified file rather than Recycle (which requires an Empty Trash to delete the file from the iPod).
Added Help via the Help menu item.
System requirements:
Mac OS X 10.2 or later
iPod which supports the iPod Note Reader
$14.99 shareware
Link: memoPod 1.1 iPod Note Manager
TopXNotes iPod Synchs TopXNotes between Mac and iPod
PR: TopXNotes iPod works exactly like TopXNotes, but you can now select a choice of notes for export to your iPod. Your "iPod notes" will be placed in the Notes folder of your iPod in the same order as in your TopXNotes iPod notepad, and your Groups containing iPod notes will also appear on your iPod. So if you have a "Home" Group containing an iPod note, that note will be in the "Home" Group on your iPod.
System requirements:
Mac OS X 10.3 or later
iPod (3rd generation or newer)
TopXNotes iPod is demoware.
iGuitarTuner Plays Guitar Tones on iPods
PR: iGuitarTuner is a podsite that plays guitar tones on iPods. Common alternative tunings are also available.
iPod shuffle can't run iGuitarTuner.
System requirements: Requires a third-generation iPod or above. iPod mini and Nano are supported, as long as any other model able to read iPod Notes.
iGuitarTuner is free.
Link: iGuitarTuner
iPod Deals
For current iPod prices from a variety of sources, see our Best iPod Deals.
Join us on Facebook, follow us on Twitter or Google+, or subscribe to our RSS news feed
Today's Links
Recent Content
Custom Search
Follow Low End Mac on Twitter
Join Low End Mac on Facebook
Favorite Sites
MacSurfer
Cult of Mac
Shrine of Apple
MacInTouch
MyAppleMenu
InfoMac
The Mac Observer
Accelerate Your Mac
RetroMacCast
The Vintage Mac Museum
Deal Brothers
DealMac
Mac2Sell
Mac Driver Museum
JAG's House
System 6 Heaven
System 7 Today
the pickle's Low-End Mac FAQ
Affiliates
Amazon.com
The iTunes Store
PC Connection Express
Macgo Blu-ray Player
Parallels Desktop for Mac
eBay

Advertise