iPod a 'Best Bet', Automakers Support iPod, Fill Video iPod for Free, Rip CDs to Your iPod, and More
Compiled by Charles Moore and edited by Dan Knight - 2006.01.05
This Week's iPod News
PowerBook, iBook, iPod, and other portable computing is covered in The 'Book Review. General Apple and Mac desktop news is covered in The Mac News Review. News about Apple's transition to Intel CPUs and other Intel developments is covered in The Macintel Report.
All prices are in US dollars unless otherwise noted.
News and Comment
Tips
Products
Software
Video iPod Content and Software
News and Comment
'Your Best Bet Is an iPod'
Kiplinger's Sean O'Neill says:
"What terms do you need to understand to buy the right music player for you? And which tools for downloading music will work best with your PC? Find out in our Buyer's Guide for Music Players.
"We fall into two camps when it comes to MP3 players - those mini machines with massive memories, best known by the standard bearer, Apple's iPod. While some of us consider them glorified Walkmen, others consider them the fifth lobe of our brains....
"No technology since the VCR is as revolutionary to personal entertainment as the MP3 player. And the revolution is just beginning. More than a third of homes that have computers will also have iPods within two years, according to analysts at Merrill Lynch....
"To start, your best bet is an iPod . . . Apple's MP3 players are the easiest to use...."
Link: In the iPod Zone
Automakers Support the iPod
TechWeb News's Antone Gonsalves reports:
"Automakers are expected to ride the popularity of the iPod and add support for Apple Computer's portable music player in millions of cars over the next six years, a research firm said Wednesday.
"By 2011, the number of U.S. autos with iPod adapters is expected to reach 28 million from 500,000 this year, according to the Telematics Research Group. Worldwide, iPod support is expected in 73 million vehicles in six years from 900,000 this year."
Link: Automakers Embrace the iPod
Podcasts, Downloads Bringing People to Church
The Daily Post reports:
"Churches across Merseyside are using the latest technology to connect with their congregations.
"The use of Internet downloads and podcasts has also encouraged more people to actually attend services, say church leaders.
"Steve Evans, who runs the podcast service at Bridge Chapel Christian church in Liverpool, says the online sermons have led to a surge in worshippers attending in person....
"He said: 'Large numbers of new people are coming down to the church and joining our congregation simply because of the Internet downloads and podcasts....
"The Bible is also available to buy as a 77-hour MP3 and the Vatican's own radio show is streamed on the Internet to download to music players.
"The Rev Dr Shannon Ledbetter, of St Mary's Church in Knowsley Village, believes the iPod could revolutionise worshipping for the young and old alike.
"Dr Ledbetter, 43, who appeared in the 1997 James Bond film, Tomorrow Never Dies, believes the technological breakthrough could be a 'godsend' for the housebound.
"She said: 'For the elderly and housebound, this is a fantastic - all you need to do is fix them up with an iPod and they're good to go.'"
Link: iPod Link Tunes in for Churches
How to Fill Your Video iPod for Free
The Canadian Press's Scott Edmonds says:
"So, you're the lucky possessor of a new video iPod.
"Just what are you going to use it for? Think about that one for a minute.
"You could shell out $1.99 US to watch an old episode of Desperate Housewives on the small screen. And we are talking really SMALL screen here.
"Oh, whoops, you're a Canadian and you can't even do that. On this side of the 49th, you're stuck with Pixar animated shorts and music videos from the iTunes store....
"Just as nature abhors a vacuum, content providers hate a medium without a message.
"Some must have been poised to start offering video podcasts (a.k.a., vodcasts, vidcasts) almost before Apple's Steve Jobs walked off the stage where he unveiled his latest baby last October....
"And the good news is plenty are absolutely free, although sometimes it's easy to see why.
"Here's a sample of what can be found on the web by those who want to keep the cost of stuffing their new video iPod to a minimum...."
Link: How to Fill That Video iPod - for Free
A Competitive Nation - by Design
BusinessWeek says:
"'Designed in the USA, built in China.' These words, which appear on the bottom of every iPod, underscore Apple's (AAPL) justly deserved reputation for understanding the value of design and its relevance to corporate strategy. A quick search on Google (GOOG) reveals that a few other U.S. manufacturers make the claim 'Designed in the USA' for their products....
"Without the global success of Apple's iPod, would these words carry the same value? And what is the importance of this phrase, globally, in the context of increasing concern regarding America's battle for competitive advantage as India and China raise their innovative profile and GDPs?"
Link: A Competitive Nation, by Design
Tips
DIY FM Transmitter for Your iPod shuffle
Ars Technica's Jeff Smykil reports:
"We like hacks. We like when someone takes their Macintosh or Macintosh-related accessory, or just a bunch of parts really, and creates something new or unique out of it. We really like it when said hack is clean and looks professional or factory made. That's why we like the iMouse FM Transmitter that Make pointed us to this morning."
Link: DIY "iMouse" FM Transmitter with Your iPod shuffle
Products
iTrip Auto FM Transmitter and Auto Charger
PR: iTrip Auto, the newest addition to the iTrip lineup, is the most versatile iTrip to date, accommodating every dock connector iPod, including iPod nano and 5th Generation iPods with video. iTrip Auto combines Griffin's renowned FM transmitter technology with an integrated charger.
Designed specifically for use in the car, iTrip Auto's large, easy-to-read backlit LCD screen affords quick, precise station selection and easy status at a glance.
iTrip Auto uses the audio line out from the iPod's dock connector and optimizes the output volume. Speaker volume can be controlled solely from the car stereo controls, without having to adjust the iPod's volume level.
iTrip Auto brings with it all the innovations of its iTrip lineage, including selectable LX and DX modes for best-quality audio under real-world conditions, US and International tuning modes, Griffin's RF technology, and the trademark Griffin world-class industrial design.
Works with
3rd Generation iPod with touch wheel and buttons
iPod mini
4th Generation iPod with Click Wheel
iPod photo
iPod U2 Special Edition
4th Generation iPod with Color Screen
iPod nano
5th Generation iPod with Video
Price: $69
Link: iTrip Auto FM Transmitter and Auto Charger for iPod
Sonnet's USB Power Adapters for iPod
PR: Sonnet Technologies has announced a new line of compact USB power adapters for 4th and 5th generation iPod models, iPod mini, iPod shuffle, and iPod nano. Sonnet's iPod USB Power Adapter is small, curvy, and versatile - it's about 2/3 the size of its competition - the blades fold away when not in use for easy travel storage, and its universal power compatibility enables worldwide use. Its non-polarized blades allow the adapter to be plugged in with the USB outlet face up or down, perfect for use in tight spots. With an MSRP of only US$19.95, it's a great value too - the included USB-to-dock connector cable is a $19 value alone!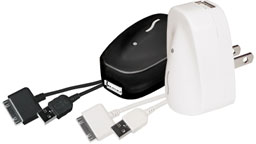 Sonnet's iPod USB Power Adapter is a simply fast way to charge an iPod without starting up a computer. Just plug in the adapter, and then connect the included cable between it and the iPod (iPod shuffle connects without the cable). "With each succeeding generation, the number of accessories bundled with iPod has been reduced, and the power adapter brick is no longer included," states Robert Farnsworth, Sonnet CEO. "Sonnet's USB power adapters offer iPod users an attractive and inexpensive choice for charging the device anywhere there's a power outlet." Farnsworth noted that the included cable may also be used with a computer, providing the user even more flexibility. At home or away, Sonnet USB power adapters let you love your iPod even longer!
Key Features
Charges iPod any time it isn't connected to a computer
Available in black or white, and includes matching dock cable
Best value charger for iPod
Supports iPod fast charge
Wall socket prongs fold away for easy travel storage
100-240V, 50/60 Hz universal compatibility for worldwide use
1 year limited warranty
iPod Compatibility
Sonnet's iPod USB Power Adapters are compatible with the following models:
iPod with video, iPod with color display, iPod photo, iPod with Click Wheel, iPod mini, iPod nano, and iPod shuffle
Sonnet's iPod USB Power Adapters (Part numbers IPOD-AC-CHG-W and IPOD-AC-CHG-B, for US, Canada, and Japan) are available immediately with an MSRP of USD $19.95.
Also Available
Sonnet will release iPod USB Power Adapters (Part numbers IPOD-AC-CHG-WE and IPOD-AC-CHG-BE) for the European market (excluding the UK) on January 3, 2006. Nearly identical to the US version, these adapters include Euro plugs that do not fold away.
Link: Sonnet Technologies USB Power Adapter for iPod
Pelican i1030 Micro Case Protects iPod and iPod mini
PR: Digital music lovers can breathe a little easier knowing their Apple iPod is protected in the new Pelican Products i1030 Micro Case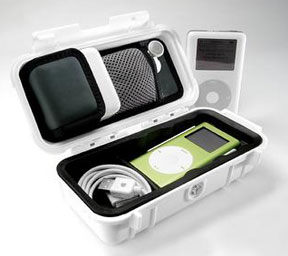 The i1030 is a tough, watertight case with a molded rubber compartment that fits the Apple iPod (3rd and 4th generations), iPod mini with belt clip, and the new iPod video. A separate cavity holds the USB or FireWire cable and the lid has plenty of space to organize music-lovers' earphones and AC adapter. A detachable light-reflecting nylon strap is also included.
The i1030 Micro Case with Pelican's trademarked "Dual Band" design has a high impact polycarbonate shell that stands up to punishing conditions. The strong latch with stainless steel pins keeps the case closed after drops and hard knocks, and the shock-absorbing liner doubles as a watertight seal. Plus, the pressure-balancing Gore-Tex® valve keeps moisture out and makes it easier to open the case after altitude changes.
The i1030 has a tough polycarbonate shell that stands up to extreme environments. The strong latch with stainless steel pins keeps the case closed after drops and hard knocks. The shock absorbing molded rubber liner doubles as a watertight seal. Plus, the automatic pressure release valve with one-way membrane equalizes air pressure at high altitudes and keeps water molecules out. The i1030 is available in white or yellow.
Features:
Tough watertight protector for the iPod 3G, 4G, 5G
Lid organizer holds accessories
Automatic pressure release valve equalizes air pressure and keeps water out
Detachable nylon strap
As with all Pelican products, the i1030 Micro Case is backed by a Legendary Lifetime Guarantee of Excellence: "You break it we replace it . . . forever."
Compatible with all iPod and iPod mini models.
Price: $39.95
DLO Relaxed Leather Cases for video iPod and iPod nano
PR: You've never seen any iPod case like this before. Choose from relaxed styles that mix browns and suedes, and anything but basic black, to give your iPod a personality that's as individual as you are.
Protect your iPod - from normalcy
The DLO Relaxed Leather designer cases come in suede and distressed leather styles that feature touches like contrast stitching and brass rivets. Styles range from the Snowflake to the Zig Zag stitch - six different designs for you to choose from.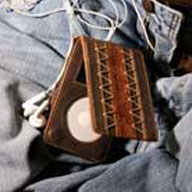 The Relaxed Leather cases each feature a protective flip-over cover with its own style and feel. The beautiful DLO Relaxed Leather cases are made from genuine rawhide that only gets softer and cooler looking as its worn and broken in. They feature a leather covered belt clip for an easy fit on your hip.
The handy inside pocket will store ID, business cards or cash. The play-thru design offers access to all iPod controls, dock connector and headphone port. So get your leather on with DLO's new Relaxed Leather cases for iPod.
Quick Facts
Genuine leather iPod cases fit the current look with casual style
Every case is hand crafted from 100% leather making each case unique
Concealed pocket on underside of flap is perfect fro ID cards, notes, or cash money
Play-thru design offers access to all controls, dock connector & headphone jack
Flexible case adjusts to fit all sizes of 4G iPods including 20 GB, 30 GB, 40 GB, 60 GB, and U2 iPods
Relaxed Leather - $34.99
"Relaxed Leather Cases" for iPod nano
Relaxed Leather cases as unique as you are.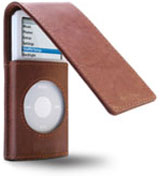 Unique. With the millions of iPod nanos in the world, it's getting harder to call your iPod nano special. Introducing the Relaxed Leather cases from DLO. Original designs that protect your iPod nano - from normalcy.
The new Relaxed Leather Cases for iPod nano come in 10 different styles and are made from high-quality genuine leather. Each case has a specific design on its flip-up cover that sets it apart. Styles range from Suede and Antique Leather to Distressed Leather with Railroad Stitch and even a "Stingray" case.
The Relaxed Leather cases each feature a protective flip-over cover with its own style and feel. The beautiful DLO Relaxed Leather cases for nano are made from genuine rawhide that only gets softer and cooler looking as its worn and broken in. They feature a leather covered belt clip for an easy fit on your hip.
Quick Facts
Genuine leather iPod nano cases fit the current look with casual style
Every case is hand crafted from 100% leather making each case unique
Play-thru design offers access to all controls, dock connector & headphone jack
Relaxed Leather for nano $29.99
Link: Relaxed Leather Case for video iPod
Link: Relaxed Leather Case for iPod nano
Silicone Skins Protect iPod nano from Scratching
PR: After increasing media reports about the Apple iPod nano's susceptibility to scratches, Laserline introduced an iPod nano accessory that repels dust and scratches. Laserline's Silicone Skins are made of lightweight, high-grade, waterproof silicone elastomer that won't break, snap, tear, pill or split like rubber.
The Laserline silicone skins are translucent membranes that fit snugly around the Apple iPod nano. The shock-absorbing material protects against accidental bumps as well
as annoying fingerprints and scratches. The skins have an antistatic feature which repels the dust that can scratch and harm an iPod. Because the skins are waterproof, rain, snow or sweat are not problems, so users can take their music with them wherever they go in complete comfort and style.
"This is a stylish and affordable way to protect your investment," says Jack Graham, vice president of sales for Laserline. "And we have Silicone Skins to fit all iPod models not just the nano."
Apple iPod nanos are so portable they can be slipped into a shirt pocket or the small coin pocket of a user's jeans - but left unprotected, they are subject to annoying scratches that can distort the screen and impact their sleek look. The Laserline Silicone Skins are the perfect iPod nano accessory.
Laserline Silicone skins for the Apple iPod nano are available in a variety of colors including: pale baby pink, icy blue, pearly white and not-so-basic black. Customers can also purchase the skins in convenient two-packs of white/black, pink/purple and blue/green. Five-packs of white, black, blue, green and pink are also available.
Laserline Silicone skins are available online at iPod nano accessory skins for $14.99 and come with a free neck lanyard and wrist strap.
Link: Laserline
foneGear Launches tuneGear Music Accessories
PR: foneGear LLC has announced the product launch and forthcoming availability of tuneGear, a complete line of high-quality iPod and audio accessories, which will be on display at the 2006 International Consumer Electronics Show in Las Vegas, Nevada (Booth 35632).
"tuneGear is a brand new concept in accessorizing the audio after-market," according to Jonathan Stein, foneGear's marketing manager. "We are the first company to develop and market a complete 'one-stop' approach to audio accessories - you can get everything from premium earbud headphones to charging solutions to FM radio transmitters to exquisite leather cases from tuneGear."
The tuneGear line will be initially comprised of five main categories: headphones, charging solutions, carrying solutions, FM-radio transmitters, and "Music Experience Enhancements."
Headphones will be available in several universally compatible varieties. All tuneGear headsets provide a high quality stereo listening experience, and include basic ear buds, "audio-foam" cushioned headsets with volume control, ear-clip sports ear buds with volume control, and premium ear buds with volume control, a lightweight aluminum housing, and high fidelity stereo sound. Premium ear buds produce deep bass through upgraded 14mm speakers. The tuneGear headphone line also includes versions of the premium ear buds included in lanyard holders for both Apple iPod® Shuffle® and iPod nano® music players.
Charging solutions will initially cover the Apple iPod music players, the iPod mini®, and the iPod nano. Products include 12V vehicle chargers, retractable USB sync and charging cables, and home and away travel chargers. Also available for all covered models is a computer dock that allows the player to sync and charge with a computer while displaying the iPod upright.
tuneGear carrying solutions include a wide range of products for a variety of players. tuneGear cases will be available in premium leather for in both clear-front pouch and protective cover flap versions for the Apple iPod music players, the iPod mini, and the iPod nano. A premium leather case with a protective flap will also be available for the iPod Shuffle. Durable tuneGear leather holsters will be available for the Apple iPod, the iPod mini, and the iPod nano. A universal armband kit will provide four holders in one package for carrying any iPod music player on an included elastic armband.
Three FM-radio transmitters will initially be available from tuneGear. The '3-in-1' 12V transmitter is a vehicle cradle for the Apple iPod, the iPod mini, and the iPod nano, that allows users to play their iPod over their vehicle's FM radio, charge their iPod, and safely cradle it at a viewable angle. The '3-in-1' 12V transmitter for iPod Shuffle is a vehicle cradle for the Apple Shuffle player that allows users to play their iPod Shuffle over their vehicle's FM radio, charge their iPod, and safely cradle it while driving. The tuneGear battery-powered FM-radio transmitter is a universal device for any music player with a 3.5mm audio jack. It uses two AAA-sized batteries to transmit to any home or vehicle FM radio.
Music Experience Enhancements include a range of products designed to increase the utility and fun factor of any music player. Available products will include dashboard sticky pads, signal splitters to allow multiple users to listen to the same player, and powerful, compact portable speakers that fold for travel and work easily with any iPod, MP3 player, notebook computer or CD player with 3.5mm audio jack to provide clear, room-filling sound.
"To say we're excited about tuneGear is the understatement of the year," said Ken Eisenbraun, president of foneGear. "Our goal is to make tuneGear the one-stop brand for high-quality music accessories, and we are looking forward to beginning sales in January." The complete tuneGear line, which will be on sale in January 2006, will be on display along with the entire line of foneGear wireless phone accessories in Booth 35632 at the 2006 CES Show.
Software
Rip to iPod
PR: Rip to iPod rips each enabled (check-marked) CD track to iTunes and immediately copies it to your iPod, deletes the file, and removes the track from the iTunes library, giving the appearance of seamless CD-to-iPod importing. You can also change your encoder on-the-fly and your Preferences-set encoder will be restored after the rip. Works in OS 9 and OS X.
Latest version allows you to select one of two or more loaded CDs, one of two or more mounted iPods.
See the entry at .
New in version 1.5:
Choose one of two or more loaded CDs to rip enabled tracks from
Choose one of two or more mounted iPods to which to load ripped CD files
System requirements:
Mac OS 9.0 or later
CarbonLib
iTunes 2.0.4 or later
Free
Link: Rip to iPod
iPod.iTunes: And the Music Goes on
PR: iPod.iTunes allows you to sync your iPod to Apple's iTunes MP3 playing software. It copies your tracks and playlists from your iPod to iTunes.
Unlike other iPod software to copy songs off the iPod, iPod.iTunes does real add-synchronization, even in two directions if desired:
Source Target
iPod - -> iTunes
iTunes - -> iPod(from iTunes to iPod is especially useful if you want to synchronize from iTunes to a non-linked iPod)
iPod.iTunes evaluates the source for songs, videos and/or playlists that are not in the target and only adds these seamlessly, avoiding duplicates, saving your time. Unlike iTunes' "auto update" function iPod.iTunes generally does not delete content in the target. iPod.iTunes can also transfer song dependent data like "My Rating", "Last Played", "Play Count", album artwork, etc...
8 synchronization modes in 2 directions (from iPod to iTunes and from iTunes to iPod).
Simple one click synchronization (Screenshot).
Option to choose songs manually if you don't want to synchronize them all. You can listen to songs before you choose to transfer them.
Songs and playlist entries can be synchronized together or separately. If the songs on the iPod are already in the iTunes library and you only want the iPod playlists, you can use the playlist synchronization alone.
With every song synchronization iPod.iTunes creates a date&time stamped playlist in iTunes containing the songs which were transferred. This gives the option to easily add those songs to existing playlists or to create new playlists from the transferred songs.
Support for the iPod's "On The Go" playlist.
Copies by default seamlessly to the iTunes music folder and creates a folder structure based on artist/album, as in iTunes (with options).
File naming based on song number and song name, as in iTunes.
File formats: MP3, AAC/MP4, Protected AAC (iTunes Music Store), Audible audio books, Podcasts, Apple Lossless, Video.
Support for Windows-formatted iPods.
iPod.iTunes can run directly from the iPod, so it's always there when you need it.
Registration is independent of the computer. You can just connect your iPod to any Mac without registering every machine.
iPod.iTunes can be used to
Keep songs, videos and playlists on different Macs and iPods up to date.
Do a full restore of songs, videos and playlists from iPod- i.e. after a hard disk failure or if you buy a new Mac.
Revert accident deletion of songs, videos and/or playlists in iTunes, if these are still on your iPod.
Transfer an iTunes library from one Mac to another via the iPod.
Update a foreign iPod which is not linked to your iTunes library (without deleting content on it or touching the link).
Update a linked iPod (without deleting content on it as iTunes' "auto update" does when tracks on the iPod are no longer in the iTunes library).
Clone an iPod (see Help menu in iPod.iTunes).
New in version 3.0
Synchronization in two directions: Beside synchronization from iPod to iTunes you can now also synchronize from iTunes to iPod. This is helpful if you want to:

update a foreign iPod which is not linked to your iTunes library (without deleting content on it or touching the link).
update a linked iPod (without deleting content on it as iTunes' "auto update" does when tracks on the iPod are no longer in the iTunes library).

Many small changes in the user interface.
Various small improvements and bug fixes.
System requirements:
iPod.iTunes 3.0 supports:
Mac OS 10.2 up to 10.4.3
iTunes 3.0.1 up to 6.0.1
Mac/PC-formatted iPod with firmware 1.0 up to 6.0. Does currently not work with the iPod shuffle.
Download
iPod.iTunes 1.8.1 supports:
Mac OS 10.1.2 up to 10.1.5
iTunes 2.0.4 up to 3.0.1
Mac-formatted iPod with firmware 1.0 up to 1.2.2. Does not work with the iPod shuffle.
Download old version
iPod.iTunes is not free. If you like it, you can register here. iPod.iTunes can be tested without a registration to see it in action. The unregistered version skips about 50% of songs during synchronization (the exact rate depends on the contents on the iPod). When registering later, iPod.iTunes will transfer the rest of songs and/or playlists seamlessly to the iTunes library, without duplicates.
Link: iPod.iTunes
iPodDisk Makes Copying Music from Your iPod Easy
PR: iPodDisk is designed to make it easy and intuitive to copy music off iPod; it enables you to do so within the Finder, or whatever application that can read files.
iPodDisk 1.0 beta 1 Released
This iPodDisk's first step toward a 1.0 release, changes since 0.3.1 are relatively small:
fixed a bug found in 0.3.1 that iPodDisk.app couldn't be shared among accounts on a Mac when installed by the administrator.
clean up temporary files and release resources upon exit.
It's the same as nightly build 2005-12-21, so if you already have that build you don't need to download it again.
System requirements: Mac OS X 10.4 or later.
Free
Link: iPodDisk
iPod2Copy 1.2
PR: With iPod2Copy, recover and save all your songs in your iTunes library, it saves all the playlists in one click and is made to run with iTunes,
Backup iPod playlists,
Keep song and playlists order,
Many exportation format in subfolders,
Retrieve your play count, last date played and ratings informations
New in version 1.2:
adds support of specials characters in playlists
System requirements: Mac OS X 10.3 or later.
Demoware
Link: iPod2Copy
Pod2Go 1.6
PR: Pod2Go 1.6 has been released! Lyrics has been reworked completely, syncing has been heavily improved for Apps and News, multiple iPods can be handled more gracefully, News now imports feeds from other applications, Backup uses rsync to produce faster backups, Music correctly plays back videos from the new iPods with video, and much more! Pod2Go is also now a Universal Binary!
Think your iPod was designed just for music? Think again!
If you're not taking full use of your iPod's extended capabilities, then you're missing out! You may ask, "What other capabilities?" The iPod has a few extra features on it that allow you to view your address book contacts, calendars, to-dos, and even notes!
This is where Pod2Go comes in to play. Pod2Go takes any iPod (except the shuffle), whether it's the first iPod ever created, a brand new iPod color, or an iPod mini, and expands the functionality of it by putting a variety of textual content onto it for your reading enjoyment.
For example, on your ride to work, you could be staying up-to-date with the latest news, checking tomorrow's weather forecast, browsing the local theater's movie showtimes, or getting directions to that new restaurant across town. Or if you're a college student, you could be studying those Word formatted notes your buddy emailed you before your exam, without books or papers. If you're an email addict, you can keep those important messages with you wherever you go. There's an endless stream of possibilities!
New in this version:
General
Pod2Go now can optionally be setup to only sync to one iPod for each user account on your computer. Settings for this can be changed in the Preferences
The new iPods do not contain a file that Pod2Go reads to get the iPod's name - this was causing some issues with the Notes utility not showing, and the iPod menu not loading, resulting in no syncing. This has been fixed.
If you hold down the Option key, the Sync menu in the iPod menu now becomes "Sync and Eject"
If you have the preferences setup to sync when your iPod is connected, you can now disable the automatic sync when you connect your iPod by holding down the Option and Command keys simultaneously
A big request for download timeouts has been implemented. Whenever a server went down, or the URL would take too long to download, Pod2Go would just hang, and you'd have to cancel the sync and start over. Now it just skips it and moves on after a few seconds. You can change the download timeout in the Preferences window.
Improved "rendering" of text. Pod2Go attempts to parse HTML entities and removes any text between <style> and <select> tags in web pages
The Utilities window now remembers the last selected utility
When clearing the sync log entries, you must confirm the action by pressing OK
Pod2Go's now a Universal Binary, so it requires 10.3.9 or greater
The "Last Sync Info" note that can be optionally synced to your iPod should now be properly localized
Apps
Mail has been completely reworked. No longer does it use AppleScript to communicate with Mail.app (which required Mail.app to be open). Now it reads from the same files Mail.app does, and is significantly faster (although the first sync will be slower). Syncing will be slightly faster when Mail is not open also. Also added an option "Flagged messages only".
I've also implemented a new sync method for iCal. This new method is how it should have been done a long, long time ago. It doesn't use any AppleScripts, and works fast.
With the new iPods (5G), you can have a photo displayed with any contact in full living color. This is to my knowledge the only other feature besides Videos that the new iPod has separate from the nano. If you don't have a 5G iPod, leave the option to display photos turned off, as it will keep the vCard file size down. Make sure in Address Book.app, under the vCard item in Preferences that you have the vCard version set to 3.0 if you want photo output.
Added a "Do Not Clear Calendars/Contacts" option in Address Book and iCal so if you are syncing calendars and contacts to your iPod from more than one computer, they will not be erased each time you sync. For example, at Home you would sync calendars and contacts, and then go to Work and do the same. Normally when you sync at Work, all your Home contacts/calendars are erased. But with these options, they are not erased, even if you uncheck iCal or Address Book in the Apps tool
Fixed a bug where if you had no apps checked, but the sync before you had 1 or more, the notes wouldn't be deleted from your iPod.
Lyrics
The entire interface and code has been reworked for 1.6 since 1.5. You can now easily download lyrics for your iTunes music (requires iTunes 5 or later) and then import those lyrics to your iPod (click the iPod button below or drag and drop), which sync as before like Notes or Contacts. There is also a button for clearing the lyrics of any selected songs. Be careful - when editing iTunes lyrics there is no undo of any kind! And Pod2Go will overwrite any lyrics without asking!
News
Support for importing NetNewsWire feeds has been added. These will show up in the Sources window when you click the + button. You can also import any RSS or Atom feeds you have bookmarked in Safari (requires Safari 2.0+ for Tiger) too.
The window for adding new feeds has been refreshed and reorganized.
Added support for feed:// URLs
Command-I now works for the info button at the bottom
Backup
Backup now uses the rsync utility (built-in to Mac OS X) to do its backups. This is a much faster method, and the Backup syncs can now be canceled almost immediately.
Text
Instead of the 3-tabbed interface for adding text files, Text now uses a little pop up at the bottom.
A bug has been fixed where some plain text files that weren't UTF-8 encoded weren't loading.
Added support for plain text files without extensions
Music
Music has also been updated to correctly handle the playing of videos off the new 5G iPods, which appear in a new window and pause any music that you're currently playing in Pod2Go when played.
Fixed a bug with audio files that change their album art (i.e. New Music Tuesday podcast). When playing these songs, the album art would show up in the top left corner of the screen.
Launcher
If Launcher is syncing .app's created from an Automator actions, it will wait for the app to finish execution before it continues
Link: Pod2Go
iWriter: Take Full Advantage of the iPod Notes Feature
PR: iWriter allows users of all experience levels to take full advantage of the iPod Notes feature. iWriter is an extremely open-ended utility that has a wide array of uses ranging all the way from entertainment to education. By allowing users to create iPod projects with linked pages, iWriter helps you design and construct elaborate interactive text documents that effortlessly allow people to access endless varieties of information.
Multi Page Notes
iWriter lets you create multi page notes that link to each other so you can get past the 4k size limit on iPods. You can also link to audio files which can play while you read the text
Built-in Preview
You can preview your notes without the need to transfer to an iPod with iWriter's built in preview.
Export to iPod
iWriter lets you export your notes straight to the Notes folder of your iPod so there's no need to drag several files over via the file system.
Export as a Website
If keeping your notes on your iPod isn't good enough, then iWriter lets you export them as a website - using one of several themes - so that you can share your notes online with the rest of the world.
New in version 1.0.3
Fixed crash when saving large amounts of text
Fixed crash cause when iWriter can't connect to the server to check for updates
Vastly improved undo feature
Improved preview output
Cleaned up XNP output
System requirements: Mac OS X 10.3 or later
iWriter lets you create notes for the following types of iPod: - 5G iPod (Video) - 4G iPod (Click Wheel) - 3G iPod (Touch Wheel) - iPod mini - iPod nano - U2 iPod - iPod photo
$12 Shareware - Try iWriter's features for free for 15 days before you decide to buy
Link: iWriter
iStar Composer 1.1
PR: iStar Composer creates synchronized lyrics on the Mac to export to the iPod and iTunes. iStar Composer finds lyrics, but more importantly allows you to sync them to a song and then allows you to export the synchronized lyrics into a new music file (AAC) that will play/display in iTunes and on the iPod.
Musicians
Composers, Garage Band users, singers, song writers, recording studios and music publishers will all find that iStar Composer is a powerful tool to create, promote and enhance their music. Test out that new song with different lyrics. Export your latest songs with embedded lyrics that can be seen by others in iTunes and on the iPod. Rock, classical, jazz, opera, blues, country, and international music all benefit. Be understood not just heard.
Podcasters
iStar Composer lets podcasters add extra detail to their podcasts. Now you can add extra information such as notes, translations and the names of guests. iStar Composer can even allow the hearing impaired to experience a podcast for the first time.
Educators
iStar Composer is a great tool for education. Add notes to a professors lecture. Learn lines to a play or opera. Listen to foreign languages and immediately see the translation.
Kids and Parents
iStar Composer is also great for creating nursery rhymes, find some music add the lyrics, export to iTunes. Bedtimes will never be the same.
Bring Lyrics Back To Life
Downloadable music is very convenient but it has always been missing one thing that was available in the past and that is LYRICS! In the 60's and 70's records had lyrics on the back of the albums. In the 80's and 90's CD's had lyrics in the inserts. Downloadable music does not have lyrics. This loss is remedied by iStar Composer an original application that doesn't just add lyrics but makes synchronized lyrics available on the Mac, in iTunes and on the iPod.
iStar Composer has some very original tools and techniques to line up the lyrics with the music. These tools make it easy to quickly add synchronized lyrics for any kind of song you own." iStar Composer can be used for editing and displaying lyrics, opera, karaoke, jokeoke (where people imitate a Robin Williams or another comedy routine), poetryoke (poems done to music), children's stories or children music, translation of text or lyrics, display of text for any audio track. And it is fun almost like playing a video game.
User Created Examples
Music, speeches, lectures, stories, in the future there will be examples you can download here. Feel free to contact and send us your compositions.
Much more to come
iStar Composer is just beginning. We have many features and surprises on the way and we welcome your contributions.
System requirements:
Mac OS 10.4
QuickTime 7.0.3
Apple's Chapter Tool
color or video iPod (optional)
iStar Composer sells for $30
Link: iStar Composer
Video iPod Content and Software
Pod Comic Caster
PR: Pod Comic Caster v 1.0 is designed to publish 320 x 240 Comics for 5th Generation iPods. Comic Caster is a QuickTime based action that speeds up the process in a few mouse clicks. Your End Product will be a QuickTime File that will run a page in a chosen slide duration. That will be sized and formatted to view on a video iPod.
System requirements:
Mac OS X 10.4 or later,
QuickTime 7 Pro,
5th Generation (video) iPod.
Free
LoadPod launches DVD Movie Loading Service for Video iPod
PR: LoadPod has launched a DVD movie loading service for users of the new Fifth Generation "video iPod" in eight major U.S. cities. LoadPod picks up the customer's video iPod and DVD collection at the customer's home or office, and returns the iPod fully loaded in a few days. Movies are encoded into 320x240 display format, ideal for the video iPod's screen, and take up an average of less than one gigabyte of iPod space apiece. iPod Movie Loading service is currently available in New York City, Chicago, Fort Lauderdale, Miami, Orlando, Philadelphia, San Francisco, and Seattle.
LoadPod invented the iPod loading industry in early 2004 when it became the first and only nationwide service to load a customer's existing music CD collection into their iPod via in-person service. Today, LoadPod is proud to extend its services to include loading a customer's existing DVD movie collection into their video iPod. As with all LoadPod services, iPod Movie Loading requires no shipping, traveling, labor, or hassle on the part of the customer. Customers can place their iPod Movie Loading order starting today.
Link: LoadPod DVD Movie Loading Service
Podner 1.2.1
PR: Wondering how to make the most of the new iPod - the one that plays movies and music videos? Looking for an easy way to get your movies into an iTunes-compatible format? Not sure how to get the best results from QuickTime Pro? Say howdy to your new Podner.
Reformatting your movie collection into iPod-ready files is a cinch with Podner. And, it's up to six times faster than QuickTime Pro's Movie to iPod (320 x 240) option. Just drag your movie files to the Podner window, tweak the settings (if you want) then let Podner get to work. You can even set up a batch of dozens of files and simply walk away.
Afterwards, your movies show up in a special playlist in iTunes. Then, just let iTunes synchronize with your iPod and you're good to go. It's all in a day's work for you and Podner.
Even if you're still waiting for your new iPod, or just want to use iTunes to manage your movies, you can get started now. Podner can reformat your movie files or just make them iTunes-compatible, but it doesn't require an iPod. It's even friendly with DivX and WMV files when the appropriate QuickTime components are installed.
Sound difficult? Shoot us an email and we'll get back to you pronto with extra help. Splasm is known for its fast and friendly customer support.
Minimum System Requirements:
Mac OS X 10.3.9
iTunes 6 *
QuickTime 7.0.3 *
Temporary hard drive space equivalent to 3x the size of each processed movie file
* Both iTunes and QuickTime can be downloaded or updated for free at www.apple.com
Podner Pricing: $9.95.
Download Podner and convert 2.5 minutes of any movies you have to view on your iPod or within iTunes.
Link: Podner 1.2
iSquint iPod Video Conversion App
PR: iSquint is an iPod video conversion app. It's up to 5 times faster than Apple's method, works well with AVIs and MPEGs, and it's infinitely free-er.
It's also rather easy.
Drag in your file, click "Start", and away you go. You can even set screen-size and quality preferences.
On a 1.5 GHz G4, iSquint can convert most video files to iPod-screen-sized videos in realtime. Depending on a few factors, a 20 minute video will take up anywhere from 50-150 MB of disk space.
New in version 0.9m:
H.264 SUPPORT! ...and I mean it this time! H.264 gets the same 5 quality presets tailored for iPod compliance.
Resizable interface!
TV-sized files that are iPod-resolution-kosher don't get resized while converting.
I now rename all files to end in .m4v.
Made some improvements to time-remaining estimations.
Fixed some weird aspect-detection problems with some weird clips.
Wow. I did a lot today. I don't even remember half the things I did...
Figured out the weird AppleScript number variable issue. Affected users are informed.
There is no 0.9l. Sans-serif lowercase L is a wimpy, stupid letter. Imagine living in Illinois. Doesn't that look ridiculous? I deal with it every day.
System requirements:
Mac OS X 10.3.9 or higher
Free
Link: iSquint
podFlicks: Your Personal iPod Movie Manager
PR: podFlicks is a standalone application that will convert your movies into a format acceptable by the Fifth Generation iPods which have video playback capability (these iPods are also being referred to as the Wide iPod or Video iPods). No longer do you need to rely on QuickTime Pro and iTunes to get your video content onto your iPod. Just select your movie and click a button; podFlicks will prepare your movie and copy it to the iPod where you will be able to view the movie with a scroll and a click on the iPod. It just doesn't get any easier to get your movies from your Mac computer onto your Video iPod.
podFlicks will take care of all the tedious details of getting your video content into a format that is compatible with the video iPods. No longer do you have to guess how to configure QuickTime, tweak the settings for the best quality and wait for the conversion process to be complete only to have iTunes reject the converted movie. podFlicks will automatically convert your content into an acceptable format and copy the movie directly to your iPod. Once the conversion is complete - eject your iPod, traverse to the Video: Movies menu, select your Movie and press play.
Simply open the input movie, select the movie Destination, the Quality, the Destination iPod and click a button. podFlicks will convert the input movie to a local file on your hard drive, copy that file directly to your iPod and update the iPod's database so that the movie is viewable on it. After the conversion, simply eject your iPod, traverse to the Video: Movies menu, select your movie and click the iPod's Play button. It just does not get any easier than that!
podFlicks interface is simple yet intuitive. Simply pick the destination for your movies (either the iPod Color Display or the iPod Video Output) and a quality setting (Good, Better or Best) and off you go. Your movie will be converted to a file format acceptable by the iPod. Once the conversion is complete, simply eject the iPod and the movie will appear in the Video: Movies folder of the iPod. You can also check a box if you would like the iPod to remember the playback position - this is preferable for long movies.
Features
The easiest all in one solution for managing video content for your iPod.
Convert your movies into an iPod compatible format - no need for QuickTime Pro.
Transfer Movies directly to your Fifth Generation iPod - no need to use iTunes to sync to the iPod
The Quickest way to get your movies onto your iPod, configure a couple of settings, click a button and off you go!
Distinct Movie Library: keep your Movies separate from your audio collection.
It's a Snap
Open your input movie.
Select the Destination: iPod's Color Display or the Video Output.
Select the Quality: Good, Better or Best.
Select the iPod that you would like to copy the movie to.
Click the Just Do It button.
Requirements
Mac OS X 10.4 or later.
QuickTime 7.0 or later.
iPod which supports video - currently there is only one - the Wide iPod or Video iPod.
$19.99 Shareware
Link: podFlicks
No Frills DVD2iPod for Mac OS X
PR: Advantages of No Frills DVD2iPod
Drop a handful of unencrypted .VOB or .mpg files and/or folders containing unencrypted .VOB files or .mpg files (such as a VIDEO_TS folder on a DVD you made with iDVD), and all of them will be converted.
You can drag the source files/folders even from a non-writable directory such as a mounted DVD volume.
To use No Frills DVD2iPod, follow these steps.
1. Set the proportions for the converted movie file(s)
Most homemade DVDs will probably be formatted for TV (4:3). Wide screen and Extra wide screen format options are also available.
2. Customize the data rate settings.
Use the slider or the text field if you want to customize the settings. Default data rate is automatically set when you select the proportions. If you want to customize these settings, you should do so after making a selection in the proportions area.
3. Choose destination for converted files.
You can choose to select a destination when you click the Create button or simply let No Frills DVD2iPod put the converted files in the same locations as the source files. If you drag sources from locked destinations such as a DVD video disk while the Same as source choice selected, you will be prompted for a writable location when you click the Create button.
4. Drag source files and folders onto the picture in No Frills DVD2iPod's window.
You can drag unencrypted .VOB or .mpg files and/or folders containing unencrypted .VOB files or .mpg files (such as a VIDEO_TS folder on a DVD you made with iDVD), even though other files are present in nested folders, and all of the appropriate files will be converted. The hierarchy of the dropped items will be reflected at the destination if you chose to select your specified location for converted files.
5. Click Create and wait.
An activity indicator will appear and remain until the conversion(s) is finished, then a dialog will be displayed indicating that the operation has completed. You can click "OK" after receiving the "DONE!" notification and drag more items to begin a new conversion process.
If you installed version 1.x of No Frills DVD2iPod, you can run the Remove obsolete support items application to get rid of items previously installed but no longer needed by No Frills DVD2iPod.
Using 0SEx to combine .VOB files.
0SEx is a tool that extracts video files from DVD disks. While it can be used in some cases to decrypt protected video files, it's most useful with No Frills DVD2iPod to combine several .VOB files so that selected content can be combined and converted to a single video file then transferred to an iPod using iTunes.
0SEx's default setting for gathering and combining the files is precisely the setting you need. You simply have to select which titles, chapters, and audio content are combined into the resulting .VOB file created by 0SEx.
0SEx's default settings for formatting and segmenting
If two copies of the same title with different screen formatting are available in 0SEx, You should probably use the one for full screen (4:3) viewing size.
You can select some chapters and begin the extraction, then stop 0SEx and view the partially extracted file with VLC to see if you're selecting the right content.
If you prefer, you can convert the .VOB files separately using No Frills DVD2iPod and add them in the correct order to an iTunes playlist. The iPod will continue playing each item in the playlist although there will usually be a brief pause when switching between files.
Requirements: Mac OS 10.4.3
No Frills DVD2iPod is simple freeware.
Link: DVD2iPod
iPod Deals
For current iPod prices from a variety of sources, see our Best iPod Deals.
Join us on Facebook, follow us on Twitter or Google+, or subscribe to our RSS news feed
Today's Links
Mac of the Day: Macintosh 128K, introduced 1984.01.24. 1984 wasn't going to be anything like 1984 thanks to the original Macintosh.
Recent Content
Custom Search
Follow Low End Mac on Twitter
Join Low End Mac on Facebook
Favorite Sites
MacSurfer
Cult of Mac
Shrine of Apple
MacInTouch
MyAppleMenu
InfoMac
The Mac Observer
Accelerate Your Mac
RetroMacCast
The Vintage Mac Museum
Deal Brothers
DealMac
Mac2Sell
Mac Driver Museum
JAG's House
System 6 Heaven
System 7 Today
the pickle's Low-End Mac FAQ
Affiliates
Amazon.com
The iTunes Store
PC Connection Express
Macgo Blu-ray Player
Parallels Desktop for Mac
eBay

Advertise