Pope Receives iPod nano, How Much Stuff Fits on My iPod?, Remote with Tune Display, and More
Compiled by Charles Moore and edited by Dan Knight - 2006.03.09
This Week's iPod News
PowerBook, iBook, iPod, and other portable computing is covered in The 'Book Review. General Apple and Mac desktop news is covered in The Mac News Review. News about Apple's transition to Intel CPUs and other Intel developments is covered in The Macintel Report.
All prices are in US dollars unless otherwise noted.
For current iPod prices from a variety of sources, see our Best iPod Deals.
News and Comment
Tips
Products
Software
News and Comment
Vatican Radio Employees Present Pope with Specially Loaded iPod nano
Catholic News Service's Carol Glatz reports:
"A group of Vatican Radio employees gave Pope Benedict XVI a brand new iPod nano loaded with special Vatican Radio programming and classical music.
"'To honor the pope's first visit to the radio's broadcasting headquarters, the radio's technical staff decided the pencil-thin, state-of-the-art audio player would make the perfect gift....
"Though the white iPod nano is tiny, it still made an impression on the pope. When the head of the radio's technical and computer support department, Mauro Milita, identified himself and handed the pope the boxed iPod, the pope was said to have replied, 'Computer technology is the future.'
"The pope's new 2-gigabyte digital audio player already was loaded with a sampling of the radio's programming in English, Italian and German and musical compositions by Ludwig van Beethoven, Wolfgang Amadeus Mozart, Frederic Chopin, Peter Ilich Tchaikovsky and Igor Stravinsky. The stainless steel back was engraved with the words 'To His Holiness, Benedict XVI' in Italian.
"Once the pope, who is also a pianist, gets the hang of the device's trademark click wheel, he will be able to listen to a special 20-minute feature produced by the radio's English program that highlights Mozart's life and music to commemorate the 250th anniversary of his birth.
"The iPod also contains an English-language radio drama on the life of St. Thomas a Becket and a 10-minute feature on the creation of Vatican Radio, with original sound clips of the inventor of the radio, Guglielmo Marconi, and Vatican Radio's founder, Pope Pius XI."
Link: Vatican Radio Employees Present Pope with Specially Loaded iPod nano
Video iPod to Change the Way Businesses Approach Training
PR: iPod, you pod. It seems that everyone is in love with the popular Apple device. At the gym, on the train, the entertainment value of this audio and video device is second to none and now this fun and portable gadget is being used in big business.
Texas based company podTraining has repurposed the video iPod for something they call "podTraining." With beta testing conducted at a host of places including Chuck E. Cheese Pizza, this new employee training system can be easily catered for specific jobs and is updated easily using downloads. The nation's only quick service restaurant to win a Malcolm Baldrige Quality Award, Pal's Sudden Service is using modules on hospitality skills, speed, cleanliness and soft skills in addition to individual job tasks.
The new podTraining modules can be customized to fill the needs of any organization whether integrating existing training tapes or filming new ones. PodTraining has the potential to save companies money on travel and expenses as large companies with regional sales people or offices to gain remote access to the most up to date training materials.
You can view a podcast by copying and pasting the following URL into your podcasting application: http://podcaster.medialink.com/default.asp?podTraining
Link: Medialink
Tips
How Much Stuff Will Fit on My iPod?
An updated Apple Knowledge Base article says:
"Many factors affect how many songs, photos, and videos will fit on an iPod.
"What else is on the iPod?
"Besides music files, there are several other types of files that can use up disk space on the iPod:
If you use your iPod as a disk, and copy files to the iPod in Finder or Windows Explorer, that uses up disk space. See "Using your iPod as a hard disk" for more information.
Videos can use up disk space on iPod.
Podcasts can use up disk space on iPod, especially video podcasts.
Photos can use up disk space on iPod, especially if you choose the option to include full-resolution photos.
Contacts, calendars, and notes also use up disk space on iPod."
Link: How Much Stuff Will Fit on My iPod?
Products
View Tunes with Keyspan TuneView Wireless Remote
PR: Keyspan announced its new TuneView Remote, together with accessories that enable users to control an Apple iPod or iTunes.
Featuring an LCD screen and 2-way RF connectivity, the TuneView Remote displays the contents of your music library - making it easy to fully control music without touching an iPod or computer. The new TuneView Remote will be on display at CeBIT in Hall 25, Stand E62.
The Ultimate iPod Remote Control
When used in conjunction with Keyspan's TuneView Dock for iPod, a TuneView Remote gives users the ability to not only play/pause, adjust volume and change tracks but to see the contents of the iPod, as well. It's an entirely new way to remotely manage music on an iPod.
The dock features a powerful ARM7 processor and 2-way radio. The remote feature a 2-way radio and color LCD screen. Keyspan's TuneView* technology enables information about your music to be transmitted from the iPod dock to the remote's LCD, allowing you to control the iPod as if it were in your hands.
Unlike recently announced iPod docks that display only limited data on a nearby TV screen, Keyspan's TuneView products deliver comprehensive iPod data around the house or office.
The TuneView Dock for iPod conforms to Apple's "Universal Dock" design. Simply pop in a dock adapter to perfectly fit any iPod with a dock connector. The dock is designed for use with all 4G and 5G iPods including click wheel iPods, the iPod mini, the iPod nano, and the iPod with video. The dock includes a USB power adapter, USB cable, audio cable (3.5mm stereo to dual RCA) and three dock adapters.
Control iTunes on a PC or Mac
When used with Keyspan's TuneView USB adapter, the TuneView Remote can be used to remotely manage iTunes running on a Mac® or PC. With the ability to see your music when not at the computer, it's now much more convenient to use a PC or Mac as a music server for your house or office.
The TuneView USB adapter plugs into a USB port on a PC or Mac. TuneView software is provided to manage the interaction between iTunes and the TuneView Remote. TuneView USB works with Windows 2000, Windows XP and Mac OS X.
The TuneView Remote has an MSRP of $99. The TuneView Dock for iPod has an MSRP of $79. Both will be available in May. The TuneView USB adapter has an MSRP of $39 and will be available this summer.
Link: Keyspan
TransPod Automobile FM Transmitter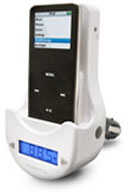 PR: Go mobile in style! The DLO TransPod is the ultimate iPod car accessory. The TransPod plays iPod over your car stereo, it charges your iPod, and it mounts iPod wherever you want it - no mess or clutter. And it works perfectly with the new video iPod and iPod nano!
The TransPod broadcasts the iPod's music to any FM radio frequency from 88.1 to 107.9 while simultaneously charging and cradling the iPod in the car. Instead of spending a small fortune on a separate transmitter, charger and cup holder cradle, the DLO TransPod combines all of these features into one elegant, cost-effective device.
The new TransPod is a complete iPod solution for your car, yet it requires no installation. This makes it a great alternative to expensive custom installations. Its all-in-one functionality and superior audio performance and sound quality also elevate the TransPod above separate, lower-end, top-mounting FM transmitters. The TransPod works with any dockable iPod, including the new iPod nano.
The all-new DLO TransPod features a smaller, sleeker design with a beautiful curved form and easy-access controls. Its new intelligent power control automatically turns the TransPod on when the iPod is docked and off when the TransPod is not in use. It features front-based tuning buttons for easy navigation of FM stations and side-based buttons that control backlight and preset functions.
Quick Facts
Play, charge and cradle your iPod with one simple, secure device
Fits all dockable iPods - including new 5G video iPod and iPod nano
Transmits iPod's music to your existing radio already in your car
Uses any available FM frequency from 88.1 to 107.9
Charges iPod's battery while in use
No install necessary - simply plugs into any available Auto Power Outlet
Available in white, silver, and black
4 assignable Presets let you jump to commonly used frequencies
TransPod Input lets you connect and transmit ANY other MP3 player or game system
iPod line level output available for car based auxiliary inputs or cassette adapter
TransPod sells for $99.99
Link: TransPod Automobile FM Transmitter
SBS Innovations Accepting Preorders for iShok Nano iPod Case
PR: SBS Innovations Inc. is announcing that it is accepting preorders for its iShok Nano iPod case. The new iShok Nano Case protects the iPod media player from accidental damage through a unique combination of hard plastic and soft rubber, in a sleek and stylish design.
The iShok Nano Case will be available for preorders at www.ishok.com at a special introductory price of $18.99 until April 15th.
The iShok Nano Case is the first case to provide 360' polycarbonate armor with thermoplastic rubber shock absorbers. The iShok Nano Case also features a unique secure snap closure that allows for synching your iPod in the protective case. The innovative flip-top lid lets the listener operate their iPod while fully closed. The iShok Nano Case is also water and dust resistant.
The ShokProof brand Product line will include protective case accessory designs for portable devices ranging from handheld and tablet computers, personal digital assistants (PDAs), Smart Phones, Digital music players.
Link: iShok
Software
MaxPod 1.5 - Daily News and Weather on Your iPod
PR: MaxPod is cross-platform application that helps you to maximize what your iPod can do.
"The iPod gives a great platform for music listening, but it can do so many other functions. With MaxPod, we are trying to automate as much of that functionality as possible. Right now it can sync files between your hard drive and iPod. It can download the news and weather into audio files that you can listen to on your iPod. It can organize your notes, your music, and get directions. I use it every day. I just set the auto mode to 5:50 AM and by the time I am ready to go, it has backed up and synched my files, downloaded the news and weather, which I listen to on the way to work," says Luke Jackson, head programmer at LAJ Design
Create your own unique podcast every day. Sync your files automatically everyday to a great backup device. Listen to the weather and news that you want every day.
Auto mode can automate file syncing between iPod and local drives Music mode lets you backup your music and can rename music Add/modify/backup notes, maps, and lyrics on your iPod
The Registered version gives the following
Save multiple watermark setups
No nag window
Excellent Support
Available for Windows and Macintosh.
System requirements: Mac OS X 10.2 or later.
System support: Platform: PPC
$16.50 demoware
Link: MaxPod
PodView 0.1beta
PR: PodView is a program to play and import movies and music from iPod and play in full screen mode.
System requirements: Mac OS X 10.4 or later.
System support: PPC
Free
Link: PodView
Join us on Facebook, follow us on Twitter or Google+, or subscribe to our RSS news feed
Today's Links
Mac of the Day: iMac (Late 2006), introduced 2006.09.06. Apple introduced the biggest screen ever in an iMac with a 24" 2.16 GHz Core 2 Duo model.
Recent Content
Custom Search
Follow Low End Mac on Twitter
Join Low End Mac on Facebook
Favorite Sites
MacSurfer
Cult of Mac
Shrine of Apple
MacInTouch
MyAppleMenu
InfoMac
The Mac Observer
Accelerate Your Mac
RetroMacCast
The Vintage Mac Museum
Deal Brothers
DealMac
Mac2Sell
Mac Driver Museum
JAG's House
System 6 Heaven
System 7 Today
the pickle's Low-End Mac FAQ
Affiliates
Amazon.com
The iTunes Store
PC Connection Express
Macgo Blu-ray Player
Parallels Desktop for Mac
eBay

Advertise