'Unplug, Hear the World', iPhone This Year?, earBuddy Earbud Protection, and More
Compiled by Charles Moore and edited by Dan Knight - 2006.04.06
This Week's iPod News
PowerBook, iBook, iPod, and other portable computing is covered in The 'Book Review. General Apple and Mac desktop news is covered in The Mac News Review. News about Apple's transition to Intel CPUs and other Intel developments is covered in The Macintel Report.
All prices are in US dollars unless otherwise noted.
For current iPod prices from a variety of sources, see our Best iPod Deals.
News and Comment
Tips
Reviews
Products
Software
News and Comment
Unplug and Hear the World
PR: Poet Babies, an advocacy group updating old truths for a new world, launches its Unplug, Hear the World campaign to accompany Apple Computer's thirtieth anniversary on April 1, 2006, to urge iPod users to unplug their headphones and be involved in the world around them. People can join the campaign, which announces the Poet Babies' birth, with an Unplug, Hear the World T-shirt available at http://www.poetbabies.com
Prompted by news reports of iPod's invasion into the classroom and workplace and by everyday encounters with inattentive listeners, Poet Babies cautions consumers that their electronic connection may come at the loss of their human one.
"Just as studies confirm that cell phone use distracts drivers and heavy Internet use reduces social interaction, Poet Babies warns that excessive iPod use will cause listeners to become isolated and disconnected," said Scott Landsbaum, Poet Babies' Poet in Chief and founder. "Constant iPod use prevents the daily encounters which create community," added Landsbaum, "and how can you help someone in need or even share a smile if you're not aware of the person next to you?"
Poet Babies formed as a character collective to empower people to change the world, one person at a time. Each character tackles a unique theme. Poet Baby Tucker, who created Unplug, Hear the World, fights apathy and teaches action and involvement. The other Poet Babies are Jack, who promotes family and friends over money and titles, and Megan, who seeks inner beauty instead of labels and gossip. The Poet Babies work from their web site, which features character biographies, e-cards, commentary, and clothing. Poet Babies asks people to join their cause and Cry for Change.
Editor's note: We realize this is a week late for Apple's 30th anniversary, but we appreciate the sentiment. Music can enhance and improve your life, but with headphones, it's easy to isolate yourself from your surroundings - the beauty of nature, architectural marvels, and our fellow human beings. We urge everyone to take some time to unplug and hear the world. dk
iPods on the Job
Fayetteville Online's Kate Cantrell reports:
"The Associated Press reported last week that more than 40 million Apple iPods have been sold as of January. With so many iPods on the streets, it should be no surprise that more are showing up on the job.
"The AP reported that 80 percent of technical and creative workers listen to music more than 20 percent of their working hours, according to research on MP3 use by CIMI, a research and technology assessment firm. Managers, clerical staff, factory workers and others listen to their tunes on the job, too."
Link: iPods on the Job
iPhone Rumors Suggest 2006 Launch
ExtremeTech reports:
"More rumors emerged this week, repeating the Apple iPhone idea that Apple is destined, at some stage, to launch a cell phone with an iPod and other goodies in. We believe that Apple must find a way for iTunes and phones to go together and we concede that so far it has not found that way.
"This time the rumor emerged from Morgan Stanley analysts that put out a research note on Apple which said while Apple staff didn't acknowledge the existence of such a strategy, they had virtually winked at them during the briefing to imply Apple would not miss out on such an opportunity."
Link: Analysis: iPhone Rumors Suggest 2006 Launch
Crutchfield Launches Digital Drive-thru for iPod Users
PR: Crutchfield, the nation's oldest direct integrated marketer of consumer electronics products, announced today the launch of its digital drive-thru service.
With just a few clicks of the mouse, the digital drive-thru system immediately identifies the exact accessories and techniques required to connect an iPod - or any other portable digital music player - to any car stereo system and achieve the best sound quality possible. With the launch of this new service, Crutchfield continues to demonstrate its pride in being expert users of the products they sell, and making certain that its customers are always provided the very best in customer service and product information.
With the growing popularity of digital music, the ability to enjoy music at any location is fast becoming commonplace. Consumers enjoy the portability and simplicity of iPods and other similar devices, and many want to listen to their digital music collections through their car stereos. However, given the wide array of digital music players in use, and the thousands of different car stereo configurations that exist, connecting those devices to a car stereo system and getting the best results can sometimes be a challenging task for the average consumer.
Crutchfield, universally known for its knowledgeable sales agents and award-winning customer service, coupled its extensive, proprietary database of information on more than 10,000 cars and car stereo systems with its database of information on iPods and other devices to create the digital drive-thru. Customers simply identify their specific model of digital music player, the year, make and model of their vehicle, add in any other customized equipment currently in use, and the tool immediately identifies the exact equipment necessary to complete the best installation - optimized for sound quality, aesthetics and overall functionality - along with a graphical depiction of the installation process. The digital drive-thru teaches customers exactly what to expect during the installation process. Frequently, all required equipment is available for immediate purchase at Crutchfield.
For customers who prefer written directions over web-based assistance, Crutchfield also provides a free, comprehensive iPod Car Stereo Installation Guide with every adapter purchased.
"At Crutchfield, we're always concerned with simplifying and enriching the consumer electronics shopping experience," said Bill Crutchfield, founder and CEO. "With all the digital music players now available, enjoying music when and where you want should be easy. Our new digital drive-thru tool tells users exactly what adapter will let them listen to their digital music collections in the car with the best possible sound quality."
The digital drive-thru is free to visitors of the Crutchfield website and is just one of many convenient, easy-to-use proprietary tools and guides that Crutchfield has developed to put quality service back into consumer electronics. For example, Crutchfield also provides its popular web-based "Find What Fits My Car" tool, one of the world's most extensive car installation databases that automatically indicates which products fit your car - from stereos and speakers to iPod adapters and exhaust systems.
Link: Crutchfield Digital Drive-thru
Samsung Mass Producing Most Advanced 1 Gb Flash Memory
PR: Samsung Electronics Co., Ltd. Has announced today that it is now mass producing 70nm 1 Gb OneNAND, a widely used memory device that provides higher performance over conventional flash devices. The higher-speed memory is targeted toward a wide range of applications beyond mobile handsets including memory cards for digital cameras and use in hybrid hard disk drives. By moving to 70nm designs, Samsung has achieved a 70% greater efficiency than the 90nm processing currently used throughout the industry.
Samsung's 70nm OneNAND fuses together the rapid boot-up and data-read functions of NOR flash memory, plus the high-capacity data storage and fast writing capabilities of NAND flash memory. The 70nm device is now designed into well over 100 mobile products, with new demand coming from market segments for digital cameras, set-top boxes and digital TVs. Last month, at the 3rd annual Samsung Mobile Solution Forum, Samsung also unveiled a high-speed memory card equipped with OneNAND.
The OneNAND device has a sustained read speed of 108 MB/s, which is 60% faster than previous 90nm OneNAND device. The 70 nm OneNAND supports a synchronous clock frequency of 83 MHz, and offers enhanced compatibility with the clock frequencies of a wide range of mobile products.
OneNAND will be used in a growing number of applications, including handsets, hybrid hard disks, memory cards and other consumer electronics products. Given its projected new markets and expanded applications in the existing mobile market, Samsung predicts OneNAND sales to reach US$1 billion in 2008 and soar above$1.5 billion by 2010.
Link: Samsung
Tips
Setting the Volume Limit on video iPod, iPod nano
A new Apple Knowledge Base article says:
"The new 1.1.1 software update for iPod nano and Fifth Generation iPod provides an easy way for you to set a maximum volume limit to prevent the volume from exceeding a certain level. You can also assign a combination to prevent the setting from being changed which is ideal for parental control."
Link: Setting the Maximum Volume Limit on iPod
Apple iPod Updater 2006-03-23
A new Apple Knowledge Base article says:
"iPod Updater 2006-03-23 contains the same software versions as iPod Updater 2006-01-10 for all other iPod models.
"To learn how to use your iPod with step-by-step instructions and easy-to-follow movies, see the iPod tutorials at http://www.apple.com/support/ipod/howto/. Click Learn More in each tutorial to see more great tips and instructions.
"Note: If you aren't sure which iPod you have, and you want to find out if your iPod needs updating, simply follow the directions below to use iPod Updater 2006-03-23. If the software on your iPod can be updated, the Update button in the updater application will be available.
Features of iPod Software 1.1.1 for iPod and iPod Software 1.1.1 for iPod nano:
Link: iPod Updater 2006-03-23
Reviews
iPod Can Light the Way
enquirer.com says:
"The Blinkit flashlight can help Apple iPod users find their way in the dark. Weighing just a half-ounce and measuring 1 square inch, the LED flashlight can be plugged into any iPod with a dock connector. "
Products
earBuddy Protects Your Earbuds
PR: Since its introduction, the iPod has changed the face of street fashion, and its phenomenal success has spawned the irreplaceable lifestyle accessory of the decade: white iPod earbuds. Sure, you can always get replacements, but isn't it better to protect the buds you already have?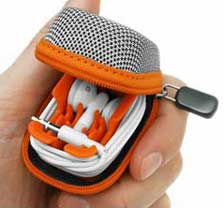 Protect Your Loved Ones
SendStation is pleased to introduce earBuddy, the ultimate carrying case and the only safe place to store your iPod earbuds.
Go Ballistic with earBuddy
Coated with sturdy ballistic nylon, this tiny, ultra compact case - it's only the size of a jewelry box - can stand up to the everyday dangers of the urban jungle and those in the boondocks, too.
A friend you can count on, and pound on
The well-designed ABS reel inside the case lets you easily wind up the cable and store everything in the smallest possible space. earBuddy is built to withstand 200 lbs. (90 kg) of force, keeping your buds safe and sound on the inside even if someone - or something - is pounding on the outside.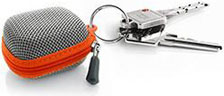 Ready for Deployment, 24/7
Equipped with a detachable key ring and weighing less than 1 oz. earBuddy is always on standby for missions around the globe. Attach it to your key chain, your rucksack, or your favorite bag so your buds are ready when you are, whether it's for an assignment with your iPod, your computer or even on board an aircraft.
But does it rock?
You bet! As with many SendStation products, you'll receive a code for a free song at the iTunes Music Store when purchasing a earBuddy. With a little luck, you might even get 10 free songs - every 20th code hits the jackpot!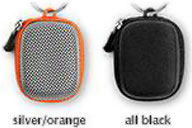 earBuddy is available now from the online store and from selected dealers worldwide for $14.95.
It's available in two colors.
Link: earBuddy
Xitel HiFi-Link for iPod
PR: Xitel's HiFi-Link for iPod lets you combine the versatility of your iPod with the power of your home stereo. Its unique dock configuration greatly extends your iPod's connectivity, allowing it to seamlessly integrate with anything from a top-of-the-line surround sound system through to a simple boombox or powered speakers.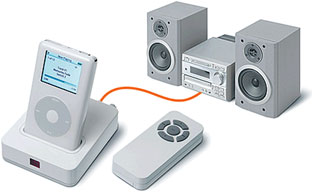 Built from the ground up for superior performance, Xitel's HiFi-Link for iPod replicates the high-end outputs found on audiophile grade equipment. With over 30 years experience in designing complex audio products for international brands, you can rest assured that your HiFi-Link for iPod is fully loaded with the latest innovative technology. We don't make plastic cases or other accessories, we just make your iPod sound the best it possibly can!
Photos and movies as well as high fidelity sound!
HiFi-Link for iPod includes groundbreaking technology that lets you get the most out of your iPod's movie or photo capabilities
A buffered video output with gold plated composite jack allows for viewing on any regular TV. Combined with SRS TruBass® audio processing, HiFi-Link's cutting edge technology turns your portable video or photo compatible iPod into a home entertainment powerhouse!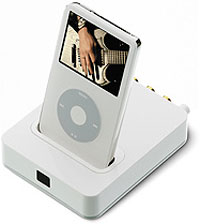 HiFi-Link for iPod is part of the "Made for iPod" program. Purchase with the confidence that we have designed and built this product so that it works flawlessly with your iPod.
"While sensational sound quality and TruBass enhancement make HiFi-Link for iPod an outstanding audio product, our video capabilities really finish things off perfectly," Davis continued. HiFi-Link for iPod uses composite video output to enable photo and video viewing through any TV, while advanced buffering ensures sharp, crisp pictures without interference.
Implementation of the Apple Universal Dock design makes HiFi-Link for iPod totally compatible with Dock Adapter clips included by Apple with the new iPod nano and iPod with video. A simple click-and-replace mechanism allows customers to also use clips included by Xitel for iPod color, iPod mini, iPod with dock connector and iPod photo. Combined with a full-size remote control and intelligent recharging, Xitel's HiFi-Link for iPod is a simple and convenient way to integrate iPod into your home entertainment setup.
"Thirty years of developing advanced consumer electronics technology has allowed us to incorporate innovative features that set the HiFi-Link for iPod apart," said Davis.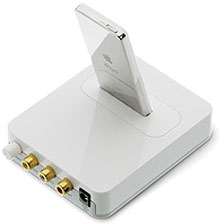 Key Features of Xitel's new HiFi-Link for iPod
Play: Use your HiFi-Link for iPod with a home stereo, boombox, or plug in a set of powered speakers to create a dedicated iPod music center.
View: Buffered composite output allows you to view sharp photos and video on your regular TV while maintaining pristine audio quality.
Improve: Gold-plated, line-level outputs provide superior sound quality. Unique design means your stereo receives an exceptionally pure and dynamic signal for crystal-clear performance. Adjustable SRS TruBass creates rich, deep bass, adding back the warmth and depth audio compression takes away.
Control: Powerful remote conveniently controls your iPod an extended distance - up to 50 feet. Swap between tracks, playlists, pause, play, fast forward, fast rewind or turn your iPod off.
Charge: Power and automatically charge your iPod. Listen at home knowing your iPod will be ready to go when you are.
Compatibility: HiFi-Link for iPod includes Apple's new iPod Universal Dock design for compatibility with present and future-generation iPods. HiFi-Link for iPod is made for iPod with video, iPod nano, iPod color, iPod mini, iPod with dock connector and iPod photo.
In the Package
HiFi-Link for iPod dock
remote control
remote batteries
power adapter
shielded audio cable
audio adapter cable
user manual
5 Dock Adapter inserts
The MSRP for the new HiFi-Link for iPod is $79.95.
Link: HiFi-Link for iPod
Roadmaster Ships FM Modulators
PR: Roadmaster USA Corp., the leading automotive company providing mobile & home audio equipment, auto accessories, and car care products, announced today that it has begun shipping the Roadmaster VRFM series of FM Modulators that plug into your car's cigarette lighter to play your favorite MP3, WMA, iPod, CD, or MP3 player music through your car's radio. The Roadmaster VRFM FM modulators convert audio signals into an FM signal, which is then transmitted over an unused FM frequency or station selected by the listener. The VRFM can transmit this high-quality music from an SD card, USB or audio input device, including MP3 players, USB memory key, and CD and DVD players. It can even play any MP3 and WMA music saved on an SD Card or USB Memory.
High-Quality Stereo Sound
Roadmaster FM Modulators make it easy to listen to all your tunes saved on your computer, laptop, or MP3 Player in your car with excellent stereo sound at a low price. Just save your MP3 collection on a USB memory key or SD card and plug it into the Roadmaster FM Modulator; or simply plug your MP3 player or other device directly into the FM Modulator for instant music that you can listen to for hours.
VRFM6 Low-Cost Entry-Level FM Modulator
Starting at $19.99, the VRFM6 (Roadmaster's entry-level model), connects to all audio devices, including MP3 players, CDs and DVD players, through its audio input to wirelessly broadcast high-quality music through the car radio. The LED displays 15 FM frequencies, from which you can select the appropriate radio channel frequency to play your music. The VRFM6 uses 12 volt wire-free transmission and a 3.5mm stereo input. The channel selector features an up and down key.
VRFM7 with USB Slot and MP3 Decoder
The next product in the line, the VRFM7, is priced at $29.99 and includes an MP3 decoder, USB slot, Aux in, and frequency push button, as well as all the standard features. The Dual-Function Buttons offer selections for Play, Stop, Volume, and Track Change. The VRFM7W is Plug ŒN Play ready for your MP3s and WMA music, which you can play from a USB memory drive.
VRFM8 with Versatile Ratchet Neck & Shuffle/Random Play Features
The Roadmaster $34.99 VRFM8 includes all previous FM Modulator features, plus Dual Function Buttons for Shuffle/Random, Last Song Played, Last FM Channel, Play, Stop, Volume, and Track Change Controls. The Ratchet Neck style provides more flexibility with 6 versatile positions that you will find makes for ease of use in any vehicle.
VRFM9 Top of the Line with USB, SD Card Slots and Song Name Read-outs
The top of the line Roadmaster FM Modulator, the VRFM9 (priced at $69.99), includes a read-out of the name of each song, SD and USB slots, Dual Function buttons for Shuffle/Random, Last Song Played, Last FM Channel, Play, Stop, Volume, and Track Selection. It automatically plays MP3s and WMAs from USB memory drives, as well as SD cards. In addition to song titles, the easy-to-read LCD also shows pre-set FM stations.
Priced between $19.99 - $69.99, the VRFM FM Modulators are available immediately through most major superstores, retailers, and car dealerships.
Link: Roadmaster USA
iSA micro Tough for iPod nano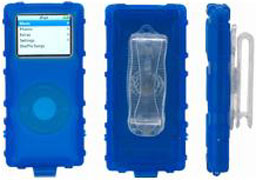 PR: Features:
Enhanced all around protection with an reinforced silicone layer as crash cushion
Side-grip-strip gives your zCover iSA micro a stylish look and a better grip.
integrated sensitive Click Wheel protective skin. It is very sensitive to the touch! This is zCover function add-up feature
Pre-molded headphone opening for easy access.
Pre-molded hold switch opening for easy access.
Open bottom design allows you plug and connect your iPod nano easily
Customized crystal-clear hard screen protector with landing pegs provides the best vision effect, perfect fit, and prevents scratching and dirt to your screen.
Open bottom design allows you plug and connect your iPod nano easily
Removable belt clip with a soft landing insert disk, which provides a better grip and will not scratch your iPod. It can be rotated and locked so that you can wear your iPod vertically or horizontally when clipped to your belt.
The removable belt clip with a soft landing insert disk provides a better grip and will not scratch your handset
Wearing it around your neck with removable Lanyard easy off and on, enjoy your freedom
Washable - you can wash zCover silicone case by hand. Make sure it's dried out before putting your iPod into it. Dry it in room temperature. Please avoid direct fire and direct bright sunshine.
zCover silicone cases are crafted from non-toxic, durable high-grade silicone rubber.
100% surface coverage lanyard design
integrated sensitive Click Wheel protector
crystal clear hard screen protector
removable lanyard
Retail Package or Online Package Includes:
One lanyard design iSA micro silicone case
One crystal clear hard screen protector
One zCover Rotary Removable Belt Clip with Soft Rubber Pad Insert Locker
One lanyard
Order online receives a clear PVC accessory pouch free (retail value$2.99)
Size: One size for all iPod nano
Price: $29.95
Link: iSA micro TOUGH for iPod nano
Software
Kandalu X Puts Control of iPod Back in Your Hands
PR: Put control of the iPod back in your hands with the ultimate iPod companion. Kandalu X supports recovering your songs and playlists, playback of audio files, and much more.
Features:
Supports any file the iPod does
Recover Songs - recovers all songs, meta data and associated playlists to iTunes
Recover Playlists - reconstructs your playlists in iTunes based on the songs already in iTunes
iTunes integration when importing songs and playlists
Supports iTunes song information, including ratings, play count, last played and others
View & copy playlists
Drag & drop support
iTunes style browser
Undo support
iTunes like floating window
Complete documentation
Kandalu X is a simple. It reads information from the iTunesDB file located on your iPod in order to quickly retrieve information on all of the songs on your iPod.Kandalu X is currently under active development and many features will be added in the future.
System requirements:
Kandalu X requires Mac OS X version 10.3 or better All iPods are reported to work with Kandalu X including: iPod (All Generations) iPod photo iPod mini iPod Shuffle
System support: PPC
$20 shareware
Link: Kandalu X
YakaMoov Converts Video to Proper Format for Video iPod
PR: The main window of YakaMoov is a list of all the movies you want converted. Adding movies to this list, rearranging the list is as simple as drag & drop. Prepare one big batch of movie conversion, hit start and just wait (a little) to have your movies converted.
Built around Quicktime technology
YakaMoov will recognize all movie formats supported by QuickTime 7 (some formats may need third-party plugins*). It cleverly analyzes each movies, and warns you when the movie cannot be converted (there's no point converting QuickTime VR movies, for example).
No complex compression schemes, YakaMoov outputs video in the standard iPod movie format. Ensuring you that your iPod movies will always remain compatible with current and future evolution of the iPod.
System requirements:
Mac OS X version 10.4.x or 10.3.9
Quicktime version 7.0.3 or later
iPod with video recommended
System support
PPC/Intel
$9.90 Shareware
Link: YakaMoov
Join us on Facebook, follow us on Twitter or Google+, or subscribe to our RSS news feed
Today's Links
Mac of the Day: Macintosh 128K, introduced 1984.01.24. 1984 wasn't going to be anything like 1984 thanks to the original Macintosh.
Recent Content
Custom Search
Follow Low End Mac on Twitter
Join Low End Mac on Facebook
Favorite Sites
MacSurfer
Cult of Mac
Shrine of Apple
MacInTouch
MyAppleMenu
InfoMac
The Mac Observer
Accelerate Your Mac
RetroMacCast
The Vintage Mac Museum
Deal Brothers
DealMac
Mac2Sell
Mac Driver Museum
JAG's House
System 6 Heaven
System 7 Today
the pickle's Low-End Mac FAQ
Affiliates
Amazon.com
The iTunes Store
PC Connection Express
Macgo Blu-ray Player
Parallels Desktop for Mac
eBay

Advertise