Apple iPhone Coming?, Wurlitzer Jukebox Adds iPod Dock, Corgi iCar Rocks iPod, and More
Compiled by Charles Moore and edited by Dan Knight - 2006.04.27
This Week's iPod News
PowerBook, iBook, iPod, and other portable computing is covered in The 'Book Review. General Apple and Mac desktop news is covered in The Mac News Review. News about Apple's transition to Intel CPUs and other Intel developments is covered in The Macintel Report.
All prices are in US dollars unless otherwise noted.
For current iPod prices from a variety of sources, see our Best iPod Deals.
News and Comment
Products
Software
News and Comment
Apple to Take iPod/iTunes to Cell Phone Market?
ITWire's Stan Beer reports:
"The Apple iPod coupled with iTunes has proven to be a wonderful boon for a company whose fortunes in the computers business were on the wane. However, in this era of connectivity it's about as useful as a notebook PC or PDA without a wireless card. Which is to say, it's still quite useful but it lacks something important that people want - the ability to download music anywhere, anytime.
"My 3G phone already offers this service but at present it doesn't have the storage capacity of an iPod and it doesn't have access to the iTunes excellent music library and system. However, with companies like Sony Ericsson getting into the act, all that is about to change. Let's face it, sooner rather than later, mobile phones will be capable of doing anything an iPod can plus a whole lot more. So why would you want to carry around two devices?"
Link: Apple to Take iPod into Mobile Market?
Wurlitzer Hip to the iPod Beat
The Register's 'ard Reg reports:
"It had to happen. The doyenne of jukeboxes, Wurlitzer, has announced a version of its classically styled One More Time music machine that features a built-in iPod dock in addition to the standard 100-CD disc stacker."
Link: Wurlitzer Hip to the iPod Beat
UC Berkeley Puts Lectures on iPods
San Francisco Business Times reports:
"The University of California, Berkeley, has given tech-savvy students another reason not to go to class - some of their lectures are now available to hear and watch on an iPod.
"The university, which has about 32,800 students, said Tuesday that it made a deal with Apple Computer Inc. to put some 30 of its courses on Apple's iTunes music store. Students and the public can download them through the university's 'Berkeley on iTunes U' site."
Link: Cal Puts Lectures on iPods
Products
Corgi's iCar Rocks the iPod
BusinessWeek's Olga Kharif reports:
"Replica maker Corgi might seem an unlikely candidate to cash in on the iPod boom. Until recently, Corgi has made a name for itself mostly to collectors, who for 50 years have snapped up its small die-cast Batmobiles, World War II planes, and British omnibuses. The outfit's best-known model is the Aston Martin DB5 that Sean Connery drove in 1964's Goldfinger - featuring front-mounted machine guns and the famous ejector seat. And while Corgi has lately expanded its toy line, baby boomers still account for the bulk of its loyal fans.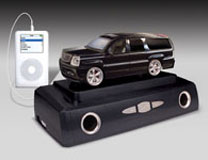 "But this summer, Corgi will go after a younger, hipper crowd with a product called the iCar. Mounted on a stand, it consists of 'dancing' iPod speakers shaped like an automobile. Plug any MP3 player into the die-cast iCar, and see the vehicle spin its wheels, lift and lower its front and rear suspension, and shine its headlights in rhythm to the music. Corgi is hoping this combination of the popular iPod and a hot ride will prove a hit with consumers ages 18 to 40, and lay the groundwork for a major shift in the company's direction over the next half-century....
"So the iCar will arrive in the form of either a hip Cadillac Escalade SUV or a sporty Nissan 240SX . . . The Escalade will come in black or white, and the Nissan will come in a sublime orange. Each model, powered by three AA batteries or a standard electrical cord (neither of them included with the iCar), will likely retail for $30 to $40...."
Editor's Note: Very cool. Like most male kids growing up in the '50s and '60s, for me the name Corgi needs no introduction. I had a wonderful collection of Corgi (and competitor Dinky) die-cast automobile replicas. Great to hear that the company is still around and thriving. cm
Link: Corgi's iCar Rocks the iPod
Corgi iCar: The iPod Accessory that Flashes, Jumps, Dances and Pumps up the Volume
PR: Corgi International Limited, the leading name in die-cast scale models, announces the introduction of the iCar - the iPod Accessory to Get Revved Up About.
Are you ready for the coolest iPod experience yet? Then crank up some tunes, plug in and watch the amazing iCar do its thing: It rocks right to left, front to back, and up and down to the music. Colored lights illuminate the wheel wells, rims, undercarriage, engine and trunk areas, and the high-quality speaker pumps out the sound. You can even manually open the doors and hood to create a whole new look.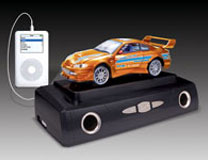 Brand new for Fall 2006, Corgi's iCar adds a visual element to digital music that has to be seen to be believed. Start with two of the coolest rides on the road, the Cadillac Escalade and Nissan 240SX. Let the model-making wizards at Corgi run wild and turn them into amazingly detailed 1:24 scale replicas.
The Caddy has with real working spinner wheels, wild graphics, chrome accessories, big tires and stereo system. The Nissan turns into a stone-cold drifter, ready to glide like silk over any surface. Then add the most important part - the input jack. The iCar comes to life when you plug in your digital music player, bringing an element of sound and vision unlike anything that's come before.
Don't have your iPod handy? No problem - each iCar comes with its own cool music and is ready to do its thing on a moment's notice. Just want to listen to your tunes? iCar has a speaker only mode as well.
The iCar runs on 3 AAA batteries (included) or with an AC adapter, and can connect to any music source that has standard headphone jacks - all iPods, other MP3 players, CD players, stereos and PC's - with the included cord. Suggested retail price is $34.99. For ages 8 and up.
Corgi International, based in Hong Kong, sells die-cast collectible products under its own brand. In the U.S. the branded company is known as Corgi USA. Corgi also produces high quality die-cast and plastic products for multinational companies that market collectible or gift items worldwide. The company has a high volume manufacturing operation in China and sales offices worldwide. Retailers and consumers interested in more information can call 1-800-800-CORGI, or visit the company's website at: http://www.corgi-international.com.
Celebrating its 50th Anniversary in 2006, Corgi USA is the worldwide pioneer of collectible die-cast models and replicas. Legendary for its devotion to quality, authenticity and value, Corgi USA creates products to delight the entire family. Consumers can receive more information about the company and its line of products by calling 1-800-800-CORGI, or visiting:
Corgi USA, Inc. is a wholly owned subsidiary of Corgi International Ltd.
Link: Corgi
ezGear Offers ezSkin nano 3 Packs
PR: ezGear, a leading marketer of iPod accessories, announces today the ezSkin nano 3 Pack for iPod nano. The ezSkin nano case is made of high quality silicon with an anti-dust coating to reduce dirt and provide a silky smooth surface. ezSkin nanos have an opening on the top for the hold switch and openings on the bottom provide access to the iPod dock connector and headphone jack. ezSkin nanos cover the iPod's clickwheel with a thin layer of silicon which keeps dirt and scratches out, but provides FULL touch sensitivity. The ezSkin nano 3 pack comes with a removable neck strap, removable wrist strap, an integrated removable belt clip, and 3 clear ezShade screen protector.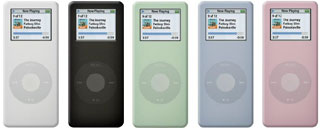 The ezSkin nano 3 Packs come in three color combinations
Onyx Black, Frost White, and Sky Blue
Onyx Black, Frost White, and Princess Pink
Onyx Black, Frost White, and Lime Green
Integrated - Removable Belt Clip
ezSkins come with an integrated sturdy belt clip. The belt clip is made of high impact plastic for increased durability. The belt clip is removable so you can use your case without it.
ezShade nano
Each ezSkin comes with a clear ezShade screen protector. ezShades are a clear plastic screen protector with rubber bumpers on each corner that fits over the screen of your iPod.
Neck Strap
The neck strap for the ezSkin nano connects on the bottom corner of the case. This provides for a strong reinforced connection point and lets iPod users the ability to lift up the iPod to see the screen in the proper orientation.
The ezSkin nano 3 pack suggested list price is $29.98.
ezSkin Nano 3 packs are available at the following distributors and resellers: MacPro, MacMall, and MicroEnterprises, ezGear Website, and more.
Link: ezSkin nano
Software
New Dictionary and Phrasebook for iPods
PR: Ultralingua has announced the release of the new Accio Dictionary for iPod, a significant innovation in dictionary software.
"Ultralingua is proud to announce this exciting innovation in language learning reference software. Now users will be able to get common translations when traveling, and even listen to translations of common phrases recorded by native speakers," said Chad Johnson, Ultralingua General Manager. "The Accio iPod dictionary includes up to 8,000 indexed translations with the vocabulary you need for everyday usage and traveling."
The Accio iPod dictionary includes up to 8,000 indexed translations with the vocabulary you need for everyday usage and traveling. We are currently offering five Accio dictionaries: English-French, English-Spanish, English-German, English-Portuguese, and English-Italian. And, of course, these dictionaries work in both directions between the two languages.
The Demo version is English-French.
System requirements:
Works with all iPods (except iPod shuffle), with Mac installer on Mac OS X 10.2 or later. The quick and complete reference using the iPod "Notes" browser. Talking Phrasebook! Listen to dozens of translated phrases for everyday use, recorded by native speakers. (Both European and Latin American dialects for Spanish and Portuguese). Verb conjugations! Verb charts for the most commonly used verbs, and models for similar verbs. Expandable! Add several modules to your iPod - everything you need for your travels! Up to 8,000 indexed translations with all the vocabulary you need for everyday usage and traveling.
In addition to the database of common translations, Accio dictionaries for the iPod also include verb conjugation tables for the most commonly used verbs. And in a new twist, the dictionaries include audio files varied by region, so for example customers can chose between a European or Latin American dialects in Spanish and Portuguese. Accio dictionaries are available for use with iPods that use Macintosh or Windows installers.
The Accio Dictionary for iPod is part of a new brand of dictionaries from Ultralingua for those users who need a simpler, more affordable dictionary for use in reading on their computer or while traveling with their iPod. Accio dictionaries will offer instant access to translations and definitions of the most commonly used words but will be "lighter" and with less functionality then standard Ultralingua dictionaries. The company plans releases of versions for Macintosh, Windows, Palm OS, and Windows Mobile later this year.
Ultralingua is a leading provider of dictionaries and grammar/spelling checkers for educators, translators, and business travelers worldwide. The Company's product lines consist of nineteen dictionaries of translation, two monolingual dictionaries, four grammar and spelling checkers, and the Eureka thematic encyclopedia. Ultralingua distributors include McGraw-Hill, Apple Computer, Hachette Multimedia, Handango, PalmGear, and others. Ultralingua is headquartered in Minneapolis, Minnesota.
Accio dictionaries include up to 80,000 indexed entries, along with idiomatic expressions, slang, and indications of usage. The versions for iPod include audio files of common phrases recorded from native speakers. Language pairs include French-English, Spanish-English, Italian-English, Portuguese-English, and German-English.
Products are available to order online starting at $19.95, with a 10 day evaluation period at:
http://www.acciodictionary.com/
Link: Accio Dictionary
PodView 1.0: Play Content from iPod, Play in Full Screen, Import Content
PR: PodView is a program to play and import movies and music from iPod, and play in fullscreen mode.
New in version 1.0
Universal (Intel/PPC).
Better looking.
Some small things.
System requirements: Mac OS X 10.4 or later.
System support: PPC/Intel
Free
Link: PodView
Pocket Vegan 2.0 Recipe Database
PR: Pocket Vegan is an iPod based vegan recipe database with 277 select recipes.
Announcing Version 2.0. Now includes an index in each category with links to each recipe in that category.
Pocket Vegan is shareware. You can download a demo by clicking the arrow above. The demo includes all the categories with three recipes in each.
You can purchase Pocket Vegan for $7.50 by using PayPal Button. Once your payment is received, you will be emailed to download the full version.
New in version 2.0: Now includes an index in each category with links to each recipe in that category.
System requirements: Macintosh or PC formatted iPod, iPod Firmware 2.0 or later, iPod with Dock Connector.
$7.50 Shareware
System support: PPC
Link: Pocket Vegan
Pocket Bar & Grill 1.0
PR: Introducing Pocket Bar & Grill. Pocket Bar & Grill combines Podtender and PodGourmet into Pocket Bar & Grill. Pocket Bar & Grill has two sections. One is the "Bar" section with 750 mixed drink recipes from A through Z, each drink individually listed. The other section "Grill" contains 225 select gourmet recipe with an index in each category with links to the recipes within that category. All organized within Pocket Bar & Grill for your iPod. Get Pocket Bar & Grill for $10.
System requirements:
Requires Macintosh or PC formatted iPod iPod Firmware 2.0 or later
3rd, 4th or 5th generation iPod or iPod mini, nano.
System support: PPC
$10 Shareware
Link: Pocket Bar & Grill
YamiPod 0.98 Efficiently Manages Your iPod under Mac OS X, Windows, and Linux
PR: YamiPod is a freeware application to efficiently manage your iPod under Mac OS X, Windows and Linux. It can be run directly from your iPod and needs no installation.
Here's a brief description of the features in YamiPod:
stand alone program, no installation required
iPod is automatically recognized
MP3 and AAC files can be copied to/from iPod
read/write access to MP3 ID3 and AAC infos
playlist support (On-The-Go included)
playlists import (PLS,M3U)
playlists export (PLS,M3U)
full Unicode support
auto-download new versions
advanced song import/export settings
2 restore features
built in music player
iPod informations
2 search features
remove duplicated tracks
find lost music files
easy ratings edit
PC to iPod synchronization
create and edit notes (with Unicode support)
automatically update song play counts
News RSS and podcasts to iPod upload
Growl support (Apple only)
export song lists to HTML or plain text files
multiple iPods support
Last.fm support
YamiPod was kindly translated in:
Dutch by Ron van de Crommert
French by Ronan Jouchet
German by Jan Scholten
Hebrew by Tal Aviram
Italian by Giacomo Margarito
Russian by Nikolay Bogdanov
Simplified chinese by Marius Tsui ka sing
Spanish by Jaime Lopez
Traditional Chinese by Pan Yan
Turkish by Bulut Karakaya
New in version 0.98:
[ADD] last.fm time zone settings
System requirements:
Mac OS 10.2 or newer
Windows 98SE or newer
Any Linux distribution with GTK 2.0 (tested under SUSE 9.2,9.3,10.0; Ubuntu 5.04, 5.10; Fedora CORE 3 and 4; most up to date Gentoo and many others)
Free
Link: YamiPod
Join us on Facebook, follow us on Twitter or Google+, or subscribe to our RSS news feed
Today's Links
Mac of the Day: 17" MacBook Pro Core Duo, introduced 2006.04.24. The top-end MacBook Pro has a 1680 x 1050, 2.16 GHz Core Duo CPU, and supports Apple's 30" Cinema Display.
Recent Content
Custom Search
Follow Low End Mac on Twitter
Join Low End Mac on Facebook
Favorite Sites
MacSurfer
Cult of Mac
Shrine of Apple
MacInTouch
MyAppleMenu
InfoMac
The Mac Observer
Accelerate Your Mac
RetroMacCast
The Vintage Mac Museum
Deal Brothers
DealMac
Mac2Sell
Mac Driver Museum
JAG's House
System 6 Heaven
System 7 Today
the pickle's Low-End Mac FAQ
Affiliates
Amazon.com
The iTunes Store
PC Connection Express
Macgo Blu-ray Player
Parallels Desktop for Mac
eBay

Advertise