Real Claims Half of iPod Music Stolen, iPhone Rumors, Luminous Cable Winder, iWood Cases, and More
Compiled by Charles Moore and edited by Dan Knight - 2006.05.18
This Week's iPod News
Steve Ballmer said that most of the music on iPods was pirated, and now Real's Rob Glaser is claiming that half the music on iPods is stolen. Not on mine, that's for sure. Or most of yours, for that matter. Anecdotal evidence points to about 80% of music on iPods being ripped from your own CD collection and purchased from the iTunes Music Store.
On the topic of illegal music, both Australia and the UK are in the process of legalizing what millions are already doing - ripping their CDs to their iPods. Three cheers for common sense!
iPhone rumors continue to make the rounds, and Apple has moved their "Made for iPod" program from a percentage basis to a flat fee. That should help makers of high-end iPod accessories while making it less likely that those who sell cables and the like will bother to participate in the program.
If you're looking for something different, check out the iWood cases, the Tetran Luminous glow-in-the-dark cable winder, and Bianco Dress, which wraps your iPod Hi-Fi in white leather - shades of Elvis!
On a sad note, much as we've enjoyed tracking iPod developments and sometimes commenting on them, we've determined that we're losing money on The iPod News Review. With only 300-600 readers per week, we can no longer justify the hours it takes to collect, edit, check links, scale images, and publish the column.
Until the next time Apple releases an iPod or important iPod accessory, we're going on hiatus. We will be back with special reports.
PowerBook, iBook, iPod, and other portable computing is covered in The 'Book Review. General Apple and Mac desktop news is covered in The Mac News Review. News about Apple's transition to Intel CPUs and other Intel developments is covered in The Macintel Report.
All prices are in US dollars unless otherwise noted.
For current iPod prices from a variety of sources, see our Best iPod Deals.
News and Comment
Products
Software
News and Comment
Real Boss: Half the Music on iPods Stolen
The Register's Tony Smith reports:
"Real Networks CEO Rob Glaser has tacitly alleged that iPod owners are music thieves, a claim that echoes the words of Microsoft CEO Steve Ballmer. Both companies compete directly with Apple's iTunes Music Store.
"Back in October 2004, Ballmer was reported to have said: 'The most common format of music on an iPod is "stolen".' The comment came not long after Microsoft launched its Windows Media-based Plays For Sure initiative to align the various digital music providers and player makers who have adopted the WMA DRM format.
"Step forward to May 2006, and UK newspaper The Guardian quotes Real's Glaser thus: 'About half the music on iPods is music obtained illegitimately either from an illegal peer-to-peer networks or from ripping friends' CDs, which is illegal.'
"Presumably he doesn't consider that iPod owners might have ripped their own CDs. That's technically illegal too, in the UK at least, but certainly not in the same league as downloading stuff via P2P networks."
Editor's note: "Stealing" in this context is politically loaded rhetoric. In some jurisdictions it may indeed technically be so, but in Canada, for instance, downloading music for personal use from P2P services has been declared legal by a 2005 court decision (the Canadian government is being stridently lobbied by big music interests to make it illegal), and ripping CDs that you own to MP3/AAC format to play on your iPod is legal in Canada as well. cm
The other editor's note: Ripping CDs that you own to MP3/AAC format to play on your iPod is legal in the US as well. And while this has been technically illegal in Australia and the UK, both nations are looking into legalizing this common practice (see next article). dk
Link: Half the Music on iPods Stolen, Alleges Real Boss
Australia Legalizes Ripping Your CDs to Your iPod
techdirt.com says:
"from the how-nice-of-them dept
"Just a week after the recording industry in the UK decided to tell the government it was ok with letting people copy legally purchased CDs to iPods, it appears the Australian government is getting ready to do the same for citizens down under. We first discussed this last year, but the government is preparing to change copyright laws to make certain exceptions, including those covering time shifting and format shifting. The law also allows exceptions for parody and satire, which is a nice addition. Of course, at the same time, the government felt the need to make certain concessions to the industry - including stronger enforcement mechanisms and larger fines for those caught file sharing...."
Link: Australia Decides It's Okay for You to Copy Your CDs to Your iPod
Apple, Softbank Planning iPhone?
Reuters reports:
"Japanese Web and telecom conglomerate Softbank Corp. is working with Apple Computer Inc. to develop mobile telephones with built-in iPod music players, Nikkei reported on Friday.
"The music-playing phones can download songs from Apple's iTunes Music Store, The Nihon Keizai Shimbun said in an article posted on its Web site.
"A spokesman for Apple in Cupertino, California, was not immediately available to comment."
Link: Apple, Softbank Plan iPod Mobile Phones - Nikkei
Apple Adopts Flat 'Made for iPod' License Fee
Smarthouse's David Richards reports:
"Apple has canned its controversial 'Made for Apple' [sic] iPod accessories licensing program, replacing it with a flat fee program that is easier for Apple to manage.
"The initial licensing program was based on Apple taking a percentage of revenue from all products that connected to an Apple 17pin iPod connector. Originally Apple proposed a fee of 1.5% but as the popularity of the iPod increased and sales moved into the tens of millions Apple told organisations like Bose that they had to pay up to 10% of revue back to Apple for being an official partner of the 'Made for Apple' program.
"Instead, the program has been replaced with a flat $4 per unit fee."
Link: Apple Changes iPod License Fee
Mitsubishi Maker Teams with Apple for iPod Support
DigiTimes' Shawn Chen and Adam Hwang report:
"China Motor, the Taiwan maker of Mitsubishi cars, is cooperating with Apple Computer to integrate iPod use in car-use audio systems for some of its car lines, the first such auto maker in Taiwan to do so, according to industry sources."
Link: China Motor Cooperates with Apple for Car-use iPod System (subscription required)
Weekly iPod Giveaway Sends Church's Message to Youths
The Arizona Republic's Lars Jacoby reports:
"Sometimes doing things a little differently than everyone else is a good way to stand out from the crowd.
"At least that's what officials of the Interfaith Unity Church Mesa hope.
"For the last five weeks, and for at least five more, someone has left the church with something a little more than just the word of gospel fresh in their mind, but also an iPod Shuffle to put music in their ears."
Link: Weekly iPod Giveaway Sends Church's Message to Youths
Products
iWood Wooden iPod Cases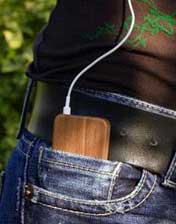 PR: Here's something special, or even exotic, for your iPod or nano
I used to make my living as a cabinetmaker, so any melding of fine woodworking with high technology usually delights me.
And so it is with the iWood iPod cases carved out of blocks of solid wood by Netherlands-based Miniot.com.
There are iWood models for both the iPod nano and the 5g full-size iPod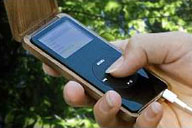 Miniot.com says that:
"Nothing matches the look and feel of nature. That's why we made the iWood, with love and dedication, from the finest wood. No two persons are alike, neither are two pieces of wood. But there's more that makes your iWood nano unique: a monogram engraved on top. And a message inside. To remind you of all that matters."
The iWood cases are carved with the greatest precision from a single piece of wood... carefully selected... in a wonderful patterns and warm colors in varieties such as maple, cherry, oak, and walnut.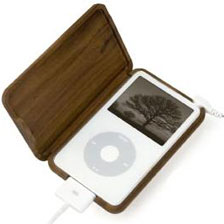 When closed, the iWood cases accept headphone jacks up to 10mm, and with the cover open you can access the sync connector without removing the iPod.
Concealed hardened steel hinges and tiny magnetic catches keep the iWood securely closed.
A monogram of your choice is engraved on top, and a personalized two-line message inside.

Also available in the iWood heritage series are very rare woods in small quantities that are only enough to create two or three very special iWoods. You can check them out on the iWoods heritage page and select the exact wood you want. Types that may be offered include burled walnut, padouk, olive wood, apple wood, zebrano, wenge, pallisander, ebony, and on occasion even ancient, pre ice-age Kauri.
Each iWood heritage is numbered and comes with a certificate. heritage prices start at Euro175 and up depending upon rarity and production effort to work the wood.
Like a good wine or whiskey, the iPod reflects your taste and personality. Your iWood nano makes it even more personal, with a monogram of choice engraved on two lines message inside the lid.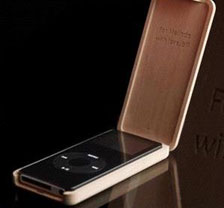 iWood is discreet and your iPod nano fits in snugly. When closed there's access only for the headphone plug. When opened, the sync-connector is revealed, so you never have to take the iPod out. in its iWood, your iPod can easily be operated with one hand.
Each iWood comes in a black gift case.
iWood nano starts at Euro75
iWood 5g starts at Euro85
Link: Miniot
SportWrap Fits All iPods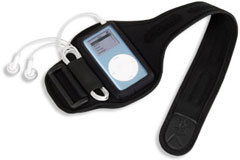 PR: Whether you're biking, jogging, walking or working out, SportWrap for iPod makes it easy to take your tunes with you. SportWrap features a moisture-resistant, play-through design and can be comfortably worn on your upper arm or forearm.
An adjustable Velcro strap holds your iPod securely in place and an elastic loop keeps excess earbud cord out of your way. Dual openings accommodate the position of the headphone jack on the 3G, 4G iPod and iPod with video.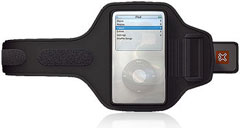 $29.95
This product is compatible with the following iPods:
iPod, iPod with video
Soft neoprene provides a comfortable fit and keeps iPod dry
Play-through design offers protection for screen and Click Wheel
Adjustable Velcro strap secures SportWrap to almost any size arm
Elastic loop keeps excess earbud cord out of your way
SportWrap for iPod nano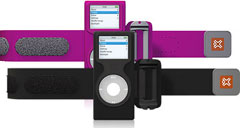 Whether you're biking, jogging, walking or working out, SportWrap for iPod nano makes it easy to take your tunes with you. This dramatically slimmed-down version of our popular SportWrap features a water-resistant, play-through design and can be comfortably worn on your upper arm, your forearm, or your wrist. SportWrap's two adjustable Velcro straps keep your iPod nano securely in place, while its integrated cleat keeps excess earphone cord out of your way.
$29.95
Play-through design for full access to controls
Compact size allows it to be worn on upper arm, forearm or wrist
2 adjustable Velcro straps to fit almost any arm size
Integrated cleat keeps excess earphone cord out of the way
SportWrap for iPod mini
The SportWrap iPod mini Armband is the only moisture resistant, true sports armband for active iPod users. SportWrap is perfect for biking, jogging, walking and working out. SportWrap can be worn on either arm, adjusts to fit most arm sizes, and stores excess earbud cord safely out of your way.
Quality Neoprene construction and a built-in moisture barrier makes SportWrap water-resistant to help keep your iPod dry when you're not. The built-in play through cover allows you to control your iPod mini while it's in the SportWrap.
$29.95
Perfect for biking, jogging, walking and working out
Moisture barrier keeps your iPod dry
Keeps excess earbud cord out of your way
Play-through cover gives you access to controls
Quality Neoprene maximizes comfort and fit
Stays secure with super-strong Velcro strap
Self-sealing headphone jack opening helps keep moisture out
Designed to use on left or right arm
Comfortably fits 10" to 17" arm sizes
Link: SportWrap
Link: SportWrap nano
Link: SportWrap mini
Tetran Luminous Glow-in-the-Dark Cable Winder for iPod
PR: The ever cute and extremely popular Tetran has a new friend - "Tetran Luminous", the latest addition to the Tetran rage. "Tetran Luminous" glows in the dark.
Along with the current Tetran series available in four fun colors. You can now pick from Pink, Green, Yellow, Orange, or Glow-In-The-Dark to match your style.
Tetran is a fun cable winder for your favorite iPod or MP3 player's earbud headphones. Just wind your cable around Tetran's body and use Tetran's cute mouth as a holder for your earbuds. The spikes keep Tetran from running away. There is a removable ball-bearing style chain included for attaching Tetran to your belt loop, cell phone strap or key ring.
Tetran is not only a fun earbud cable winder but can also be used for a relaxing massage by squeezing Tetran in the palm of your hand. Try applying Tetran's 23 rubber spikes to your neck, shoulder, back, hands or feet to feel a warm tingling sensation which eases away the stresses and strains of the day.
Link: Tetran Luminous
FriendTech's iDea Home Dock Wireless Docking Unit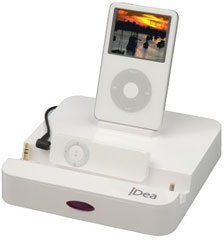 PR: The Home Dock comes in 2 versions which are wired or wireless; it is compatible with the entire iPod line, PSP, MP3 player, and MP3 mobile phones - 4 platforms together allowing brilliant playback.
The first dock that supports the iPod, PSP, MP3 player and MP3 mobile phone - 4 platforms together, a smart and stylish "One for All" design.
The first dock with its Remote Control Unit that supports the iPod "MENU", Click Wheel's "Scroll UP" and "Scroll Down" 3 functions remotely. Even the genuine iPod Remote Control Unit can NOT do it.
The only wireless dock that broadcasts music from the iPod, PSP and MP3 player/ MP3 phone to the connected home/office stereo, and send music wirelessly to multiple rooms' stereo and earphone (w/receivers).
The only wireless dock that supports the "Night Listening*" mode - It playbacks iPod/PSP Audio and displays the iPod photo/ video on the connected Home Stereo and TV. (*Night Listening : Because the Wireless Dock supports the Wireless Broadcast, you may dim the TV and Hi-Fi volume to keep it quite outside, yet still enjoy the music through the self-amplified Wireless HD-Audio headset.)
Enjoy the PSP games and movies with the sound broadcasting through the home Hi-Fi stereo.
Supports the Sony Walkman MP3 and Walkman Phone for sharing the music wirelessly as well.
The Wireless Hi-Fi Portable Receiver and the Remote Control Unit are included in the package.*
Features:
The first and the only dock for the iPod that displays the A/V output, and the Wireless HD-Audio broadcasting.
It displays the A/V output on the living room connected TV and stereo, it broadcasts the High Definition (HD) Audio Wirelessly to all other room's stereos throughout your house (a receiver is needed for each).
The only Dock that supports the Apple iPod (all dockable versions), Sony PSP and Walkman Cell Phone 3 platforms on the same dock for Power charging and Music playback. Buy one for all three, and save!
Sharing your favorite music with your family and friends in the high definition and wireless way, setup is easy and simple.
Provides the iPod and PSP with (1) Power Charge, (2) Audio Playback via the connected Home Stereo, (3) Files Download (iPod only), and (4) Video Playback via the connected TV (iPod photo, Nano and Video versions only).
As the most versatile iPod Dock in the world, the iDea Wireless Dock delivers the S-video output (Composite Video also supported) on the TV, and HD-Audio output (Crystal Clear sound quality, 100% lossless Audio via the back panel Stereo output, or the 2.4 GHz Wireless RF Transmitter).
Supports the Dolby Digital 5.1 Surround Sound via the Hi-Fi output and connected A/V amplifier.
Wireless RF HD-Audio Transmitting and Broadcasting customized for the iPod, with Cool skin design.
Supports the Apple iPod (iPod, iPod mini, Photo, Nano & iPod Video)
Non-compression for high quality sound with delay time 0.5ms.
Digital Audio with 44.1K sampling rate and 16-bit resolution.
Operating at 2.4 GHz ISM band with 8 selectable channels.
Proper RF output power 10 dBm to reduce interference.
-87 dBm receiving sensitivity, 45 dB channel rejection.
Including the S-video and Audio/Video cables, Universal Power Adapter (100~240V) and Remote Control Unit (for the iPod control exclusively, IR based).
Dimension: 150mm * 150mm * 28mm (+iPod connector 35mm height)
Application distance: up to 30 meters (L.O.S.) with perfect reception.
EAN Code: 4711671021688
Night Listening : Because the Wireless Dock supports the Wireless Broadcast, you may turn off the TV and Hi-Fi, to keep it quite outside, yet you can still enjoy the music through the Wireless HD-Audio headset. This feature is only available only in the iDea Wireless Home Dock. No any other accessory in the iPod world can match it
Link: iDea Wireless Home Dock
Zap Introduces iZap Lithium Batteries for iPods
PR: Advanced technology vehicle and energy pioneer Zap (NYSE Arca:ZP) announced today the introduction of a new series of lithium battery packs designed specifically to work with the iPod.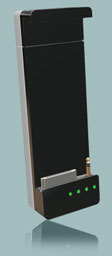 Called iZap, the battery accessories for the iPod are part of a new line of Zap Portable Energy systems to power a wide range of mobile electronics. The iZap's Portable Energy(TM) chargers and power packs are designed to work in conjunction with the iPod, including the iPod mini, iPod shuffle, iPod nano and the iPod with video.
"Our new iZap series of lithium battery packs are specifically designed for the iPod - one of the most popular new consumer electronics on the market," said Zap CEO Steve Schneider. "Part of Zap's mission with advanced energy technologies is to continually find new market applications for advanced batteries so that economies of scales in battery manufacturing can be developed to power full-size automobiles."
Zap says that the iZap designed for the iPod shuffle can extend listening time up to 60 hours. Zap was in Silicon Valley recently showcasing its lithium-battery systems at Maker Faire in San Mateo. The new rechargeable power packs can power a wide range of mobile electronics like cell phones, digital cameras, laptops and more.
Zap Portable Energy helps solve the growing battery dilemma for mobile electronics, offering a rechargeable source of power out in the field or extending the battery life of your favorite electronic device. The technology also reduces the need for disposable batteries, which can be bulky, expensive and harmful to the environment. The lithium-ion battery system can be recharged up to 1000 times and has up to four times the power of conventional batteries. Each Zap Pack uses a smart microprocessor control system that can power a variety of mobile electronic devices, including handheld PCs, digital cameras, cellular phones, audio, DVD, compact disk players or equivalent, video cameras, laptops and more. Several models are available that offer the versatility to charge DC electronics from 4.0 to 19.0 volts through either a DC or USB port. Zap Portable Energy is now available for immediate delivery.
Link: Zapworld.com
Free Protective iPod Cases from Contour Design
PR: Contour Design, a market leader in Apple iPod hard case accessories, is celebrating spring by offering free premium protection to iPod nano owners. Contour is giving away 200 of their crystal clear, ultra protective iSee nano cases on www.contourcase.com. They are also offering 15% off all of their sleek hardshell cases until May 23, 2006.
On the Go with iSee nano
"It's that time of year when more people are active and outdoors with their iPods. We think it's important that their iPod nanos have the best protection out there, and that's the iSee nano," said Andy Brown, company spokesperson. "Whether they're out walking, running, hiking, or rock climbing, people want to know that their iPod is snug and secure, protected from whatever abuse the world hits them with." Contour Design also designs and manufactures stylish, protective cases (including the Showcase Video) for the full line of Apple iPods.
The 200 free iSee nanos are only available while supplies last, but the 15% off sale will continue through May 23, 2006. When the free iSee nanos are no longer available, iSee nanos will be available at 15% until the end of the sale. One (1) Free case per order, offers do not include shipping.
Link: ContourCase
Contour Design iSee nano Keeps NYC iPod nano Owners Free from Worry
PR: Contour Design, a market leader in Apple iPod hard case accessories, is offering premium protection to new iPod nano owners by giving away their crystal clear iSee nano cases with the purchase of a new iPod nano. The free iSee nanos are exclusively available at Tekserve, J&R Music World, and Datavision, all in New York City.
Tough Protection for a Tough Town
"New York is known for being a tough town, so iPod nanos need the protection of the iSee nano right from the get-go," said company spokesman Mike Jackle. "New iPod nano owners can simply snap on the case and go, knowing that their iPod is protected from the tough world of New York and beyond." The iSee nano provides premium hardshell protection for the 1, 2, and 4 GB iPod nano. It normally retails for $19.99. For iPod owners who don't have an iPod nano, Contour Design's premium Showcase Video and iSee Video cases are available for purchase at these and many other fine retailers.
Availability and Pricing
The free iSee nanos will be available with the purchase of an iPod nano while supplies last. The free cases will be available at Tekserve, J&R, and Datavision. Tekserve is located at 119 West 23rd Street and can be reached by phone at (212) 929-3645. J&R Music World is at Park Row across from City Hall Park; phone number is (212) 238-9000. Datavision is at 445 Fifth Avenue at 39th Street; phone number is (212) 689-1111.
Link: ContourCase
iPod Sleeves with Exotic Materials and Microfiber Inner Protection
PR: iStyles has announced the launch of the iStyles Sleeves for the iPod Video and iPod nano. Each sleeve is made from one of twenty-three exotic materials that consist of high quality fabrics, leather, suede leather, semi-microfibre synthetic leather, synthetic fur and straw. The results are sleeves that look good and feel good.
The insides of each sleeve are lined with a microfiber cloth that not only protects the iPod from scratches, but also polishes and cleans the device as it is placed inside the sleeve. Each sleeve also comes with an easily hidden handy loop that can be attached to anything.
The sleeves are priced at US$9.99, and each sleeve design is available in limited quantities.
Link: iStyles sleeves
Bianco Dresses Up Your iPod Hi-Fi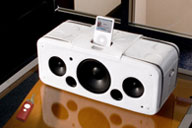 PR: Apple's Hi-Fi speaker system "iPod Hi-Fi" fills your room with powerful sound which is nice, but wouldn't it be great if it was more elegant and portable? TuneWear has come up with "Concerto Bianco" a uniquely designed protective carrying case for the iPod Hi-Fi user who insists on such original individuality.
Concerto Bianco places an emphasis on functional aspects as well as sporting a high quality texture and motif. Concerto Bianco includes a removable long strap that can attach to the carry handles of the iPod Hi-Fi using a soft leather wrap so you can carry the beautiful box anywhere around your house, office or take it away on family vacation. With the Concerto Bianco case fitted, you can put it in the trunk of your car with your other luggage and don't have to worry about it getting knocked around on bumpy roads. It is the ultimate in protective carrying cases that allows you to enjoy the sound of iPod Hi-Fi anytime and anywhere.
Decorate with your iPod Hi-Fi
Concerto Bianco was born for the user who insists on decorating their favorite space with their own original style. With iPod Hi-Fi clad in the elegant Concerto Bianco your living room looks and sounds truly beautiful. As Steve Jobs, CEO of Apple Computer, would say "it's bitchin'!"
Feature and Luxury
Concerto Bianco is crafted using the highest quality genuine Italian nappa leather and a soft felt lining to achieved a delicate, soft finish. Just like a fine leather jacket, Concerto Bianco is designed for a smart fit of your iPod Hi-Fi and firmly guards the iPod Hi-Fi surface against bumps and scratches. Additionally the grille can be easily attached and removed without the need to remove the Concerto Bianco.
$295
Link: Bianco Dress for the iPod Hi-Fi
Software
2ndLap Lite iPod Stopwatch
PR: 2ndLap Lite saves stopwatch timers from your iPod nano or 5th generation iPod ("with video") and puts them in a simple calendar format.
iPod nano and Fifth Generation iPods include a Stopwatch feature that is perfect for timing your exercise routine, recording your jogging times or laps around the track. The iPod stores the date and time for each timer, but will only store 5 at a time. 2ndLap Lite saves these timers to your Mac and organizes them in a simple calendar or list view.
Features in-depth
Imports stopwatch timers from iPod nano and Fifth-generation iPod ("with video").
View timers by calendar or in list view.
Store notes with each timer.
Let 2ndLap Lite keep itself upgraded by its capable Check for Updates function, which not only checks for updates, but also installs them for you.
Out of shape? Running is one of the most effective forms of exercise. The best way to stay motivated is to track your progress over time. The full version of 2ndLap tracks your daily runs, training goals, weather and physical conditions, shoes, tracks and races. 2ndLap is still in development, and will import stopwatch timers from 2ndLap Lite. 2ndLap Lite will continue to be available free of charge.
New in version 0.7.0: First release (beta)
System requirements: Mac OS X 10.4 or later, iPod nano or Fifth-generation iPod ("with video").
System support: PPC/Intel
Free
Link: 2ndLap Lite
Join us on Facebook, follow us on Twitter or Google+, or subscribe to our RSS news feed
Today's Links
Mac of the Day: Macintosh 512K Fat Mac, introduced 1984.09.10. The first Mac with enough memory for serious work.
Recent Content
Custom Search
Follow Low End Mac on Twitter
Join Low End Mac on Facebook
Favorite Sites
MacSurfer
Cult of Mac
Shrine of Apple
MacInTouch
MyAppleMenu
InfoMac
The Mac Observer
Accelerate Your Mac
RetroMacCast
The Vintage Mac Museum
Deal Brothers
DealMac
Mac2Sell
Mac Driver Museum
JAG's House
System 6 Heaven
System 7 Today
the pickle's Low-End Mac FAQ
Affiliates
Amazon.com
The iTunes Store
PC Connection Express
Macgo Blu-ray Player
Parallels Desktop for Mac
eBay

Advertise