PowerKey Programmable Power Manager
- 2002.05.23
Where else on the Web but Low End Mac would you find a review of a product that was developed in 1990? Following my recent articles on new uses for the SE/30 (Putting Your Old 68K Macs Back to Work and 21 More Uses for a 68K Mac), Sophisticated Circuits sent me some products for review - products still offered for older ADB Macs.
This week I've hooked up and tested PowerKey, an intelligent and programmable power strip for ADB Macs.
PowerKey looks like a vintage beige peripheral for pre-iMac computers. It has one ADB port which connects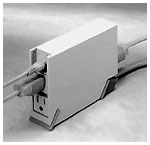 through a Y-adapter to the ADB port of your computer and your keyboard. Four 3-prong outlets are provided in the brick-sized device. Thus, you could hook up your CPU, monitor, printer, and one other peripheral. The cable leading to the wall outlet is thick and heavy; it makes you feel like it can handle the current requirements of four hefty peripherals.
Essentially, what the device offers out of the box prior to installing the software is the ability to turn on all of these devices at once simply by pressing the power key on your ADB keyboard.
The device has remained unchanged since its initial design, primarily because it's simple and works well. The manual brings back memories of the old days, when you actually got paper documentation on every feature of a new device, including clear screen shots, menu item descriptions, and so on. The manual does not acknowledge the existence of USB Macs (it says it works on "any desktop Mac with System 7 or higher and an ADB port").
Please note that the original Macintosh and the Mac Plus lack ADB ports and will not work with PowerKey. Also, I found no reference within the manual regarding the power capacity of the device. Like any other power strip, you could plug too many things into it or do something silly like try to plug a power strip into each Power Key outlet and try to boot an entire lab off of it. (Bad idea.) Exactly how much stuff you can plug in is not well documented.
Aside from these points, I really could not find much to complain about with the product or its documentation.
Sophisticated Circuits has a simple and easy-to-navigate Web site, and you will quickly discover that there are equivalent, even more sophisticated products available for USB Macs.
I tested my review device on a Power Mac G3/233 MT with an Apple Extended Keyboard II (the noisy one with good tactile response). The machine and peripherals started up without even installing the software. The setup included a monitor and an external SCSI hard drive on the other power ports. Now, as everyone knows, it's best to start up SCSI peripherals before starting up your computer. I thought that might be a problem, but it didn't cause any problems that I could detect.
PowerKey is also a fairly sophisticated programmable startup device. On machines without EnergyStar compliance, this is a nice feature. You can set the system to start itself, shut itself down, and even shut down the CPU power before the peripheral power. Other programmable events include being able to launch applications, trigger AppleEvents, restart the computer, and more.
In practice, I probably wouldn't plug a networkable printer into the device; you wouldn't want to have to turn on your PowerKey computer just to be able to print from other computers on the network.
Another nice feature, partially implemented in a more advanced product called PowerKey Pro, is the ability to independently control each plug to some degree. With PowerKey Classic, they're either all on or all off. With Pro, there's one plug that's always on, another programmable plug, and a group of others that all go together.
Since many of our older computers are on standalone duty or single purpose functions, PowerKey provides a way for you to cycle power, run scripts, and make your setup a little more independent than it would otherwise be. I had no difficulty setting up or using the included software.
PowerKey Classic is listed on the specials and closeouts list at Sophisticated Circuits; it is currently on sale for $35. This is a great price if you're in the market for this type of product.
There is also a fascinating list of other devices for both old and new Macs that you should keep handy for last minute birthday requests.
Join us on Facebook, follow us on Twitter or Google+, or subscribe to our RSS news feed
is a longtime Mac user. He was using digital sensors on Apple II computers in the 1980's and has networked computers in his classroom since before the internet existed. In 2006 he was selected at the California Computer Using Educator's teacher of the year. His students have used NASA space probes and regularly participate in piloting new materials for NASA. He is the author of two books and numerous articles and scientific papers. He currently teaches astronomy and physics in California, where he lives with his twin sons, Jony and Ben.< And there's still a Mac G3 in his classroom which finds occasional use.
Today's Links
Mac of the Day: Macintosh 512K Fat Mac, introduced 1984.09.10. The first Mac with enough memory for serious work.
Recent Content
Custom Search
Follow Low End Mac on Twitter
Join Low End Mac on Facebook
Favorite Sites
MacSurfer
Cult of Mac
Shrine of Apple
MacInTouch
MyAppleMenu
InfoMac
The Mac Observer
Accelerate Your Mac
RetroMacCast
The Vintage Mac Museum
Deal Brothers
DealMac
Mac2Sell
Mac Driver Museum
JAG's House
System 6 Heaven
System 7 Today
the pickle's Low-End Mac FAQ
Affiliates
Amazon.com
The iTunes Store
PC Connection Express
Macgo Blu-ray Player
Parallels Desktop for Mac
eBay

Advertise