Vert•X Xserve Stand Reviewed
- 2004.02.13
This is a review of the Vert•X XServe stand by Marathon Computer.
This is necessarily going to be a short review. It's a simple product. It does what it says.
There are two plastic stands with a slot. They are very lightweight but feel sturdy. The box seems to weigh more than the product, but maybe I'm exaggerating just a little.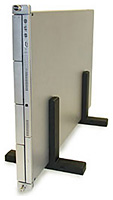 It's a little loose, so if you pick up your server the stand falls off. It's not designed to stay stuck on.
Setup probably requires two people or one person with more coordination than I have. Turn off your server before installation.
The Vert•X comes in a box that has a funny joke on it. It costs $40, which seems a little steep for what it is. On the other hand, if you can afford an XServe, you should be able to afford a VertX.
If this serves your needs, get one. I like mine.
Join us on Facebook, follow us on Twitter or Google+, or subscribe to our RSS news feed
is a longtime Mac user. He was using digital sensors on Apple II computers in the 1980's and has networked computers in his classroom since before the internet existed. In 2006 he was selected at the California Computer Using Educator's teacher of the year. His students have used NASA space probes and regularly participate in piloting new materials for NASA. He is the author of two books and numerous articles and scientific papers. He currently teaches astronomy and physics in California, where he lives with his twin sons, Jony and Ben.< And there's still a Mac G3 in his classroom which finds occasional use.
Today's Links
Mac of the Day: 17" MacBook Pro Core Duo, introduced 2006.04.24. The top-end MacBook Pro has a 1680 x 1050, 2.16 GHz Core Duo CPU, and supports Apple's 30" Cinema Display.
Recent Content
Custom Search
Follow Low End Mac on Twitter
Join Low End Mac on Facebook
Favorite Sites
MacSurfer
Cult of Mac
Shrine of Apple
MacInTouch
MyAppleMenu
InfoMac
The Mac Observer
Accelerate Your Mac
RetroMacCast
The Vintage Mac Museum
Deal Brothers
DealMac
Mac2Sell
Mac Driver Museum
JAG's House
System 6 Heaven
System 7 Today
the pickle's Low-End Mac FAQ
Affiliates
Amazon.com
The iTunes Store
PC Connection Express
Macgo Blu-ray Player
Parallels Desktop for Mac
eBay

Advertise