Macs in Space (er, Astronomy)
- 2005.01.12
Just visiting the American Astronomical Society meeting here in San Diego, and I wanted to pass along to all of you the observation that there are plenty of Macs here. Apple has sent up a (very popular) cyber cafe which has had people waiting at the door to use computers since I arrived.
I ran into an Apple representative, John Martellaro, who has written extensively for the Mac Web on sites like MacOpinion before joining Apple. He exhibited a Power Mac G5 with two giant Cinema Displays and was explaining the technical capabilities of the dual processor machine when I walked up and snapped his picture.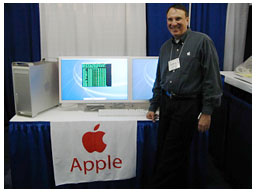 I could not imagine having that much screen real estate to use. Well, I could imagine having it, but not affording it. ;-)
More and more professional astronomers seem to be leaning toward the Mac, and although it is a small community, I really hope it will drive some of the hardware manufacturers to provide better support for their digital camera products for the Mac.
On a related matter, I will be reviewing Starry Night's latest offering, which provides photorealistic horizons and an improved, Mac OS X-style interface in a future column.
I have to get back to work working on our proposal to use the Spitzer Infrared Space Telescope, so I'll be writing more later. Have a great week!
Join us on Facebook, follow us on Twitter or Google+, or subscribe to our RSS news feed
is a longtime Mac user. He was using digital sensors on Apple II computers in the 1980's and has networked computers in his classroom since before the internet existed. In 2006 he was selected at the California Computer Using Educator's teacher of the year. His students have used NASA space probes and regularly participate in piloting new materials for NASA. He is the author of two books and numerous articles and scientific papers. He currently teaches astronomy and physics in California, where he lives with his twin sons, Jony and Ben.< And there's still a Mac G3 in his classroom which finds occasional use.
Today's Links
Mac of the Day: Macintosh 128K, introduced 1984.01.24. 1984 wasn't going to be anything like 1984 thanks to the original Macintosh.
Recent Content
Custom Search
Follow Low End Mac on Twitter
Join Low End Mac on Facebook
Favorite Sites
MacSurfer
Cult of Mac
Shrine of Apple
MacInTouch
MyAppleMenu
InfoMac
The Mac Observer
Accelerate Your Mac
RetroMacCast
The Vintage Mac Museum
Deal Brothers
DealMac
Mac2Sell
Mac Driver Museum
JAG's House
System 6 Heaven
System 7 Today
the pickle's Low-End Mac FAQ
Affiliates
Amazon.com
The iTunes Store
PC Connection Express
Macgo Blu-ray Player
Parallels Desktop for Mac
eBay

Advertise