Mac OS X and the Blue and White G3 Firmware Update Problem
- 2005.03.01
I've gone around on this problem once or twice, so I thought I ought to memorialize it with notes - and share them with you, while I'm at it.
Here's the problem: I have several Blue and White Power Mac G3 towers, the kind that have ADB ports in the back and can run OS X (barely).* I like these computers, but I have a couple that are kind of quirky.
I decided to upgrade one of them to OS X as an experiment. It was originally running OS 8.5, which is an okay operating system, but some of the software I use in my class requires OS 9.x and some of it requires OS X, so I dove in.
In an attempt to maximize the hard drive space, I first erased the hard drive using the OS X installer utility - this turned out to be a mistake. I then installed OS X, which went smoothly, if slowly.
After installing OS X, I tried out a number of functions, including connecting to a server, starting various programs, printing, and so on.
The first time I tried to use a Classic application, the OS told me it couldn't find a Classic System Folder. Of course not - I had deleted it in the hard drive wipe. Out comes the OS 9 CD.
OS 9 checked the drive and then aborted the install, telling me I needed to do a firmware update from the extras folder on the CD first.
Okay, so I found the "G3 Firmware Update" and ran right into a Catch-22. The firmware update requires that you be running the Classic Mac OS, and the Classic OS won't run until the firmware update is installed.
You Can't Get There From Here
You can't install the Firmware Update 1.1 by booting off the OS 9 CD; the firmware update writes a file to the active OS 9 System Folder, and CDs are read-only.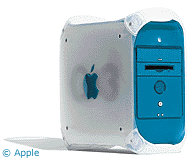 If you do what I did and don't have the original system CDs for the B&W G3, you're sunk. Luckily I had an original OS 8.5 CD that shipped with my aging G3 Beige machine, so I booted the B&W G3 with that CD, installed OS 8.5 as a clean install, and rebooted.
Now I could run the Firmware Update - run, shut down, hold the programmer's button on front panel, restart until you hear a tone, and then release the button.
Now I could finally install OS 9 and run Classic via OS X when necessary. But for now the machine is set to boot into OS 9 because running OS X and Classic at the same time takes so much of the 6 GB hard drive that there's no room left for Microsoft Office and certain other applications I need to use in the classroom.
To have the machine useful in its present state, I need to keep using OS 9. (My students are disappointed . . . they like getting to play with OS X.)
An OS X compatible firmware update utility would be nice, but it's unlikely Apple will expend any effort to retrofit these older machines that barely run OS X, as this is a relatively isolated problem.
If you're stuck, though, having a portfolio of older OS installation CDs is always handy.
* UPDATE: I'm using OEM equipment, which has 128 MB RAM and a 300 MHz processor, and a 6 GB (not 4 like the article originally said) hard drive. I have to install Classic, Office, a suite of science programs, and leave some room for student work on the drive. On the machine I was using, the last thing I was installing was Office, and it didn't fit. Hence "barely." Also, OS X on the G3 runs acceptably well, but because of the RAM limitations switching programs starts being noticeably slow when I open two or more apps. I've used worse computer/OS combinations (OS 8.6 on a 5200, for example, is much worse) but it could be better as well. Perhaps "barely" was too strong a word.
Everyone pointed out that if you upgrade RAM and hard drive, OS X runs just fine. That's true, I'm sure. However, the upgrade budget in my district is something like a few pennies per machine (I am not making this up), so you can do the math and see that the priority isn't going to be OS X upgrades in a district where new Mac purchases are verboten. Nevertheless, when it comes time to make the switch to OS X, I will see what can be done. I've pulled bigger rabbits out of smaller hats than a moderate upgrade to a computer....
Join us on Facebook, follow us on Twitter or Google+, or subscribe to our RSS news feed
is a longtime Mac user. He was using digital sensors on Apple II computers in the 1980's and has networked computers in his classroom since before the internet existed. In 2006 he was selected at the California Computer Using Educator's teacher of the year. His students have used NASA space probes and regularly participate in piloting new materials for NASA. He is the author of two books and numerous articles and scientific papers. He currently teaches astronomy and physics in California, where he lives with his twin sons, Jony and Ben.< And there's still a Mac G3 in his classroom which finds occasional use.
Today's Links
Mac of the Day: Lisa, introduced 1983.01.19. The ancestor of the Macintosh had a mouse, a graphical interface, and a $10,000 price tag.
Recent Content
Custom Search
Follow Low End Mac on Twitter
Join Low End Mac on Facebook
Favorite Sites
MacSurfer
Cult of Mac
Shrine of Apple
MacInTouch
MyAppleMenu
InfoMac
The Mac Observer
Accelerate Your Mac
RetroMacCast
The Vintage Mac Museum
Deal Brothers
DealMac
Mac2Sell
Mac Driver Museum
JAG's House
System 6 Heaven
System 7 Today
the pickle's Low-End Mac FAQ
Affiliates
Amazon.com
The iTunes Store
PC Connection Express
Macgo Blu-ray Player
Parallels Desktop for Mac
eBay

Advertise