A Big Oversight in Spotlight's Searches
- 2005.09.02
I have a great many files which my publisher requires to be named in a format like this: 3.2.4.thing.another. The Finder doesn't choke on this or cause any problems due to "." extensions, but Spotlight apparently cannot look for terms that begin with a number. To test this, I created several files on my desktop.
xylophone
xylophone.creosote
xylophone.creosote.prairie
xylophone.creosote.prairie.lingo
xylophone.creosote.prairie.lingo.1.2.3.4
1.xylophone.
and did spotlight searches. All of these terms were found except for the last one (as the picture below shows). Curious, I did a quick Google search on "spotlight fail" and came up with any number of articles on the topic, including a really excellent, well written article over at Macintouch (link below).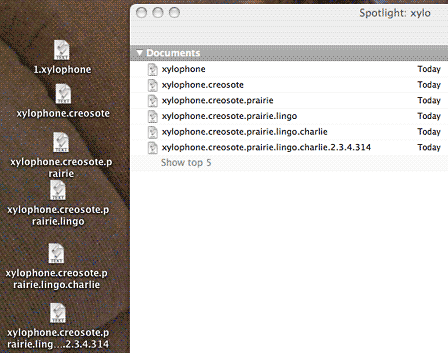 This article highlights several limitations in Spotlight technology. I think Apple should address these in a future revision, because if you can't trust your search program to actually find files that exist on your hard drive, what good is it? Certainly not good enough to spell the end of heirarchical file organization and the desktop metaphor as has recently been touted in the tech press.
At the very least, there ought to be a "deep search" function not dependent on the Spotlight index, perhaps limited to filenames if necessary.
Join us on Facebook, follow us on Twitter or Google+, or subscribe to our RSS news feed
is a longtime Mac user. He was using digital sensors on Apple II computers in the 1980's and has networked computers in his classroom since before the internet existed. In 2006 he was selected at the California Computer Using Educator's teacher of the year. His students have used NASA space probes and regularly participate in piloting new materials for NASA. He is the author of two books and numerous articles and scientific papers. He currently teaches astronomy and physics in California, where he lives with his twin sons, Jony and Ben.< And there's still a Mac G3 in his classroom which finds occasional use.
Today's Links
Mac of the Day: 14" 600 MHz iBook G3, introduced 2002.01.07. The first 14" iBook ran at a comfortable 600 MHz.
Recent Content
Custom Search
Follow Low End Mac on Twitter
Join Low End Mac on Facebook
Favorite Sites
MacSurfer
Cult of Mac
Shrine of Apple
MacInTouch
MyAppleMenu
InfoMac
The Mac Observer
Accelerate Your Mac
RetroMacCast
The Vintage Mac Museum
Deal Brothers
DealMac
Mac2Sell
Mac Driver Museum
JAG's House
System 6 Heaven
System 7 Today
the pickle's Low-End Mac FAQ
Affiliates
Amazon.com
The iTunes Store
PC Connection Express
Macgo Blu-ray Player
Parallels Desktop for Mac
eBay

Advertise