Preparing Images for Better Reproduction on Laser Printers and Photocopiers
- 2007.01.26
If you're like a lot of teachers, you create handouts and tests for your students. Integrating photos and drawings into your handouts is a way of breaking up the monotony of an all-text document and emphasizing important points.
Unfortunately, when you print a color photo on a laser printer or photocopy it, subtle shading and detail in the photo are often lost, leading to a high-contrast blotchy picture. Sometimes it's hard to tell what it is.
Some photocopiers have a "photo" mode, but that doesn't help you when you laser print a document not worth copying in the first place. This article will show you how to prepare your photos on your computer so they'll print well, copy well, and retain most of the original detail.
Let's face it: You're printing a black and white picture on your laser printer. Even though the original image may be in color on your computer screen, black and white is still the choice of mass-produced copies. So how do you prepare the picture?
Most Macs come with a copy of GraphicConverter, a valuable shareware program that Mac users have used since before OS X to manipulate images and convert images between file types.
Here's an example of how to do the conversion on the fly using an image you'd like to use in a document.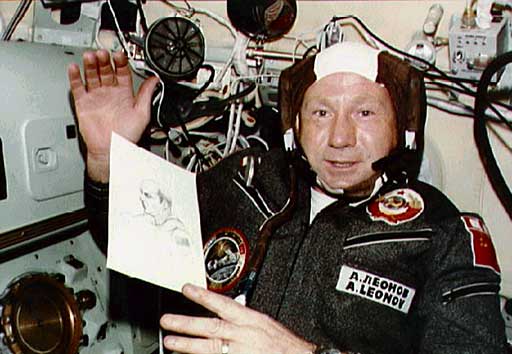 I found a picture on Wikipedia Commons to use as an example. Here's a photo of Alexei Leonov, a famous Russian cosmonaut, holding a drawing of an American astronaut. Note the dark flight suit and low-contrast image in the drawing. If you print this image on a standard laser printer, the darks will become darker and the white areas will wash out.
Next, I opened GraphicConverter and hit Command-J, which copies the clipboard to a new document (that way I don't mess up the original image). Then I picked Effect > Black&White > Dither... and used the default setting, Random Matrix with an 8x8 grid (600 dpi).
That generated this image (reduced here):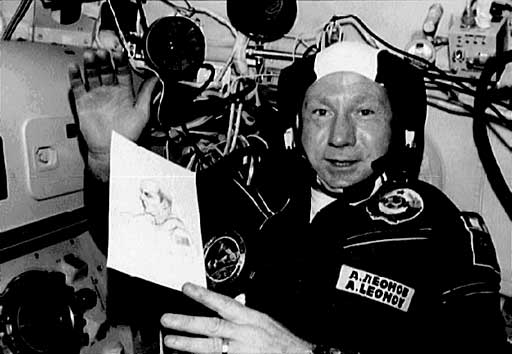 You'll note that some of the texture in the flight suit is missing, but lighter colors, such as Leonov's face and, in particular, the drawing, become more contrasty and easier to see. If you print this article on a black & white laser printer, you'll be able to see the difference between the print quality of the two pictures.
Here's what dithering, which converts the image to black and white with no grays whatsoever, looks like close up: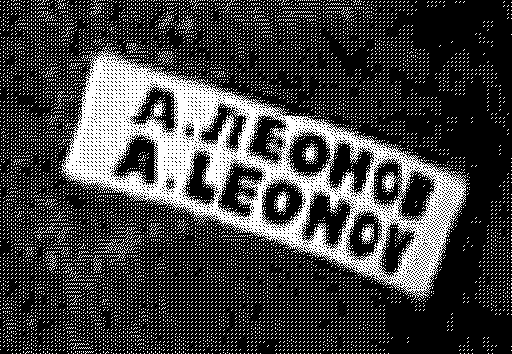 The resulting image can be copied from GraphicConverter and pasted in Word documents, Examview Pro test writing software, or any other document creator you are using.
Go forth and used more graphics to your documents.
Join us on Facebook, follow us on Twitter or Google+, or subscribe to our RSS news feed
is a longtime Mac user. He was using digital sensors on Apple II computers in the 1980's and has networked computers in his classroom since before the internet existed. In 2006 he was selected at the California Computer Using Educator's teacher of the year. His students have used NASA space probes and regularly participate in piloting new materials for NASA. He is the author of two books and numerous articles and scientific papers. He currently teaches astronomy and physics in California, where he lives with his twin sons, Jony and Ben.< And there's still a Mac G3 in his classroom which finds occasional use.
Today's Links
Mac of the Day: 17" iMac G4 (Mid 2002), introduced 2002.07.17. The iMac grows up with a 17" 1440 x 900 display.
Recent Content
Custom Search
Follow Low End Mac on Twitter
Join Low End Mac on Facebook
Favorite Sites
MacSurfer
Cult of Mac
Shrine of Apple
MacInTouch
MyAppleMenu
InfoMac
The Mac Observer
Accelerate Your Mac
RetroMacCast
The Vintage Mac Museum
Deal Brothers
DealMac
Mac2Sell
Mac Driver Museum
JAG's House
System 6 Heaven
System 7 Today
the pickle's Low-End Mac FAQ
Affiliates
Amazon.com
The iTunes Store
PC Connection Express
Macgo Blu-ray Player
Parallels Desktop for Mac
eBay

Advertise