Faster Isn't Always Better
- 2002.10.15
It'll never happen, but just imagine if Apple faced the Gateway challenge directly....
A Gateway Profile 4 and Apple iMac are sitting side by side on a road, stretching off to the distance. Revving engine sounds make it clear we are watching a simulation of a drag race. The Gateway sticks it's "tongue" out at the iMac, which looks at it but doesn't respond.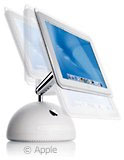 A gunshot is heard. The Gateway rears up and disappears at high speed. The iMac takes its time, starting slowly to the accompaniment of slow, instrumental music.
The Gateway is shown roaring over hills and screeching down straightaways.
The iMac slowly careens around a curve we've seen the Gateway on already.
The Gateway looks back and sees the iMac in the distance.
The iMac tools along - and even pauses to smell some flowers beside the road. Presently we see it pull up next to the crashed Gateway, which displays the Blue Screen of Death, and whose drive is endlessly ejecting and retracting. The iMac looks at the Gateway, shakes its head just like Pixar's Luxo, and drives on through a finish line.
Voice-over: "Some cars are faster than others. Some cars are more popular. But sometimes, all you want to do is get to where you're going."
Join us on Facebook, follow us on Twitter or Google+, or subscribe to our RSS news feed
Today's Links
Mac of the Day: Mac Pro, introduced 2006.08.07. The last Mac to go Intel, the Mac Pro has two dual-core Xeon CPUs at 2.0-3.0 GHz. 8-core option added in 2007.
Recent Content
Custom Search
Follow Low End Mac on Twitter
Join Low End Mac on Facebook
Favorite Sites
MacSurfer
Cult of Mac
Shrine of Apple
MacInTouch
MyAppleMenu
InfoMac
The Mac Observer
Accelerate Your Mac
RetroMacCast
The Vintage Mac Museum
Deal Brothers
DealMac
Mac2Sell
Mac Driver Museum
JAG's House
System 6 Heaven
System 7 Today
the pickle's Low-End Mac FAQ
Affiliates
Amazon.com
The iTunes Store
PC Connection Express
Macgo Blu-ray Player
Parallels Desktop for Mac
eBay

Advertise