One Free iTune from Pepsi, But Which One to Choose?
- 2004.03.31
I finally won!
Four 20 ounce bottles of Diet Pepsi later, I finally won an iTunes song. Oh happy day! I, too, can be a winner. No more "Please try again!"

My life is complete - except for one thing.
Which song do I pick?
Ohhhh, boy.
Well, I like movie soundtracks, and I enjoy some pop music, but this one is free. Free!
But what to choose?
Well, there's the Top 10 list from the iTunes store. #1 today is by a band called D12. This album contains a parental advisory sticker, which for people of my generation means "you won't be able to understand what they are saying, and if you can, you won't know what the words mean, and if you do find out, you'll be horribly offended and start talking about the decline of Western Civilization."
Okay, so let's look at movie soundtracks.
Top of the list is "Ultimate Mancini." Henry Mancini? Hey, he did lots of famous movies. He's best known for "The Pink Panther Theme," which I already own.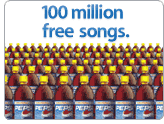 William Hung? That's good for a laugh once or twice. But he's so famous now, having a song by him means you have to admit you watch 'merican Idol. (Not that there's anything wrong with that.)
Well, this does point out one problem with Apple's whole "iLife" strategy - the assumption that people are going to make beautiful movies, compose interesting music with GarageBand, take brilliant photos and proudly display them with iPhoto, and otherwise be able to make something interesting for others to see has a fatal flaw:
Most people are dorks.
Maybe that's the real reason Apple has only a 5% market share.

As for my one free song, I finally settled on "Genius in France" by Weird Al Yankovic.
Join us on Facebook, follow us on Twitter or Google+, or subscribe to our RSS news feed
Today's Links
Mac of the Day: 17" MacBook Pro Core Duo, introduced 2006.04.24. The top-end MacBook Pro has a 1680 x 1050, 2.16 GHz Core Duo CPU, and supports Apple's 30" Cinema Display.
Recent Content
Custom Search
Follow Low End Mac on Twitter
Join Low End Mac on Facebook
Favorite Sites
MacSurfer
Cult of Mac
Shrine of Apple
MacInTouch
MyAppleMenu
InfoMac
The Mac Observer
Accelerate Your Mac
RetroMacCast
The Vintage Mac Museum
Deal Brothers
DealMac
Mac2Sell
Mac Driver Museum
JAG's House
System 6 Heaven
System 7 Today
the pickle's Low-End Mac FAQ
Affiliates
Amazon.com
The iTunes Store
PC Connection Express
Macgo Blu-ray Player
Parallels Desktop for Mac
eBay

Advertise