Dan Knight , 2005.02.14
The charts below are adapted from Browser Speed Comparisons. "Supplementary" browsers are not shown, and colors are used to differentiate operating systems. Color code:
Mac OS X: red
Mac OS 9: green
Linux: yellow
Windows XP: blue
On each of these graphs, the shorter bar represents faster performance.
A lot of pages on the Web are created as tables - that's the old fashioned way and the way we still do things at Low End Mac. Opera 6.03 for Linux is fastest here, followed by the Windows version. Opera 8.0 is the fastest OS X browser and holds 7th place, and Safari 1.2 rates 10th. OS X browsers generally lag well behind Windows browsers, so there's real room for improvement here.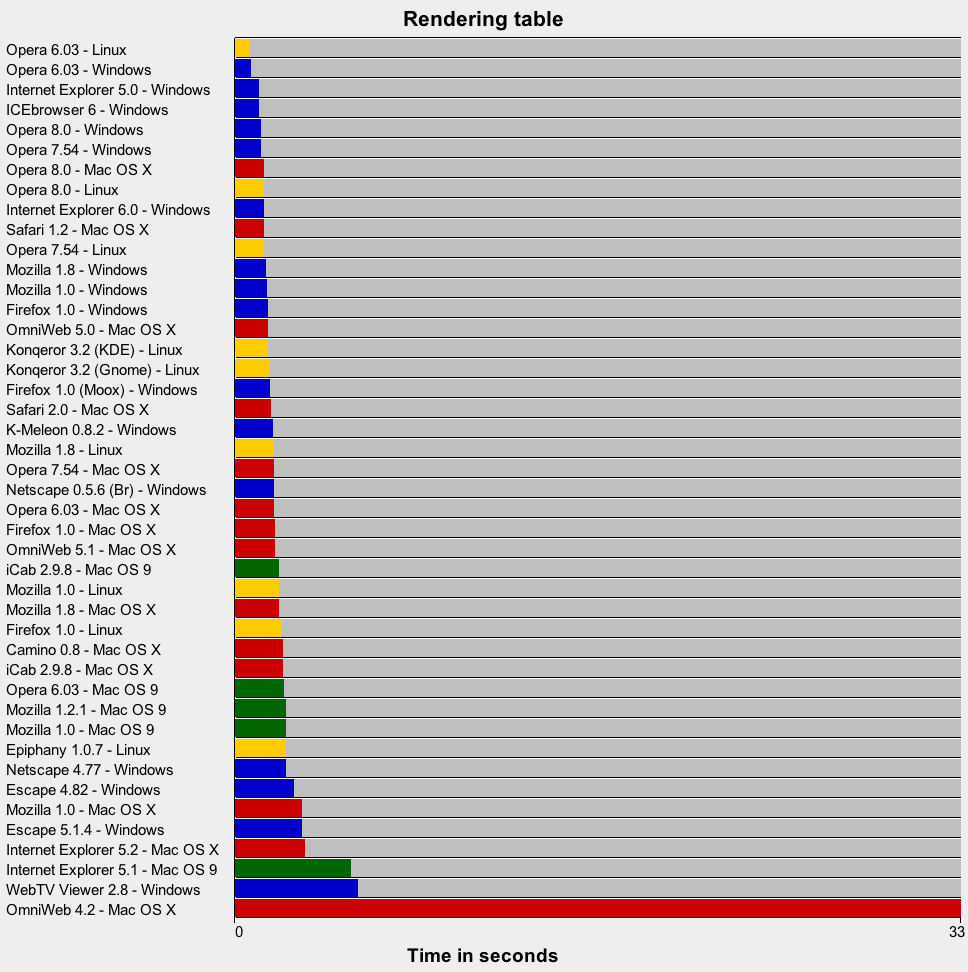 Custom Search
Follow Low End Mac on Twitter
Join Low End Mac on Facebook
Favorite Sites
MacSurfer
Cult of Mac
Shrine of Apple
MacInTouch
MyAppleMenu
InfoMac
The Mac Observer
Accelerate Your Mac
RetroMacCast
The Vintage Mac Museum
Deal Brothers
DealMac
Mac2Sell
Mac Driver Museum
JAG's House
System 6 Heaven
System 7 Today
the pickle's Low-End Mac FAQ
Affiliates
Amazon.com
The iTunes Store
PC Connection Express
Macgo Blu-ray Player
Parallels Desktop for Mac
eBay

Advertise


Advertise