eMac Musings
Charles Moore - 2002.05.07 - Tip Jar
The upgraded PowerBooks were expected, but I think the eMac took nearly everyone by surprise. It certainly did me. My first impression was, "Wow, a 700 MHz G4 with a 17" screen for $999!" It wasn't so long ago that you would pay that much for a 17" CRT monitor alone.
Of course, the fine print was that you could only purchase an eMac through education channels, and it was soon revealed that the $999 price only applied to volume purchasers - and that the base eMac doesn't have a modem.
The real world price for individual education purchasers of the eMac with a Combo CD-RW/DVD is actually $1,249, which isn't that much less than the price of the base flat panel iMac at $1,399, which comes with a modem, of course, as well as a beautiful LCD monitor.
Personally, it would be a no-brainer. I don't like CRTs, both because of their staticky, power-slurping, flickery, ELF-emitting nature, and their humongous weight and bulk. I have a 17" Trinitron VGA CRT on my Umax S900, and I can't believe what a boat anchor it is.
The 17" CRT in the eMac is of the "shallow," flat-screen variety (8 mm less deep than the original iMac with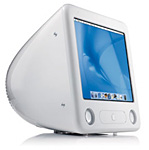 its 15" CRT), but the whole rig still weighs 50 lbs., compared with the 15" CRT iMac's 35 lbs. and the LCD G4 iMac's svelte 21.3 pounds.
However, there's no accounting for taste, and some people actually like CRTs, so it seems foolish for Apple not to release the eMac to the general consuming public and let people make their own choice in the matter. Worried about cannibalizing sales from the iMac? Well, at $150 less than the basic iMac, a 17" CRT machine should be every bit as profitable - and possibly even more so now given the current inflation in LCD OEM costs.
Indeed, one might cynically wonder if keeping the Mac out of consumer channels might not simply be related to Steve Jobs' ego - specifically his rash statement last year that "the CRT is dead."
Of course, Apple has never stopped selling CRT iMacs, and from a business standpoint it would be foolish to do so. I figure that the CRT, now 104-year-old technology, is going to die a natural death eventually. I certainly have no interest in them anymore for day-to-day use. I prefer even the little 12.1", 800 x 600 TFT screen in my WallStreet PowerBook to the 17" Trinitron multiscan behemoth. But as long as there's a market, why not sell into it?
The CRT does offer one feature that LCDs don't handle well - good viewing quality at multiple screen resolutions. The 17" monitor in the eMac supports five screen resolution: 640 x 480 pixels at 138 Hz, 800 x 600 pixels at 112 Hz,1024 x 768 pixels at 89 Hz,1152 x 864 pixels at 80 Hz, and 1280 x 960 pixels at 72 Hz.
Aside from the monitor issue, the eMac has some cool things going for it - three USB ports (plus the two on the keyboard) will eliminate the need for a separate USB hub for many users. There is a really great sound card with a Tripath TA2024 Class-T 16-watt amplifier and powerful, built-in stereo speakers (the base G4 iMac only has a single speaker). And - hooray! - the eMac has a real analog sound-in port.
While analog sound-in may not seem like a big deal to some users, I use microphones a lot for dictation, and I much prefer the performance of my PlainTalk mics. I think USB audio really sucks.
Other good eMac stuff includes an Nvidia GeForce 2 MX 3D AGP 2x graphics with 32 MB of Double Date Rate VRAM (same spec. as the G4 iMac) and a 40 GB hard drive.
I consider Apple's all-in-one designs to be the quintessential Macintosh. I prefer laptops as the purest essence of AIO, but the eMac is a worthy descendent of the original compact Macs, the 500 and 5000 series desktops, the "Molar" G3 education-only AIO, and, of course, the original iMacs.
Join us on Facebook, follow us on Twitter or Google+, or subscribe to our RSS news feed
Charles Moore has been a freelance journalist since 1987 and began writing for Mac websites in May 1998. His The Road Warrior column was a regular feature on MacOpinion, he is news editor at Applelinks.com and a columnist at MacPrices.net. If you find his articles helpful, please consider making a donation to his tip jar.
Links for the Day
Mac of the Day: Macintosh 512K Fat Mac, introduced 1984.09.10. The first Mac with enough memory for serious work.
Recent Content
Custom Search
Follow Low End Mac on Twitter
Join Low End Mac on Facebook
Favorite Sites
MacSurfer
Cult of Mac
Shrine of Apple
MacInTouch
MyAppleMenu
InfoMac
The Mac Observer
Accelerate Your Mac
RetroMacCast
The Vintage Mac Museum
Deal Brothers
DealMac
Mac2Sell
Mac Driver Museum
JAG's House
System 6 Heaven
System 7 Today
the pickle's Low-End Mac FAQ
Affiliates
Amazon.com
The iTunes Store
PC Connection Express
Macgo Blu-ray Player
Parallels Desktop for Mac
eBay

Advertise