'Sleep of Death' a Hardware-Specific OS 9.2 Bug?
Charles Moore - 2002.06.04 - Tip Jar
There has been a lot of traffic on troubleshooting forums about the so-called "sleep of death" wake up from sleep bug that afflicts some PowerBook users, and perhaps others as well.
The typical symptom is that when you attempt to wake your 'Book from sleep, you are greeted with a gray screen and obliged to hard restart or reset the machine in order to get back into the Finder.
I had never experienced this problem until I installed the Mac OS X 9.2.1 upgrade on my WallStreet PowerBook last fall, but I found that subsequently about one in three wake ups would result in the phenomenon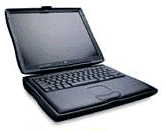 occurring. After several days of this, I gave up and went back to running OS 9.1, which I still had installed on another hard drive partition (I have four operating systems installed on the WallStreet - the others are OS 9.0 and Yellow Dog Linux 2.2).
The "sleep of death" has never happened on my WallStreet under OS 9.1, or for that matter under OS 8.1, 8.5.1, 8.6, or 9.0. I also haven't experienced it on my Pismo PowerBook under any OS version I've used with it - OS 9.1, 9.2.1, or OS X 10.1.x.
When I downloaded the Mac OS 9.2.2 updater, I was very interested to see whether the bug had been squashed. Unfortunately, it has not. Just like in OS 9.2.1, 9.2.2 displays a gray screen about every third wake up from sleep mode on the WallStreet, although this does not happen on the Pismo.
When this happens, I can still bring up MacsBug by pressing Command + Power Key and then entering the "es" command. This will bring back a partial view of the Finder screen and allow you to sequentially quit your open applications, but the Finder does not fully revive. The only resort is to type "rs" to reboot the Mac (or, if you don't have MacsBug, Command + Control + Power Key).
This is highly annoying, because otherwise I like OS 9.2. It seems a bit faster than OS 9.1, and it supports MacSpeech's iListen (which OS 9.1 does not). I switched to OS 9.2.2 when I installed the latest iListen 1.2, which is my preferred dictation app in the legacy OS. However, the "sleep of death" thing was just too much of an annoyance and hassle to tolerate, and after two weeks of frequent forced restarts, I again reverted to rock-stable and non-buggy OS 9.1.
I've tried trashing the Energy Saver preferences, which some have suggested might help, but to no avail. Others encountering this problem might try "downgrading" to OS 9.1 to see if that helps, but your mileage may vary. Problems like this are just another reason why having multiple partitions and operating systems on one's hard drive is a good idea.
I have heard that users are experiencing the sleep of death phenomenon in OS X as well, although this has not manifested on my Pismo. Suggested workarounds include:
Disconnect the Ethernet cable and/or USB cables prior to Sleep
From Energy Saver Options tab, enable "Wake for network administrative access."
Since the problem only manifests for me on the WallStreet, I'm obliged to infer that there is a bug in the OS 9.2 code that is specific to that machine (and perhaps others, but apparently not the Pismo).
Join us on Facebook, follow us on Twitter or Google+, or subscribe to our RSS news feed
Charles Moore has been a freelance journalist since 1987 and began writing for Mac websites in May 1998. His The Road Warrior column was a regular feature on MacOpinion, he is news editor at Applelinks.com and a columnist at MacPrices.net. If you find his articles helpful, please consider making a donation to his tip jar.
Links for the Day
Mac of the Day: Power Mac 8200, introduced 1996.04.22. The minitower version of 7200 was never sold in America.
Recent Content
Custom Search
Follow Low End Mac on Twitter
Join Low End Mac on Facebook
Favorite Sites
MacSurfer
Cult of Mac
Shrine of Apple
MacInTouch
MyAppleMenu
InfoMac
The Mac Observer
Accelerate Your Mac
RetroMacCast
The Vintage Mac Museum
Deal Brothers
DealMac
Mac2Sell
Mac Driver Museum
JAG's House
System 6 Heaven
System 7 Today
the pickle's Low-End Mac FAQ
Affiliates
Amazon.com
The iTunes Store
PC Connection Express
Macgo Blu-ray Player
Parallels Desktop for Mac
eBay

Advertise