Fix a Troubled Mac
Charles Moore - 2004.08.23 - Tip Jar
Fix a Troubled Mac is a PDF format ebook crammed with helpful Mac tips and information, written for savvy, self-sufficient Mac users. It starts with tutorials on the essentials of being your own IT support, covering 'The Concepts', including bringing one up to speed with TCP/IP networking, then addresses the practicalities of running your studio with a Mac OS X server, explaining FireWire hard drive backup strategies, font management, creating a software library, and introducing the basics of managing data in such an environment.
The rest of the book contains step by step hardware and software troubleshooting guides on various topics. Embedded hyperlinks are included for topic navigation within the book and on the Internet.
Fix a Troubled Mac takes full advantage of the portable document format (PDF) feature set, making extensive use of the hypertext index and topic links and external Internet URLs for exploring related information when you are online - although being connected to the Internet is by no means essential to getting the full benefit of this book, which also includes useful resources such as information and download URLs for software mentioned in the text, as well as extensive links to other topics that contain related information.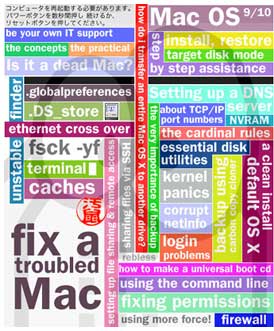 You can click on red text links to jump to a particular topic that is covered elsewhere within the book or blue text links for Web resources. There are also lots of screen shot illustrations and graphs as one expects in computer fixit books.
Topics covered include:
How to resolve startup problems
Resolving Mac OS X system software issues
Creating an emergency FireWire drive
Creating an emergency boot CD (Mac OS 9)
How to transfer data and create a bootable backup
Securing Mac OS X and how to setup GPG
Setting up or troubleshooting a network connection
Fixing Mac OS X fonts, caches, permissions issues
Using the command line for solving problems
Advice on running a Mac studio
The book's defining concept is to provide a resource of Mac-friendly IT support available all the time, but not at an hourly rate.
Fix a Troubled Mac's pseudonymous author "dirtymouse," (who is also a principal in the foofbag and foofpod laptop and iPod sleeve enterprise) has been troubleshooting Macs professionally for over six years and reveals troubleshooting tricks that most Mac users would have to pay for. There is extensive emergency troubleshooting help, step by step guides and useful command line help for advanced Mac OS X users.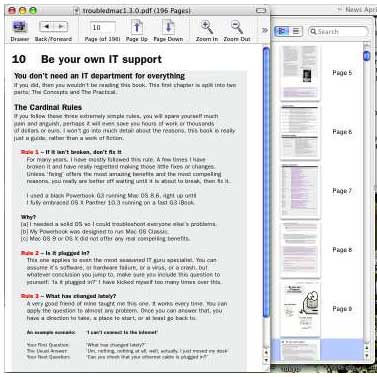 The book is intended primarily for advanced Mac users working in creative studio and production environments and looking after fleets of Macs or even just one mission-critical machine. The author assumes that you have at least some knowledge about how to get around using command lines.
You can read the book using PDF reader software like Adobe Acrobat Reader or Preview, which is my hands-down favorite for using PDF files. You can use Preview's Cocoa drawer thumbnails for page selection.
Chapter 1, Be Your Own IT Support, is split into two parts: The Concepts and The Practical. It begins with three cardinal rules:
Rule 1: If it isn't broken, don't fix it.
Rule 2: Is it plugged in?
Rule 3: What has changed lately?
Chapter 1 also covers topics like "Understand Networking," with subtopics:
Resolving the existential crisis
Understand the basic terminology & numbers
What are all these devices?
What is DNS & what is a domain?
Learn once, the very importance of backup
The benefits of your own servers
Why setup a file server?
Create your own support tools
Chapter 2, Running a Mac Studio, explains, "There are many computers on earth. Of these, there are only two types. The first is a 'user's computer' (client, desktop, laptop, workstation, my computer, my friend's computer), which usually runs programs like Photoshop, Outlook, Acrobat, Internet Explorer etc. The second type is a 'server' (maybe a desktop computer, possibly a black box or a rack mount device), which is essentially running a program or a group of programs that are doing a dedicated task or tasks like file sharing, web serving, email or domain name hosting etc."
Topics addressed in Chapter 2 include:
Networking & TCP/IP (much detail)
Setup a Mac OS X Server
How to set up the server
Mac OS X server suggestions
Setup a Retrospect backup system
Setup remote access
Configuring VNC Server
Configuring a Router?
Setting up a domain name server (much detail)
More (& where else to get help?) - lots of references and URLs
Chapter 3, Create Your Own Support Tools, notes that: "If you have been trying to troubleshoot a Macintosh, you will very likely need to have some emergency tools to do the job. Having an emergency FireWire drive, or at least a universal boot CD, will help you solve a lot of problems quickly. You can use both FireWire drive and bootable CD in tandem to achieve the best support tools available for almost any modern Macintosh. You will need to make sure you own a Mac OS CD installer and relevant disk repair utilities before you get started making your own emergency tools."
Topics:
Be prepared (with an emergency FireWire drive or boot CD)
Quick overview of some essential disk repair software (DiskWarrior, Disk Utility, Norton Utilities, TechTool Pro, Drive 10) with this bit of advice about 'installing' any repair utilities:
How to create support tools
How to make a Universal Boot CD (Mac OS 9)
How to make an Emergency FireWire Drive (Mac OS X)
How to make an Emergency FireWire Drive (Mac OS 9)
Advanced Emergency FireWire drive options
Chapter 4 is Hardware Problems, which addresses:
It's Dead, wrapped in plastic! (DOAs)
Startup Problems: cannot 'boot' system
Startup Problems: Is it a Dead Mac? Step by Step Guide
Problematic, unreadable, unrecognized format or hard drive locked Issues
Where else to get help with Apple hardware problems (lots more URLs)
Should I salvage parts from my dead Macintosh? (Before getting gloomy, see Testing hardware components before reading this)
Testing hardware components (with more Hardware reference links )
Chapter 5 is about Transferring Data, answering:
How do I transfer data?
FireWire Target Disk Mode
Using a portable FireWire drive or enclosure
Transferring files via an ethernet hub or switch
Transferring files via a cross over cable
Airport or Wireless
Use a USB camera, media card, or iPod
Moving your Mac OS to another drive
How do I transfer my Mac OS X system to another drive? (using Carbon Copy Cloner)
How do I restore using NetRestore?
Chapter 6, Troubleshooting Mac OS 9, covers:
Startup Problems - freeze during Extensions load or Finder Desktop
Basic Application Problems - on launch or during use
Troubleshooting an unstable Finder
How to update Mac OS 9 manually
How to Rebuild Mac OS from Scratch to 9.2.2
Have a maintenance plan
Have a backup plan
AppleShare, File Sharing or Network TCP/IP Issues
Setup ethernet, TCP/IP & PPP on Mac OS 9
Setting up access for ARA & file sharing
Resolving problems with your LAN Internet connection (Mac OS 9)
Chapter 7, Troubleshooting Mac OS X, the longest and most profusely illustrated chapter in the book, logically follows with topic sections on:
Startup Problems: Kernel Panic! (Crash or Freeze)
Step by step for resolving startup problems
Other Mac OS X startup problems
Corrupt netinfo databases: how to resolve login problems
Using More Force: Command Line Tools
Permissions problems: Cannot open folders or copy files
Learn to love virtual memory
Update Mac OS X manually
How to Rebuild Mac OS X from Scratch
Have a maintenance plan
Have a backup plan
Setting up multiple network connections (using Panther)
Setting up File Sharing and Remote Access
Chapter 8 is on Improving Mac OS X, with tips on how to:
Find the latest third party software updates quickly
I want 'this' to open in 'that' - how do I force OS X to comply?
I hate the dock!, How do I get rid of it?
Need a better Application Switcher?
Need a file sharing menu?
Need a disk space alert for your virtual memory problems?
Quick access to Preferences?
Quick navigation
Old habits die hard?
What's in your Contextual Menu?
How do you sync AvantGo in Mac OS X?
There is a ton of useful information in this book, and it is attractively and usefully presented. One shortcoming is the lack of an index. However, the clickable Table of Contents in the Cocoa drawer (alternate option to page thumbnails) gets you into the general neighborhood fairly efficiently.
You can purchase the book online usign Kagi, and you can download a free extract version for evaluation from <http://troubledmac.com>.
Fix a Troubled Mac covers Mac OS 9 and Mac OS X (Jaguar & Panther) and sells for:
$15 USD (1x update)
$10 USD (no updates)
Full Version PDF with 12 month subscription: $52
Upgrade to Full Version PDF with 12 month subscription: $39
The first two prices are bargains compared with print volumes. $52, on the other hand, is not much less than two editions of a hard copy book would cost, which would carry you through at least 12 months of OS upgrades, albeit with only one revision increment. I think that PDF publication should have a bit bigger price advantage at the 12 month subscription level.
A subscription lasts for one year from the date of first purchase and entitles you to receive updates and major revisions to Fix a troubled Mac' automatically. You will be notified of the new download URL to obtain the latest version when it becomes available.
Benefits of a subscription plan include:
Keep up-to-date with new (and revised) troubleshooting techniques and advice
Content is kept current with the latest
Mac OS release and incremental updates
Web links are regularly checked/updated
Support the continued development of chapter topics
Version: 1.4.8 (No. 9), 17-August-04, 218 Pages, File Size: 10.2 MB
Join us on Facebook, follow us on Twitter or Google+, or subscribe to our RSS news feed
Charles Moore has been a freelance journalist since 1987 and began writing for Mac websites in May 1998. His The Road Warrior column was a regular feature on MacOpinion, he is news editor at Applelinks.com and a columnist at MacPrices.net. If you find his articles helpful, please consider making a donation to his tip jar.
Links for the Day
Recent Content
Custom Search
Follow Low End Mac on Twitter
Join Low End Mac on Facebook
Favorite Sites
MacSurfer
Cult of Mac
Shrine of Apple
MacInTouch
MyAppleMenu
InfoMac
The Mac Observer
Accelerate Your Mac
RetroMacCast
The Vintage Mac Museum
Deal Brothers
DealMac
Mac2Sell
Mac Driver Museum
JAG's House
System 6 Heaven
System 7 Today
the pickle's Low-End Mac FAQ
Affiliates
Amazon.com
The iTunes Store
PC Connection Express
Macgo Blu-ray Player
Parallels Desktop for Mac
eBay

Advertise