RadTech BT600 Rechargeable Bluetooth Mouse
Charles Moore - 2006.10.17 - Tip Jar
I'm not a big fan of wireless mice. The absence of a cord is moderately convenient, especially for use with a notebook in mobile mode, eliminating cord tangles and the necessity of plugging and unplugging the mouse cord, but I fail to see much advantage in a wireless mouse for desktop use, with its requirement for periodic battery changes or recharging, the hassle of Bluetooth device pairing, and the minor annoyance of wake-up lag.
Nevertheless, wireless mice are becoming more and more popular, so perhaps I'm in a minority.
Charges via USB
The RadTech BT600 Bluetooth Wireless 5-Button + Scrolling Mouse is a full-size rodent that offers 5-button control along with 800 dpi optical tracking, rechargeable NiMH batteries, and in-mouse fast-charging via USB cable. Simply attach the USB charging cable to your computer, and the included NiMH batteries begin charging while you continue working.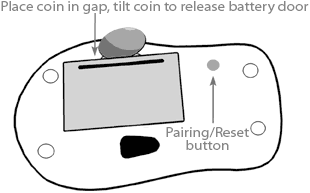 The BT600's battery compartment is accessed through a removable cover panel on the bottom that releases by using a coin, or, as I found, just with finger pressure. The two rechargeable AA NiMH cells slid in easily, and it only took a few seconds. You can find more information online.
Note: RadTech warns to only use rechargeable alkaline or NiMH cells in these mice, and only to connect the USB charge cable with NiMH cells installed in the mice (i.e.: don't try to charge regular alkaline batteries using the USB cable).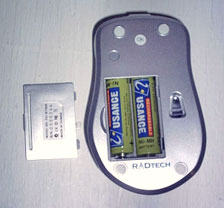 With this rechargeable mouse, you never need to get stranded with dead batteries - just connect the included USB charging cable and let the batteries charge while you continue working with the equivalent of a wired mouse.
The scroll wheel doubles as a charge/connection status indicator (blue/purple while connecting, red while charging, and green when fully charged). The batteries charge very quickly - taking under an hour for the indicator to turn green. The BT600 uses a cable with a standard mini USB connector of the sort used to connect digital cameras to computers or printers.
The BT600 automatically enters sleep mode after 2-3 minutes of inactivity; click a button or move the mouse while in sleep mode, and the connection is seamlessly restored in seconds. An easily accessible power switch (located on the the top of the BT600) allows the device to be manually powered down for extended periods of nonuse and prevents accidental power up during transport.
Bluetooth Mouse Setup
Connecting the mouse is simple - no drivers are needed for Mac or PC. OS X's Set Up Bluetooth routine (select from the Bluetooth menu) found the BT600 quickly and with no hassle.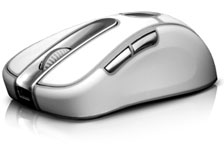 To activate the mouse connection, make sure Bluetooth is active on your computer. In OS X, check the "Discoverable" check box in the Bluetooth preferences panel and also "Show Bluetooth Status in the Menu Bar". On the mouse itself, make sure batteries are installed, and turn the power switch on. You may or may not have to press the pairing button (on the bottom near the optical sensor). The scroll wheel should glow blue to indicate that the mouse is in "Discoverable" mode.
From the Bluetooth menu, select "Set Up Bluetooth Device" and follow the instructions. When asked for "Device Type", select "Mouse". If you're using the mouse in conjunction with a Bluetooth keyboard, make sure to switch the keyboard on first and then the mouse (after the mouse has been paired). If asked for a pairing code, enter 0000 (four zeros).
Note: don't press press the pairing button once the mouse has been paired. If pressed, connection will be lost and the pairing process will need to be repeated.
Mouse Configuration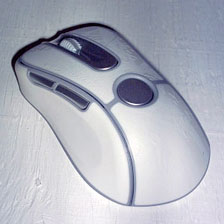 The BT600's buttons 4 and 5 are positioned near the right thumb for right-handed users, and all buttons are fully application assignable with no additional software. All the mouse buttons are fully application assignable with no additional software, but you can install RadTech's free RadMouse configuration driver (see below) and take even greater control of your digital domain.
The BT600's main buttons are quite light and comfortable to operate, although they could have a more robust feel to them. They're basically just plastic flaps that bend when you click, toggling a microswitch beneath. I don't think they would be especially prone to failure, but I'm not crazy about the feel.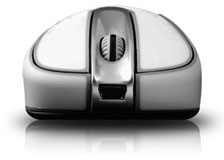 The scrollwheel works well, although it is detented, while my personal preference is for a smooth, rotary action. The scrollwheel also acts as the third button and is much stiffer than I prefer - but that's usual with scrollwheel click buttons.
I was not impressed with the side-mounted fourth and fifth buttons. The back one was way too stiff, and the front one even stiffer. Not a biggie for me, as I rarely use more than two mouse buttons routinely.
Otherwise this is a quite comfortable, full-size mouse with scallop-contoured sides that the hand cups naturally. All tactile contact surfaces are coated with a rubbery "traction" cladding - smooth in the side-scallops and textured on top. I'm a bit apprehensive about how grubby this off-white material will become in use, but I expect it can be cleaned successfully.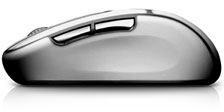 Styling-wise, this one doesn't especially grab me, but the BT600 works very well with smooth, light, and precise tracking. Note that there is a slight asymmetry in it's contours, which are oriented toward right-handed users.
The BT600 is a good, solid choice in a full-sized Bluetooth mouse. If wireless mice appeal and your Mac supports Bluetooth, it's well worth considering.
Link: RadTech BT600 Rechargeable Bluetooth Mouse
BT600 Features in summary:
Smooth tracking, maintenance-free 800 dpi LED optical technology
5-button control plus scroll wheel make navigating your workspace a breeze
Button can be assigned by applications - perfect for Expose' & Dashboard
BT Class II - Supports the standard HID profile for use with any device
10 Meter free space range - control your computer from across the room!
Frequency Hopping Spread Spectrum technology minimizes interference from other devices
Full-size form factor for those who prefer a larger mouse
Use with non-BT equipped computers requires a USB Bluetooth adapter
Power switch conserves battery power when not in use or stored
Use RadTech's free RadMouse HID driver for unparalleled control
BT600 Specs:
Radio Class: Bluetooth II
Frequency: 2.4 - 2.48 GHz
Profile: Bluetooth HID
Data Rate: > 700 Kbps
Tracking Method: Optical (LED)
Resolution: 800 dpi
Power: 2-5 VDC
2 x AA NiMH Cells included
Charging: Via USB Cable
Charge Rate: 500 mAh; 290 min
Dimensions: 109 x 67 x 36mm
Weight: 126g with Batteries
Product of Taiwan
System requirements:
Mac OS X 10.3 or later
PowerPC or Intel Processor
2 MB free hard disk space
Any RadTech Bluetooth mouse
Updated 04-26-2006
Price: $59.95
RadMouse Bluetooth HID Driver
Take full control of your RadTech Bluetooth mouse with RadMouse - RadTech's Bluetooth HID Driver & System Pref. Map mouse buttons and scroll wheel to single or multiple keystrokes or actions, adjust cursor tracking and scrolling speed, acceleration curves and more. And all custom settings can be global, or application specific.
Link: RadMouse Driver
Join us on Facebook, follow us on Twitter or Google+, or subscribe to our RSS news feed
Charles Moore has been a freelance journalist since 1987 and began writing for Mac websites in May 1998. His The Road Warrior column was a regular feature on MacOpinion, he is news editor at Applelinks.com and a columnist at MacPrices.net. If you find his articles helpful, please consider making a donation to his tip jar.
Links for the Day
Mac of the Day: eMac, introduced 2002.04.29. 50 lb. 17" white G4 eMac replaced the iMac for the education market.
Recent Content
Custom Search
Follow Low End Mac on Twitter
Join Low End Mac on Facebook
Favorite Sites
MacSurfer
Cult of Mac
Shrine of Apple
MacInTouch
MyAppleMenu
InfoMac
The Mac Observer
Accelerate Your Mac
RetroMacCast
The Vintage Mac Museum
Deal Brothers
DealMac
Mac2Sell
Mac Driver Museum
JAG's House
System 6 Heaven
System 7 Today
the pickle's Low-End Mac FAQ
Affiliates
Amazon.com
The iTunes Store
PC Connection Express
Macgo Blu-ray Player
Parallels Desktop for Mac
eBay

Advertise