2 Earbuds and 2 Headsets for Music and Gaming
Charles Moore - 2007.06.11 - Tip Jar
Earphones are one of the more personal computing peripherals - and one of the more important ones as well, as music-listening has become a bigger component of the computer-as-digital-hub experience and interactive and multimedia elements are integrated into more applications - especially games.
Then there's the iPod....
Since the earphone interface is pretty well standardized on the 1/8" (3.5 mm) mini-jack these days, there is a vast selection of potential earphone solutions. In this column, we'll take a look at a few I've been using lately.
Proporta Coloured Stereo Earphones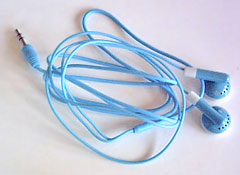 My iPod came to me secondhand, sans earbuds, so I initially just commandeered the earphones that came with my Sony Proporta, but more recently I've been partial to a Robin's Egg Blue pair of Proporta Coloured Stereo Earphones, which as the name hints are available in a variety of colors.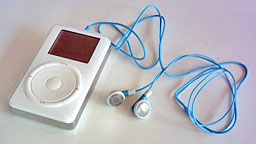 However, these earbud-style earphones aren't just eye-candy; they deliver kick-butt sound quality, definitely up a notch or two from the Sony headphones.
Personally, I can't say as I'm in love with the earbud concept in general, whether it be these or other brands. Two fiddly to insert, especially if you're taking them on and off frequently, and not terribly secure once you get them situated. Maybe it's just the shape of my ears.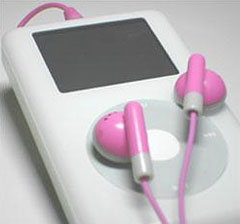 However, these Proporta earphones sound so good that I'm inclined to put up with those minor aggravations.
Proporta Coloured Stereo Earphones Specifications:
Earbud-style headphones with 18-mm drivers using Neodymium transducer magnets
Standard 3.5mm jack
Frequency response: 20 Hz to 20,000 Hz
Impedance: 32 ohms
Available in pink, blue, black, green, and ivory white
At $24.95, these attractive little earphones aren't the cheapest solution, but they arguably deliver a lot of sound quality for the money, and they come with a lifetime warranty.
Link: Proporta Coloured Stereo Earphones
Proporta Retractable Headphones
Tired of having your earbud cables get tangled in your pocket, computer case, or backpack? I have little patience with cord tangles. The Proporta Colored Stereo Earphones are great for use at your workstation and around the house, but on the road I usually carry a set of Proporta Retractable Headphones in my computer case or backpack.
Proporta's Retractable Stereo Headphones are pitched as being "bass enhanced," although I would give the non-retractable Colored Stereo Earphones a definite edge in the bass response department, which is no doubt why they're more expensive. However the retractable 'Phones deliver very good, albeit somewhat less gutsy sound quality, and have the advantage that you can slip them into your pocket or wherever without worry about tangles or cord loops.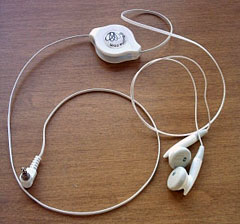 These earbud-type headphones with any device that uses a standard 3.5 mm audio jack. and are perfect for use with PDAs, laptop computers and of course MP3 players like the iPod.
The way this earphone set's retractable mechanism works is similar to other retractable cord devices, with a central, spring-loaded ratchet reel onto which the cords load form two directions. Pull the cords out to full extension and the ratchet locks the reel until you give it another tug and the cords retract again. I found that this works fine, so long as you carefully heed the instructions for use on the package and pull both cables (the earphone end and the 3.5mm jack end simultaneously and evenly. Otherwise there is very real risk of the cord taking up unevenly and snarling.
At $16.95, these handy earbuds won't flatten your wallet, and you're not giving up high fidelity sound for the convenience of retractability.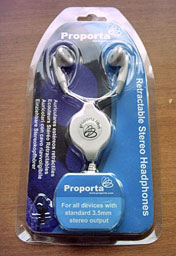 Features include:
No tangles
Weighs just 32 g
Measures a full 105 cm (41") when extended and retracts to just 11 cm (4.3")
Fits easily in your pocket
$16.95
Link: Proporta Retractable Headphones
SteelSound 3H and SteelSound 4H Gaming Headsets
Now on to something a bit different in the earphone category.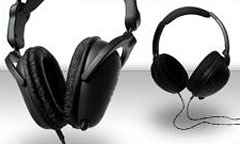 SteelSeries, a division of Denmark's Soft Trading ApS, the computer gaming accessory specialists who make the excellent SteelPad mousepads (their 4D mousepad is my all-time favorite) and a variety of other gaming-oriented computer accessories, also offer several headset/microphone combo products that are targeted at serious gamers - and are well worth a look even if you never or seldom play computer games.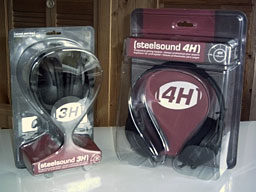 The first headset from SteelSeries was released way back in 2005, a product created and optimized to enhance users' gaming experience - to support sophisticated sound effects used in cutting-edge eSports games today - alerts, footsteps, gunfire and reloads, and incidental music. First-rate sound reproduction can help you improve game performance by allowing you to rely on your hearing sense as well as visual and tactile stimuli. I've found them great for listening to music as well.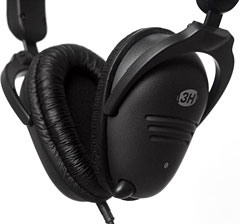 The sound quality these headsets deliver really is impressive. The speaker specifications are different for the two products, however. The less expensive 3H model delivers a bassy, punchy, Phil Spector style "wall of sound" effect, although I found the high-end frequency reproduction a bit "muddy." If you like bass, however, these 'phones will blow you away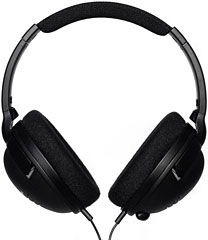 The 4H is less heavy on the bass and considerably clearer and more refined throughout the audio range, especially the higher registers, but with less gutsy bass. Both sound good, but the 4H's audio performance is more to my taste.
Speaking as someone who doesn't really like wearing headsets, I can testify that both of these SteelSound headsets are surprisingly comfortable with well-designed ear padding.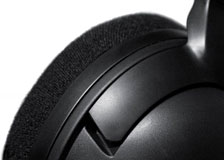 The SteelSound 3H headset is SteelSound's entry-level professional gaming headset product, but it still offers impressive performance, and found its generously padded ear cushions comfortable to wear for extended periods, although they're smaller than the 4H's XL-sized ear cups.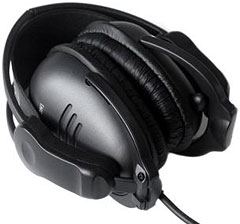 The 3H unit is designed to be "foldable and collapsible," making it a more compact package for storage and transport, although it will still not fit in the side pockets of most computer bags.
Consequently, the 3H headset is somewhat less robust than its bigger 4H sibling, especially the articulated joints at the top of the headband, which could be more robust.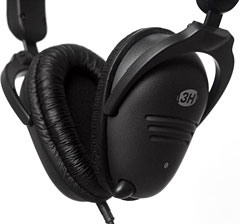 Aside from that criticism, the SteelSound 3H appears to be well constructed to a high standard of finish, and the connector cable which terminates in standard 3.5 millimeter mini-plug connectors for the mic and earphones is of a heavy enough gauge that it should prove strong and durable even under vigorous use.
The SteelSound 4H headset is approximately one-third larger than the 3H unit and has XL-sized, comfortably padded ear cups, although I had no complaint about the wearing comfort of smaller headset (which is also lighter, which contributes to the latter's comfort profile). The ear cup padding on both units does a good job of muffling environmental sound levels, although if you have largish ears, the smaller ear cups on the 3H model may not fit to your head as closely as the larger 4H cups. I had no difficulty in that regard. Whatever, if you're playing a game and/or listening to music, the speakers are loud enough to drown out background noise anyway (caution is advised with any earphone product to avoid hearing damage).
The 4H does have a more substantial feel than the 3H model, and its headband is not hinged or or articulated, so naturally it is somewhat heavier to wear on your head - not really uncomfortable, but you do notice it more after an hour or so than you do with the 3H. The 3H is also easier to transport and store.
As noted above, I found the 4H's sound reproduction to be somewhat higher fidelity than the 3H model's. The 4H speakers have a frequency response of 16-28,000 Hz with 40 ohm impedance, while the bassier 3H phones' spec is 10-27,000 Hz with 50 ohm impedance. If you are buying these phones with music listening a priority (and they work great with my iPod), the 4H offers distinctly superior sound quality, at least for classical and easy listening selections. For rock & roll (and gaming!), the impressive bass grunt of the 3H speakers might be more appreciated. It really depends on your taste and how much you like bass as opposed to cleaner reproduction in the higher registers.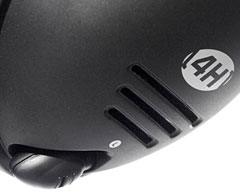 A feature that substantially enhances the value of these SteelSound products is that both headsets also have retractable voice microphones on infinitely adjustable flexible stalks in their left earcup, which can disappear almost out-of-sight when not in use.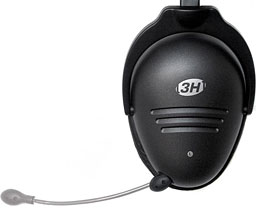 The 3H features a 50 - 18.000 Hz pickup pattern, while the 4H has a 75-16,000 Hz pickup pattern unidirectional mic, making either an excellent choice for both games that support voice input and IP-telephony programs like Skype.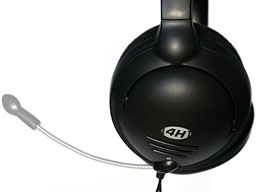 A good test of mic performance is how well they do with dictation software, so I ran each of the SteelSound headset mics through iListen's "Set Up My Microphone" routine. I'm happy to report that iListen, which can be quite picky about microphone input quality, pronounced both the 3H and 4H mics "suitable for dictation" and the sound playback of the setup text in both cases was very clean.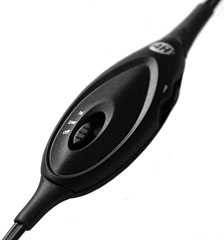 I was not able to discern any difference in the respective performance of the two microphones - both did fine - but the 4H includes a three-way inline microphone switch in the cable with low and high volume and off positions, which is convenient, and has a small clip to attach to your shirt if you wish.
On the downside, the diameter of the cables used on the 4H headset is considerably lighter than I would prefer and cause for some concern about how well they will hold up to wear and tear. The advantage is, of course, more flexibility and lighter weight, but I think the 3H model's heftier cable is better, especially for a gaming headset that is likely to be used - how shall we say? - exuberantly.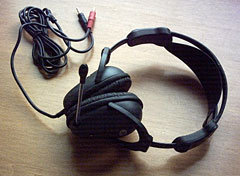 The 4H headset also doesn't connect the two 'phones with a wire running from one earphone to the other across the headband as with the 3H, but has wires to each earphone descending on either side of your head and joining at about chest level. I much prefer the 3H's less cumbersome single cable.
These SteelSound 3H and 4H gaming headsets are both really nice products, and both are modestly priced, especially considering that they include a first-rate microphone, and both (IMHO, especially the 4H) can serve very satisfactorily for music-listening as well as gaming.
The SteelSound 3H sells for €39.95 / US$49.95 / DKK: 299 + shipping
The SteelSound 4H sells for €49.95 / US$69.95 / DKK: 399 + shipping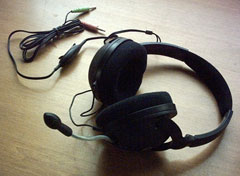 Personally, aside from my concern about the small gauge connector cables' durability, I think the higher-quality sound reproduction and generally more rugged construction of the 4H unit justifies its $20 cost premium, but if lighter weight and a small package to store and transport are priorities for you, or if you just like a lot of bass, the 3H model may fit your needs and tastes better for less money.
Link: SteelSeries Audio Products
Join us on Facebook, follow us on Twitter or Google+, or subscribe to our RSS news feed
Charles Moore has been a freelance journalist since 1987 and began writing for Mac websites in May 1998. His The Road Warrior column was a regular feature on MacOpinion, he is news editor at Applelinks.com and a columnist at MacPrices.net. If you find his articles helpful, please consider making a donation to his tip jar.
Links for the Day
Mac of the Day: eMac, introduced 2002.04.29. 50 lb. 17" white G4 eMac replaced the iMac for the education market.
Recent Content
Custom Search
Follow Low End Mac on Twitter
Join Low End Mac on Facebook
Favorite Sites
MacSurfer
Cult of Mac
Shrine of Apple
MacInTouch
MyAppleMenu
InfoMac
The Mac Observer
Accelerate Your Mac
RetroMacCast
The Vintage Mac Museum
Deal Brothers
DealMac
Mac2Sell
Mac Driver Museum
JAG's House
System 6 Heaven
System 7 Today
the pickle's Low-End Mac FAQ
Affiliates
Amazon.com
The iTunes Store
PC Connection Express
Macgo Blu-ray Player
Parallels Desktop for Mac
eBay

Advertise