Odysseus Cometh: The Real Successor to Eudora
Charles Moore - 2008.04.21 - Tip Jar
Back in December, I wrote that I have been provisionally crossing my fingers and pinning my hopes on an announcement from Infinity Data Systems that they are working on a real successor to the Eudora POP3 email client program that will be true to the Eudora tradition and experience.
Well, it looks like my hopes are about to be requited.
For those of us who want a Eudora successor that's more than just a Eudora-themed Thunderbird, Odysseus cometh.
If you're a Eudora user and fan, you're probably aware that in late 2006 Qualcomm terminated development of the venerable program and handed of the Eudora name to the Mozilla organization, developers of the open source Thunderbird email client. Since then, Mozilla's "Penelope" project has been working on - and periodically releasing - public betas of a new, open source "Eudora" (version 8) email client based on the Thunderbird engine.
I've tried to keep a positive and open mind, but I have been pretty underwhelmed by the Eudora 8 betas, which are essentially Thunderbird with some Eudora-style appearance themes, icons, and a few feature tweaks grafted on.
I am a consummate, dyed-in-the-wool, classic Eudora fan, and Mozilla Thunderbird - or for that matter any three-pane user interface email client dating back to Claris Emailer - is simply not my cup of tea, so dressing T-bird up in a Eudora wig and falsies is not going to cut it for me, or a lot of other Eudora aficionados.
I remain hopeful that the Penelope team at Mozilla will be able to come up with a reasonably good email client through their labors, which I in no way disparage, and any "Eudora-ness" that rubs off on Thunderbird will be to the good.
But so far, Eudora 8 has been, well, a big disappointment, and I've been provisionally soldiering on with classic Eudora 6.2.4, which IMHO is about as close to perfection as any Mac POP3 email client has come thus far, and which works superbly with Mac OS versions up to 10.4.11 "Tiger".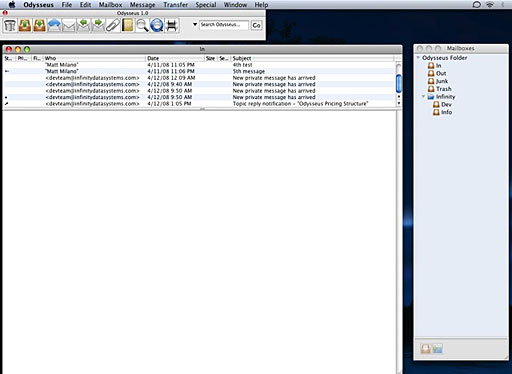 However, with OS X 10.5 Leopard, it's a different kettle of fish. Qualcomm did release a minor compatibility patch for Leopard, but using the program day in and day out, performance has become somewhat raggedy and unstable, and the proverbial writing is on the wall that the end is in sight for classic Eudora as a practical email program for OS X users. It can be safely anticipated that a future (perhaps the next) Mac OS version upgrade will break Eudora (the OS X version of which is a Carbon port of the old Classic Mac OS Eudora, which dates back nearly to the dawn of the public Internet) completely, or some new Web feature will not be supported by the old application.
Consequently an announcement from Infinity Data Systems last week that version 1.0 of Odysseus - the real Eudora successor true to the Eudora tradition and experience they've been working on for the past year or so - will be released on May 12, 2008 is sweet music to this Eudora-user's ears.
An Infinity Data Systems spokesperson informed me last week that development of Odysseus has been progressing at a rapid rate, and the program is currently being tested by a select group of approximately 500 individuals in preparation for a public beta release toward the end of this month, with a final release in May.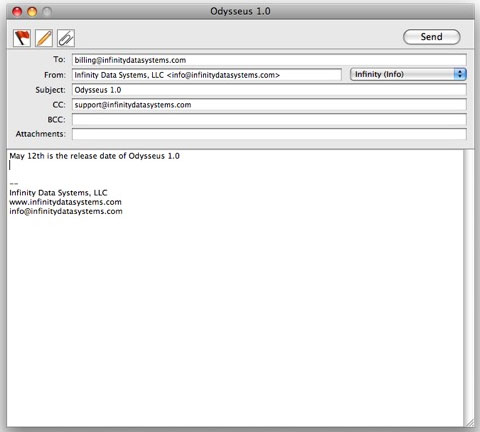 Infinity Data Systems affirms that Eudora has always been a best-of-breed email application for both dominant platforms, Macs and Windows, offering features either not found in competing applications or, if found, not implemented as elegantly. "Like many Eudora users, we don't believe that modifying Thunderbird to mimic Eudora offers Eudora users the features, functionality, or experience they've come to love and depend on. It's our belief that only an application written from the ground up can adequately succeed a program as great as Eudora."
I couldn't agree more.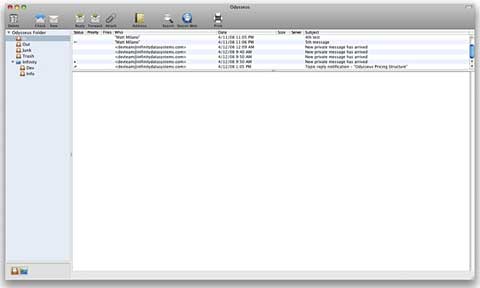 IDS says Odysseus will share the same advantages as Eudora, and it is designed to have the same features, options, and capabilities that users have come to rely on. Compared to Eudora, Odysseus has the advantage of being under active development by a software company claiming dedication to making Odysseus the best email client in existence. This includes improving on areas where Eudora had started to lag behind, such as integration with the individual operating systems that it runs on."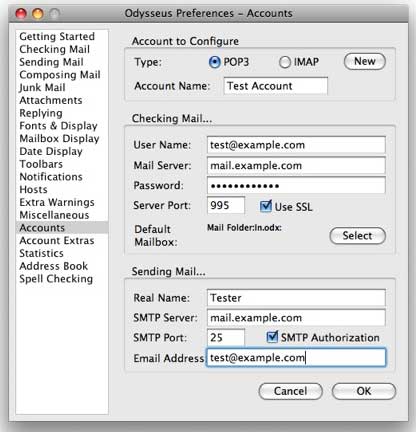 Odysseus is not based on the Eudora code base, since, as the license holder for that code, Qualcomm was not in a position to simply hand that code over to anyone else, which is why even Mozilla's Thunderbird/Eudora 8 effort isn't based on the original code base, but is instead an attempt to modify a copy of the Thunderbird code base to mimic Eudora.
On the other hand, IDS says that if there is a particular feature you like in classic Eudora, it will probably be present in Odysseus 1.1, which will be focused on replicating the Eudora experience that fans know and love, with more refinement and advanced features to be added in subsequent versions as development progresses.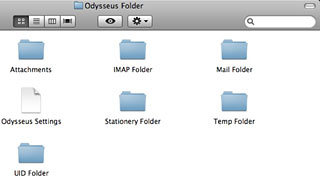 Odysseus will be commercial software (as Qualcomm's Eudora was) and not open source. It will sell for $39.95, about the same price point as classic Eudora. The program is being developed with support for Mac OS X and Windows, with Linux compatibility being looked at for the future. Version upgrade prices, anticipated roughly annually, are projected to be $19.95, and if a full version number upgrade occurs in under a year's time, it will be free for users of the previous version.
The upgrade price is currently available to individuals who would like to receive a license to Odysseus at a discount price. While the final application will not be widely available till May 12th, anyone who pre-registers between April 15th and May 11th will receive a license (and serial number) to the final version of Odysseus at approximately half price.
Having faced the dismal realization that there simply isn't an alternative to Eudora that comes remotely close to being a satisfactory replacement - according to my criteria of "satisfactory" - it's a massive understatement to say that I wish Infinity Data Systems a rip-roaring commercial success with Odysseus, and I'll be waiting impatiently for that public beta release in a couple of weeks.
Join us on Facebook, follow us on Twitter or Google+, or subscribe to our RSS news feed
Charles Moore has been a freelance journalist since 1987 and began writing for Mac websites in May 1998. His The Road Warrior column was a regular feature on MacOpinion, he is news editor at Applelinks.com and a columnist at MacPrices.net. If you find his articles helpful, please consider making a donation to his tip jar.
Links for the Day
Mac of the Day: 14" 600 MHz iBook G3, introduced 2002.01.07. The first 14" iBook ran at a comfortable 600 MHz.
Recent Content
Custom Search
Follow Low End Mac on Twitter
Join Low End Mac on Facebook
Favorite Sites
MacSurfer
Cult of Mac
Shrine of Apple
MacInTouch
MyAppleMenu
InfoMac
The Mac Observer
Accelerate Your Mac
RetroMacCast
The Vintage Mac Museum
Deal Brothers
DealMac
Mac2Sell
Mac Driver Museum
JAG's House
System 6 Heaven
System 7 Today
the pickle's Low-End Mac FAQ
Affiliates
Amazon.com
The iTunes Store
PC Connection Express
Macgo Blu-ray Player
Parallels Desktop for Mac
eBay

Advertise