Farewell to Geocities (and Some Free Alternatives)
Charles Moore - 2009.04.27 - Tip Jar
Back in 1998, I had a Geocities website. So did my kids and their friends - and my friends. If you were online a dozen or so years ago, there's a good chance you had a Geocities site as well, or at least with one of Geocities' rivals, of which there were several in the free Web hosting space.
Geocities and its contemporaneous rivals Angelfire, Tripod, Fortune City, (all still around) et al., were essentially the FaceBook, MySpace, and YouTube of their time, a primitive and somewhat cumbersome prototype of social networking.
The Geocities Story
Geocities was launched by developers David Bohnett and John Rezner in late 1994 as Beverly Hills Internet (BHI) and adopted the Geocities name in 1996. With Geocities, anyone with a computer and Internet access could establish a presence on the World Wide Web - for free. GeoCities' particular wrinkle was "cyber neighborhoods" - grouping sites in categories of interest, as well as offering users a set of site creations tools and proto-social networking features like news, chat rooms, and polls.
It was a bit intoxicating for an Internet newbie, although (as with FaceBook, etc.) most of the content tended to be banal and trivial. Reportedly, Geocities has hosted more than 3.5 million websites hosted on its service.
Personally, I soon got bored with the novelty and moved on to other things, and now, a decade plus on, Geocities is moving on and out.
The End Is Near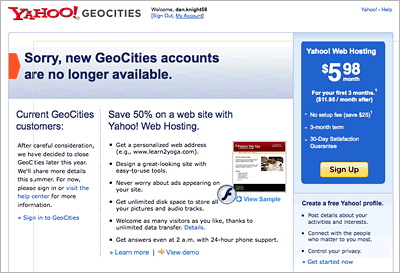 Late last week, Yahoo! Inc., which first partnered with Bohnett and Rezner in 1998 and purchased Geocities from them with much fanfare in 1999 for $3.57 billion, announced that GeoCities will close later this year.
"We have decided to discontinue the process of allowing new customers to sign up for GeoCities accounts as we focus on helping our customers explore and build new relationships online in other ways. We will be closing GeoCities later this year."
If you have a Geocities website, you are offered the alternatives of either upgrading to Yahoo! Web Hosting for a fee (starting at $5.98 per month) or just letting your Geocities site and its content evaporate later this year when the service is terminated.
However, there is no reason to panic if you have a Geocities site with content you want to salvage. The Yahoo! notice also says: "You don't need to change a thing right now. We'll provide more details about closing GeoCities and how to save your site data this summer, and we will update the help center with more details at that time."
2012/charles-moore-picks-up-a-new-low-end-truck/ src= "art/geocities-1996.gif" alt="Geocities in 1996" align="bottom" height= "473" width="448" />
What Geocities looked like in 1996.
Last evening I mentioned the Geocities shutdown on the phone to my daughter, who was a Geocities fan and tenant back in the day. She thought it was unfortunate to see the service go, but more from nostalgia than inconvenience. It's a little sad, I suppose, particularly for folks who are still active users, but Geocities' time was arguably past, so its demise was virtually inevitable, no doubt accelerated by the economic crisis and the scramble to monetize Internet assets and services as much as possible. Yahoo! is struggling for survival these days, and I wish them well.
Free Alternatives
Not to say that free website hosting is dead by a long shot. For example, aside from the veteran services mentioned above, 50megs.com offers an eponymous 50 megabyte service for free and larger capacities for reasonable monthly fees. TheFreeSite.com has several pages of free Web hosting service profiles and links.
You can also try the free-webhosts.com "Free Webspace" website hosting services search engine, a directory list of free web hosting providers that claims to be linked to about 300 of the best free web space hosting sites with reviews, testimonials, and ratings, and is updated daily
According to a report on TechCrunch, GeoCities' traffic had been falling precipitously over the past year with ComScore tracking GeoCities unique visitor's count in the US falling 24% in March to 11.5 million unique visitors from 15.1 million in March of 2008, while in October, 2006 it had 18.9 million visits.
This development also begs the question of how long FaceBook, MySpace, YouTube, and Twitter have before they hit their "best before" date and begin an inevitable decline into oblivion, or perhaps morph into for-fee services, being superseded in prominence by whatever "next big thing" comes next.
Join us on Facebook, follow us on Twitter or Google+, or subscribe to our RSS news feed
Charles Moore has been a freelance journalist since 1987 and began writing for Mac websites in May 1998. His The Road Warrior column was a regular feature on MacOpinion, he is news editor at Applelinks.com and a columnist at MacPrices.net. If you find his articles helpful, please consider making a donation to his tip jar.
Links for the Day
Mac of the Day: Macintosh 512K Fat Mac, introduced 1984.09.10. The first Mac with enough memory for serious work.
Recent Content
Custom Search
Follow Low End Mac on Twitter
Join Low End Mac on Facebook
Favorite Sites
MacSurfer
Cult of Mac
Shrine of Apple
MacInTouch
MyAppleMenu
InfoMac
The Mac Observer
Accelerate Your Mac
RetroMacCast
The Vintage Mac Museum
Deal Brothers
DealMac
Mac2Sell
Mac Driver Museum
JAG's House
System 6 Heaven
System 7 Today
the pickle's Low-End Mac FAQ
Affiliates
Amazon.com
The iTunes Store
PC Connection Express
Macgo Blu-ray Player
Parallels Desktop for Mac
eBay

Advertise