Could Steve Jobs Save Even One of the Big Three?
Charles Moore - 2009.03.02 - Tip Jar
Here's a point to ponder. In 2000, General Motors had a market capitalization of $28.3 billion, while Apple Computer's market capitalization was a modest $5.56 billion. On December 30, 2008, GM's market capitalization had diminished radically to a paltry $2.99 billion, but Apple's had ballooned even more radically to $85.25 billion, and the company's cash holdings have grown at an annual rate of 50% (year-to-year) or more every quarter for the past two years.
Of course, things have deteriorated for both companies since then, with GM's market cap last Friday down to less than half of its 2008 year-end figure to a barely there (by major corporate standards) $1.37 billion. Apple is down somewhat on the year as well, but still worth a robust and impressive $79.54 billion.
For bit more perspective, Ford Motor Company's market value at the beginning of 2000 was $60 billion, but it was quoted at $4.78 billion last Friday - a lot better than GM, but eating Apple's dust as well.
If Steve Jobs Ran GM...
All of which makes fantasizing about drafting Steve Jobs to save GM an intriguing proposition. I think it was the New York Times' Thomas Friedman who launched this line of speculation last fall (before the seriousness of Jobs' current health issues was public knowledge) with his comment: "somebody ought to call Steve Jobs, who doesn't need to be bribed to do innovation, and ask him if he'd like to do national service and run a car company for a year. I'd bet it wouldn't take him much longer than that to come up with the GM iCar."
If you are a regular reader, you will perhaps recall my column of a few weeks back about the iCar rumors (which were not associated with GM). Anyway, the idea quickly caught the fancy of many other commentators both in the financial press and the Mac Web blogosphere.
Cnet's Charles Cooper noted that Jobs "embodies a textbook example of how creativity can rescue a near-moribund operation. After Jobs returned to Apple in 1997, he did not hesitate to pull the plug on dead-end projects like the Newton, or ruffle feathers by cutting off the Mac clone makers. At the same time, he infused Apple with a design aesthetic that manifested itself in the development of products such as the iMac, Mac OS X, the iPod, and the iPhone. None of this was preordained; it was the result of innovative thinking and fast execution."
Computerworld's Preston Gralla observed that despite his dislike of Jobs, he thought Friedman was on to something, commenting: "While I dislike Jobs for his arrogance, his vindictiveness, and the way he uses attack-dog lawyers to muzzle any criticism or dissent, he's probably one of the few people who could turn around GM. He's a great innovator and designer, and understands what consumers are looking for. He did a brilliant job of turning around Apple. He might be able to do the same for GM."
Architosh's Anthony Frausto-Robledo suggested that "Judging from the way Jobs took hold of Apple in 1997 when he came back to save the company we could certainly assume that Jobs would slash product lines very dramatically . . . Steve Jobs stands for innovation, true innovation. Jobs also stands for originality, independent thinking and a complete passion for the energy he puts behind his company and its products. From this perspective one could reasonably assume that Steve Jobs would just say screw the Big Three, they all fail on the merits for which he lives and breaths . . . However, if the government said, 'Steve, we've made a decision that Detroit is a critical piece of our country's future, we are going to save these companies to some degree, but we want you to tell us what you would do, if you were in complete control of the situation....'"
And just this past weekend, experimentalmu's journal blogged (presumably English is not the author's first language) that "What Steve Jobs do with Apple be he unbutton the company spike to executive who were staunch to him and a polished of obscurity he could truly handle. The Apple he take over and done with was on eradication monitor, largely because it couldn't execute and it was facing a market made up of cheaper products, both that beck the then-aging Mac OS, and Windows that were cheaper and unanimously in-between to the requirements of the market . . . If Steve were to cart over GM, he would feasible purge a few the division that overlap."
The Big Three's Death Spiral
It's hard to imagine a world without General Motors, but it shouldn't be unthinkable, and I'm skeptical that multibillion dollar government bailouts (euphemized as repayable loans) can save these wounded titans of North American industry. I'll be surprised if more than two of the Detroit Big Three emerge from this recession (when will we face reality and call it a depression?) as more than a radically downsized and fragmented vestige of their former selves.
Last week, GM reported a $9.6 billion fourth-quarter loss, and that it hemorrhaged $6.2 billion in the last three months of 2008, including a $4 billion government loan
After already receiving $9.4 billion in US government loans and commitment for $4 billion more, plus $3 billion in loan guarantees from the Canadian and Ontario governments, GM is back with its hand out for reportedly another $16.6 billion from Washington and $7.5 billion from Ottawa and Queens Park. Anyone who imagines it will stop there is the sunniest of optimists. GM disclosed last week that it burned through $19.2 billion in cash last year on its way to a $30.9 billion loss for the year, and said its only hope of living another year is more aid from the government, which IMHO should at least be taking an equity stake in the companies in return for doling out any more cash. Some analysts suggest that automaker bailout demands could reach $100 billion cumulatively.
However, if GM a can't be made viable through restructuring, downsizing, and, most importantly, substantial, sustained labour contract concessions, those billions of taxpayer dollars that have been ponied up - and whatever billions more to go down the GM chute - will be irretrievably down the tubes with no more to show for it than brief postponement of the inevitable.
I would like to think GM and Chrysler can be saved, but I'm pessimistic (I have doubts about Ford as well). The burden of uncompetitive labour costs plus grandfathered pension, benefit, and health care obligations weighs just too heavily in this snake-bit economy, which I expect will beleaguer us well into the next decade. The automakers' troubles were 40 years in the making - not something that dropped out of the blue when the economy went over a cliff last fall. Detroit has been bleeding market share since the 1960s, largely because offshore (and increasingly onshore) competition proved able to deliver better content, quality, reliability, and value for the consumer dollar.
What Would Steve Design?
So what sort of car would Steve Jobs pitch as the automotive analog of the iMac, that proved the salvation and launch vehicle for Apple's renaissance?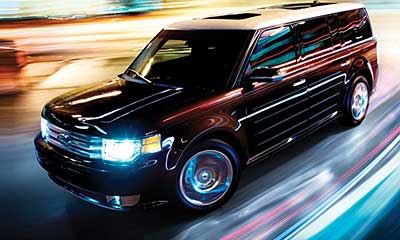 Well, the bitter irony is that Detroit is already making some of the best product in its history just as it hits the wall. For instance, Consumer Reports recently singled out the Chevy Malibu, Cadillac CTS, Ford Flex, and Ford F-150 as ranking near the top of their classes in its overall rankings, while the Automobile Journalists Association of Canada named the Flex (which is built in Oakville, Ontario) as their 2009 Best Canadian Utility Vehicle of the Year. I think the truly innovative and edgy Flex actually is the sort of car that Steve Jobs might come up with, while also being retro - in a good way.
Back in the 1960s, when American cars ruled the roads, none were more emblematic of mainstream middle-class North American aspirations than station wagons. Like most kids of the era, I fondly remember traveling on the cargo decks of these big boats, or in the "wayback" third-row or facing seats when most cars didn't have seat belts and using them was optional.
The stereotypical wagon of my "wonder years" was Ford's Country Squire, a faux wood-paneled tribute to mid-20th Century middlebrow taste. Admen dubbed Ford "The Wagon Master", and it seemed every family with more than two kids (and plenty with fewer) drove Country Squires. My friends down the block (three kids), wealthy enough to own any car they liked, drove a Squire. So did my American summer neighbors (five kids), and countless TV sitcom families. My family even had a Ford-built fake "woody", although being two kids and one parent we managed to get along with a compact (so to speak) Mercury Comet Villager of 1963 vintage.
2012/charles-moore-picks-up-a-new-low-end-truck/ class="left/2012/charles-moore-picks-up-a-new-low-end-truck/" src="mr0304/flx09_pg_032.jpg" alt= "Ford Flex" align="bottom" height="240" width="400" />The Ford Flex evokes something of the same ineffable vibe those Country Squires did 40 to 50 years ago. The new, Oakville, Ontario-built Ford Flex doesn't look at all like the big Ford wagons of yore, other than perhaps in having a generally squared-off styling theme. There's no fake wood paneling (mercifully), but a Flex styling highlight is four indentations or "strakes" on its flanks serving function by adding rigidity to what are pretty slab-sided door panels. Other homages to Ford wagons of yore are two-tone color schemes, a massive chrome grille, and a wide, bright metal trim panel across the rear liftgate.
I expect the Flex matches or betters the 60s Squires' interior volume, and with three rows of seats (all forward facing and with seat belts) exceeds them in practical passenger capacity and comfort for six or seven. It's also safer, with the highest five-star frontal and side impact NHTSA crash test ratings and a class-leading four-star rollover rating. It's also way-cooler - cool being something the old Country Squires were emphatically not.
It's vastly more efficient than those old boats with their gas-slurping V8 engines of up to seven litres displacement; the Flex has a 3.5 liter, 24-valve, single overhead cam V6 delivering a very respectable (for this size vehicle) EPA fuel economy rating for the front-wheel-drive Flex of 17 mpg city/24 mpg highway, and its 262 horsepower supports a towing capacity of 4,500 pounds. The Flex is basically a modern front-wheel-drive car, based on the Volvo S-80/Taurus X chassis - but optionally available with all-wheel-drive, something that couldn't be had with any Country Squire.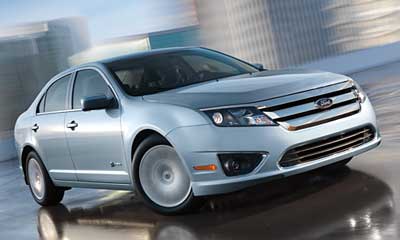 Not an iCar perhaps, but definitely Jobsian in the sense that Ford could have played it safe in designing a new crossover utility vehicle, but instead opted to swing for the fences with the Flex. An iCar in this market would probably have to be a hybrid, but Ford has that base covered as well with the 2010 Fusion hybrid that is getting rave reviews from the automotive press, and which will start at a competitive $19,270.
Jobsian enough? We'll see, but among the beleaguered Big Three, Ford seems to be making the smartest moves, which probably accounts for their so far declining any bailout funding.
Join us on Facebook, follow us on Twitter or Google+, or subscribe to our RSS news feed
Charles Moore has been a freelance journalist since 1987 and began writing for Mac websites in May 1998. His The Road Warrior column was a regular feature on MacOpinion, he is news editor at Applelinks.com and a columnist at MacPrices.net. If you find his articles helpful, please consider making a donation to his tip jar.
Links for the Day
Mac of the Day: Lisa, introduced 1983.01.19. The ancestor of the Macintosh had a mouse, a graphical interface, and a $10,000 price tag.
Recent Content
Custom Search
Follow Low End Mac on Twitter
Join Low End Mac on Facebook
Favorite Sites
MacSurfer
Cult of Mac
Shrine of Apple
MacInTouch
MyAppleMenu
InfoMac
The Mac Observer
Accelerate Your Mac
RetroMacCast
The Vintage Mac Museum
Deal Brothers
DealMac
Mac2Sell
Mac Driver Museum
JAG's House
System 6 Heaven
System 7 Today
the pickle's Low-End Mac FAQ
Affiliates
Amazon.com
The iTunes Store
PC Connection Express
Macgo Blu-ray Player
Parallels Desktop for Mac
eBay

Advertise