Return of the Best Computer Keyboard Ever?
Charles Moore - 2009.03.02 - Tip Jar
Keyboard preferences are nothing if not idiosyncratic, so designating a "best keyboard ever" is a subjective judgment. Personally, I'm very partial to the keyboards in my WallStreet and Pismo PowerBooks, and I also like the action and feel of the Kensington SlimType external keyboard.
However, for many veteran Mac users, the old ADB Apple Extended Keyboard II of the early 90s with its ALPS mechanical keyswitches, represents the ultimate computer keyboard ever.
Other keyboard aficionados beg to differ, contending that the ne plus ultra of computer keyboards was IBM's Model M, whose mechanical keyswitches operated on the patented "buckling spring" principle in which a coil spring supporting the keycap runs vertically down to a knob sticking up from the pivot point of a rocking actuator switch, but slightly angled off vertical so that as the spring is depressed it bows outward a little to a point where it rocks the key actuator switch "over-center" with an audible click - which accounts for the clickety-clacking sound these keyboards are famous for.
Personally, I've never been that taken with the Apple Extended Keyboard II (I've had one for years), but I do rather like the action of the IBM buckling spring type keys.
While the now-ubiquitous, cheaper, and much quieter rubber dome type and variant scissors-action type keyswitches have all but displaced mechanical keyswitches from the computer keyboard market, there are a few holdouts, such as the Matias Tactile Pro keyboard, which uses ALPS-type keyswitches, and fans of the old and arguably superior IBM buckling spring switches will be happy to learn that manufacture of the Model M keyboard, which passed from IBM to Lexmark International, since 1996 has been licensed to a Lexington, Kentucky firm called Unicomp, a company founded by former IBM keyboard specialist Neil Muyskens.
Unicomp not only uses the original IBM buckling spring technology, but even the original molds for the plastic enclosures, and while the Unicomp keyboards sell for somewhat more than run-of-the-mill rubber dome keyswitch type 'boards, at about $70 they're far from the most expensive keyboards on the market, and when you consider that they are partly hand-made, that sounds like a bargain.
Unicomp offers several keyboard models, along with a variety of other input devices and peripherals, but of particular interest in the context of this article are four buckling spring action keyboards.
Customizer 101
Unicomp's newest 'board model, the Customizer 101, is available in either PS/2 or USB versions with your choice of buckling spring technology, for that classic IBM "click" feel, or quiet rubber dome keyswitches.
The Customizer 101 sells for $69.
Customizer 104/105
Customizer is the marketing name Unicomp has given to its classic IBM-style keyboards, also available in either USB or PS/2 versions, as well as a variety of languages. The Customizer 104/105 comes in black with metallic gray buttons.
The Customizer 104/105 also sells for $69.
Customizer 102/103 Pearl White
If you prefer a white keyboard (as I do) the Customizer is also available in the 102/103 Pearl White model, which can be had with either buckling spring or rubber dome keyswitches in USB and PS/2 versions, and likewise sells for $69.
Endurapro 104
The Endurapro 104 features buckling spring technology plus an integrated mouse substitute, as well as a footprint 20% smaller than Unicomp's conventional keyboards. It sells for $99.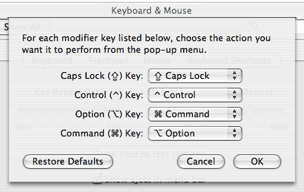 For Mac-users, although the USB versions of these keyboards will work fine with Macs, the downside is that there are no Apple-labeled versions available, so one has to put up with a Windows Key logo where the Option key should be, and a key labeled Alt where the Command key would be on a Mac keyboard. I've never found having to use Windows labeled keys a deal-breaker, but some folks might, so caveat emptor.
It will also be preferable to reverse the programming of the Option (Windows) and Command (Alt) keys, which can be done in the OS X Keyboard & Mouse system preferences.
Join us on Facebook, follow us on Twitter or Google+, or subscribe to our RSS news feed
Charles Moore has been a freelance journalist since 1987 and began writing for Mac websites in May 1998. His The Road Warrior column was a regular feature on MacOpinion, he is news editor at Applelinks.com and a columnist at MacPrices.net. If you find his articles helpful, please consider making a donation to his tip jar.
Links for the Day
Mac of the Day: 15" 'TiBook' PowerBook G4, introduced 2001.01.09. A new 1" thin PowerBook design with a titanium case and 15" widescreen display.
Recent Content
Custom Search
Follow Low End Mac on Twitter
Join Low End Mac on Facebook
Favorite Sites
MacSurfer
Cult of Mac
Shrine of Apple
MacInTouch
MyAppleMenu
InfoMac
The Mac Observer
Accelerate Your Mac
RetroMacCast
The Vintage Mac Museum
Deal Brothers
DealMac
Mac2Sell
Mac Driver Museum
JAG's House
System 6 Heaven
System 7 Today
the pickle's Low-End Mac FAQ
Affiliates
Amazon.com
The iTunes Store
PC Connection Express
Macgo Blu-ray Player
Parallels Desktop for Mac
eBay

Advertise