Zeppelins Return to the Sky to Promote Disney-Pixar's UP
Charles Moore - 2009.05.18 - Tip Jar
The First Zeppelin Era
One of my more esoteric passions is airships. Born in 1951, I missed the all-too-brief classic era of lighter-than-air aviation that ended when the Zeppelin LZ 129 Hindenburg exploded while landing at Lakehurst, New Jersey, at the end of a scheduled transatlantic flight on May 6, 1937.
The closest I've came personally to the golden age of the great dirigibles isn't very, only by proxy of sorts. My late mother saw the British Vickers R-100 airship, which was three times the length of a Boeing 747 jumbo jet, fly over the eastern Nova Scotia community where I live on its maiden and only transatlantic trip from Cardington, England, to Montreal and back in July/August 1930 - and a friend who is a retired colonel in the Canadian Armed Forces and fellow airship aficionado once had an office in Saint-Hubert, Quebec, that overlooked the site of the R-100's docking mast. The R-100 also made a side-trip to Ottawa, Toronto, and Niagara Falls during her two-week stay in Canada.
Thus one of my life's regrets has been that I missed out on flying in a dirigible. It's not a disappointment that keeps me awake nights, but it is encouraging to learn that dirigibles are making a bit of a comeback in the 21st century.
It's unfortunate that newsreel images of Hindenburg's spectacular conflagration are the principal impression of airships that is etched in most people's synapses (if they think about airships at all), while largely forgotten is that Hindenburg's predecessor, LZ 127 Graf Zeppelin, operated commercially from 1928 to 1937, making 590 flights including 64 regularly scheduled ones across the South Atlantic from Frankfurt to Brazil, one circumnavigation, a polar expedition, two round trips to the Middle East, several within Europe, and five to the United States (two of them during the "Round the World Flight"), safely covering more than a million miles.
2012/charles-moore-picks-up-a-new-low-end-truck/ src= "zep/maconinflight.jpg" alt="USS Macon in flight" align="bottom" height="192" width="256" />
USS Macon in flight.
Incidentally. the US Navy commissioned a Zeppellin-built airship, the LZ-126 USS Los Angeles, which was acquired from the German government in 1924 as part of war reparations from World War I. Like the bigger Graf Zeppelin, USS Los Angeles had a successful and safe career logging a total of 4,398 hours of operational flight, covering a distance of 172,400 nautical miles serving as an observatory, experimental platform, and training ship for other airships, including the US-built (but less successful) dirigible USS Akron and USS Macon, eventually being retired and dismantled for scrap in 1939.
2012/charles-moore-picks-up-a-new-low-end-truck/ src= "zep/oversanfrancisco.jpg" alt="USS Macon over San Francisco" align= "bottom" height="208" width="272" />
USS Macon over San Francisco.
The ZRS-4 USS Akron was constructed in Akron, Ohio, by the Goodyear-Zeppelin Corp., commissioned on October 27, 1931, and crashed in a storm off the New Jersey coast on April 4, 1933 with the loss of 73 crew. Akron's sister-ship, USS Macon, was commissioned June 23, 1933 and also went down in a storm, this time off California's Big Sur coast, on February 3, 1935, although happily all but two of her crew survived.
USS Akron and USS Macon were intended to serve as a flying aircraft carriers with internal hangars carrying Sparrowhawk biplanes that could be launched and retrieved in flight using a trapeze.
Modern Zeppelins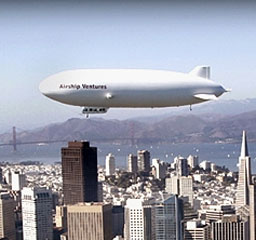 Now, you may be wondering if there's any Apple-related relevance to this ramble, and actually there is - or at least a Steve Jobs/Pixar connection.
A Moffet Field, California, based startup called Airship Ventures has begun chartering a 12-passenger Zeppelin airship for daily sightseeing flights, advertising operations, corporate and event occasions, and scientific missions in the San Francisco Bay Area. Company founders and married couple Alex and Brian Hall say they want to make money while making people smile. Brian Hall's previous venture was Mark/Space, a successful company offering software to move data between mobile phones and computers.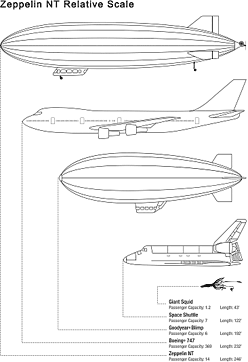 The Halls' $15 million. 246-foot-long dirigible airship (15 feet longer than a Boeing 747, and it's not a blimp) Eureka is a the fourth Zeppelin NT (the largest airship since the 1930s giants) to be built, designed exclusively for passenger operations by Zeppelin Luftschifftechnik GmbH (ZLT) of Friedrichshafen, Germany, successor firm to the Luftschiff Zeppelin company that built the USS Los Angeles, Graf Zeppelin, and Hindenburg back in the 1920s and '30s. Eureka has a top speed of 77 mph with a maximum flight range of 500 nautical miles.
Incidentally and importantly, Eureka uses the inert and safe nonflammable gas helium for lift rather than the hydrogen used in Graf Zeppelin and Hindenburg. Zeppelin-NT ships have an excellent global safety record, carrying more than 80,000 passengers since August 2001, without a single incident.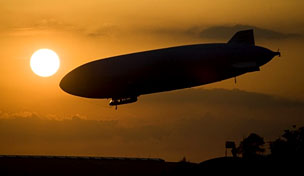 Photo by Achim Mende
The Halls launched their airship service last October, making it the first commercial passenger airship in the US since the Hindenburg's spectacular 1937 demise, and are now flying several full flights a day. Rental for the Zeppelin, which comes staffed with a pilot and steward, costs about $5,000 an hour. Turning the airship into a flying billboard costs about $100,000 a month. And for $750,000 a month, you can brand and charter the whole thing. Disney-Pixar has hired Airship Ventures to help promote its newest film release: UP.
"The decal material in this branding is equal to about 17 billboards," comments Airship Ventures' Alex Hall. "Since our Zeppelin arrived last October, we've been touting our wonderful luxury flight-seeing experience. But when the opportunity arose to feature Disney-Pixar's 'UP,' which even has a fantasy Zeppelin in it, we could hardly say no!"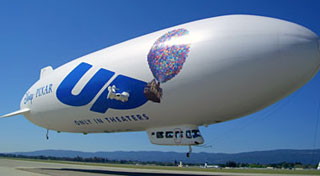 Earlier this year Eureka was put through her paces for Skywalker Sound to make sound recordings that will form the foundation for the airship soundtrack in the movie, Ms. Hall noting that "We were very pleased to be able to help Disney-Pixar with this request, and while it wasn't a starring role, we think Hollywood will develop a soft spot for our 'leading lady' when we visit later this month!"
Disney-Pixar's "UP," is an animated comedy adventure directed by Academy Award-nominated Pete Docter about 78-year-old balloon salesman Carl Fredricksen, who finally fulfills his lifelong dream of a great adventure when he ties thousands of balloons to his house and flies away to the wilds of South America, only to discover all too late that his biggest nightmare has stowed away on the trip in the form of an overly-optimistic 8-year-old wilderness explorer named Russell.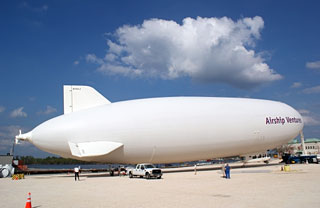 UP will be presented in Disney Digital 3-D beginning May 29, but Airship Venture's Eureka is already floating around the Bay Area with branding that promotes the film. "We're becoming part of the scenery around here," Ms. Hall says. "We've often said that we'll know that we've made it when you go to Fisherman's Wharf and you can buy a T-shirt with the airship and the Golden Gate Bridge."
California Cruises offered by Airship Ventures feature 8 to 10 hours in the air (depending on winds), giving you plenty of time to gaze at the amazingly varied views of California, with a route taken partially down the coast and partially inland, passing everything from suburban sprawl and agricultural landscapes to ocean, mountains and forests with plenty of food and beverages laid on in the comfortable gondola which includes a restroom with a window.
Pricing for tours from Moffett Field to Long Beach and back is one way - $1,500, and round trip $2,500, plus taxes. Scenic "flight-seeing" tours are also offered aboard Eureka from Moffett Field, Oakland International Airport, and Monterey Bay starting at $495 or with the promotion discounted to less than $375 plus taxes per person.
Who knows? Perhaps one day I'll get my chance to fly in a Zeppelin after all!
Join us on Facebook, follow us on Twitter or Google+, or subscribe to our RSS news feed
Charles Moore has been a freelance journalist since 1987 and began writing for Mac websites in May 1998. His The Road Warrior column was a regular feature on MacOpinion, he is news editor at Applelinks.com and a columnist at MacPrices.net. If you find his articles helpful, please consider making a donation to his tip jar.
Links for the Day
Mac of the Day: Unitron Mac512, introduced 1985. Unauthorized Brazilian clone of the Mac 512K.
Recent Content
Custom Search
Follow Low End Mac on Twitter
Join Low End Mac on Facebook
Favorite Sites
MacSurfer
Cult of Mac
Shrine of Apple
MacInTouch
MyAppleMenu
InfoMac
The Mac Observer
Accelerate Your Mac
RetroMacCast
The Vintage Mac Museum
Deal Brothers
DealMac
Mac2Sell
Mac Driver Museum
JAG's House
System 6 Heaven
System 7 Today
the pickle's Low-End Mac FAQ
Affiliates
Amazon.com
The iTunes Store
PC Connection Express
Macgo Blu-ray Player
Parallels Desktop for Mac
eBay

Advertise