The Future of Personal Computing: Personal Servers and Low Cost Portables
Dan Knight - 2009.11.02 - Tip Jar
Follow Low End Mac's blogs: LEMblog and Low End Mac Services.
A History of Innovation
The world of personal computing keeps changing. In the 1970s, we had the first pocket calculators and the first personal computers. Word processing came to PCs with Electric Pencil in 1976, and the first spreadsheet, VisiCalc, arrived in 1979. In the early 1980s, the IBM PC and the first handheld computers reached the market. In the mid 80s, Apple's Lisa and Macintosh introduced the world to the graphical user interface (GUI).
In the late 80s, the first notebook computers appeared. The tiny Poqet PC arrived in 1990, the PowerBook introduced modern notebook design (with a pointing device in front of the keyboard) in 1991, and Apple gave us the Newton in 1993. That was the same year the first graphical browsers appeared for the fledgling World Wide Web.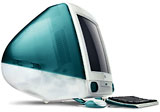 The most significant computer of the late 90s was undoubtedly the iMac, introduced in 1998. It changed the face of all-in-one desktop computers, and its adoption of USB while abandoning SCSI and ADB helped establish USB, which had languished virtually unused on Windows PCs for a year. The Blue & White Power Mac G3 brought FireWire, Apple's high speed (up to 400 Mbps vs. 11 Mbps) alternative to USB.
Ethernet was invented before personal computing. The next step forward in networking was wireless, first made popular with the 802.11b AirPort Card for Apple's first iBook, and Bluetooth, a short range wireless protocol, got its start a few years later. Most computers today use even faster versions of ethernet, WiFi, USB, and Bluetooth, and most Macs now have 800 Mbps FireWire as well.
Convergence
The biggest change in personal computing in recent years was the introduction of the iPhone in 2007. With the iPhone, Apple combined a version of its OS X operating system with an ARM CPU, a touchscreen interface, plus WiFi and 2G wireless networking, essentially re-visioning the smartphone as a pocketable computer that also works as a phone. And last year, Apple bumped the iPhone to 3G wireless.
The iMac had originally been intended as a Network Computer (NC), a personal computer without a hard drive that would run software over its network connection rather than from a built-in drive. Although this wasn't implemented in the earliest iMacs, NetBoot has been part of Mac OS X Server from the beginning, and all "New World" Macs support it.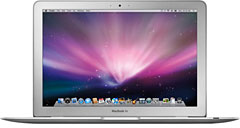 Apple extended the NetBoot concept with the introduction of the MacBook Air in January 2008. The MacBook Air (MBA) was the first Mac without a built-in optical drive in 15 years (give or take). MBA users could buy a $100 external bus-powered USB SuperDrive - or use Apple's new Remote Disc technology with an OS X Mac (10.4.10 or later) or a Windows PC (XP SP2 or later). Remote Disc allows the MBA to use the optical drive over a WiFi network, and even to boot from it and install the Mac OS from it.
Another piece of the puzzle is VNC, Virtual Network Computing, which allows one computer to access and control another remotely, whether on the same local network or over the Internet. VNC software even allows an iPhone or iPod touch to connect to and control your home or office computer.
Putting the Pieces Together
We have Internet access almost everywhere today, whether via ethernet, WiFi, 3G, or some other protocol. We have small computers, ranging in size from iPhones to netbooks, that are great field machines but can't really replace your home or work computer. However, the smaller, lighter devices don't need all the power and storage space that your desktop machine may have.
The next step it to harness the power and storage of your home computer from your portable computer, whether it's a smartphone, a netbook, or a tablet. With pervasive Internet access, your field computer doesn't need enough storage space for your entire iTunes and iPhoto libraries, all of your documents, and all of your apps. In the same world where 500 GB hard drives are common in desktops and 250 GB drives in notebooks, iPhones may have just 8 GB and netbooks a mere 16 GB of solid state storage.
These aren't exactly the thin clients/diskless workstations envisioned in the late 1990s, but they're fairly close, especially in comparison to the cheapest entry-level PCs on the market. They only need enough RAM and storage space for the operating system, your most used apps, and your most important data files. Everything else can be stored on your home or business machine, and it could be copied to your field computer as needed.
As an alternative, thanks to VNC and related technologies, you can use your field computer to run apps on your main computer, and with a browser and Flash, you can run a host of Internet-based apps as well. Put all the pieces together, and we could really get the cost of field computers down by relying more on the cloud and remote access to your desktop computer.
The Next Step
The next step beyond that is the family or business server, which could be a small machine that everyone can use to store iTunes collections, iPhoto libraries, and any other files you might want to access from more than one computer on the local network - or anywhere else in the world. And if you install your apps on the server, you could access them even when your main computer is off.
And that brings us full circle to the network computer. If you have a server with enough power, bandwidth, and storage space, your other desktop computers can get by with smaller, less costly hard drives. And if your network is fast enough, maybe even dispense with those optical drives that many of us rarely use.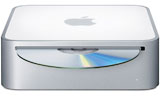 That server would look like one Apple introduced last month, the Mac mini Server, which sells for US$999 with Mac OS X 10.6 Server, 4 GB of RAM, and two 500 GB hard drives. It's the perfect home, office, classroom, etc. server with a small footprint, low energy demands, and a full fledged server operating system. (The unlimited user version of OS X 10.5 Server retailed for US$999, which shows what an incredible bargain the Mac mini Server is.)
Apple is putting all the pieces together. The MacBook Air, iPhone, and iPod touch are field computers. The desktop Macs, especially the Mac mini Server and new quad-core iMacs, have power and storage space to spare and share. Mac OS X has all the software to allow everything to talk with everything else.
I wouldn't be at all surprised to see Apple leveraging this kind of technology when the long-rumored Apple tablet finally appears. Put the money into solid design, give it the hardware it needs to take advantage of the omnipresent Internet, and offload a lot of file storage and computing to remote computers. It could change the face of personal computing once again.
Join us on Facebook, follow us on Twitter or Google+, or subscribe to our RSS news feed
Dan Knight has been using Macs since 1986, sold Macs for several years, supported them for many more years, and has been publishing Low End Mac since April 1997. If you find Dan's articles helpful, please consider making a donation to his tip jar.
Links for the Day
Mac of the Day: Macintosh 128K, introduced 1984.01.24. 1984 wasn't going to be anything like 1984 thanks to the original Macintosh.
Recent Content
Custom Search
Follow Low End Mac on Twitter
Join Low End Mac on Facebook
Favorite Sites
MacSurfer
Cult of Mac
Shrine of Apple
MacInTouch
MyAppleMenu
InfoMac
The Mac Observer
Accelerate Your Mac
RetroMacCast
The Vintage Mac Museum
Deal Brothers
DealMac
Mac2Sell
Mac Driver Museum
JAG's House
System 6 Heaven
System 7 Today
the pickle's Low-End Mac FAQ
Affiliates
Amazon.com
The iTunes Store
PC Connection Express
Macgo Blu-ray Player
Parallels Desktop for Mac
eBay

Advertise