My Turn is Low End Mac's column for reader-submitted articles. It's your turn to share your thoughts on all things Mac (or iPhone, iPod, etc.) and write for the Mac web. Email your submission to Dan Knight .
Review: Digest Viewer
2001.01.22 - John Allan
There are a few fact of life any low-end Mac user has got to concede. First, you are going to end up at Low End Mac. Second, you are going to join an email list (or maybe several lists) relative to your computers and end up addicted to the good community you find there. Third, downloading and wading through 450 separate messages when you come back from a few days away from your computer is no fun, and trying to remember who said what three weeks ago is impossible.
As much as some find the thrill of the chase in being the first to answer a post on an email list, for most people list digests are easier to manage, especially on busier lists. As a dedicated digest browser, Digest Viewer is a powerful, mature, uniquely feature-laden application that cannot be recommended highly enough.
Digest Viewer handles practically any type of digest and interfaces with most email clients and web browsers.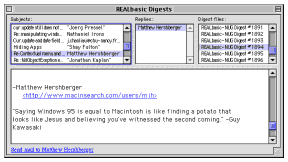 Using a minimal, classic platinum interface, it fits perfectly with the Mac OS and turns a folder full of past digests into a mine of quickly searchable information.
The browsers has one main window for messages and a choice of two or three small windows above it to list the subject, sender's name, list name, and the names of responders to an active thread. At the bottom of the window it has a neat little Trash icon to do just that. There are no distracting graphics; everything is kept simple and low key.
Features allow digest posts to be viewed by date sent or by subject thread. The Viewer strips all headers and hexadecimal code from the messages, the bane of reading digests in email form. However, by preference they can also be seen.
Quoted sections of emails can be rendered in the colour of our choice, making them less visible than responses. I chose a light grey, easily allowing me to pick out new replies even in the middle of a distractedly quoted message.
URLs and emails can be made active, making referenced websites or participants one click away. Options are included to reply to the sender, the list, all members of one particular thread, or to the sender and the list, as is common courtesy. Font and font size are the user's choice and are previewed in the preference panel. It prints and has a filter function.
One can chose to display single digests, only new digests, or even an entire back catalogue as one big digest. All are instantly searchable, a boon when one wants to recall advise given three weeks ago or remember who said exactly what at the start of a flame war. This can be a frightening little tool that gives some idea of what the powers that be must have over all of our digital lives.
Digest Viewer is currently in development and at present at v.3 beta, written by Matthew Hershberger of Lumbering Fool Productions. Matthew has been using Macs for seven years at his home. Firstly a 475, lately a 9600.
Matthew came up with the idea for Digest Viewer soon after starting to learn to programme. Subscribing to a REALbasic list taught him what a pain digest could be - and instead of just sitting back, he set out to fix it for himself. And he did.
At the request of his brother, he developed it to read other digests, and Digest Viewer was born, rewritten from the ground up, which was then "naively" (by his own admission) released to the public. "I assumed that if it worked with two kind of digests, then all digest must use more or less the same format, right?"
The application was made in REALbasic, a much maligned tool the developer considers has made the Mac world a much better place. It is also AppleScriptable.
Within a weeks he had a lot of email, a lot of new digest formats to support, and Digest Viewer took on a life of its own. Version 2 was almost a total rewrite, and since then it has been steadily improving, because, as Matthew says, inspired on by the Mac OS, "if you're going to make something, you might as well try to make it good!"
"I love Mac and I'm just not too fond of Windows. Aesthetically, I think the latter is garbage. And I don't care what anyone says, looks do matter when it comes to an OS. This is something you have to sit at for possibly many hours each day, it shouldn't look depressing. "
"Anyone who says that the appearance of your environment has no effect on your creativity or productivity just doesn't, for lack of a better term, 'get it'."
What makes this all the more remarkable is that Matthew is 16 years old.
Share your perspective on the Mac by emailing with "My Turn" as your subject.
Join us on Facebook, follow us on Twitter or Google+, or subscribe to our RSS news feed
Today's Links
Mac of the Day: 12" 500 MHz Dual USB iBook, introduced 2001.05.01. This compact, squared off, all-white, 500 MHz iBook was nicknamed the iceBook.
Recent Content
Custom Search
Follow Low End Mac on Twitter
Join Low End Mac on Facebook
Favorite Sites
MacSurfer
Cult of Mac
Shrine of Apple
MacInTouch
MyAppleMenu
InfoMac
The Mac Observer
Accelerate Your Mac
RetroMacCast
The Vintage Mac Museum
Deal Brothers
DealMac
Mac2Sell
Mac Driver Museum
JAG's House
System 6 Heaven
System 7 Today
the pickle's Low-End Mac FAQ
Affiliates
Amazon.com
The iTunes Store
PC Connection Express
Macgo Blu-ray Player
Parallels Desktop for Mac
eBay

Advertise