My Turn is Low End Mac's column for reader-submitted articles. It's your turn to share your thoughts on all things Mac (or iPhone, iPod, etc.) and write for the Mac web. Email your submission to Dan Knight .
New iMac: Attempted Murder?
2001.02.26
Steve Sarrica
I sure hope that the new iMac color and pattern schemes look better in person than they do on the web.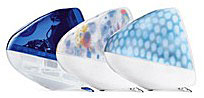 Blue Dalmatian looks like a close-up shot of a screen door looking at a blue sky. Flower Power looks like a shower curtain I saw once. For me, for now, I'll stick with indigo or graphite - at least until I can see these new schemes in person.
I've heard folks ask, "What we're they thinking?" "Looks like the acid culture is still alive in Cupertino," and the like. After giving the topic some thought, I think Apple decided to cut loose and have a little fun. If, along the way, the new colors killed John C. Dvorak, that might be viewed as a bonus by some on Infinite Loop.
I don't know either Steve Jobs or Mr. Dvorak, but I know that they had something of a falling out after Dvorak wrote a mean-spirited column about Jobs. Dvorak also famously derided the iBook as too "girlie" for men to use and seems to take great joy in egging on the Mac fanatics if for no other reason than to boost the hits on his web pages.
We haven't heard yet from John on this topic. Could it be that Jobs' nefarious plan has already born fruit and John C. Dvorak is stuck in a fit of apoplexy or has wound out his mortal coil somewhere between Blue Dalmatian and Flower Power? Only time will tell.
Me? I think I would have preferred metallic or stone-looking plastics to the shower curtain and the screen door.
Share your perspective on the Mac by emailing with "My Turn" as your subject.
Join us on Facebook, follow us on Twitter or Google+, or subscribe to our RSS news feed
Today's Links
Mac of the Day: Macintosh 512K Fat Mac, introduced 1984.09.10. The first Mac with enough memory for serious work.
Recent Content
Custom Search
Follow Low End Mac on Twitter
Join Low End Mac on Facebook
Favorite Sites
MacSurfer
Cult of Mac
Shrine of Apple
MacInTouch
MyAppleMenu
InfoMac
The Mac Observer
Accelerate Your Mac
RetroMacCast
The Vintage Mac Museum
Deal Brothers
DealMac
Mac2Sell
Mac Driver Museum
JAG's House
System 6 Heaven
System 7 Today
the pickle's Low-End Mac FAQ
Affiliates
Amazon.com
The iTunes Store
PC Connection Express
Macgo Blu-ray Player
Parallels Desktop for Mac
eBay

Advertise