12″ PowerBook G4/1 GHz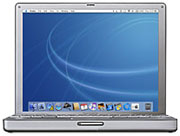 After eight months at 867 MHz, Apple speed bumped the little AlBook to 1 GHz and upgraded video with the Nvidia GeForce FX Go5200 graphics processor.
The 12" PowerBook G4 catches up with the rest of the line by adding DVI support (with a mini-DVI to DVI adapter) and dual displays while moving to an optional accessory for S-video support.
The 1 GHz 12" PowerBook officially supports a 1 GB upgrade for up to 1.25 GB of RAM. Other features include built-in Bluetooth and support for the "five times faster" AirPort Extreme.
In many respects, it's more like an aluminum-clad iBook with a G4 than a low-end PowerBook, including not support for gigabit ethernet.
The 12" PowerBook G4 has the third-smallest footprint of any Apple notebook to date at 93.74 square inches, beat out by the PowerBook 2400c (89.25) and baredly edged out by the PowerBook 100 (93.50). It had the lowest total volume of any Mac 'Book until the MacBook Air was introduced in 2008.
Details
introduced 2003.09.16 at US$1,599 (Combo) and US$1,799 (SuperDrive); replaced by 1.33 GHz model 2004.04.19
requires Mac OS X 10.2.7 or later
CPU: 1.0 GHz G4 (7457)
bus: 133 MHz
performance:
ROM: 4 MB, NewWorld ROM in RAM architecture
RAM: 256 MB, expandable to 1.25 using PC2100 DDR SDRAM memory
Level 2 cache: 512 KB at CPU speed
Level 3 cache: none
Video: Nvidia GeForce FX Go5200
VRAM: 32 MB
Video out: mini-DVI (supports DVI and VGA with adapters)
display: 12.1" 24-bit 1024 x 768 106 ppi color active matrix. Supports resolution scaling for 800 x 600 and 640 x 480. Supports to 2048 x 1536 on external display.
hard drive: 40 GB 4200 RPM Ultra ATA/100
Optical drive: Combo drive or 2x SuperDrive
floppy drive: external USB only
expansions bays: none
USB: 2 USB 2.0 ports
FireWire: 1 FW400 port
IR port: none
ethernet: 10/100Base-T
modem: v.92 56k
WiFi: 802.11g AirPort Extreme optional
Bluetooth 1.1: built in
PC Card slots: none
size: 8.6" x 10.9" x 1.18" (219 x 277 x 30 mm)
weight: 4.6 pounds (2.1 kg)
Online Resources
Cautions
Note that some vendors are substituting PC2700 RAM for PC2100 modules. You can't use both types of RAM in the same machine, and since onboard RAM is PC2100, you cannot use PC2700 in this 'Book.
Portable Computers: Models Which Do Not Have a Backup Battery notes the iBook has no backup battery to retain time and other settings when the main battery is removed. A small capacitor holds enough energy to maintain PRAM contents for 20 seconds, so switch batteries quickly.