PowerBook 2400c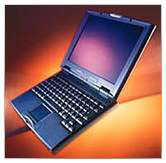 ThePowerBook 2400c was designed to replace the discontinued Duo serieswith something very small and light (just 4.4 lb./2.0 kg). Althoughthe keyboard is slightly smaller than usual, those who have 2400sjust love these small PowerBooks. And with its 8.5" x 10.5" dimensions,the 2400c has the smallest footprint of any Apple notebook to date (89.25square inches vs. 93.5 for the PowerBook 100).
Memory expansion is limited to 112 MB, which can be extended bythe use of RAM Doubler or Virtual Memory. Using a hard drive largerthan 3 GB may preclude the use of SCSI Disk Mode,according to PowerBook HardDrives: The Essential Upgrade.
Warning
According to the Road Warrior and Other World Computing, the drive controller in pre-G4PowerBooks is incompatible with ATA-6/Ultra ATA-100 hard drives.
Details
2400c/180 introduced 1997.05.08; discontinued
2400c/240 introduced 1998.04.07; discontinued
requires System 7.6 through 9.1
CPU: 180/240 MHz PPC 603e
bus: 40 MHz
Performance: 294, MacBench 4
ROM: 4 MB
RAM: 16 MB, expandable to 112 MB
Level 2 cache: 256 KB
VRAM: 1 MB
display: 10.4" 16-bit 800 x 600 96 ppi color dual-scan or activematrix
video out: VGA port
hard drive: 1.3 GB EIDE
CD-ROM: none
ADB: 1 port for keyboard and mouse
serial: 1 DIN-8 RS-422 port on back of computer
SCSI: HDI30 connector on back of computer
PC Card slots: 2 (CardBus compliant on the Japanese 2400c, andthe US version canbe modded to support CardBus.)
infrared: supports IrDA and Apple's IRtalk protocol
gestalt: 307
size: 1.9" x 10.5" x 8.5"
weight: 4.4 pounds with battery
power supply: M5937
Online Resources
Best classic MacOS deals. Best online prices for System 6, 7.1, 7.5.x, Mac OS 7.6,8.0, 8.1, 8.5, 9.0, 9.2.2, and other versions.
Low End Mac'sCompleat Guide to Mac OS 9, 2008 edition, Charles Moore,Miscellaneous Ramblings, 2008.05.12. Declared dead by Steve Jobs 6years ago, Mac OS 9 remains fast and stable, but Classic softwarehasn't kept up with Web changes. What Macs support OS 9, where to buyit, and how to update to version 9.2.2.
WiFi cardsfor PowerBooks with PC Card slots, Simon Royal, Mac Spectrum,2008.08.12. PC Card and CardBus 802.11b and 802.11g cards known to becompatible with Apple's PowerBooks.
Just write:Why a PowerBook 2400c is my perfect writing machine, Tamara Keel,Digital Fossils, 2008.05.27. The ideal writing tool had to be light,have a good keyboard, not run too hot, easily connect to a network, andminimize distractions from the writing process.
Apple's first subnotebooks: ThePowerBook Duo family and the PowerBook 2400c, Charles Moore,Miscellaneous Ramblings, 2007.09.04. With rampant rumors of asubnotebook MacBook Pro, it's a good time to look back at Apple'searlier attempts at subnotebook computers.
Environmentallyresponsible retirement for old Macs, Rick Lawson, Pioneers in MacDevelopment, 2008.06.13. After you've scavenged what useful parts youcan from your old Mac, what's the most environmentally friendly way todispose of the rest?
What's thebest Mac OS for your iBook, PowerBook, or MacBook?, Charles Moore,'Book Value, 2008.08.19. Tips on choosing the best OS for yourPowerBook 500 Series or newer Mac notebook.
WiFi PC Cards forPowerBooks running Mac OS 9, MetaPhyzx, Mac Daniel, 2009.03.10.PCMCIA cards and drivers reported to be compatible with the Classic MacOS.
Mac 'Book powermanagement adventures, Charles Moore, 'Book Value, 2009.05.19. Ifyour 'Book won't power up, shuts down while your working, or has otherpower issues, resetting its internal power manager may clear thingsup.
500 MHz iBook keeps going, iBookvideo repair, a WiFi card that costs less than AirPort, and more,Charles Moore, Miscellaneous Ramblings, 2009.05.13. Also Dell'salternative to the 12" PowerBook, WiFi hotspot insecurity, and feedbackfrom a Eudora fan.
12 year oldPowerBook 2400c Apple's first crossover notebook?, Charles Moore,'Book Value, 2009.05.08. Built by IBM Japan, the PowerBook 2400cremains the smallest footprint notebook that Apple has ever produced,comparable in size to today's 12" netbooks.
The 25 mostimportant Macs, Dan Knight, Mac Musings, 2009.02.17. The 25 mostsignificant Macs in the first 25 years of the platform, continued.
Why youshould partition your Mac's hard drive, Dan Knight, Mac Musings,2008.12.11. "At the very least, it makes sense to have a secondpartition with a bootable version of the Mac OS, so if you haveproblems with your work partition, you can boot from the 'emergency'partition to run Disk Utility and other diagnostics."
Every workingcomputer is useful to someone, Allison Payne, The Budget Mac,2008.11.19. Whether it's a PowerBook 1400, G3 iMac, or Power Mac G4, itcould be all the computer someone needs.
TruePower ACadapter for iBooks and PowerBooks is rugged, reliable, andaffordable, Charles Moore, 'Book Value, 2008.08.14. Apple's trackrecord with AC adapters is spotty, but the TruePower adapter is toughenough to survive being run over by a truck.
The compressed airkeyboard repair, Charles Moore, Miscellaneous Ramblings,2008.07.24. If your keyboard isn't working as well as it once did,blasting under the keys with compressed air may be the cure.
Praise for Opera, low cost iBookmobo replacement, IrDA and IRtalk, WaMCom recommended, and more,Charles Moore, Miscellaneous Ramblings, 2008.06.18. Also the use of'compleat', booting from CD, new Toshiba 1.8" drives too thick for MBA,and PowerPC support and Snow Leopard.
Virtual PC works with Leopard,Intel vs. PowerPC performance, beyond the Mac mini, and more, DanKnight, Low End Mac Mailbag, 2008.05.20. Also upgrading Intel iMacs,Compact Flash in a PowerBook 2400, and thoughts on low-end Macs.
10 cult Macs adored bycollectors, Tamara Keel, Digital Fossils, 2008.05.13. Macs are notonly noted for their longevity, but also by the passion whichcollectors have for some of the most interesting models ever made.
EmpowerBook, TamaraKeel, Digital Fossils, 2008.04.22. The goal: distraction-free writingon the go. But which PowerBook or iBook is best for the job?
Wireless FAQ for OlderApple PowerBook Computers. Resources to help you to install andmaintain 802.11b/g wireless PC Cards on older PowerBook computers.
TheComplete and Utter Guide to PC Cards and Expansion Bays on thePowerBook, Insanely Great. All about the PCMCIA, PC Card, orCardBus slots used in various PowerBooks.
Solving Macstartup problems, Adam Rosen, Adam's Apple, 2007.12.12. When yourold Mac won't boot, the most likely culprits are a dead PRAM battery ora failed (or failing) hard drive.
Better and safer surfing withInternet Explorer and the Classic Mac OS, Max Wallgren, Mac Daniel,2007.11.06. Tips on which browsers work best with different Mac OSversions plus extra software to clean cookies and caches, detectviruses, handle downloads, etc.
Silence is golden: Runningyour existing notebook using flash memory, Dan Knight, Low EndMac Reviews, 2007.05.23. With a new adapter from Addonics, you canreplace your laptop's IDE hard drive inexpensively and bootsilently from a Compact Flash card.
Appearance Manager allowsInternet Explorer 5.1.7 to work with Mac OS 7.6.1, MaxWallgren, Mac Daniel, 2007.05.23. Want a fairly modern browser withan old, fast operating system? Mac OS 7.6.1 plus the AppearanceManager and Internet Explorer may be just what you want.
Format any drive for older Macswith patched Apple tools, Tyler Sable, Classic Restorations,2007.04.25. Apple HD SC Setup and Drive Setup only work with Applebranded hard drives - until you apply the patches linked to thisarticle.
First Blu-ray drive for Apple's'Books, replace notebook hard drive with Compact Flash, andmore, The 'Book Review, 2007.04.13. Also 160 GB 7200 rpm harddrives, upgrading from a MacBook Pro to a MacBook, Waterfield'sflexible new Sling bag, bargain 'Books from $170 to $1,699, andmore.
FluffyRainbows, James & John, RetroMacCast, 2007.02.25. Lookingat the PowerBook 2400, AppleTech, favorite Classic Mac resources,the first issue of MacAddict, and more.
System 7 Today, advocates ofApple's 'orphan' Mac OS 7.6.1, Tommy Thomas, Welcome toMacintosh, 2006.10.26. Why Mac OS 7.6.1 is far better for 68040 andPowerPC Macs than System 7.5.x.
30 days of old school computing:Increasing battery life with a RAM disk, Ted Hodges, VintageMac Living, 2006.09.14. When using the hard drive, the old batteryran out of juice within 30 minutes, but running from a RAM disk itstill has a 50% charge after half an hour.
Mac OS 8 and 8.1: Maximum size,maximum convenience, Tyler Sable, Classic Restorations,2006.09.11. Mac OS 8 and 8.1 add some useful new features andtools, and it can even be practical on 68030-based Macs.
Inside your notebook's battery:Ordinary AA Li-Ion cells, Dan Knight, Mac Musings, 2006.09.08.That expensive battery in your notebook computer probably holdsless than $30 worth of off-the-shelf AA Li-Ion batteries.
Customizing Mac OS 9,Nathan Thompson, Embracing Obsolescence, 2006.08.01. Fiddling withthemes, picking a browser, and making the Classic Mac OS work justthe way you want it to.
Compact Flash with SCSI Macs, PB1400 CD-RW upgrade problems, and Web incompatibilities, DanKnight, Low End Mac Mailbag, 2006.06.16. Suggested ways to useCompact Flash with vintage Macs and PowerBooks, problems gettingCD-RW to work with a PowerBook 1400, and more thoughts on websiteincompatibilities.
System 7.6.1 is perfect formany older Macs, John Martorana, That Old Mac Magic,2006.03.24. Want the best speed from your old Mac? System 7.6.1 cangive you that with a fairly small memory footprint - also helpfulon older Macs.
Web browser tips for theclassic Mac OS, Nathan Thompson, Embracing Obsolescence,2006.01.03. Tips on getting the most out of WaMCom, Mozilla,Internet Explorer, iCab, Opera, and WannaBe using the classic MacOS.
The best browsers for PowerPCMacs and the classic Mac OS, Nathan Thompson, EmbracingObsolescence, 2005.12.16. Two browsers stand out from the pack:iCab 3 is modern and remains under development, and WaMCom bringsMozilla to older Macs.
Why you should use Mac OS 7.6 toget the most out of vintage Macs, Thomas Ahart, The ProductiveMac, 2005.12.12. Although you may be able to run OS 8 or 9 on yourold Mac, you'll generally find better performance using Mac OS7.6.
WirelesslyNetworking a PowerBook 1400 or Other Old Apple Laptop: Step ByStep, Derek K Miller, Penmachine.com, 2003.04.12, updated2004.05.17. You can put one of these older 'Books on an AirPort(802.11b) network for under US$50.
Flash memory improvesPowerBook, Dan Knight, Mac Daniel, 2002.11.14. Using CompactFlash to boot, save files, run silently, extend battery life, andas virtual memory on a PowerBook.
PowerBook2400: A true Tokyo rose, Leander Kahney, Wired, 2002.03.26. "Anold Apple laptop that sold poorly when it was released in Japan afew years ago has subsequently achieved cult status...."
SCSI and FireWire Disk Modes,Paulo Rodrigues, Tangerine Fusion, 2000.11.29. How to use SCSI DiskMode and FireWire Target Disk Mode for ultrafast filetransfers.
Interware 400 MHz G3 for PowerBook 2400c (dead link), Jake Jack, 7/17/00. Almostdouble the speed of NUpower 240 MHz G3 upgrade and five timesfaster than original 180 MHz 603e.
Recovering a stolenPowerBook, The 'Book Page. One user'sexperience.
Tokyotime: The subnotebook appeal, MacWeek, 8/9/99
PowerBook 2400 Series: FrequentlyAsked Questions, from Apple TIL.
Technical specifications for 2400c/180, Apple
Cautions
From PowerBook 2400,3400: Password Security and Mac OS 8.0: On PowerBook 2400 and 3400systems, Password Security software is not compatible with Mac OS8.0. Other PowerBook systems are not affected.
From Mac OS 8.1: LateBreaking Tips: Mac OS 8.1 will not install the Password Securitycontrol panel on a PowerBook 2400 or 3400 unless an earlier versionalready exists in the Control Panels folder. As noted above, PasswordSecurity is not compatible with these models under OS 8.0 or later andshould not be used.