Last Week in Review
Eric Schwarz - 2002.05.06
Apple came out with many new products last week, and there were lots of news articles in the computer industry. That's what I'm covering in this column, but next week I'll probably be talking about old Macs again.
New Apple Products
Apple surprised us all last week by introducing a few new products. Everyone was guessing that WWDC would be when Apple would surprise us, but, no, they did exactly like last year when they released the iBook early.
eMac, updated TiBook, Together at Last
First, we have the eMac, which I am very optimistic about. It seems that the motherboard is the same as the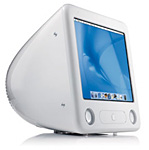 flat-panel iMac (just a guess judging from the number of ports and tech specs), but it has a flat CRT screen and will only be sold in the education market. I have a suggestion - how about Apple removes the hard drive and sells it as a network-only workstation?
Updated TiBook
Secondly, we have an updated TiBook: faster processor, higher resolution screen, DVI output, and a real tech breakthrough - a line-in jack. Yeah, I've been complaining about the lack of these in recent Macs, but Apple put it back in the most recent models. To those who are kicking themselves for buying the last generation PowerBooks, don't worry - there will always be something better.
Together at Last
Thirdly, Apple introduced their own version of a DVI to ADC adapter. This is sold as a way for owners of the newest TiBooks and G4 towers to add a second monitor that is ADC-only (in other words, only Apple's LCD monitors). Right now, with the "Together at Last" promotion, Apple is offering a deal: you get $150 off (which would make the adapter free) if you buy a TiBook, an Apple LCD monitor, and the adapter. This deal is good until June 30, 2002.
Music On, $100 Off
There's another deal where you can get $100 off of an iPod if you buy it with a Mac. Both do not need to be purchased at the same time, but do have to be purchased from Apple between April 23 and June 30, 2002.
H-Paq
If you haven't heard, Hewlett-Packard has decided to change their NYSE ticker symbol to HPQ from HWP to reflect the merger between HP and Compaq. Even though they are basically dissolving Compaq and taking their market share, they want it to seem more equal.
'I' on OS X
After reading various resources (Web sites, forums, email lists), I've come to the conclusion that people think OS X is too slow on the newest G3s. Well, I have to say that on my new iBook (600 MHz with 384 MB RAM), OS X is quite usable. Sure, it's slightly slower than OS 9, but still acceptable for almost everything I do (Web surfing, email, IM, word processing, various multimedia stuff, etc.), and OS X runs just fine even when I have 8 things running at once. The key is to have a ton of RAM. I'm sure that the Indigo iMacs that are still being sold will have no problems with OS X. Sure, the G3 is five years old now, but is it dead? Heck no. It still runs cooler than the G4, which may mean longer life spans for portables, and for non-AltiVec stuff, it does just fine.
Next Time
Next time I'll be looking at various OS X applications, as well some of the misconceptions about the Mac for Windows users.
And here it is, your Joy of Tech link (not the most recent, but appropriate).

Custom Search
Follow Low End Mac on Twitter
Join Low End Mac on Facebook
Favorite Sites
MacSurfer
Cult of Mac
Shrine of Apple
MacInTouch
MyAppleMenu
InfoMac
The Mac Observer
Accelerate Your Mac
RetroMacCast
The Vintage Mac Museum
Deal Brothers
DealMac
Mac2Sell
Mac Driver Museum
JAG's House
System 6 Heaven
System 7 Today
the pickle's Low-End Mac FAQ
Affiliates
Amazon.com
The iTunes Store
PC Connection Express
Macgo Blu-ray Player
Parallels Desktop for Mac
eBay

Advertise