The Mac as a Business Solution
- 2001.09.04
As this is my first article for Low End Mac, a brief introduction is in order. I am the Vice President for Information Technology for a mid-sized bank. I am also an attorney. During my years as an attorney in Raleigh, North Carolina, I wrote extensively for several legal publications, mostly dealing with computers in the law practice.
I have been a Mac user for about ten years. My first Mac was a Classic II with a 40 megabyte hard drive and 4 megabytes of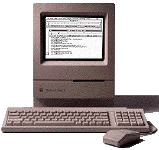 RAM. I bought it in 1992 and used it faithfully until donating it to my brother-in-law, who was in college - that was 1998. He used it for writing papers for two years.
I ran WordPerfect and Lotus 1-2-3, as well as keeping all my financial information on it using Quicken. Using SoftPC, I also ran my favorite computer baseball game, from APBA, on MS-DOS. I have owned some PCs along the way, but I always came back to the Mac.
Macs at Work
I consider myself fortunate to have a widely varied computing environment in our office. We have well over a dozen Novell NetWare file servers, in all flavors from 3.2 through 5.1. We also have some machines running OS/2, Linux, Sun Solaris, and even a few Windows NT and 2000 machines to round out the lot. Our workstations run mostly Windows 95/98 and, yes, we even have a few Macs.
"Macs in a bank," you might ask, "Where would you use those?!?"
Our Web designers use Macs, of course, but you may be surprised at where you would find the other Macs in our organization - on the desk of every member of the IT staff. We all have some sort of Windows machine that we have to use from time to time to access some of the banking applications that are utilized by our end users. However, when it's time to do our own work, we all come back to the Mac.
I first realized the superior architecture of the Mac (as well as the Mac OS) back in 1992. Our law office used Quicken for our trust accounting. We had very large volume real estate practice, doing hundreds of closings a month. With an average of 10-15 checks being written for each closing, you can see that the number of transactions in Quicken reached the tens of thousands very quickly, and soon escalated to the hundreds of thousands.
Well, eventually Quicken for DOS just quit. We would have to delete and archive transactions every 3-4 months to keep the program running. Since, in a real estate practice, you often need ready access to transactions a year old or even older, this was clearly not the long-term solution.
Over a period of several days, Intuit technical support remained stumped. Our problem was finally taken to one of the Quicken software engineers. This was not a person who handled technical support issues every day, I surmised. In fact, we were informed, this was the first issue that had ever gone this far! Needless to say, we were extremely impressed with Intuit's determination to resolve this problem.
The engineer quickly diagnosed the problem as a lack of memory. The PC had 16 MB of RAM (an almost unfathomable amount in those days), but as he explained it to us, as Quicken grew and utilized more of the expanded memory, it also had to utilize just a bit more conventional memory as well. Even with the best memory managers providing about 625k of useable conventional RAM, this was just not enough.
"Quicken for Windows?" I asked. He said this was not the solution, as you still had essentially the same memory issues (this was the pre-Win9x era).
Buy a Mac
What was the answer? "Buy a Mac and use Quicken there," he said. "The Mac sees and uses all memory as one contiguous unit, so it will seamlessly use all the RAM you can put in it."
That seemed like a logical solution to us. We went out and bought a used Mac LC, one of only two Macs that ever used the Motorola 68020 processor. We loaded it with 10 MB of RAM, an FPU, and our newly purchased version of Quicken. We converted our existing data to Mac format and imported it onto our new Mac.
We then went on with business as usual, adding hundreds of transactions daily. All the while we waited with fingers crossed and hoping for the best, but in the back of our minds we all expected it to blow up - just as our DOS version had.
When I left the firm and moved to Atlanta in 1998, we were still waiting for it to blow up. I talked to one of my former partners last week and made inquiry. Yes, they are still waiting, and as they approach the 10th anniversary of the Macintosh solution, they just know the end has to be near.
Up until that point in 1992, I had been an attorney first and the law firm's IT Director second. However, in the next few weeks I learned more than I ever wanted to know about memory management, protected mode, real mode, expanded memory, extended memory, and processor architecture.
When I finally came to understand the differences in architecture between the Intel 80386 and the Motorola 680x0, and, more importantly, between DOS/Windows 3 and the Mac OS, I found it all absolutely fascinating. I was hooked. Looking back, that was the turning point for me in deciding to pursue a path toward full-time IT work and away from law.
Macs in a Bank?
When I left the firm in 1998 to join a large court-reporting firm as their IT Manager, the transformation that was begun by the purchase of an LC in 1992 was complete.
When I came to work at the bank 2-1/2 years ago, none of the IT staff had ever used a Mac. They looked at me like I
was crazy the first day I brought my PowerBook 540c to work. When I later purchased a Power Mac 8500, souped it up, and made it my everyday machine, the questioning looks turned into curiosity. Eventually the curiosity turned to outright envy!
When the time drew near to introduce Internet banking product to our customers, we had the obligatory Management Brainstorming Meeting. We decided that a "demonstration" computer should be placed in each branch so that our branch personnel could use it to demonstrate Internet banking to customers.
I convinced the committee that the computers placed there should be iMacs. "After all," I said, "the iMac is a progressive, futuristic-looking computer, and that is exactly the image we should project for our bank."
They immediately agreed, and the program has been a huge success. In fact, one pleasant surprise has been the number of customer (and employee) inquiries about the iMacs themselves. (We have had a number of customers wanting to buy the iMac and one employee who even tried to take one home.) This presents the perfect opportunity for our Customer Service Reps to demonstrate Internet banking on the shiny new iMac!
"Macs in a bank?" You bet!

Join us on Facebook, follow us on Twitter or Google+, or subscribe to our RSS news feed
Steve Watkins is the Vice President for Information Technology for a mid-sized bank, an attorney, and an Army Reserve JAG on extended active duty. He has been a Mac user for about 12 years. He has owned some PCs along the way - but always came back to the Mac. If you find his articles helpful, please consider making a donation to his tip jar.
Today's Links
Mac of the Day: Macintosh 512K Fat Mac, introduced 1984.09.10. The first Mac with enough memory for serious work.
Recent Content
Custom Search
Follow Low End Mac on Twitter
Join Low End Mac on Facebook
Favorite Sites
MacSurfer
Cult of Mac
Shrine of Apple
MacInTouch
MyAppleMenu
InfoMac
The Mac Observer
Accelerate Your Mac
RetroMacCast
The Vintage Mac Museum
Deal Brothers
DealMac
Mac2Sell
Mac Driver Museum
JAG's House
System 6 Heaven
System 7 Today
the pickle's Low-End Mac FAQ
Affiliates
Amazon.com
The iTunes Store
PC Connection Express
Macgo Blu-ray Player
Parallels Desktop for Mac
eBay

Advertise