Apple Back on the Radar Screen
- 2002.05.14 - Tip Jar
I haven't seen any numbers on Apple's market share lately. I don't need to. I know it's going up.
I receive a wheelbarrow load of free Information Technology trade journals each month. Although I don't have time to read each one, I try to at least browse the table of contents to see if there are any articles inside that I want to read. Over the last year or so, I have noticed a marked increase in articles devoted to or at least mentioning Apple. It is no coincidence that this upsurge in media exposure comes just as OS X is hitting its stride.
In the May issue of CIO Magazine, the publisher, Gary Beach, has entitled his column, "An Apple for the Enterprise." He mentions attending a trade show and hearing several IT guys going ga-ga over the new iMac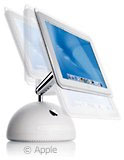 and trying to figure out how to use them in their company. Mr. Beach, also clearly impressed with the iMac, brainstorms several ways Apple could make more inroads into the enterprise market. I should also mention that I sent Mr. Beach a note thanking him for the great article and received a personal reply back from him the next day - Saturday!
Seems like only yesterday that many pundits were gleefully celebrating what appeared to be Apple's imminent demise, rather than looking for ways to help them grow market share.
The May 6, 2002 edition of eWeek looks more like MacAddict in places.
One of the cover stories, a review of the new free office suite OpenOffice, mentions that the program is not yet available for Mac OS X, but efforts to port OpenOffice to the Apple OS are under way. I vividly remember the days when lack of support for the Mac was a given - and certainly not worth mentioning.
Three of the four letters to the editor mention Apple in a prominent manner. All three of them are also critical of Microsoft. The fourth letter is also critical of Microsoft; it just doesn't mention Apple.
An article on wireless LANs includes Apple among the companies mentioned. A blurb on Microsoft's legal arguments in its antitrust trial prominently features Apple. Finally, the cartoon on the last page is a takeoff on Apple's new eMac.
David Coursey, Executive Editor of ZDNet's AnchorDesk tried a Mac "for a month" and never went back.
Why the industry change of heart? I believe that with the innovative new hardware products such as the iMac (all the way back to the original Bondi Blue), iBook, iPod, etc., coupled with OS X, most observers believe there is something here worth touting.
With System 7 and beige boxes that were indistinguishable from Wintel PC's but for the small rainbow-colored Apple on the front, this was not the case. The lion's share of the credit for this turnaround goes to Steve Jobs. Not only does Apple no longer need "saving," but today the company is very near to actually thriving.
Mac Challenge Update
As you read this article, I will be enjoying a much-needed vacation. I will be away from home with the computer turned off for seven days. At this point, I am halfway through the second half of the Mac challenge - using Windows XP exclusively for 30 days. Since sitting unused with the power off for a week does not really put a PC through its paces, I will be extending this half of the Challenge for an additional seven days.

Join us on Facebook, follow us on Twitter or Google+, or subscribe to our RSS news feed
Steve Watkins is the Vice President for Information Technology for a mid-sized bank, an attorney, and an Army Reserve JAG on extended active duty. He has been a Mac user for about 12 years. He has owned some PCs along the way - but always came back to the Mac. If you find his articles helpful, please consider making a donation to his tip jar.
Today's Links
Custom Search
Follow Low End Mac on Twitter
Join Low End Mac on Facebook
Favorite Sites
MacSurfer
Cult of Mac
Shrine of Apple
MacInTouch
MyAppleMenu
InfoMac
The Mac Observer
Accelerate Your Mac
RetroMacCast
The Vintage Mac Museum
Deal Brothers
DealMac
Mac2Sell
Mac Driver Museum
JAG's House
System 6 Heaven
System 7 Today
the pickle's Low-End Mac FAQ
Affiliates
Amazon.com
The iTunes Store
PC Connection Express
Macgo Blu-ray Player
Parallels Desktop for Mac
eBay

Advertise