Jag's House, Where Older Macs Still Rock
- 2006.09.25
Bong! . . . :-) . . . Welcome to Macintosh!
It all starts with a culmination of a dream. Then there's that magic moment when the right idea comes along that's shared by the right people. Then that idea in all it's glory becomes reality!
When this happens, legends are inevitably born.
Take, for instance, back in 1978 when John Carpenter's Halloween was born. This created a new era of horror movies and new legends were born. Michael Myers was born because of John Carpenter's genius! Later, Jason Voorhees became a legend in the Friday the 13th movies. And who could forget Freddy Krueger from the Nightmare On Elm Street movies?
Even more would follow. They will forever be recognized as slasher movie legends.
Sometimes, legends will come together through a twist of fate. It happened in the slasher realm when Freddy Krueger and Jason Voorhees faced off in Freddy vs. Jason.
When it comes to Classic Macs and the websites that have been dedicated to them, legends were born of a simple idea: to give people information and a place to talk about Classic Macs!
Low End Mac is a legend in its own right, but there are other legends as well: the 68K Macintosh Liberation Army forums, Jag's House, and System 6 Heaven, just to name a few.
Over the next few weeks, Welcome to Macintosh will bring together "The Legends of 68K"! I'll be looking in-depth at the legendary websites that forever changed the Classic Mac and 68K landscape. I'll be talking with the creators and the staff behind these sites and getting their take on what makes their sites legendary.
Jag's House
To kick off The Legends of 68K, it's only fitting that the first, true original Classic Mac website be first in line. Just like Apple is a true original, the same can be said of Jag's House.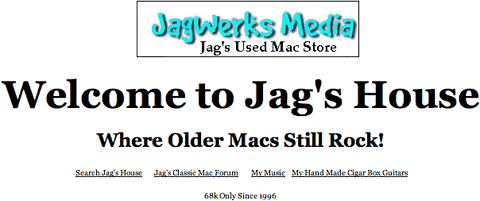 Born in late 1995, Jag's House quickly became known as the website for all things Classic Mac. Today it's considered the Legend of Legends when it comes to Classic Mac sites.
I've been a huge fan of Jag's House; it's where I went to find out most all I know about Classic Macs today, even how to setup an Internet connection on my Classic II. I recently sat down and had an interview with the man himself, Jag:
How It Started
Tommy Thomas: Hey Jag! It's great to get to talk to you! (shaking Jag's hand) How did it all begin for Jag's House?
Jag: I was spending a lot of time at my girlfriend's house and needed to access my email and of course I didn't want to use her peecee, so I whipped out her Classic and installed the proper software, connected her ancient modem, and got her System 6.0.8 Mac online. I then created a tutorial, added some old Web apps to the site, and that was how it all started.
Tommy: That's really cool! I know when I got my first compact Mac, the Classic II, as I was learning about all the Mac would do, I was surprised that it could get online. While searching for information on the Internet about it, I found Jag's House. I've found it an invaluable resource for people with classic Macs.
When did you start thinking, "Whoa, there's something here people might wanna see!"?
Jag: After I got her old Mac online. Keep in mind this was 1995, just a couple of years after the Web took off.
Tommy: Was Jag's House ever intended to be another kind of website altogether - and if so, what was it to be?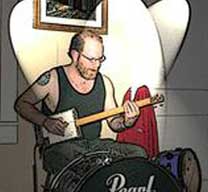 Jag: No, it was always all about older Macs, since at that time there were still a lot of the old black & white Macs in use. The 8 MHz Classic was only about three years old.
I kept adding more and more tutorials until I had pretty much everything anybody was asking about.
Tommy: Yep, you pretty much have everything anyone could want to know about the Classic Macs. I've found out a lot I didn't know before.
What do you think is the best part of running Jag's House?
Jag: Emails from people who say the site helped them get an old Mac up and running, or on the Net, or that they found an old game and fixed their Mac so they could play it.
Tommy: I was probably one of them that emailed you, but I can't remember.
Even with a crowded field of Classic Mac websites out there, how do you think Jag's House stacks up today compared with the others?
Jag: I really have no idea. I don't pay attention to other websites; I'm way too busy. I know that most questions are answered by perusing the site, because I rarely get any emailed questions since I uploaded over 400 classic Mac tutorials seven years ago.
Tommy: I've found that your forum is a great source of information. For one thing, I found out what was wrong with my Classic's sound not working from your forum.
How important are the forums to Jag's House?
Jag: They are valuable because the Jag's House community probably has tackled the situations or problems that others may encounter, so a solution is usually right around the corner. However, a large portion of the questions on the forum can be answered by going to my first page on my site and looking at a listing of all the pages on my entire site. I did that for expediency, and it really helps.
Tommy: It does really help - I know that for a fact! Just about every time I go to Jag's House, if I'm not visiting the forum, I go to the entire listing page, and I usually find what I need there.
Oldest on the Mac Web
Tommy: How does it feel knowing you were the first classic Mac website out there?
Jag: It's cool but no big deal. As it turns out, there were a lot of people hungering for info on the classic Macs; it's cool to be able to help.
Tommy: Which moment in Jag's House's history was the coolest?
Jag: Being listed on Steve Wozniak's website as one of his Top 10 favorite sites back in 1998. By the way, Jag's House is still listed there.
Tommy: Man, that's definitely an honor! I have a great respect for the Woz and all the people that helped create and develop the Apple II and Macintosh.
Have you ever emailed or been lucky enough to meet The Woz or Steve Jobs?
Jag: No. I don't want to meet Jobs. I know people who have, and he's a real butt, but Woz would be cool to hang with for an afternoon.
Tommy: Would it be a safe bet to consider Jag's House a legend in it's own time?
Jag: I wouldn't go that far.
Tommy: Out of all the emails you receive about Jag's House, what do you get the most comments or questions about?
Jag: Getting a Classic Mac online or transferring games from a peecee to a Classic Mac.
Tommy: For people who've never visited, what would you like them to know about Jag's House?
Jag: Read the list of pages - chances are your question will be answered there.
Tommy: When you look down the road a little ways, what do you see in the future for Jag's House?
Jag: Just more of the same; I'm not trying to get rich or famous, just pay for the ever increasing bandwidth!
'I Didn't Need a Manual'
Tommy: How did it all begin with your entry into the Apple world? Apple II or Mac?
Jag: Mac Plus - 1988. I did a FileMaker Pro
database in about an hour, never having used a computer before, and I was hooked. My brother was in the business (Third Wave Computing, PowerLogix), and he got me a Mac Plus with a 60 meg (huge) hard drive for $600. I was off and running.
Tommy: When you first used a Mac, what was the coolest thing about it?
Jag: I didn't need a manual.
Tommy: I was the same way with the first Mac I ever used in 1999. It was a Quadra 650 my good friend Sean let me borrow. I took to it like I'd been using it for years!
Think back to your first run-in with a PC. What was that like?
Jag: Memorizing DOS commands. I had sticky notes all over the screen with DOS commands. My super couldn't understand why I couldn't remember the commands, but I never had to memorize anything on my Mac.
Tommy: I know the feeling. I had a hard time learning all the DOS commands. I eventually did, but it was about as much fun as having a root canal.
What's your opinion of Microsoft then and now?
Jag: They sucked, and they still suck. Worst software on the planet. I don't use any MS software: never have, never will.
Be sure to check in tomorrow for the rest of my interview with Jag.

Join us on Facebook, follow us on Twitter or Google+, or subscribe to our RSS news feed
Today's Links
Mac of the Day: Macintosh 512K Fat Mac, introduced 1984.09.10. The first Mac with enough memory for serious work.
Recent Content
Custom Search
Follow Low End Mac on Twitter
Join Low End Mac on Facebook
Favorite Sites
MacSurfer
Cult of Mac
Shrine of Apple
MacInTouch
MyAppleMenu
InfoMac
The Mac Observer
Accelerate Your Mac
RetroMacCast
The Vintage Mac Museum
Deal Brothers
DealMac
Mac2Sell
Mac Driver Museum
JAG's House
System 6 Heaven
System 7 Today
the pickle's Low-End Mac FAQ
Affiliates
Amazon.com
The iTunes Store
PC Connection Express
Macgo Blu-ray Player
Parallels Desktop for Mac
eBay

Advertise