Tripping the Light Fantastic with Griffin's disko iPod Case
- 2007.03.07
Rating:
In the big world of all things iPod, what's an iPod without accessories?
Perhaps the most purchased iPod accessories are cases. And with so many cases out there, companies must find new ways to bring uniqueness to a case and make it stand out from all the rest.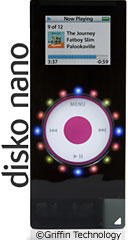 Enter the disko from Griffin Technologies. The disko line of cases are made for the 5G iPod along with the Sansa e200 series- and now iPod nano users get in on all the goodness as well. The US$24.99 disko nano comes in both clear and black and is currently on sale for just $5.99 . (The full-sized iPod disko is on sale for $7.99.)
Just what is the disko nano? It's a polycarbonate case that protects your iPod nano from the rigors of everyday use and abuse. What separates it from other polycarbonate cases? One thing: lights. With one shake of the disko nano, a light show ensues. It's very colorful, especially in the dark.
I looked at the black disko nano. Powered by two coin-sized lithium batteries, it will no doubt entertain you.
Installation is pretty straightforward: The disko nano works with both 1st generation (1G) and 2nd generation (2G) iPod nanos. To accdomplish this, it includes two back plastic plates, one for each model.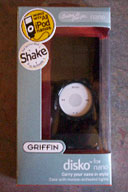 Although I like the disko nano overall, there is one shortcoming that keeps it from receiving a perfect rating. If you use your iPod nano much at all, you'll inevitably connect it to your computer to add or remove tunes - or to charge it. With the disko nano, the circuitry and batteries cover the nano's dock connector, so you have to remove it from the disko nano every time you want to hook it up to your computer or to a USB wall charger.

If you don't use your iPod nano much, this won't be too big a concern, but if you use it moderately to heavily, it will no doubt be frustrating to have to keep removing the nano from the disko nano casing so often. Not only that, but it will wear out the casing faster.
In all fairness, perhaps this was really the only way to make it work. Still, it's inconvenient. Perhaps another place the circuitry could be located is on top next to the hold switch, as there is plenty of room up there.
All other ports are unobstructed, which is very good news.
All in all, the disko nano is a great product that will provide a lot of enjoyment. If Griffin could work on moving the circuitry and batteries to another place so you could use the iPod's dock connector without removing it from the case, it would be perfect.
Kudos to Griffin Technology for this product.

Today's Links
Custom Search
Follow Low End Mac on Twitter
Join Low End Mac on Facebook
Favorite Sites
MacSurfer
Cult of Mac
Shrine of Apple
MacInTouch
MyAppleMenu
InfoMac
The Mac Observer
Accelerate Your Mac
RetroMacCast
The Vintage Mac Museum
Deal Brothers
DealMac
Mac2Sell
Mac Driver Museum
JAG's House
System 6 Heaven
System 7 Today
the pickle's Low-End Mac FAQ
Affiliates
Amazon.com
The iTunes Store
PC Connection Express
Macgo Blu-ray Player
Parallels Desktop for Mac
eBay

Advertise