Tough iPod Protection: YoTank's iTank Nano 2 Case
- 2007.05.18
Rating:
Ever find yourself wishing a product would come along that would exceed your expectations? A product that won't leave you disappointed or saying, "That's all?" Have you ever wished for a product that was durable, stylish and quality made?
I'm proud to announce a company specializing in iPod cases has done all of the above in one shot. As many of you know, I have a 2nd generation iPod nano. I've reviewed a few cases already, but none have impressed me more than this one.

YoTank's iTank Nano 2 case.
This case comes from YoTank. They make iPod cases along with cases for the Zune and Zen. I reviewed the iTank Nano2, their case for the iPod nano 2nd generation. All of YoTank's cases are made from aluminum with an almost chrome/mirror polish to them. It has a screen protector made from machined Lexan®.
It's a very durable casing. In fact, it's the best I've seen yet! It offers serious protection for the serious travel runabout.
The case is held together by 6 hex screws. As you'll see in the pictures, this insures that your iPod isn't going anywhere!
YoTank includes some spare hex screws in case you strip a screw or lose one. They also include a small hex tool to fit the screws.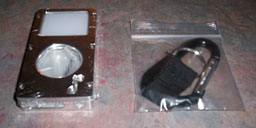 Inside the case, you'll find a lining of felt that keeps the nano safe and secure, as well as keeping it from touching the aluminum inside. The case has open holes for the click wheel, hold switch, headphone jack and connector. A lot of thought went into the design of this case. I personally believe the good folks at YoTank rigorously tested it to make sure it held up to the normal, everyday abuse an iPod can go through - as well as heavy abuse. They are so proud of their cases, they have pictures of their cases protecting iPod's and other players for our military overseas.
How does it hold up? On a recent trip to central Florida, I took my iPod nano with me with the iTank Nano2 case protecting it. It got shuffled around, and one day I accidentally dropped it after pulling it out of my bag. It never missed a beat - pure protection all the way, baby! This is one tough case. The drop was from about my waist to the hard ground, and it didn't even dent the case; it only scratched the case a little.
Any negatives? I could find only one, and even at that one isn't a big deal compared with the protection the case offers. The case is prone to scratching. In my mind, that's a miniscule price to pay for such a wonderful case. The styling seems to scream rough and tough. It almost has a military look to it.
You can get the iTank Nano2 in a chrome/mirror finish, black matte, or a special glossy red.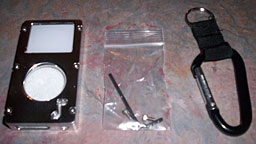 YoTank was also kind enough to include their one and only iPod accessory for me to review: The Hooker. It's a carabiner clip used to clip your iPod to you while you're moving around. As with the case, it's is very durable. The clip itself is metal. The Hooker costs $4.
Now for the big question: How much is this protection gonna cost you? If you get the regular chrome/mirror finish iTank Nano2, it costs $50. If you get the black matte finish, it's $57.50. The glossy red finish is $65. You can also get it with an eighth note cut out to display more of the color of your nano. Here's a rundown:
iTank Nano2 (chrome/mirror finish): $50
iTank Nano2 (with note cut out): $55
iTank Nano2 (black matte finish): $57.50
iTank Nano2 (glossy red): $65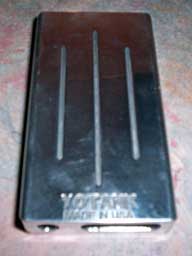 Admittedly, it's more expensive than most iPod cases, but I firmly believe you get what you pay for. You get a lot of protection - and style to boot.
One other thing everyone should know - and I'm really proud to say this - all of YoTank's products are made in the USA. When was the last time you saw that on a product? Made in the USA is proudly imprinted on the rear of the case. That alone may make it worth the extra expense.
You can check out their products online. Kudos to YoTank for an excellent case and clip.

Today's Links
Mac of the Day: Mac Pro, introduced 2006.08.07. The last Mac to go Intel, the Mac Pro has two dual-core Xeon CPUs at 2.0-3.0 GHz. 8-core option added in 2007.
Recent Content
Custom Search
Follow Low End Mac on Twitter
Join Low End Mac on Facebook
Favorite Sites
MacSurfer
Cult of Mac
Shrine of Apple
MacInTouch
MyAppleMenu
InfoMac
The Mac Observer
Accelerate Your Mac
RetroMacCast
The Vintage Mac Museum
Deal Brothers
DealMac
Mac2Sell
Mac Driver Museum
JAG's House
System 6 Heaven
System 7 Today
the pickle's Low-End Mac FAQ
Affiliates
Amazon.com
The iTunes Store
PC Connection Express
Macgo Blu-ray Player
Parallels Desktop for Mac
eBay

Advertise