Netscape Is Dead, but Its Children Live On
- 2008.01.07
Bong! . . . :-) . . . Welcome to Macintosh!
I'd like to take the time to wish everyone all the best in 2008! May the new year find you in great health and prosperous.
With a new year, we find we must say good-bye to the pioneer of web browsers. Netscape Navigator will take its last breath on February 1st. AOL officially stopped development on December 28 and will support it via updates until February 1st.
This is truly a sad day for the computer industry. (For a complete history of Netscape, see the Wikipedia article on Netscape Navigator.)
For a short time, Netscape was the standard in web browsers. As Netscape was the first commercial browser, it brought to market the things we now take for granted when it comes to browsing the Web.
Alas, its day in the sun was not to last. Microsoft's Internet Explorer, which would eventually crush Navigator, came along in 1995 and began to catch up to Navigator with version 3.0 in 1996, the year Netscape's usage share peaked. Netscape was to become just another unfortunate victim of Microsoft's tyranny and wrath.
Apple helped matters along when it replaced Netscape Navigator with Internet Explorer 3.0 as the Mac's default browser in 1997. And once Internet Explorer 5.0 was released in 1999, it was clear Netscape would never regain its former glory.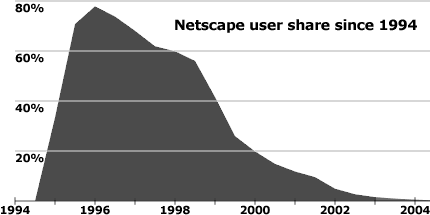 In 1998, Netscape made much of the code open source. This led to a new project by the open source community which was called Mozilla.
AOL bought out Netscape (the company) in late 1998, and that pretty much cemented what would become Netscape's long, slow death. Although AOL did attempt to bring back Navigator this past year, it was a halfhearted effort at best.
This spells the end for the pioneering web browser.
Netscape Navigator's legacy continues to live on in other browsers, most notably Firefox, which is slowly but surely eroding Internet Explorer's dominance.
I'd like to thank Mark Andreessen and the whole team at Netscape for creating Navigator. Thank you for the hard work that pioneered what we now know as web browsing. Internet Explorer may have become the most popular, but we'll never forget who was truly the innovator.
I ask all Low End Mac readers to continue to support Firefox and Camino (which is like Firefox only more Mac-like in it's operation) and any browser that uses the Netscape code. Together, we can all do our part to drive out Internet Explorer the way Microsoft drove out Netscape.
R.I.P. Netscape Navigator: 1994-2008.

Editor's note: Our site logs for December show 35.2% of our visitors use Firefox, 31.3% Safari, 24.2% Internet Explorer, 2.7% Mozilla, 2.0% Opera, 2.0% Camino, 0.5% Netscape, and no other browser breaks the 0.1% mark. 51% of these users were on Macs, 42.9% Windows, and 3.6% Linux. The Mozillas (Firefox, Mozilla, Camino, and Netscape) have made a real dent in IE's user base.
The last major update to Internet Explorer for the Mac came in March 2000, and it is no longer available from Microsoft. The Safari browser replace IE as the Mac's default browser in January 2003 and has been available for Windows XP since June 2007. dk
Join us on Facebook, follow us on Twitter or Google+, or subscribe to our RSS news feed
Today's Links
Mac of the Day: MacBook Core Duo, introduced 2006.05.16. The iBook's replacement has a 13" widescreen display and a 1.83-2.0 GHz Intel Core Duo CPU.
Recent Content
Custom Search
Follow Low End Mac on Twitter
Join Low End Mac on Facebook
Favorite Sites
MacSurfer
Cult of Mac
Shrine of Apple
MacInTouch
MyAppleMenu
InfoMac
The Mac Observer
Accelerate Your Mac
RetroMacCast
The Vintage Mac Museum
Deal Brothers
DealMac
Mac2Sell
Mac Driver Museum
JAG's House
System 6 Heaven
System 7 Today
the pickle's Low-End Mac FAQ
Affiliates
Amazon.com
The iTunes Store
PC Connection Express
Macgo Blu-ray Player
Parallels Desktop for Mac
eBay

Advertise