Apple replaced the Mac 512K with a model supporting double-sided 3.5″ disks, just like the Mac Plus. Unlike the Plus, the 512Ke used RAM chips rather than SIMMs, just like the 128K and 512K. This precluded upgrading RAM beyond 512 KB by simply plugging in higher capacity chips, although some companies did make memory upgrade kits for the 512Ke.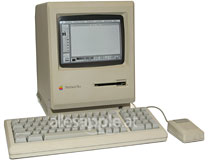 The 512Ke and Mac Plus were the last Macs not to use ADB ports for the keyboard and mouse – and the first to use mini DIN-8 serial ports.
Except for the name on the front, the 512Ke looks just like the Mac Plus pictured here. The biggest differences were the amount and type of RAM and the lack of a SCSI port on the 512Ke.
You can convert a non-working compact Mac into a Macquarium. (Please, don't even think of converting a working one!)
Details
introduced 1986.04.14 at $2,000; discontinued 1987.09.01
code name: Mac Minus
Gestalt ID: 3
Order no.: M0001E, M0001D (education version)
upgrade path: Plus
Mac OS
works with System 3.0 through 6.0.8
addressing: 24-bit only
Core System
CPU: 8 MHz 68000
ROM: 128 KB
RAM: 512 KB, expandable to 2 MB with party upgrades
Performance
0.8, relative to SE
0.7 MIPS
Graphics
9″ b&w screen, 512 x 342 pixels
Drives
floppy drive: 800KB double-sided
floppy connector on back of computer
Expansion
keyboard attached via coiled telephone-like cable
mouse attached via DB-9 connector
serial ports: DB-9 modem and printer ports
Physical
size (HxWxD): 13.6″ x 9.6″ x 10.9″
Weight: 16.5 lb.
PRAM battery: 4.5V PX 21 (a.k.a. Eveready 523, ANSI 1306AP, IEC 5LR50)
power supply: 60W
Upgrades
Mac Plus logic board (gives more RAM plus SCSI)
Online Resources
Cautions
Never connect an Apple II 5.25″ floppy drive to the Mac's floppy port. Doing so can ruin the floppy controller, meaning you can't even use the internal drive any longer.
The 512K and 512Ke can only access shared volumes on a network with AppleShare 1.1 Work Station, not with AppleShare 2.0 Work Station. More details in Apple TIL 5356.
That monitor packs a lot of voltage. Read Compact Mac CRT Energy before working inside.
Reliably supports serial speeds to 19.2 kbps, although default is 9600 bps. May have better throughput at 28.8 kbps despite some dropped and retransmitted packets. Throughput with a high speed modem may be limited. See 56k modem page. For more information on Mac serial ports, read Macintosh Serial Throughput.
Apple discontinued support and parts orders for the 512Ke on 1998.08.31. You may be able to find dealers with parts inventory either locally or on our parts and service list.
Keywords: #mac512ke #macintosh512ke
Short link: http://goo.gl/ZeeQyX
searchword: mac512ke, macintosh512ke