Introduced in October 1991, the Classic II (a.k.a. Performa 200) was both an upgraded Classic and a replacement for the venerable SE/30. Based on a modified LC motherboard, the Classic II shares a 16-bit data path and a RAM ceiling of 10 MB (the Classic II is slower than the SE/30, even though both use the same 16 MHz 68030 CPU). These shortcomings, plus the lack of an expansion slot, made it a poor replacement for the SE/30, and we call it a Compromised Mac.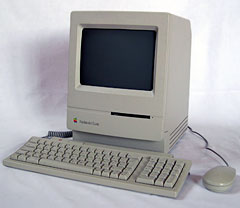 The Classic II was the last Mac to use a 9″ b&w screen.
You can set brightness from the keyboard with the Brightness control panel open – just use the keys 1-9 for a brighter or dimmer display. Note that if you set a brightness less than 4, the Classic II will revert to 4 at the next startup. Apple did this so users wouldn't think the computer wasn't working due to a dark display.
Color display? Aura Systems made ScuzzyGraph II, a SCSI peripheral that provided 8-color video for people who didn't want to buy (or couldn't afford) a Mac II. 1989 cost was $995 to $2,495, depending on resolution.
You can convert a non-working compact Mac into a Macquarium. (Please, don't even think of converting a working one – you can always find someone interested on the Classic Macs or Compact Macs lists.)
Details
Classic II introduced 1991.10.21 at $1,899; discontinued 1993.09.13
Performa 200 introduced 1992.09.14; discontinued 1993.10.18
code names: Apollo, Montana
Gestalt ID: 23 (49 for Performa 250)
model no.: M4150
Mac OS
requires System 6.0.8L, 7.0.1 to 7.6.1
addressing: 24-bit or 32-bit
Core System
CPU: 16 MHz 68030
FPU: 68882 (optional)
ROM: 512 KB
RAM: 2 MB, expandable to 10 MB using two 100ns 30-pin SIMMs
Performance
1.8, relative to SE
3.97, Speedometer 3.06
0.25, Speedometer 4
3.9 MIPS
see benchmarks
Graphics
9″ b&w screen, 512 x 342 pixels
Drives
floppy drive: 1.4 MB double-sided
floppy connector on back of computer
Hard drive: 40 or 80 MB
Expansion
ADB ports: 2
serial ports: 2 DIN-8 RS-422 ports on back of computer
SCSI ports: DB-25 connector on back of computer
expansion slots: none
Physical
size (HxWxD): 13.2″ x 9.7″ x 11.2″
Weight: 16 lbs.
PRAM battery: 3.6V half-AA
power supply: 76W
Accelerators
Online Resources
Guide to Compact Macs, a quick overview of Apple's 10 compact Macs.
Creating Classic Mac Boot Floppies in OS X, Paul Brierley, The 'Book Beat, 2008.08.07. Yes, it is possible to create a boot floppy for the Classic Mac OS using an OS X Mac that doesn't have Classic. Here's how.
The Compressed Air Keyboard Repair, Charles W Moore, Miscellaneous Ramblings, 2008.07.24. If your keyboard isn't working as well as it once did, blasting under the keys with compressed air may be the cure.
Know Your Mac's Upgrade Options, Phil Herlihy, The Usefulness Equation, 2008.08.26. Any Mac can be upgraded, but it's a question of what can be upgraded – RAM, hard drive, video, CPU – and how far it can be upgraded.
Why You Should Partition Your Mac's Hard Drive, Dan Knight, Mac Musings, 2008.12.11. "At the very least, it makes sense to have a second partition with a bootable version of the Mac OS, so if you have problems with your work partition, you can boot from the 'emergency' partition to run Disk Utility and other diagnostics."
My compact Macs: Macintosh SE/30 and Classic II, Carl Nygren, Classic Macs in the Intel Age, 2008.06.11. Apple only made two 16 MHz black and white models in the classic compact Mac form factor, and they're both great computers.
A Vintage Mac Network Can Be as Useful as a Modern One, Carl Nygren, My Turn, 2008.04.08. Old Macs can exchange data and share an Internet connection very nicely using Apple's old LocalTalk networking.
. Best online prices for System 6, 7.1, 7.5.x, Mac OS 7.6, 8.0, 8.1, 8.5, 9.0, 9.2.2, and other versions.
Vintage Mac Networking and File Exchange, Adam Rosen, Adam's Apple, 2007.12.19. How to network vintage Macs with modern Macs and tips on exchanging files using floppies, Zip disks, and other media.
Getting Inside Vintage Macs and Swapping Out Bad Parts, Adam Rosen, Adam's Apple, 2007.12.14. When an old Mac dies, the best source of parts is usually another dead Mac with different failed parts.
Solving Mac Startup Problems, Adam Rosen, Adam's Apple, 2007.12.12. When your old Mac won't boot, the most likely culprits are a dead PRAM battery or a failed (or failing) hard drive.
Better and Safer Surfing with Internet Explorer and the Classic Mac OS, Max Wallgren, Mac Daniel, 2007.11.06. Tips on which browsers work best with different Mac OS versions plus extra software to clean cookies and caches, detect viruses, handle downloads, etc.
A (Mac) classic spookfest, Tommy Thomas, Welcome to Macintosh, 2007.10.31. How to set up those old compact Macs with screen savers to enhance your Halloween experience.
The 10 worst Macs ever, Dan Knight, Mac Musings, 2007.10.23. The ten worst Macs of all time – and one of them came out just last year.
Simple Macs for Simple Tasks, Tommy Thomas, Welcome to Macintosh, 2007.10.19. Long live 680×0 Macs and the classic Mac OS. For simple tasks such as writing, they can provide a great, low distraction environment.
Interchangeabilty and Compatibility of Apple 1.4 MB Floppy SuperDrives, Sonic Purity, Mac Daniel, 2007.09.26. Apple used two kinds of high-density floppy drives on Macs, auto-inject and manual inject. Can they be swapped?
Apple's Consumer Performa Line, 1992 to 1997, Dan Knight, Mac Musings, 2007.09.14. Apple decided to pursue the average consumer by renaming existing Macs, bundling them with software, and putting their colorful boxes in regular retail outlets.
My first mobile Mac: A Classic II, Jacek A. Rochacki, Miscellaneous Ramblings, 2007.06.25. When a PowerBook 100 was beyond the author's means, he bought a second-hand Mac Classic II and fabricated his own carrying case to make it mobile.
Mac System 7.5.5 Can Do Anything Mac OS 7.6.1 Can, Tyler Sable, Classic Restorations, 2007.06.04. Yes, it is possible to run Internet Explorer 5.1.7 and SoundJam with System 7.5.5. You just need to have all the updates – and make one modification for SoundJam.
Appearance Manager Allows Internet Explorer 5.1.7 to Work with Mac OS 7.6.1, Max Wallgren, Mac Daniel, 2007.05.23. Want a fairly modern browser with an old, fast operating system? Mac OS 7.6.1 plus the Appearance Manager and Internet Explorer may be just what you want.
The Truth About CRTs and Shock Danger, Tom Lee, Online Tech Journal, 2007.05.22. You've been warned that CRT voltage can injure and even kill. The truth is that this danger is overstated – and takes attention away from a greater danger.
Format Any Drive for Older Macs with Patched Apple Tools, Tyler Sable, Classic Restorations, 2007.04.25. Apple HD SC Setup and Drive Setup only work with Apple branded hard drives – until you apply the patches linked to this article.
Making floppies and CDs for older Macs using modern Macs, Windows, and Linux PCs, Tyler Sable, Classic Restorations, 2007.03.15. Older Macs use HFS floppies and CDs. Here are the free resources you'll need to write floppies or CDs for vintage Macs using your modern computer.
System 7 Today, advocates of Apple's 'orphan' Mac OS 7.6.1, Tommy Thomas, Welcome to Macintosh, 2006.10.26. Why Mac OS 7.6.1 is far better for 68040 and PowerPC Macs than System 7.5.x.
30 days of old school computing: No real hardships, Ted Hodges, Vintage Mac Living, 2006.10.11. These old black-and-white Macs are just fine for messaging, word processing, spreadsheets, scheduling, contact management, and browsing the Web.
Jag's House, where older Macs still rock, Tommy Thomas, Welcome to Macintosh, 2006.09.25. Over a decade old, Jag's House is the oldest Mac website supporting classic Macs and remains a great resource for vintage Mac users.
30 days of old school computing: Setting up a Mac Classic II, Ted Hodges, Vintage Mac Living, 2006.09.07. Fond memories of using a Classic II in elementary school lead to it being the first Mac set up for a month of vintage, very low-end computing.
Vintage Macs with System 6 run circles around 3 GHz Windows 2000 PC, Tyler Sable, Classic Restorations, 2006.07.06. Which grows faster, hardware speed or software bloat? These benchmarks show vintage Macs let you be productive much more quickly than modern Windows PCs.
Misleading hard drive capacity and the WD settlement, long term Mac value, SCSI drive upgrades, and more, Dan Knight, Low End Mac Mailbag, 2006.07.05. Also thoughts on Color Classic upgrades, questions about Low End Mac's online survey, iPod hard drive upgrades, and the value of a used iPod.
Floppy drive observations: A compleat guide to Mac floppy drives and disk formats, Scott Baret, Online Tech Journal, 2006.06.29. A history of the Mac floppy from the 400K drive in the Mac 128K through the manual-inject 1.4M SuperDrives used in the late 1990s.
Compact Flash with SCSI Macs, PB 1400 CD-RW upgrade problems, and Web incompatibilities, Dan Knight, Low End Mac Mailbag, 2006.06.16. Suggested ways to use Compact Flash with vintage Macs and PowerBooks, problems getting CD-RW to work with a PowerBook 1400, and more thoughts on website incompatibilities.
Moving files from your new Mac to your vintage Mac, Paul Brierley, The 'Book Beat, 2006.06.13. Old Macs use floppies; new ones don't. Old Macs use AppleTalk; Tiger doesn't support it. New Macs can burn CDs, but old CD drives can't always read CD-R. So how do you move the files?
System 7.6.1 is perfect for many older Macs, John Martorana, That Old Mac Magic, 2006.03.24. Want the best speed from your old Mac? System 7.6.1 can give you that with a fairly small memory footprint – also helpful on older Macs.
System 7.5 and Mac OS 7.6: The beginning and end of an era, Tyler Sable, Classic Restorations, 2006.02.15. System 7.5 and Mac OS 7.6 introduced many new features and greater modernity while staying within reach of most early Macintosh models.
Web browser tips for the classic Mac OS, Nathan Thompson, Embracing Obsolescence, 2006.01.03. Tips on getting the most out of WaMCom, Mozilla, Internet Explorer, iCab, Opera, and WannaBe using the classic Mac OS.
Which system software is best for my vintage Mac?, Tyler Sable, Classic Restorations, 2005.11.22. Which system software works best depends to a great extent on just which Mac you have and how much RAM is installed.
Why you should use Mac OS 7.6 to get the most out of vintage Macs, Thomas Ahart, The Productive Mac, 2005.12.12. Although you may be able to run OS 8 or 9 on your old Mac, you'll generally find better performance using Mac OS 7.6.
The Joy of Six: Apple's fast, svelte, reliable, and still usable System 6, Tyler Sable, Classic Restorations, 2005.12.06. System 6 was small enough to run quickly from an 800K floppy yet powerful enough to support 2 GB partitions, 24-bit video, and the Internet.
10 things new classic Mac owners should know, Paul Brierley, The 'Book Beat, 2005.12.06. New to compact Macs? Ten things you really should know before you get too confused.
How to set up your own Mac Plus (or later) web server, Joe Rivera, Mac Fallout Shelter, 2005.11.29. All you need is an old Mac Plus with 4 MB of RAM, a hard drive, System 7 or later, some free software, and an Internet connection.
The compact Macs, Matthew Glidden, Profiles in Networking, ATPM, 2002.06. LocalTalk and ethernet networking for compact Macs.
Macintosh Classic II, Orion Lawlor
Ze Cube, Bernard Bélanger. Classic II repackaged in 10″ plexiglass cube – complete with slot-loading floppy drive!
Best compact Mac for QuickTime, Chris Lawson, 2000.08.30
Games for '030s, Brian Rumsey, Low End Mac Gaming, 2000.05.26. A look at games that run nicely on the old 68030-based Macs.
System 6.0.8L (two disk images)
Download System 6.0.8L (you must install 6.0.8 before installing 6.0.8L)
Why Should I Choose System 6 for the Mac II Family?, Manuel Mejia, Mac Daniel, 1999.12.13. If they can use System 7, why use System 6?
Cruising the web in black & white, John C. Foster, MacWeek, 1999.10.20
How Can I Upgrade a Classic II or LC II?, Mac Daniel
Faster browsing on older Macs, Online Tech Journal
Macintosh SE Support Pages, Chris Adams. Some links will also be helpful to Classic II users.
Information on 32-bit addressing
Email lists: Classic Macs Digest, Compact Macs
Macintosh Classic II Technical Specifications, Apple Knowledge Base Archive
Macintosh Performa 200 Technical Specifications, Apple Knowledge Base Archive
Cautions
Apple discontinued support and parts orders for this model on 2001.01.01. You may be able to find dealers with parts inventory either locally or on our parts and service list.
Never connect an Apple II 5.25″ floppy drive to the Mac's floppy port. Doing so can ruin the floppy controller, meaning you can't even use the internal drive any longer.
Macs with black-and-white only displays (1-bit, no grays) may find Netscape Navigator 3 makes it impossible to view some pages and sites. The workaround is to use Navigator 2 or 4.
Serial port normally restricted to 57.6 kbps; throughput with a 56k modem may be limited. See 56k modem page. For more information on Mac serial ports, read Macintosh Serial Throughput.
Keywords: #macclassicii #performa200
Short link: http://goo.gl/sbAOof
searchword: macclassicii. performa200