"With double its predecessor's speed and more than triple the RAM capacity, the LC III is a significant entry into the low end of Apple's line." MacUser, April 1993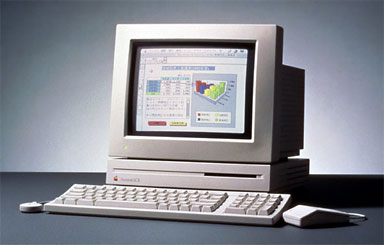 The LC III (a.k.a. Performa 450 and code named Elsie III and Vail) is a significantly faster computer than the LC II. Running at 25 MHz on a newly designed motherboard with a 32-bit data bus, the LC III offers nearly the same performance as the Mac IIci and twice the performance of the LC and LC II.
One big difference is that the LC III uses an extended version of the 16 MHz LC PDS slot – most cards were designed for 16-bit access, so adding a video card or ethernet port makes the computer run about 1/6 less efficiently than the IIci.
Significantly faster than the LC II, the LC III also broke the 10 MB RAM barrier, allowing expansion to 36 MB. This was the first Mac to use 72-pin SIMMs.
The LC III supports 16-bit video on a 640 x 480 monitor without a VRAM upgrade if you select the 640 x 400 pixel mode under Options in the Monitors control panel and then restart the computer.
This was Apple's first computer to use the Roman numeral III since the ill-fated Apple III.
Details
LC III introduced 1993.02.10 at $1,350; discontinued 1994.02.14
Performa 450 introduced 1993.04.12 at $1,350; discontinued
Gestalt ID: 27
model no.: M1254
upgrade path: Quadra 605
Mac OS
requires System 7.1 (with Enabler 003 ) to 7.6.1
addressing: 24-bit or 32-bit
Core System
CPU: 25 MHz 68030
FPU: 68882 (optional)
ROM: 1 MB
RAM: 4 MB on motherboard, expandable to 36 MB using a single 100ns 72-pin SIMM; can use 1 MB, 2 MB, 4 MB, 8 MB, 16 MB, or 32 MB SIMM
L2 cache: none
Performance
3.6, relative to SE (compare to 3.5 for Mac IIci)
6.3 MIPS
2.31, MacBench 2.0 CPU
6.9, Speedometer 3
0.43, Speedometer 4
see Benchmarks: LC III for more details
Graphics
video: 512 KB VRAM onboard, expandable to 768 KB; supports 512 x 384, 640 x 480, 640 x 870, and 832 x 624 resolutions

512 x 384: 16-bit @ 512 KB
640 x 400: 16-bit @ 512 KB
640 x 480: 8-bit @ 512 KB, 16-bit @ 768 KB
640 x 870 (portrait): 4-bit @ 512 KB, 8-bit @ 768 KB
832 x 624: 8-bit @ 512 KB, 16-bit @ 768 KB

VRAM: accepts one 256 KB 100ns VRAM SIMM to upgrade VRAM to 768 KB total, other specs unknown, VRAM SIMM appears to be specific to early Macs.
Drives
Hard drive: 40, 80, or 160 MB
floppy drive: 1.4 MB double-sided
Expansion
ADB ports: 1
serial ports: 2 DIN-8 RS-422 ports
SCSI ports: DB-25 connector on back of computer
enhanced LC PDS slot
Physical
size (HxWxD): 2.9″ x 12.2″ x 15.3″
Weight: 8.8 lb.
PRAM battery: 3.6V half-AA
power supply: 50W
Accelerators & Upgrades
Online Resources
Apple IIe Card: A Tool for Getting Macs into Schools, Mac Musings, 2018.02.08
Creating Classic Mac Boot Floppies in OS X, Paul Brierley, The 'Book Beat, 2008.08.07. Yes, it is possible to create a boot floppy for the Classic Mac OS using an OS X Mac that doesn't have Classic. Here's how.
Know Your Mac's Upgrade Options, Phil Herlihy, The Usefulness Equation, 2008.08.26. Any Mac can be upgraded, but it's a question of what can be upgraded – RAM, hard drive, video, CPU – and how far it can be upgraded.
Mac LC III still a most useful machine, Jeff Gaskill, My First Mac, 2008.07.30. A love affair that will last as long as they make Macs began with a used LC III in 1997, and it's still being used today.
The Compressed Air Keyboard Repair, Charles W Moore, Miscellaneous Ramblings, 2008.07.24. If your keyboard isn't working as well as it once did, blasting under the keys with compressed air may be the cure.
A Vintage Mac Network Can Be as Useful as a Modern One, Carl Nygren, My Turn, 2008.04.08. Old Macs can exchange data and share an Internet connection very nicely using Apple's old LocalTalk networking.
14 years of useful service from a Macintosh LC III, Mark Shipp, My Turn, 2008.02.26. Purchased in 1993, this LC III has been used as a multimedia center, word processing machine, mail server, Internet router, and print server.
Vintage Mac Networking and File Exchange, Adam Rosen, Adam's Apple, 2007.12.19. How to network vintage Macs with modern Macs and tips on exchanging files using floppies, Zip disks, and other media.
Vintage Mac Video and Monitor Mania, Adam Rosen, Adam's Apple, 2007.12.17. Vintage Macs and monitors didn't use VGA connectors. Tips on making modern monitors work with old Macs.
Getting Inside Vintage Macs and Swapping Out Bad Parts, Adam Rosen, Adam's Apple, 2007.12.14. When an old Mac dies, the best source of parts is usually another dead Mac with different failed parts.
Solving Mac Startup Problems, Adam Rosen, Adam's Apple, 2007.12.12. When your old Mac won't boot, the most likely culprits are a dead PRAM battery or a failed (or failing) hard drive.
Better and Safer Surfing with Internet Explorer and the Classic Mac OS, Max Wallgren, Mac Daniel, 2007.11.06. Tips on which browsers work best with different Mac OS versions plus extra software to clean cookies and caches, detect viruses, handle downloads, etc.
'Snow Leopard' vs. LocalTalk, new vs. close-out MacBook value, and more, Charles W Moore, Miscellaneous Ramblings, 2009.09.02. Also LC III usability in the 21st Century, Pismo upgrades, and more on Pismo FireWire Disk Mode problems.
Golden Apples: The 25 best Macs to date, Michelle Klein-Häss, Geek Speak, 2009.01.27. The best Macs from 1984 through 2009, including a couple that aren't technically Macs.
G4 iMac 'not half anything', LEM design comments, and more on Macs not supported by Leopard, Dan Knight, Low End Mac Mailbag, 2007.10.22. The dual 800 MHz Power Mac may be supported, Apple is (or isn't) right to draw the line at 867 MHz, and an LC III that won't work with a PC display.
Simple Macs for Simple Tasks, Tommy Thomas, Welcome to Macintosh, 2007.10.19. Long live 680×0 Macs and the classic Mac OS. For simple tasks such as writing, they can provide a great, low distraction environment.
Interchangeabilty and Compatibility of Apple 1.4 MB Floppy SuperDrives, Sonic Purity, Mac Daniel, 2007.09.26. Apple used two kinds of high-density floppy drives on Macs, auto-inject and manual inject. Can they be swapped?
Apple's Consumer Performa Line, 1992 to 1997, Dan Knight, Mac Musings, 2007.09.14. Apple decided to pursue the average consumer by renaming existing Macs, bundling them with software, and putting their colorful boxes in regular retail outlets.
2 pizza box Macs: An original LC and an LC III, Leo Titus LeBron V, Collection Spotlight, 2007.08.01. Pushing an LC III to the limit and dealing with a dead Macintosh LC.
Mac System 7.5.5 Can Do Anything Mac OS 7.6.1 Can, Tyler Sable, Classic Restorations, 2007.06.04. Yes, it is possible to run Internet Explorer 5.1.7 and SoundJam with System 7.5.5. You just need to have all the updates – and make one modification for SoundJam.
Appearance Manager Allows Internet Explorer 5.1.7 to Work with Mac OS 7.6.1, Max Wallgren, Mac Daniel, 2007.05.23. Want a fairly modern browser with an old, fast operating system? Mac OS 7.6.1 plus the Appearance Manager and Internet Explorer may be just what you want.
Format Any Drive for Older Macs with Patched Apple Tools, Tyler Sable, Classic Restorations, 2007.04.25. Apple HD SC Setup and Drive Setup only work with Apple branded hard drives – until you apply the patches linked to this article.
Making floppies and CDs for older Macs using modern Macs, Windows, and Linux PCs, Tyler Sable, Classic Restorations, 2007.03.15. Older Macs use HFS floppies and CDs. Here are the free resources you'll need to write floppies or CDs for vintage Macs using your modern computer.
30 days of old school computing: No real hardships, Ted Hodges, Vintage Mac Living, 2006.10.11. These old black-and-white Macs are just fine for messaging, word processing, spreadsheets, scheduling, contact management, and browsing the Web.
Mac OS 8 and 8.1: Maximum Size, Maximum Convenience, Tyler Sable, Classic Restorations, 2006.09.11. Mac OS 8 and 8.1 add some useful new features and tools, and it can even be practical on 68030-based Macs.
Floppy drive observations: A compleat guide to Mac floppy drives and disk formats, Scott Baret, Online Tech Journal, 2006.06.29. A history of the Mac floppy from the 400K drive in the Mac 128K through the manual-inject 1.4M SuperDrives used in the late 1990s.
System 7.5 and Mac OS 7.6: The beginning and end of an era, Tyler Sable, Classic Restorations, 2006.02.15. System 7.5 and Mac OS 7.6 introduced many new features and greater modernity while staying within reach of most early Macintosh models.
Turning an LC or other ancient Mac into a webcam with a QuickCam, Tyler Sable, Classic Restorations, 2006.01.25. As long as it has 4 MB of RAM and a hard drive, any 16 MHz or faster Mac that supports color can be configured as a webcam.
Web browser tips for the classic Mac OS, Nathan Thompson, Embracing Obsolescence, 2006.01.03. Tips on getting the most out of WaMCom, Mozilla, Internet Explorer, iCab, Opera, and WannaBe using the classic Mac OS.
Which system software is best for my vintage Mac?, Tyler Sable, Classic Restorations, 2005.11.22. Which system software works best depends to a great extent on just which Mac you have and how much RAM is installed.
Why you should use Mac OS 7.6 to get the most out of vintage Macs, Thomas Ahart, The Productive Mac, 2005.12.12. Although you may be able to run OS 8 or 9 on your old Mac, you'll generally find better performance using Mac OS 7.6.
Guide to LC PDS Video Cards. Includes Focus, Radius, and RasterOps cards for the LC processor direct slot.
LC design and caveats, Mark Benson, 68kMac.com, 2005.10.11. Apple's original low-cost, slightly crippled, compact, modular Macs. Also, the difference between auto-inject and manual-inject floppies.
Mac OS 8.1 on an LC III, 8/30. Born Again lets you run OS 8.1 on '030 Macs, but how does performance compare with System 7.5.5?
Run Mac OS 8.1 on your '030 Mac, Charles W Moore, Applelinks, 8/8/00. "Born Again enables certain 68030 Macs to support Mac OS 8.1."
Games for '030s, Brian Rumsey, Low End Mac Gaming, 5/26. A look at games that run nicely on the old 68030-based Macs.
Hands on: Sonnet Presto Plus, Mark Looper, 3/2/2000
Review: Sonnet Presto
Mac II, IIci, and LC III Questions, Mac Daniel
Email lists: Classic Macs Digest, Vintage Macs
Printed reviews: Macworld, April 1993; Mac User, April 1993
Macintosh LC III Technical Specifications, Apple Knowledge Base Archive
Performa 450 Technical Specifications, Apple Knowledge Base Archive
Cautions
Keywords: #maclciii #performa450
Short link: http://goo.gl/nfNc9u
searchwords: maclciii, performa450