The Quadra 630 was the last Mac designed around the 68040 processor. It was designed to replace the Quadra 610. LC and Performa versions of the 630 use the less expensive 68LC040, which lacks an FPU, while the Quadra 630 sports a full 68040. The slide-out motherboard makes upgrades very easy.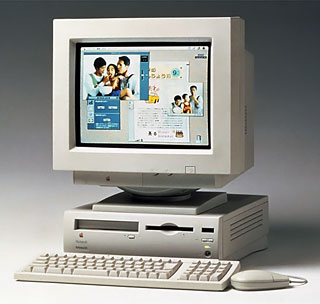 The 630 was the first desktop Mac to use an IDE hard drive, a type of drive common in the IBM compatible market and less expensive than SCSI drives, instead of Apple's traditional SCSI hard drive. However, the CD-ROM (when present) is a SCSI device and the 630 retains its external SCSI port.
The 630 was quite cleverly designed for a computer with no industry standard slots. It contains an extended LC PDS that supported both LC and extended LC cards, a comm slot for a modem or ethernet card, and a video slot for either Apple's Video System Card or TV/Video System card. To top it off, the DOS Compatibility card plugs into the CPU socket and also uses the PDS, but it leaves the comm and video slots free.
The standard Quadra 630 has a single SIMM socket, but if you're handy with a soldering iron, it's possible to add a second one.
Details
Accelerators & Upgrades
Online Resources
Cautions
Keyword: #quadra630
Short link: http://goo.gl/AyS7wR
searchword: quadra630