The PowerBook 5300 was Apple's first PowerBook based on a PowerPC CPU. Due to fire problems with the original LithIon battery (which was recalled before it reached the consumer market), plastic chipping from the case, and poor performance (among other things), we label it a Compromised Mac. (It was also the butt of a lot of jokes.)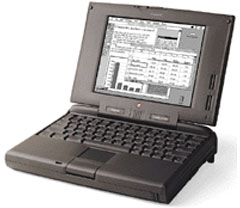 Still, despite some limitations, the 5300 is a nice portable, as is its 68040-based twin, the PowerBook 190. Upgrading to Mac OS 8.1 or later makes it rock solid – and it's a lot smaller than the PowerBook G3 Series (a.k.a. WallStreet).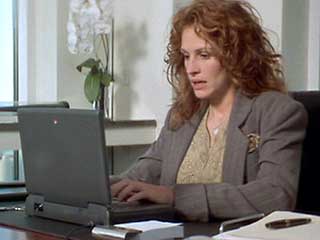 Apple went all out getting product placement for the 5300, and it appeared in several movies, including Independence Day (1996, below), Ransom (1996), Jingle All the Way (1996), My Best Friend's Wedding (1997, left), The Saint (1997), Free Willy 3 (1997), and Home Alone 3 (1997), and Volcano (1997).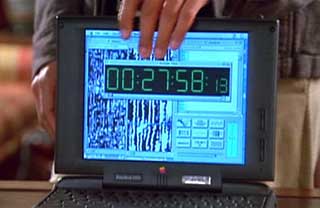 The top-end $6,500 5300ce was the first PowerBook with an 800 x 600 pixel display. Earlier PowerBooks had been limited by 640 x 400 and 640 x 480 displays. The entry-level 5300 had a 16-shade 640 x 480 grayscale display, and the two intermediate models had 640 x 480 color screens.
By modern standards, its biggest drawback is probably the 64 MB memory ceiling, which can be overcome using RAM Doubler or Virtual Memory.
PowerBook Hard Drives: The Essential Upgrade notes that there may be compatibility issues with EIDE drives larger than 8.2 GB, although this may be resolved by partitioning or using Mac OS 8.6 or later.
Warning
According to the Road Warrior and Other World Computing, the drive controller in pre-G4 PowerBooks is incompatible with ATA-6/Ultra ATA-100 hard drives.
Details
introduced 1995.08.25 at $6,500 (5300ce); discontinued 1996.08.03
requires System 7.5.2 (with PowerBook 5300 Enabler) through 9.1
CPU: 100 or 117 MHz PPC 603e
ROM: 4 MB
RAM: 8-32 MB standard, expandable to 64 MB
Level 2 cache: none
displays:

640 x 480 9.5″ 85 ppi grayscale active matrix with 16 shades
640 x 480 10.4″ 77 ppi color dual scan with 16-bit color
800 x 600 10.4″ 96 ppi color active matrix with 16-bit color

Video out: VID-14, requires cable (Apple P/N M3927LL/A), 512 KB VRAM (1 MB on some models, which provides 16-bit video), supports 8-bit video at 640 x 480 and 832 x 624, 4-bit video at 640 x 870 and 1024 x 768
Hard drive: 500 MB, 750 MB, or 1.1GB EIDE
expansion bay: same as PowerBook 190
ADB: 1 port for keyboard and mouse
serial: 1 DIN-8 RS-422 port on back of computer
PC Card slots: 2
SCSI: HDI30 connector on back of computer
PC Card slots: 2 Type II (accepts one Type III card)
infrared: only supports Apple's IRtalk
size: 2.0-2.2 x 11.5 x 8.5″
Weight: 5.9-6.2 pounds
Gestalt ID: 128
family number: M3135
power supply: M3747 or M3037
Online Resources
Cautions
From Apple Knowledge Base Archive Article 19358: There is a known issue with the password security feature on the PowerBook 5300 and 190 series computers. This issue is resolved by installing the System 7.5 Update 2.0 which includes the Password Security 1.0.3 control panel.
PowerBooks with EDI hard drives do not provide SCSI termination power, depending on external SCSI devices to provide it. For more details, see SCSI Termination Power.
Keywords: #powerbook5300
Short link: http://goo.gl/Rqsyeo
searchword: powerbook5300