This PowerBook G3 was the first Mac designed around the PowerPC 750 (a.k.a. G3) processor, beating the first G3 Power Macs by less than a week. It was the world's most powerful notebook computer when it was released in late 1997.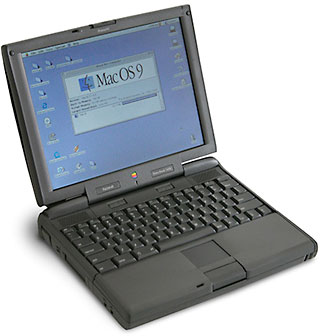 Don't confuse the original PowerBook G3 (based on the PowerBook 3400c) with the PowerBook G3 Series (a.k.a. WallStreet). Although it bears almost exactly the same name, WallStreet was a whole new computer.
Kanga can only handle up to 160 MB of RAM and is the only G3 PowerBook never officially supported under Mac OS X. It was on the market for just six months.
Kanga shipped with Mac OS 8.0, the first version of the Mac OS with built-in support for the G3 processor. There are rumors that Mac OS 7.6 can run on Kanga; however, the standard installer will not install it, and we have not heard from anyone who is actually running it on a Kanga PowerBook.
CardBus is not supported from the factory but can be enabled with a software patch.
Warning
According to the Road Warrior, the drive controller in G3 PowerBooks is incompatible with some ATA-6/Ultra ATA-100 hard drives. When replacing the internal hard drive, you should be sure to obtain an ATA-5/Ultra ATA-66 compliant drive or an ATA-6 or ATA-7/Ultra ATA-133 drive known to work with Kanga.
Details
code names: Kanga, 3500
introduced 1997.11.10 at US$5,699; discontinued 1998.05.04
requires System 8.0 through 9.1; unsubstatiated rerports that Mac OS 7.6 may work (would probably require software to support the G3 processor); not certified for Mac OS X
CPU: 250 MHz PPC 750 (a.k.a. G3)
Performance: 115,385 Whetstones; 747, MacBench 4
Bus: 50 MHz
ROM: 4 MB
RAM: 32 MB, expandable to 160 MB using a single EDO RAM DIMM
Level 2 cache: 512 KB backside cache running at 100 MHz
VRAM: 2 MB
video: Chips and Technology 65554
display: 12.1″ 16-bit 800 x 600 83 ppi color active matrix
also supports millions of colors on external displays
Video out: VGA port
Hard drive: 5 GB EIDE drive
expansion bay: same as PowerBook 190, 5300, and 3400
CD-ROM: 20x, removable
ADB: 1 port for keyboard and mouse
serial: 1 DIN-8 RS-422 port on back of computer
SCSI: HDI30 connector on back of computer
ethernet and modem standard
infrared: supports IrDA and Apple's IRtalk protocol
PC Card slots: 2, CardBus compliant with USB Card Support patch (see CardBus for Your PowerBook 3400c or Kanga G3 for details and links)
Weight: 7.1-7.7 pounds with battery
size: 2.4″ H x 11.5″ W x 9.5″ D
battery: rated at two to four hours of use
family number: M3553
power supply: M4896 or M4895
Online Resources
Keywords: #kangapowerbook #kangapowerbookg3 #powerbookg3
Short link: http://goo.gl/Ltbxu8
searchword: kangapowerbook