Have you heard about iCab, the new shareware Mac-only web browser from Germany?
With Internet Exploder and Netscrape Communicator (sorry, I couldn't resist) available at no charge, what are they thinking?
Frankly, Microsoft and Eudora both have free email clients, but I'm sticking with Claris Emailer. It handles several email accounts with alacrity, has powerful filters, and works very comfortably. That's worth money.
Font Size
iCab shows that some programmers think different about browsers. Netscape lets you choose your default font size, but I've found you can crash Netscape by changing that and not quitting and then restarting the browser.
Internet Explorer lets you pick larger and smaller type, within a very limited range of sizes, but it never lets you set a default font size such as 12 points. iCab works both ways: You define your default font and size, but then you can also increase or decrease it to your heart's content.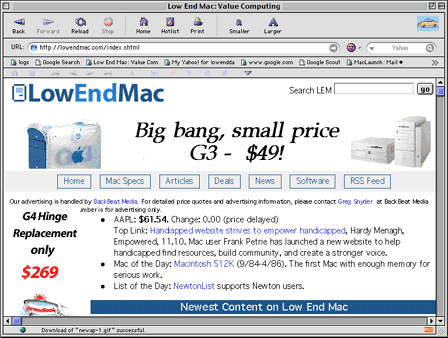 Considering the number of Windows sites with "size = -2" type, this is a blessing. That was the first feature I noticed that I really like – and that clearly sets iCab a step ahead of the competition.
HTML 4.0
If you're a webmaster, you know that many programs (including Claris Home Page 3, which I use to create this site) don't produce HTML code that's fully compliant with the HTML 4.0 specification. It works, but because HTML is an evolving standard, there's no promise that pre-4.0 code will display properly on tomorrow's browsers.
iCab displays an un-smiley face (a red face with a frown) when you're viewing a noncompliant page. Better yet, it will tell you where the underlying code is noncompliant.
The Footprint
Not only does iCab have a small footprint on your hard drive (2 MB), but it doesn't cry out for 8 MB or more of memory. In fact, on a Power Mac with virtual memory enabled, it can run in 2 MB (if not, it wants 3 MB). And for owners of legacy Macs, the iCab programmers are developing a 68K version of their browser.
Imagine running an HTML 4.0 compliant browser on a PowerBook with only 4 MB of memory.
The Danger
One feature of iCab that I don't appreciate is the ability to block graphics of certain sizes (such as the most commonly used banner sizes) or from certain sources. While it sounds nice, using this will have a negative effect on sites that rely on banner ads for income. Besides, sometimes those banners lead to a great new site or a nice bargain.
Overall, iCab has a lot to commend it. It's still rough around the edges, still under development, but worth a look. I think iCab could easily grow into something you'd gladly pay to put on your Macintosh.
Keywords: #icab