July 1999: The suspense is over! In one of what has to be the longest-anticipated and one of the most eagerly awaited product introductions in its history, Apple computer unveiled its new compact iBook consumer notebook on Wednesday at Macworld Expo New York.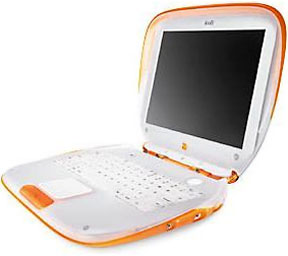 Touted as the iMac to Go, iBook features an advertised battery life of up to six hours, a 300 MHz PowerPC G3 chip (reportedly a 333 MHz chip de-clocked for lower power consumption), and Apple's new optional AirPort wireless networking for cable-free Internet access (which will also be offered as an add-on for the "professional" Lombard PowerBook), in a new laptop form factor available in two of the iMac's five fruit-flavor colors – Blueberry and Tangerine.
The iBook features a 12.1″ TFT display; a PowerPC G3 microprocessor that outperforms the fastest Intel processor found in any notebook PC; built-in 56K modem and 10/100Base-T ethernet networking; built-in CD-ROM drive; and two built-in antennas and an internal slot to accept Apple's new AirPort wireless networking card. iBook's design features include a rubber-coated translucent enclosure for durability, a pullout (color-highlighted) handle for safe carrying nested in the display hinge area, and a latchless closing mechanism.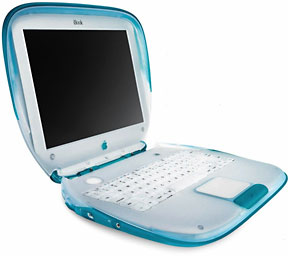 This new Apple portable is visually arresting, in iMac-style translucent "ice" white with "rubber" gripping surfaces and highlights in either Blueberry or Tangerine iMac flavor colors. The keyboard is essentially the same excellent design used in WallStreet and Lombard, only in the iBook, it is transparent with keycap highlights in the appropriate flavor color. The trackpad is silver-white.
The full-size keyboard is a clue to the fact that this iBook is not a subnotebook by any stretch of the imagination. In fact at 13.5″ wide and 11.6″ deep, my measuring tape tells me that iBook is nearly an inch wider and over an inch deeper than WallStreet, which is considered a bit of a porker. It's no lightweight either, tipping the scales at 6.7 pounds, which makes it both bigger and heavier than the "full-size" Lombard PowerBook. The iBook's behemoth proportions are a disappointment to me, and it still leaves a big hole in Apple's product line where a thin, sleek subnotebook should be.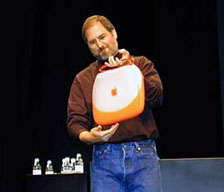 New engineering wrinkles in iBook's case design include no flip down or foldaway door covering the connection ports, eliminating a source of aggravation to PowerBook owners from day one. There is no case latch either. The display lid has spring-loaded hinges instead, and the Energy Saver control panel can be programmed to wake up iBook automatically when you open the lid.
Another cool engineering feature is two circular metal charging contacts located on the bottom of the case near the center, which Apple says will allow third-party developers to create charging stations that can charge several units simultaneously without the need to plug each unit into a wall socket. Useful for schools.
In fact, Apple emphasizes that iBook was designed specifically with students in mind, with no doors or latches to open and break; no hot-swappable devices that can fall out, be lost, or get stolen; no sharp edges; and rubber over-molding that is up to four times thicker in some areas than the plastics used in traditional PowerBook designs. Apple says iBook was designed with the thought that it might spend much of its life in a backpack.
Some of this sounds a bit like making a virtue of necessity, but the iBook should be a durably portable portable.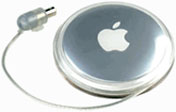 One feature that is drawing a lot of oohs and ahhs is iBook's yo-yo-shaped retractable power cord, which will be great so long as the mechanism is durable. I tend to be skeptical of such engineering complications. However, iBook can also use Lombard's conventional cord if the fancy newfangled one breaks.
Update: The yo-yo power adapter was fine if you didn't wind the cord too tight. Over time it had a tendency to fray. Fortunately, there were lots of good third-party adapters that were also more compact.
The iBook will be available in September for US$1,599. I'll go into more detail below, but here are the highlights of iBook's feature set:
12.1″ (diagonal) active-matrix TFT SVGA display with millions of colors at 800 x 600 resolution
PowerPC G3 processor running at 300 MHz with a 512 KB backside L2 cache
Up to six hours running time on a single charge of its Lithium-Ion battery
56K modem or 10/100Base-T Ethernet using EarthLink Total Access
AirPort wireless Internet connection option (antennas already built-in)
Full-size, professional-quality keyboard
24x CD-ROM drive
Productivity, education, and games software bundle
One USB port for peripherals such as printers, input devices, and storage devices
Mac OS 8.6
32 MB SDRAM, expandable to 160 MB
ATI RAGE Mobility graphics controller with 4 MB SDRAM video memory and 2x AGP
3.2 GB IDE hard disk drive
The innovative power adapter that lets you wind up its cord like a YoYo
Built-in stereo headphone jack.
There is also quite a lengthy list of features that iBook does not have, including:
No PC Card slots
Not a whole lot of standard RAM
No video out
No expansion bay
No SCSI or FireWire ports (no SCSI Disk Mode with iBook, alas)
Only one USB port
No microphone
No IRDA
No DVD support
With just one USB port, connectivity will be even more restricted with iBook than it is with the iMac.
Personally, I think Apple has made a mistake in not offering a low-end iBook with a passive matrix display. The 12'1″ STN display that shipped in the early Series I "MainStreet" 233 PowerBooks was very nice (I used a demo for two months) and would fit the iBook case. The rising price of TFT technology is the main reason why Apple was not able to meet the hoped-for $1,299 price point with iBook, even with making the new "AirPort" wireless connectivity technology optional ($99) and leaving out the stuff I listed above. The AirPort Base Station is US$299
AirPort
AirPort is a wireless local area network (LAN) solution that provides totally untethered Internet access for iBook (and Lombard with a wireless expansion card). AirPort includes the AirPort Card, which is user-installable in iBook, and the AirPort Base Station, which contains a 56K modem and a 10Base-T Ethernet port for connecting to a phone line, cable modem, DSL modem, or local area network for terrestrial Internet access. AirPort is based on the industry standard IEEE 802.11b.
iBook becomes the first computer designed from scratch for wireless networking, with its two built-in antennas and a slot for the optional AirPort Card. The AirPort Card, working in conjunction with the AirPort Base Station, enables data to be transmitted between iBooks and the AirPort Base Station at speeds of up to 11 megabits per second. Up to ten iBooks can share a single AirPort Base Station simultaneously from up to 150 feet away, including through walls.
You can also transfer files or play multiplayer games directly between AirPort-enabled computers. Simply use the AirPort Control Strip module on both computers to switch from using the AirPort Hardware Access Point to using direct computer-to-computer communications. Depending on their surroundings, the computers will be able to communicate within about 150 feet of each other.
Apple teamed with wireless networking specialists Lucent Technologies to design and deliver AirPort, which offers password access control and encryption to deliver security equivalent to that of a physical network cable. Users are required to enter a password to log on to the AirPort network – and, optionally, an additional password for access to any other computer on the network. When transmitting information, AirPort uses 40-bit encryption to scramble data. Apple says that AirPort has a small but minimal impact on battery life during normal use.
You can also add an iMac or Power Macintosh G3 to an AirPort network by using a crossover Ethernet cable with the AirPort Hardware Access Point. You must locate the hardware access point near the desktop computer, connect the Ethernet port of that computer to the Ethernet port on the access point using the crossover cable, and you're ready to share the AirPort Hardware Access Point modem. You can share files and play multiplayer games over the network.
iBook also works with third-party access point products that conform to the IEEE 802.11 standard and use Direct Sequence Spread Spectrum (DSSS) modulation. Some PC notebooks can also work with an AirPort network. IP printers can be shared on the AirPort network in a similar manner to an Ethernet network.
Other iBook Features
Getting down to the finer details, iBook has a real reset button (hooray!) located directly above the power button on the keyboard, which can be pressed by inserting the end of a paper clip into the small reset hole (I'm delighted that Apple has continued the time-honored paper clip Mac tool tradition that seems to so confound and befuddle the PC troops). iBook also offers the equivalent of a reset button via a key sequence. To reset the hardware, press the Control- Command-Power keys simultaneously.
Speaking of keyboard commands, The iBook has programmable function keys. Apple preprograms F1 through F6 with common control functions like screen brightness, speaker volume, and so on. F7 through F12 can be programmed for your personal programming choices. To help users identify what the function keys were programmed to do, Apple includes with iBook a variety of stickers with preselected icons. Once the keys are programmed, you can select stickers that will best remind you of the assigned functions. Function keys F1 through F12 can be easily reset to have primary functionality.
There is an optional keyboard locking mechanism that provides additional security for the iBook's internals, such as the AirPort card and memory upgrades. To activate the keyboard lock, locate the Num Lock LED key between the F4 and F5 keys on the keyboard. The round LED light in the middle of the Num Lock LED key is actually a small translucent retaining screw. Turning the screw allows you to secure the keyboard.
There is no internal cooling fan. Apple says it does not create significant heat, and thus it doesn't require a fan.
Battery Life and Sleep Modes
The iBook's battery is a completely new lithium-ion design, long and thin, with an estimated (by Apple) battery life with maximum power conservation functions selected for up to 6 hours. When the system is shut down or in sleep mode, the battery takes about two hours to recharge, or four hours with the computer running. iBook's integrated power input plug stays amber when the battery is charging and turns green when it's fully charged. The system must be shut down (not just put to sleep) when changing batteries to prevent data loss.
There is also a new sleep indicator beacon light, and also three choices for sleep mode: Sleep Now, Save and Sleep Now, and Save & Power Off Now. Sleep Now is the traditional form of PowerBook sleep. When iBook is in Sleep Now mode, it must continually draw a small amount of power from the batteries in order to maintain the current information in RAM. In the Save and Sleep Now mode, prior to going to sleep, the system creates a single file of all the information contained in RAM at the time and stores it on the hard disk.* In Save & Power Off Now, the system again creates a single file of all the information contained in the computer's memory at the time, stores it on the hard disk, and then powers off the computer. The benefit of Save & Power Off Now is a significantly reduced start-up time and the contents that were saved from the computer's memory are instantly restored.
Memory Upgrades
iBook accepts a 32, 64, 96, or 128 MB 144-pin 1.25″ SO-DIMM for memory upgrades (not the same SO-DIMMs used by G3 PowerBooks and iMacs, alas). Access to the memory slot is conventional, by removing the iBook's keyboard. Only ordinary tools such as slot-head and Phillips-head screwdrivers are needed. Because the iBook's video RAM is embedded in the ATI RAGE Mobility chip, it is not upgradeable, but with no video-out provision, that is not a major issue.
Bundled Extras
iBook comes bundled with Mac OS 8.6, AppleWorks, Palm Desktop, FAXstf, World Book Encyclopedia, EdView Internet Safety Kit Family Edition, Bugdom, Nanosaur, Netscape Communicator, Microsoft Internet Explorer, Microsoft Outlook Express, America Online, EarthLink Total Access, and Adobe Acrobat Reader software. Apple has included a free 30-day EarthLink trial offer with iBook.
Apple Store iBook build-to-order options include additional SDRAM (64 or 96 MB) and the AirPort wireless communications card.
As I had expected, iBook is neither as revolutionary in design, nor as small, nor as inexpensive in price point as had been hoped and hyped. At first glance, the iBook looks like a solid and attractive addition to Apple's product stable. It remains to be seen whether iBook will storm the marketplace the way its desktop sibling, the iMac has. I'm guessing that it will sell very well, but the price is going to be a stumbling-block for many consumers who might have otherwise bought into the iBook experience.
On the other hand, It is still priced low enough that it shouldn't cannibalize too many Lombard sales on price point, although it may divert some buyers who are looking for a more basic PowerBook from the low-end Lombard. Business-oriented buyers will not be likely enticed away from Lombard by a 'Book that is bigger than WallStreet.
A home run? Not quite, but a solid triple. I'm still waiting for the "eBook" slim executive PowerBook along the delectable lines (form-factor wise) of Sony's Vaio and Toshiba's Portégé. In the meantime, I think a lot of people are going to be very happy with their iBooks.
 * This feature would later be known as Safe Sleep. See Low End Mac's Safe Sleep FAQ for more information.
Appendix: 'Just The Facts'
Processor: 300 MHz PowerPC G3 processor; 512 KB backside level 2 cache on processor module 66 MHz system bus; 66 MHz memory bus; Integrated floating-point unit and 64 KB on-chip level 1 cache (32 KB data and 32 KB instruction)
Memory: 32 MB of SDRAM; single 1.25-inch SO-DIMM slot (3.3 volt, PC66 compliant) supports up to 128 MB for a total of 160 MB of RAM
Storage: 3.2 GB IDE hard disk drive
CD-ROM: Built-in 24x-speed (maximum) CD-ROM drive
Connectivity: One 12 Mbps Universal Serial Bus (USB) port for USB devices such as printers, storage devices, keyboard, mouse, USB hubs, and data capture probes
Communications: Built-in 10/100Base-T Ethernet; Built-in 56K modem supporting K56flex and V.90 standards*; Optional 11 Mbps AirPort wireless networking card (IEEE 802.11 DSSS compliant)
Sound: Single built-in mono speaker; 16-bit stereo sound output minijack
Graphics support: 4 MB of SDRAM video memory; Built-in 2D/3D graphics acceleration through an integrated ATI RAGE Mobility graphics controller with 2x AGP
Display: 12.1″ (diagonal) built-in TFT SVGA active-matrix display, offering 640 x 480 pixel and 800 x 600 pixel resolution with millions of colors
Battery: Lithium-ion; 45-watt-hour; Up to 6 hours of battery life, depending on configuration and usage
Keyboard: Built-in full-size keyboard with 76 (U.S.) or 77 (ISO) keys, including 12 function keys, 4 arrow keys (inverted "T" arrangement), and embedded keypad
Trackpad: Solid-state Apple trackpad supports tap, double-tap, and drag capabilities
Electrical requirements: Line voltage: 100 to 240 volts AC; Frequency: 50 to 60 Hz; EPA ENERGY STAR compliant
Size and weight

Width: 13.5″ (34.4 cm)
Height: 11.6″ (29.4 cm)
Average depth: 1.8″ (4.6 cm); depth ranges from 1.24″ (3.15 cm) at the thinnest point to 2.06″ (5.2 cm) at the thickest point
Weight: 6.7 pounds (3.0 kg)
© 1999 by Charles W. Moore. Originally published at <http://www.geocities.com/Athens/Aegean/9318/ibook.html>
keywords: #ibook #originalibook #clamshellibook