lla"Wicked fast" is the phrase that best summarizes the breakthrough performance of the G4 CPU. The Power Mac G4 was the first personal computer classified as munitions and under export restriction because of its power at the time it was introduced.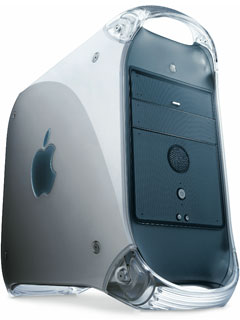 Offering up to twice the performance of the G3 and three times the power of a Pentium III at the same clock speed, the G4 was Apple's first serious pro computer after Steve Jobs became iCEO. Designed in graphite gray, silver, and clear plastics, it even looks professional. The 400 MHz Yikes! (a.k.a PCI Graphics) offers 0.8-3.2 gigaflops (billion floating point operations per second) performance; by government definition in 1999, it was a supercomputer.
Note that there were two different versions of the Power Mac G4. released simultaneously. The Yikes! machines have a different motherboard with different features than the Sawtooth G4, which is covered on a separate page.
The Yikes! version does not have the AGP video card slot or support AirPort. The 1999 G4 Power Macs were the first Macs with bootable USB. However, the Yikes! G4 cannot boot from a FireWire drive and does not support FireWire Target Disk Mode. Yikes! also cannot boot from USB drives (see USB Info and Benefits of Dual-Channel USB). These are some of the reasons we label it a Compromised Mac.
Due to G4 CPU supply problems at Motorola, Apple replaced the 400 MHz Yikes! with a 350 MHz model at the same price on 1999.10.13 – perhaps the first time in the industry that a computer has decreased in speed without decreasing in price.
If you would have been content with a Blue & White G3 at 300-400 MHz, the Yikes! G4 is pretty much the same computer with a better CPU. But if you're after flat out performance, bypass this model and go for the Sawtooth machines.
The Yikes! G4 is absolutely not supported under Mac OS X 10.5 Leopard, and it cannot boot into Leopard with its original video card. We do have a report of Yikes! successfully booting into Leopard with a Radeon 9200 PCI video card.
Details
Accelerators & Upgrades
Online Resources
Cautions
Keywords: #yikespowermac #powermacg4
Short link: http://goo.gl/yQ8kvt
searchword: yikesg4